This fragrance-free cleanser does a great job of removing physical tinted sunscreen without overly stripping your skin of moisture.
Drunk Elephant has to be one of my favorite names for a company, ever. The origin behind the name is interesting, too—apparently, it's based on a myth that says elephants get drunk off eating the fruit from marula trees. The company includes marula oil as a key ingredient in many of its products (more on that later). Since Sephora's birthday bonus was a pack of two popular Drunk Elephant products, I decided that it was a good time to try them out.
The two products included in my Sephora birthday pack were Drunk Elephant Beste No. 9 Jelly Cleanser (30 mL, or 1 oz.) and Protini Polypeptide Cream (15 mL, or 0.5 oz). The cleanser is usually packaged in a 5-oz. bottle, while the cream is normally packaged in a 1.69 oz. tub. So I think it was a pretty good birthday bonus from Sephora, especially considering the fact that Drunk Elephant products can get pretty pricey.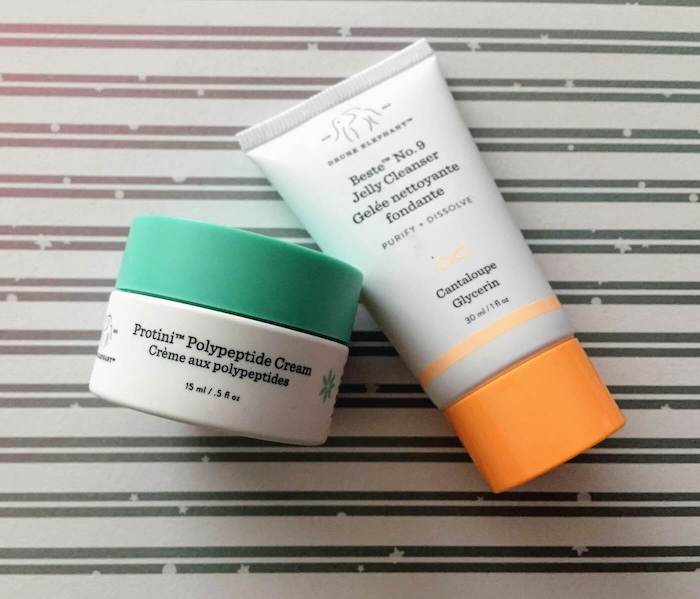 A few notes about Drunk Elephant
One awesome thing about Drunk Elephant is that none of their products contain any fragrances or dyes. As someone who hates smelling strong fragrances in her skincare products, this is welcome news. It's nice to see a company standing behind the idea of allowing their products to simply smell the way their functional ingredients smell—no fragrances or dyes required to mask anything.
Drunk Elephant Beste No. 9 Jelly Cleanser ingredients
water, glycerin, cocamidopropyl betaine, coco-glucoside, sodium lauroyl methyl isethionate, cocamidopropyl hydroxysultaine, sodium methyl oleoyl taurate, propanediol, aloe barbadensis leaf extract, glycolipids, linoleic acid, linolenic acid, lauryl glucoside, cucumis melo cantalupensis fruit extract, sclerocarya birrea seed oil, dipotassium glycyrrhizate, tocopherol, citric acid, phenoxyethanol, sodium hydroxide, sodium benzoate, sodium chloride, polylysine
I was curious to see if this contained any ingredients categorized as comodogenic under Acne.org's list, so I ran the ingredient list through my comodogenic script. it came up clean. Hooray!
Sclerocarya birrea seed oil is marula seed oil, the ingredient that inspired Drunk Elephant's name. Marula oil is a key ingredient in Drunk Elephant's product lineup, and it is made up of mostly oleic acid, with some linoleic acid and other fatty acids like stearic acid.
Interestingly, the National Eczema Association recommends using moisturizers that contain a high linoleic to oleic acid ratio, because they are more effective at repairing the skin barrier. Marula oil has the opposite ratio (more oleic acid, less linoleic acid). Rose hip seed oil has a higher ratio of linoleic to oleic acid, which may help explain why I love it so much. However, I've seen tons of reviews vowing support for Drunk Elephant's signature marula oil product, so it must be doing something right. The Ordinary also sells a marula oil product that I just might have to try someday.
Drunk Elephant Beste No. 9 Jelly Cleanser review
Drunk Elephant Beste No. 9 Jelly Cleanser is clear, gel-like, and has a faint "clean" fragrance that somehow reminds me of a ripe cantaloupe melon and fresh laundry at the same time. But the good news is that it's fragrance free! And it doesn't contain any essential oils, either, which may cause irritation in those with sensitive skin. Fragrances and essential oils, and SLS are some of the "Suspicious 6" types of ingredients that Drunk Elephant bans from its products. Because it doesn't contain SLS (which is often used as a foaming agent in everything from shampoos to toothpaste), it doesn't foam up easily.
I'm used to using non-foaming face wash, such as CeraVe Hydrating Gentle Cleanser. But usually I use non-foaming cleansers as my second cleanser (after using an oil cleanser). However, Drunk Elephant Beste No. 9 Jelly Cleanser states that it is supposed to help remove makeup, sunscreen, and oil from your face. So it claims to be an all-in-one cleanser and makeup remover. Initially I ran into some problems with it because I wasn't able to get it to foam up enough.
The first time I used it, I didn't add enough water, and it didn't feel like it was spreading across my face at all. At first, I thought that maybe I wasn't using enough cleanser, so I squeezed some more onto my hand. But even then, it still didn't seem to be spreading on my face or doing much of anything at all. After I rinsed it off, I wanted to confirm my suspicion that it hadn't actually cleaned my face, so I used a makeup removing cleansing wipe. Sure enough, there was still a lot of sunscreen on the wipe.
But I decided to give this cleanser another chance the next day. I made sure to add more water to the cleanser and attempted to foam it up by rubbing my hands vigorously before spreading it on my face. This approach worked much better.
I'm not sure if I'm the only one who ran into this problem, but if you happen to run into the same problem as I did, make sure you're adding enough water to the cleanser and foaming it up between your hands before applying it to your face. This will make a world of difference and help dissolve the makeup/tinted sunscreen on your face much more effectively. Just to confirm, I used a makeup removing wipe after cleansing with Drunk Elephant Beste No. 9 Jelly Cleanser the second time, and it came up clean. It had done a great job of removing my Australian Gold tinted sunscreen. Hooray!
I love the natural scent of this cleanser. It makes me feel cheerful. I'm not sure where the jelly part of the cleanser comes in, because to me, it seemed just like a regular clear gel. I think it's a decent cleanser but a bit pricey for what it is. You can find other fragrance-free face cleansers out there, like CeraVe Hydrating Cleanser or Cetaphil Gentle Skin Cleanser, but these may not necessarily be so good at removing makeup/sunscreen. If you're looking for an all-in-one cleanser that prevents the need for an oil cleanser + gentle non-foaming cleanser, this Drunk Elephant Beste No. 9 Jelly Cleanser could be a good addition to your routine.
Related reading