A Korean beauty gel moisturizer with watermelon and other natural extracts, without the dyes (but a somewhat strong fragrance).
Glow Recipe is a really trendy Korean beauty brand with an attractive website. However, it's a bit on the pricier side, so I was happy to snag myself a free mini bottle of Glow Recipe Watermelon Glow Pink Juice Moisturizer as part of my last Sephora order (thanks to /r/SkincareAddiction for the heads-up!).
This moisturizer normally sells for $39 for 60mL or 2.03oz. The mini size I got for free was 0.3oz, which means it's worth about $5.76. That's not exactly going to help me achieve early retirement, but still, you gotta love free stuff, right?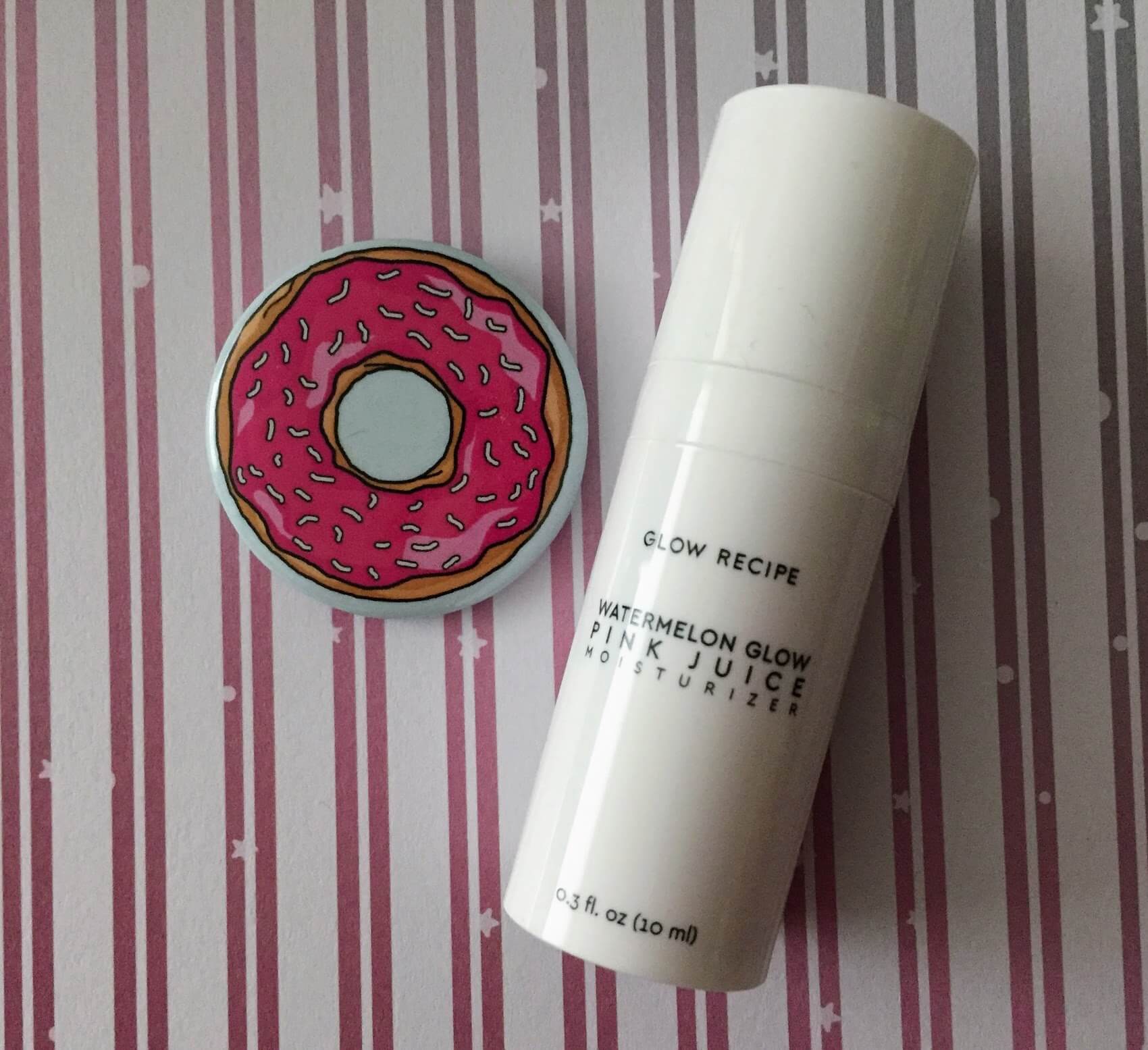 Glow Recipe Watermelon Glow Pink Juice Moisturizer Ingredients
Price: $39 for 60mL or 2.03oz. on Glow Recipe's website or from Sephora
Per-ounce price: $19.21 (wowza!)
citrullus lanatus (watermelon) fruit extract, citrullus lanatus (watermelon) fruit, hydrolyzed wheat protein, hydrolyzed soy protein, hydrolyzed corn protein, glutamic acid (derived from fermented grains), glycerin, cetearyl olivate (derived from olive), sorbitan olivate (derived from olive), sodium hyaluronate, cetyl alcohol, cyamopsis tetragonoloba (guar) gum, xanthan gum, apricot kernel amino acid, alkanna tinctoria root extract, scutellaria baicalensis root extract, paeuonia suffruticosa (peony) root extract, glycyrrhiza glabra (licorice) root extract, beta-glucan, jasminum grandiflorum (jasmine) flower wax, acrylates/c10-30 alkyl acrylate crosspolymer, brassica oleracea capitata (cabbage) leaf extract, ipomoea batatas (sweet potato) root extract, fragrance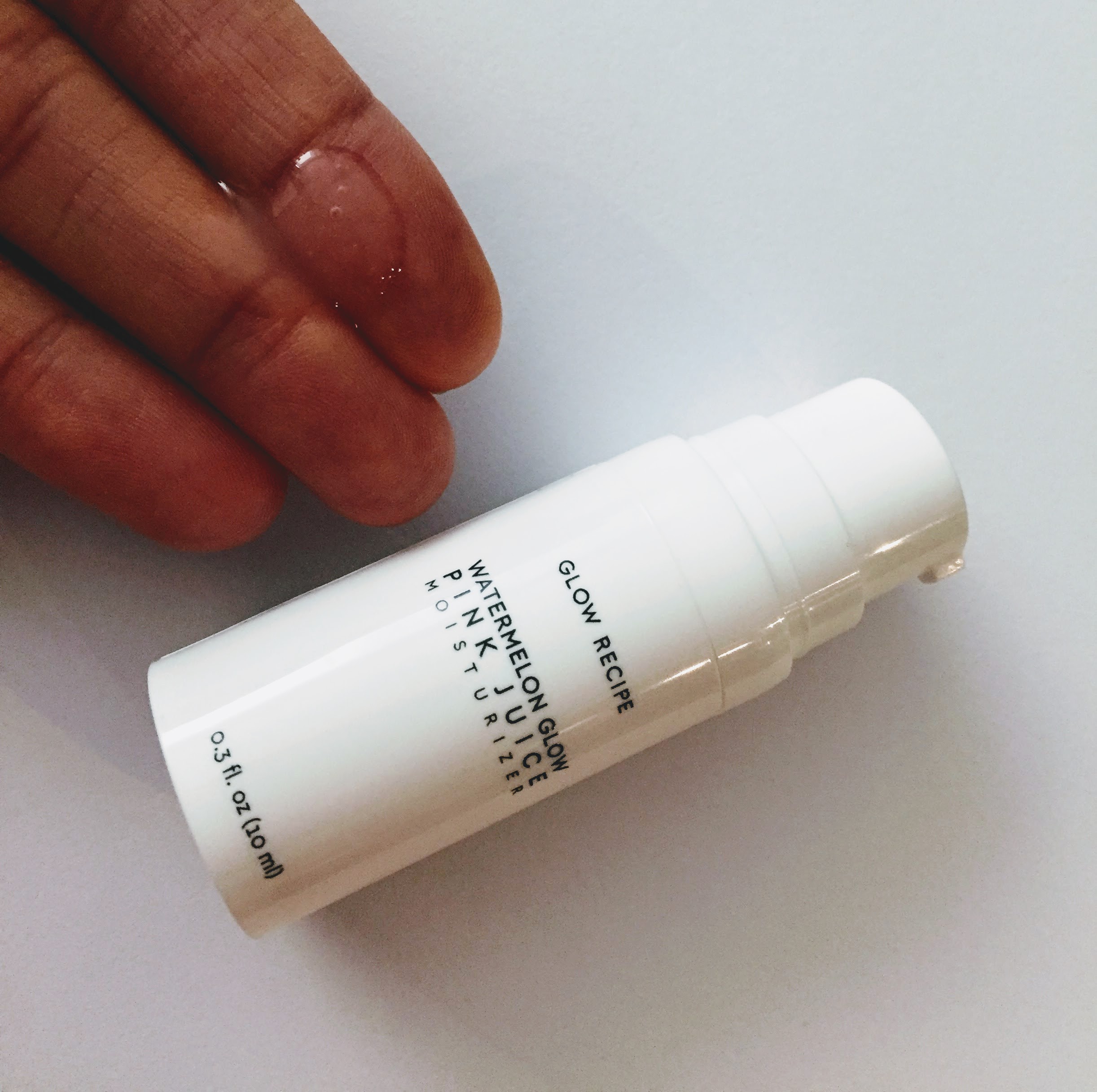 Glow Recipe's product page says that a full 90 percent of this moisturizer is composed of ingredients that come from watermelon. That means that even though, like many other gel moisturizers, it contains fragrance, it probably doesn't contain enough to irritate the skin. It also contains a ton of other beneficial ingredients like sodium hyaluronate (aka hyaluronic acid), and other natural extracts like cabbage leaf extract, sweet potato root extract, peony root extract, apricot kernel amino acid. Interestingly, alkanna tinctoria root extract is also known for its anti-bacterial properties (source), which may help it function as a sort of preservative.
Is there any clinical data that supports the benefits of watermelons in skincare?
Watermelon contains lycopene, a carotene and pigment that's also found in tomatoes, papayas, and carrots. Unlike other types of carotenes, lycopene does not act like Vitamin A.
Studies suggest that lycopene can provide an antioxidant effect that helps protect skin from UV radiation. Note, however, that it looks like these studies involved eating/ingesting the source of lycopene, rather than applying it topically on the skin.
The data isn't clear when it comes to the benefits of applying lycopene to the skin, but there's a chance that it can help prevent damage from UV rays, so it makes sense to use this in the daytime (along with a good sunscreen, of course).
Is Glow Recipe Watermelon Glow Pink Juice Moisturizer non-comedogenic?
I used my trusty old Python script to check if this product contains any ingredients that Acne.org has deemed "comedogenic" or pore-clogging. This product came up clean.
Glow Recipe Watermelon Glow Pink Juice Moisturizer first impressions
This gel moisturizer has a pretty strong fragrance, kind of reminds me of a watermelon Airhead, or watermelon bubble gum. Its texture is kind of like any other gel moisturizer - lightweight, absorbs easily into the skin.
I wouldn't recommend it for those who are sensitive to fragrance because it is quite noticeable. It seems like a nice addition to the skin and soaks in easily, but it definitely won't be moisturizing enough on its own if you have dry skin—if you're looking to soothe dry skin or smooth out a rough patch, you'll definitely need to layer on a more heavy-duty moisturizer. I don't suggest buying this because it's pretty pricey, and it doesn't replace a really good moisturizer.
However, if you have oily, acne-prone skin and you like the idea of smelling like sweet watermelon candy, this may be the right moisturizer for you.
Note: This post uses affiliate links, which means that I'll receive a commission if you make a purchase after clicking a link (at no extra cost to you). See our
disclosure policy
.