NO-AD may just be the most affordable, sweat-resistant sunscreen to prepare you for the summer ahead.
Lately, I've been asking lots of people a question: "Do you put on sunscreen every day?" Most of the time, people answer no, and then find themselves confused that I even asked such a thing. The other ~30 percent of the time, (s)he will nod, and I'll give her/him a high five. (It's usually a "her"). But when I ask that subset of sunscreen-wearing people a follow-up question, "Do you apply sunscreen everywhere, or just on your face?" They usually say, "Just my face. It's too expensive to put it on everywhere!"
Alas, sunscreen can get really expensive. But with summer fast approaching, we'll all be wearing short-sleeves very, very soon. That means we'll be exposing more skin to the sun, which means that we need to find an affordable, effective sunscreen to put on our non-face areas, stat.
I think I've found an option that works quite well. It's SPF 50, fragrance-free, paraben-free (if you care about that), and pretty affordable. It's NO-AD Sport Sunscreen SPF 50. This big bottle will last you quite a while. Plus, it has a few bonus ingredients in it that make it a really quality sunscreen option for your body during the summer.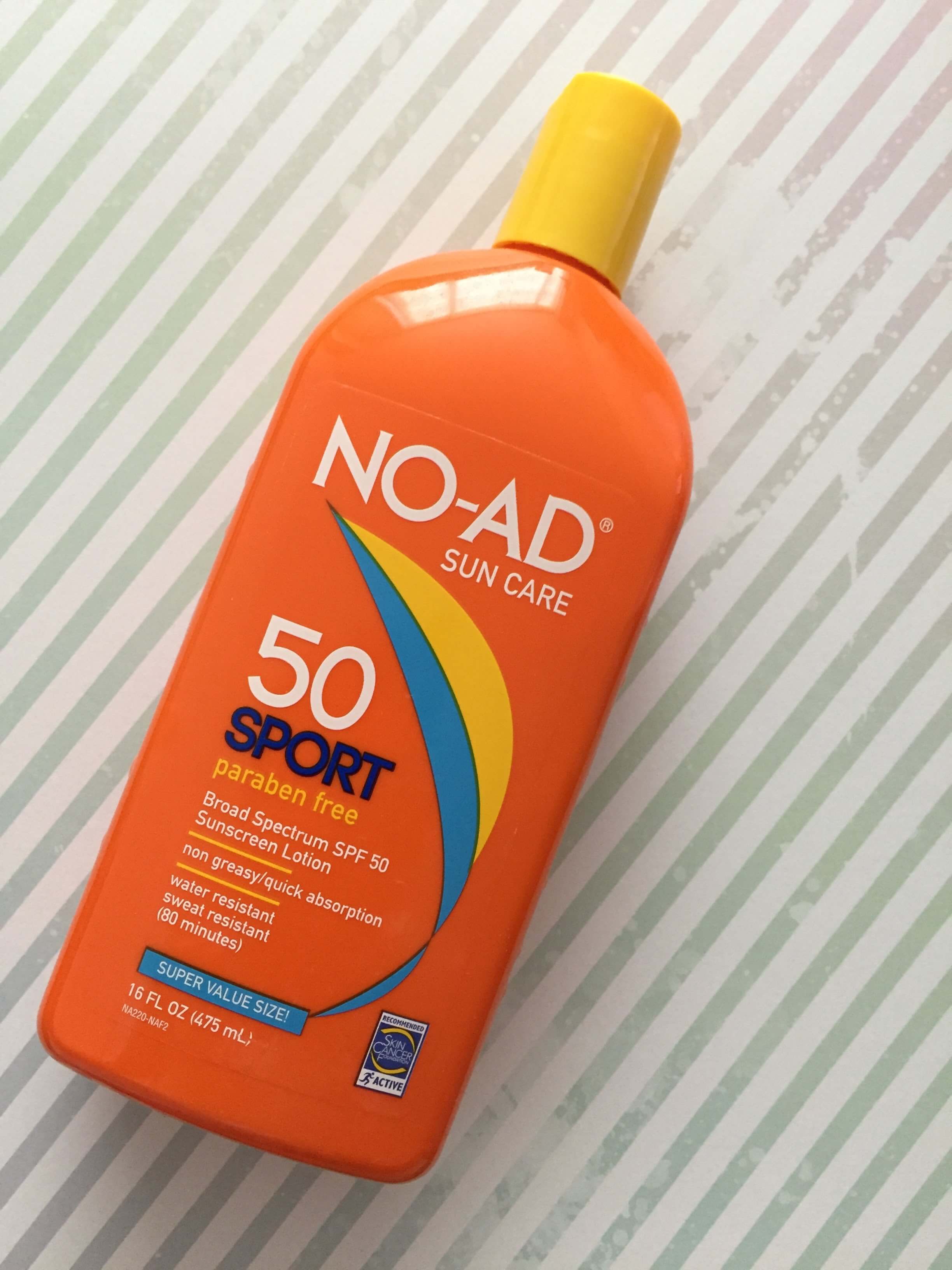 NO-AD Sport Sunscreen SPF 50 Ingredients
Active ingredients: Avobenzone 2%, Homosalate 10%, Octisalate 5%, Octocrylene 2%, Oxybenzone 5%
Inactive ingredients: Acrylates Copolymer, Acrylates/C10-30 Alkyl Acrylate Crosspolymer, Aloe Barbadensis Leaf Extract, C12-15 Alkyl Benzoate, Carbomer, Disodium EDTA, Ethylhexyl Palmitate, Ethylhexylglycerin, Glycerin, Hydroxypropyl Methylcellulose, Phenoxyethanol, Propylene Glycol, Sorbitan Oleate, Theobroma Cacao (Cocoa) Seed Butter, Tocopheryl (Vitamin E) Acetate, Triethanolamine, Water
NO-AD Sport Sunscreen SPF 50 Review
Let's review the table provided by the Skin Cancer Foundation, to verify which types of UV rays these active ingredients filter.
Avobenzone filters UVA1, homosalate, octisalate, and octocrylene filter UVB, and oxybenzone filters UVA2 and UVB. That means this sunscreen contains ingredients that provide full broad spectrum protection. Sweet. Note that oxybenzone may be toxic to coral reefs, so you might want to opt for a different sunscreen during a beach vacation.
The upside is that it contains Vitamin E (tocopheryl acetate), which has been shown to help boost protection against UV rays (Source).
The same study also found that a combination of oxybenzone and Vitamins C and E exhibited a greater-than-the-sum-of-its-parts protection against UV-related damage:
"When vitamin C or a combination of vitamin C and E is formulated with a commercial UVA sunscreen (oxybenzone), an apparently greater than additive protection is noted against the phototoxic damage."
Unfortunately, NO-AD Sport Sunscreen SPF 50 only contains vitamin E and oxybenzone, no vitamin C that I know of. But at least it does contain vitamin E! Plus, I can verify that it doesn't really have any fragrance, so you don't have to worry about that. It's a bit of a runny texture, so easy to blend into the skin. Like other chemical sunscreens, it doesn't really leave a white cast on your skin. Plus, if you tend to sweat a lot in the summer, it's a great option because it's water-resistant/sweat-resistant for up to 80 minutes.
A great sunscreen is hard to find
NO-AD Sport Sunscreen SPF 50 has its downsides: It contains oxybenzone, which makes it unsuitable for use at the beach. It also is a chemical sunscreen, which can be more irritating to sensitive skin.
On the bright side (no pun intended), it provides a nice fragrance-free way to protect your body against UVA1, UVA2, and UVB rays. Usually "broad spectrum" sunscreens only filter UVB rays, plus one of the UVA wavelength ranges, not both…so that's a nice bonus. It also contains Vitamin E, which may help make it even more effective for filtering UV rays.
I plan to use NO-AD Sport Sunscreen SPF 50 on my body during the summer, but I'll probably keep using a physical sunscreen on my face and neck, since those are more sensitive areas.
We're all tempted to skimp out on sunscreen on our body—it's expensive (so much ground to cover!), time-consuming, and it can be difficult to find one that absorbs quickly into your skin. NO-AD Sport Sunscreen SPF 50 is highly affordable, which is great for your wallet, but even better, the low price point means that you won't be tempted to skimp out on how much you actually apply—which ultimately leads to better protection against UV rays. Plus, it's fragrance-free, which is good news for sensitive skin…and it doesn't smell like quintessential sunblock. Yay!
Further reading
Check out my other sunscreen reviews here.
Note: This post uses affiliate links, which means that I'll receive a commission if you make a purchase after clicking a link (at no extra cost to you). See our
disclosure policy
.