How does this sunscreen deliver a cooling sensation? Plus, is 'alcohol denat.' a cause for concern?
Imagine that you're outside in the middle of August. Everything is sticky, and the air so humid that you feel like the whole world took a hot shower and forgot to open the bathroom door to let the steam out. You've been outside for about two hours, which means that you need to reapply your sunscreen. Yessss! You've been waiting for this moment…because applying sunscreen feels like stepping into store that has A/C on full blast. Wait, what?
If you have no idea what I'm talking about, it's time to get up to speed. Today, we're going to talk about "cooling" sunscreens, and looking at one such product in particular: Banana Boat Sport Cool Zone Sunscreen SPF 50.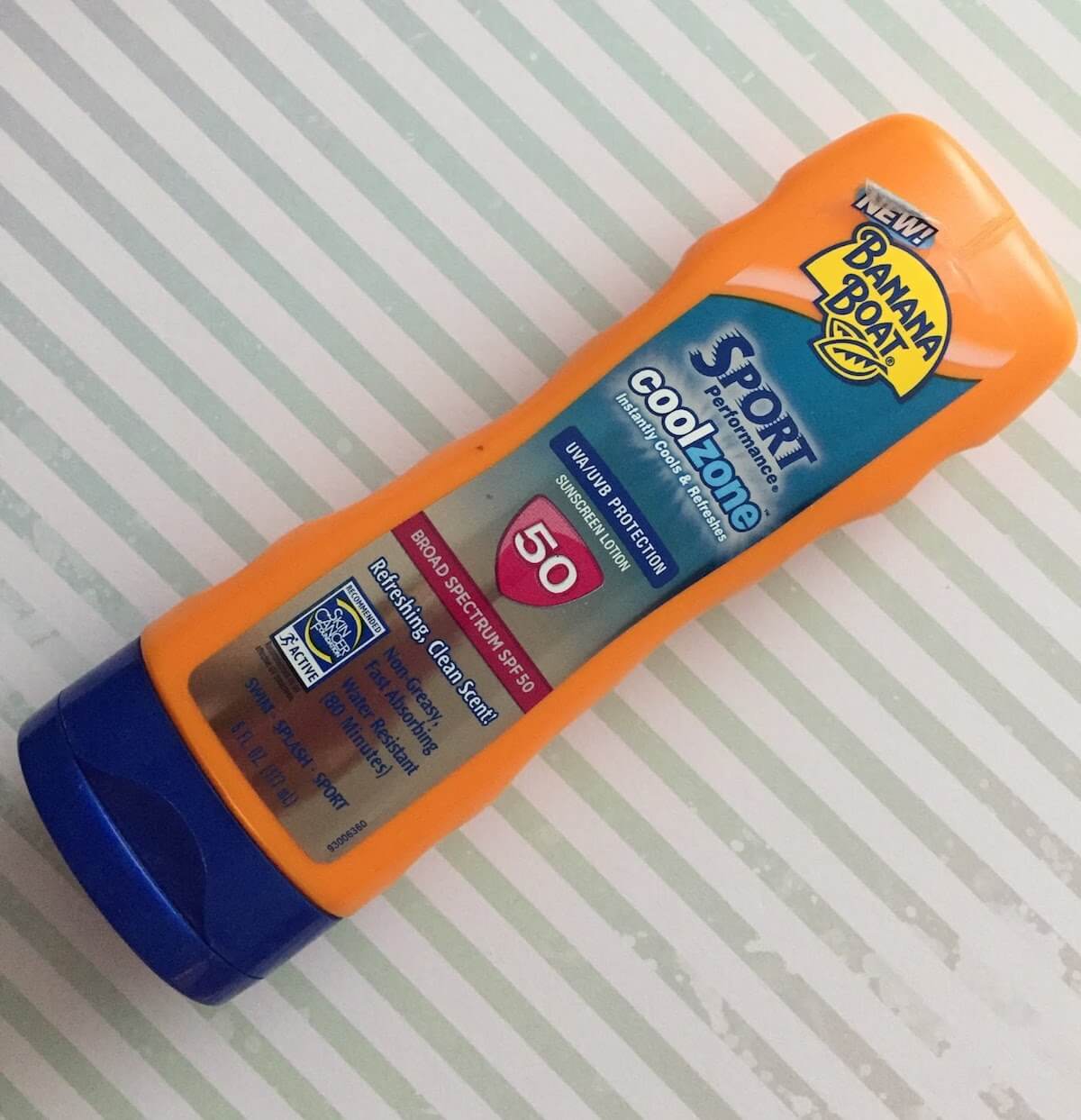 What is a cooling sunscreen?
Cooling sunscreens include ingredients that are designed to produce a pleasant cooling sensation when applied to the skin. According to this article, published in Pharmacognosy Review in 2011, cooling sunscreens are a trend in the industry: "The newest trend will be to stay continuously cool, while remaining in the sun. Cooling is achieved through evaporating water, alcohol, or any other low-density vapor-producing solvents or materials that leave a cooling effect on the skin."
Banana Boat Sport Cool Zone Sunscreen is one such cooling sunscreen. It is a chemical sunscreen, with a mix of three active ingredients that provide broad spectrum protection.
Cooling sunscreens feel quite nice when you've been out in the sun all day and need to reapply. With a cooling sunscreen, you don't just get a good dose of broad spectrum SPF—you also get a bonus cooling sensation. But sometimes these cooling sunscreens can contain harsh ingredients that don't mesh well with sensitive skin, so make sure to patch test if you're using one for the first time.
Banana Boat Sport Cool Zone Sunscreen SPF 50 Ingredients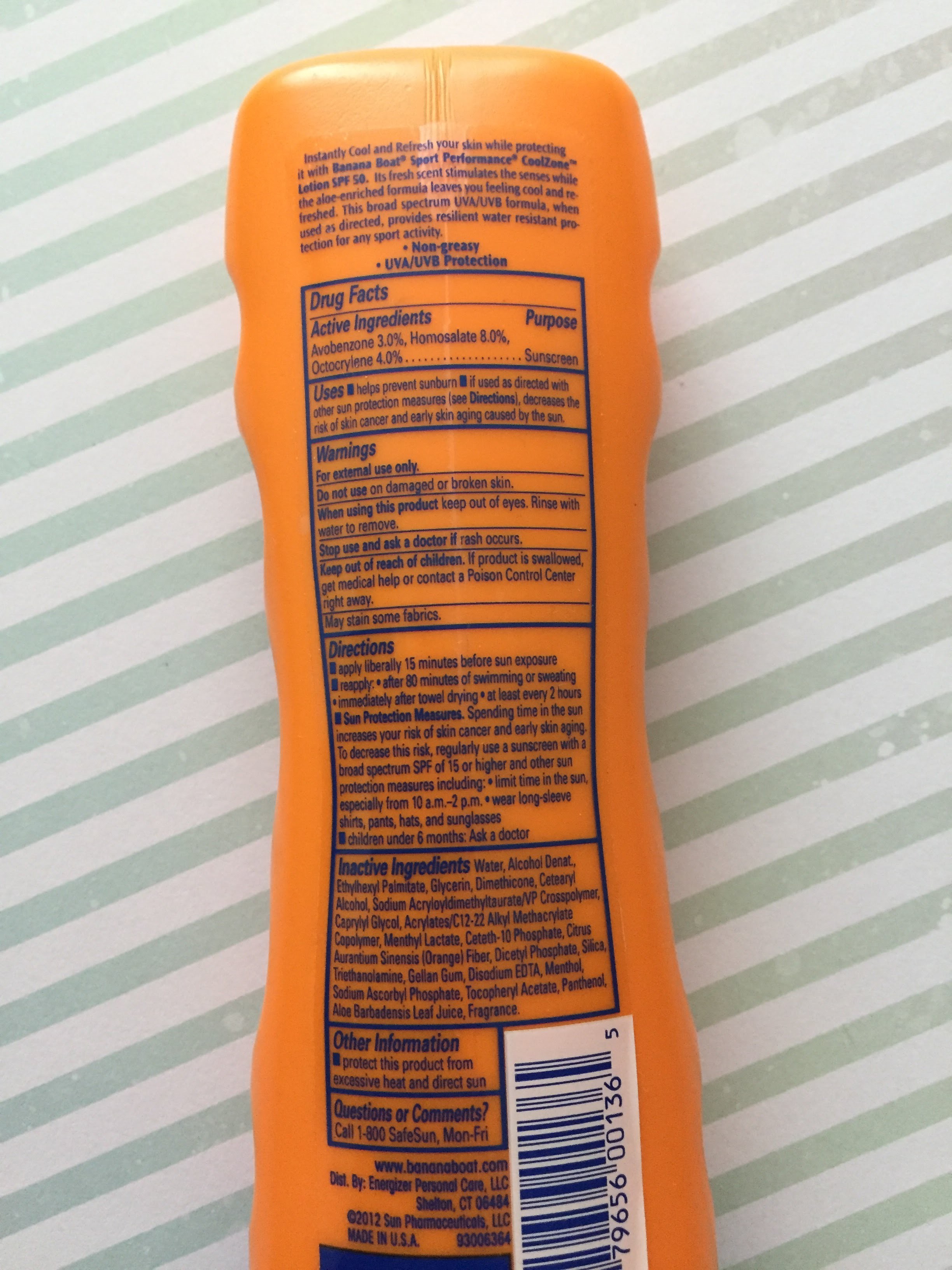 Active Ingredients: avobenzone (3%). homosalate (8%). octocrylene (4%)
Inactive Ingredients: water, alcohol denat., ethylhexyl palmitate, glycerin, dimethicone, cetearyl alcohol, sodium acryloyldimethyltaurate/vp crosspolymer, caprylyl glycol, acrylates/c12-22 alkyl methacrylate copolymer, menthyl lactate, ceteth-10 phosphate, citrus aurantium sinensis (orange) fiber, dicetyl phosphate, silica, triethanolamine, gellan gum, disodium edta, menthol, sodium ascorbyl phosphate, tocopheryl acetate, panthenol, aloe barbadensis leaf juice, fragrance
To me, the ingredients that stuck out right away were "alcohol denat.," "menthol", and "tocopheryl acetate." I was a bit worried about alcohol being drying to the skin. And I assumed that menthol was the cooling ingredient in this formula.
I had to look up tocopheryl acetate, which is a combination of vitamin E (tocopherol) and acetic acid, and serves as an antioxidant.
But enough of this amateur hour. Let's ask my dad what he thinks!
My Dad the Chemist's review of Banana Boat Sport Cool Zone Sunscreen SPF 50
Dear Emily, the main ingredients that provide cooling sensation are Menthyl Lactate and Menthol, Alcohol denatured helps a little bit while evaporating too, but not as much as the two main ingredients, alcohol alone make skin dry, but this formula incorporates also water, glycerin and dimethicone, it should not dry skin out. Alcohol Denatured is used as a primary solvent to dissolve the sunscreen actives and you're right, It will also make the sunscreen less greasy.

Love,

Dad
So there you have it. Banana Boat Sport Cool Zone Sunscreen gets its "cool zone" name from the following cooling ingredients: menthol and menthyl lactate. The denatured alcohol may temporarily cool the skin when it is evaporating, but the cooling effect primarily comes from the aforementioned ingredients. The denatured alcohol also serves as a solvent for the active sunscreen ingredients (avobenzone, homosalate, and octocrylene).
My review of Banana Boat Sport Cool Zone Sunscreen SPF 50
Although Banana Boat Sport Cool Zone Sunscreen SPF 50 does provide a nice cooling sensation, and is pretty non-greasy, I find that this sunscreen tends to sting a bit, and irritates my skin. I'm not sure if it's because of the denatured alcohol, the menthol, or the fragrance. However, I do like that it includes some hydrating ingredients like glycerin, dimethicone, and aloe leaf juice.
I think I'd probably use it more (especially on hot days) if I didn't dislike the fragrance so much, and if it didn't make my sensitive skin feel itchy. But YMMV…one person's irritating sunscreen is another one's SPF treasure.
Note: This post uses affiliate links, which means that I'll receive a commission if you make a purchase after clicking a link (at no extra cost to you). See our
disclosure policy
.