My dad the chemist's pick is Coppertone Water Babies Pure & Simple SPF 50. But it's important to note that this is not a purely mineral sunscreen, and it contains parabens (if that matters to you).
Baby sunscreen is a hot topic, especially if you live in an area that gets a lot of sun, like my baby niece does. The problem with many baby sunscreens is that most babies don't like the sunscreen application process—especially when it feels thick and pasty. Zinc oxide is a very effective UV filter (and is the only FDA-approved ingredient to block all three types of UV rays: UVA1, UVA2, and UVB), but it oftentimes makes sunscreen feel thick, and it leaves a white cast. My dad mentioned that he finally found a suitable sunscreen for my niece (his granddaughter), manufactured Coppertone.
However, there are a few details that might prevent some parents from choosing it for their own babies. Let's explore why my dad likes this sunscreen, and why you may or may think it's a good option for your own baby.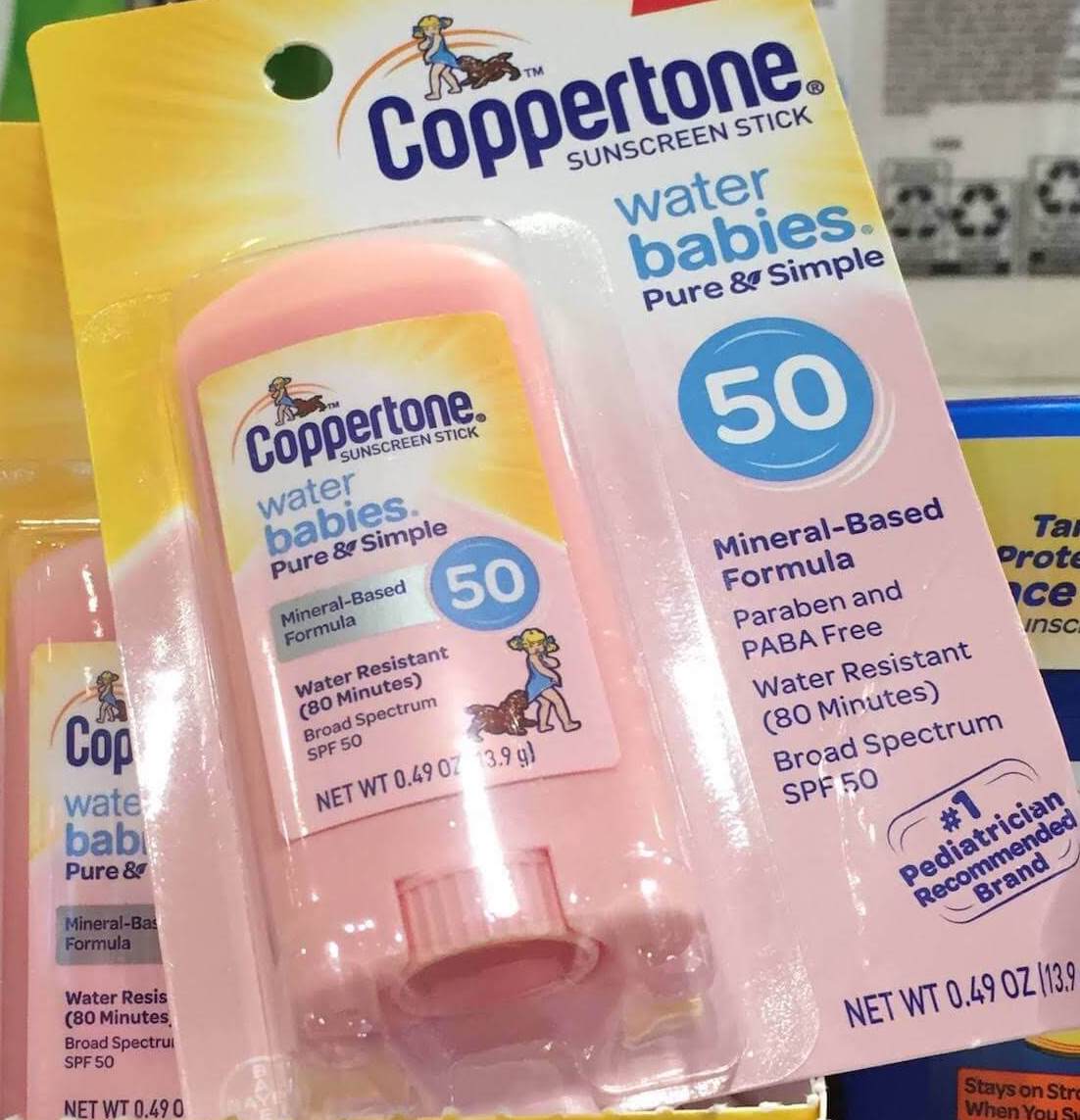 My dad the chemist's review of Coppertone Water Babies Pure & Simple Mineral Sunscreen SPF 50
The best formula for babies by Coppertone is the Water babies Pure & Simple tear free mineral based SPF 50 (that contains 14.5 % Zinc Oxide), it doesn't turn [my niece's] face too white (almost non white residue), we bought 2 bottles for her, it's the best I have ever seen so far.

Love,
Dad
Note that this sunscreen is "mineral-based" rather than fully mineral. My dad likes how easily it blends into her skin, and how it doesn't leave a white cast on her face like other sunscreens. In the past, she has used Neutrogena Pure & Free Mineral Sunscreen Stick SPF 60, which was fine, but left a pretty noticeable white cast on my niece's skin. It also didn't blend easily into her skin (which made it feel like she wasn't getting even coverage).
My dad likes Coppertone Water Babies Pure & Simple Mineral Sunscreen because it blends in more easily and offers broad spectrum protection. It's also water-resistant for up to 80 minutes.
Let's take a closer look at the ingredients, shall we?
Coppertone Water Babies Pure & Simple Mineral Sunscreen SPF 50 Ingredients
Active ingredients: Octinoxate 7.5%, Octisalate 5%, Zinc Oxide 14.5%
Inactive ingredients: water, propylene glycol, c12-15 alkyl benzoate, neopentyl glycol diheptanoate, cyclopentasiloxane, cetyl peg/ppg-10⁄1 dimethicone, peg-12 dimethicone crosspolymer, triethoxycaprylylsilane, aloe barbadensis leaf extract, ethylhexyl palmitate, diazolidinyl urea, methylparaben, propylparaben, sodium chloride
There are a few surprising things we can see from this ingredient list. For one, Coppertone Water Babies Pure & Simple Mineral Sunscreen is not actually a purely physical sunscreen. It contains a mix of zinc oxide (a physical sunscreen ingredient) and two chemical sunscreen ingredients: octinoxate and octisalate. This may explain why my dad said it leaves an "almost non-white residue" and doesn't irritate my niece's skin.
However, note that Coppertone Water Babies Pure & Simple Mineral Sunscreen includes some ingredients that could be considered irritating, like diazolidinyl urea (the preservative that my dad didn't like in his review of Stratia Soft Touch AHA).
And speaking of preservatives, it also includes parabens, which may concern some people—many baby products are marketed as paraben-free precisely to address these concerns. However, studies show that there is concrete evidence to suggest that there is any danger associated with products that contain parabens.
Coppertone Water Babies Pure & Simple Mineral Sunscreen is fragrance-free, dye-free, and oil-free. It contains active sunscreen ingredients that provide complete broad spectrum protection against UVA and UVB rays. Remember, zinc oxide protects agains UVA1, UVA2, and UVB rays, while octinoxate and octisalate guard against UVB rays. See this table for a refresher on the kind of UV protection each sunscreen ingredient provides.
I'm glad that this Coppertone sunscreen works well for my niece and doesn't irritate her skin. However, I suspect that it might be a controversial choice for parents who worry about parabens and/or chemical sunscreen ingredients like octisalate and octinoxate.
Further reading
Note: This post uses affiliate links, which means that I'll receive a commission if you make a purchase after clicking a link (at no extra cost to you). See our
disclosure policy
.