What's an epilator, and why should you prefer it over shaving with a razor?
I'm annoyed that women are expected to shave their legs and armpits in the U.S. I really don't like buying razors or shaving gel/cream—I'd much rather focus my attention (and wallet) on other things like lotions and sunscreens. Still, every now and then, I reach for my razor and half-heartedly try to shave. But I recently remembered that there is a better alternative out there in the world, and you don't have to refill it or buy accessories for it: epilators!
I bought an epilator years ago, and somehow forgot to ever try it out. I lost it in a few moves, and recently unearthed it from one of my old backpacks. It's a Braun electric epilator that's so old, it's not even available on Amazon anymore. But I recently tested it out and was pleasantly surprised by my experience.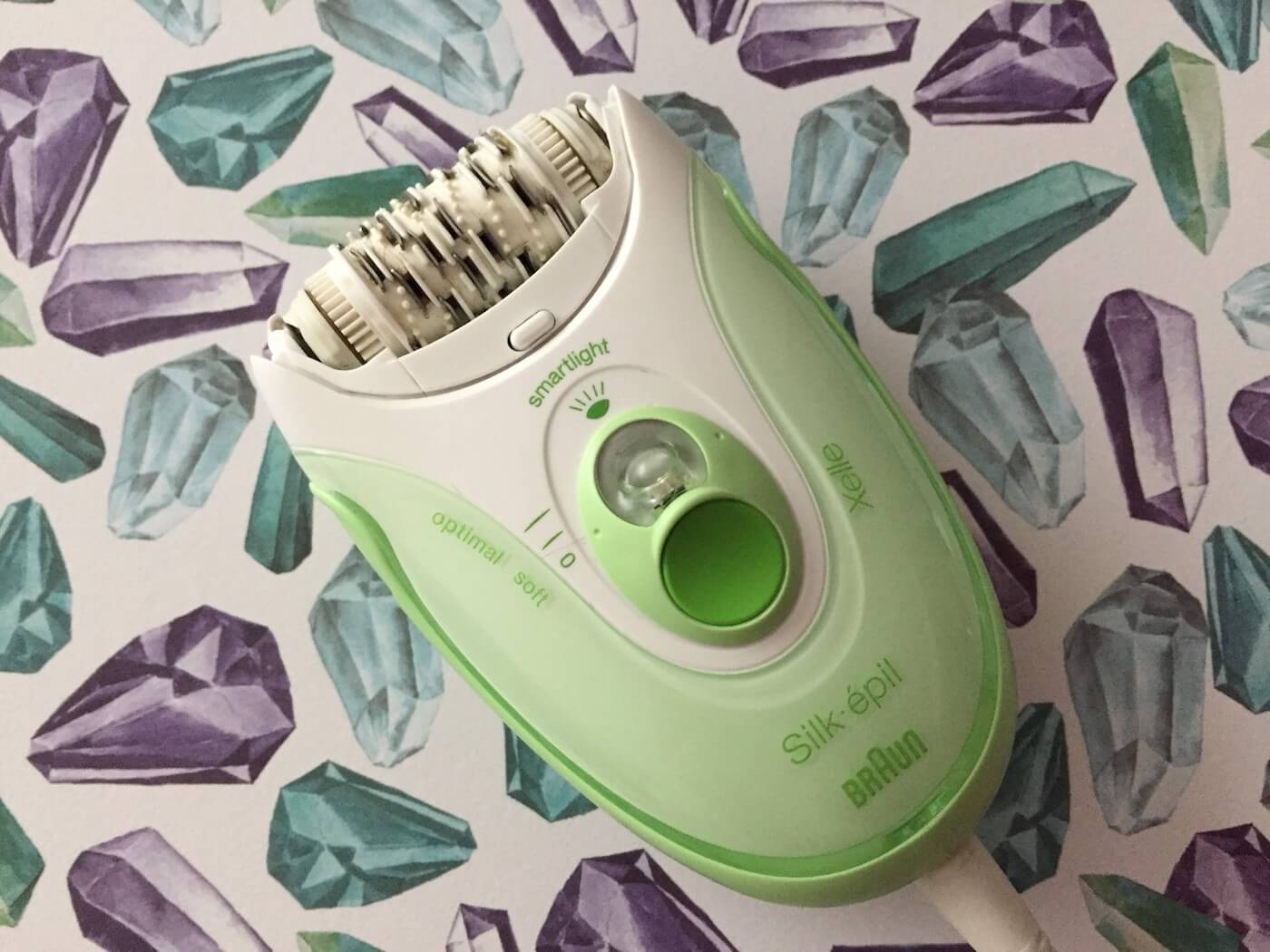 What is an epilator?
Epilators are like electrical tweezers that spin around and around as they pluck out your hairs. Braun's website claims that epilators can keep skin smooth and hair-free for up to four weeks. In my experience, this isn't quite true—mine only lasted about two weeks without feeling stubble when I ran my hand over my leg. However, regular epilation is supposed to make your hair grow back thinner and sparser over time, so maybe after using it for a while longer, I'll be able to say that I only have to epilate once a month.
Epilators are perfect for people who hate to shave or wax their legs and armpits. The process doesn't irritate your skin as much as you might think. It's really easy to use—simply plug it in and start running it over an area of your skin to remove hairs. You'll feel a slightly rough pricking sensation, like several hairs are being plucked out at a time. It's more of a stunning feeling than a painful feeling, if you ask me. And it's totally worth it, if it helps keep hair away for longer than shaving or waxing.
Braun epilator review
My Braun epilator is 5180 v5, and the company is already on v9. The closest one I could find to the one I got years ago is this 5280 v5 epilator. Some of the newer epilators are marked "wet/dry" meaning you can use them in the shower (the warm water is supposed to help soothe the skin and create a more pleasant epilation experience.
My epilator isn't cordless and it only works in dry conditions, but I don't think that's a big deal. Simply plug it in and start running it up and down my legs, until I get all the hairs out. When you turn it on, it automatically turns on a light as well, so you can get better visibility into areas that need attention.
Using an epilator doesn't irritate your skin as much as you might think. All you have to do is moisturize afterward with something nice and rich, like CeraVe Moisturizing Cream.
I highly recommend trying an electric epilator if you hate shaving every day or every few days, and you'd like your hair removal method to last longer than a day or two. Epilators are the future—they help remove hairs for longer periods of time, and they don't require you to heat up wax or buy shaving gels/creams/foams (which can also irritate your skin).
Some cons of the Braun epilator
I have found that I usually have to run it over the same area more than once, because it doesn't catch all the hairs on the first try. But other than that, it's really easy to use, and you actually get used to the discomfort after a while. One word of caution: Don't apply too much pressure, especially in a tricky area like your underarms—I hit a snag when using mine and ended up cutting myself a little bit, but I think that was because I got a little overzealous with running it over a tricky part of my underarm area. I'll be more careful from now on.
The newer models are supposed to tell you when you're pressing too hard, so you can improve the way you epilate. They're also supposed to make it less likely for you to have to epilate the same area of your skin more than once. Perhaps I'm due for an upgrade, but I think my old model works just fine for now.
Related reading
Note: This post uses affiliate links, which means that I'll receive a commission if you make a purchase after clicking a link (at no extra cost to you). See our
disclosure policy
.