A head-to-head battle between two CeraVe night creams. Which one will reign supreme?
CeraVe has quickly become one of my favorite skincare brands. The last time I visited my Dad (the chemist), he was really excited about the effectiveness of ceramides on my baby niece—she used to have red, patches of irritated skin until she started using CeraVe moisturizing cream after her nighttime baths.
Now her skin as smooth as, well, a baby's bottom. And actually, according to Wikipedia, "Ceramide is a component of vernix caseosa, the waxy or cheese-like white substance found coating the skin of newborn human infants."
The benefits of ceramides in skincare products
CeraVe's mantra is: "All CeraVe products contain the vital ceramides healthy skin needs to help restore and maintain its natural protective barrier."
CeraVe is the brand that is most frequently associated with ceramides, and probably the only one that includes ceramides in all of its products. However, other brands like Eucerin also incorporate ceramides in some formulas, including the Eczema Relief Body Cream (which I happen to like…hopefully I'll be able to write a review on this very soon!).
An NIH study from 2005 also found ceramides to be effective at helping patients with skin diseases like atopic dermatitis (eczema) and psoriasis: "These results indicate that decreased ceramide level is a major etiologic factor in skin diseases. Hence, topical skin lipid supplementation may provide opportunities for controlling ceramide deficiency and improving skin condition."
I've been using CeraVe lotions for some time now, ever since I read about its benefits on a skincare sub-Reddit. I started with CeraVe Renewing SA (Salicylic Acid) Cream since I liked that it contained salicylic acid (thought it would help fight acne). While it didn't end up helping with my acne, I liked how smooth and creamy it was, without being oily.
After I finished that jar, I moved on to CeraVe Facial Moisturizing Lotion PM, which came in a smaller, 3-oz. pump. If, like me, you're somewhat wary of dipping your fingers into large tubs of night cream, this is a big plus. The lid also locks/unlocks by simply twisting in either direction, so it's great for travel (plus, it's TSA-carryon-friendly). When I was using the CeraVe Renewing SA Cream, I dutifully dipped a Q-tip into the tub every night so I wouldn't have to use my fingers and, as my dad would say, "contaminate" the jar.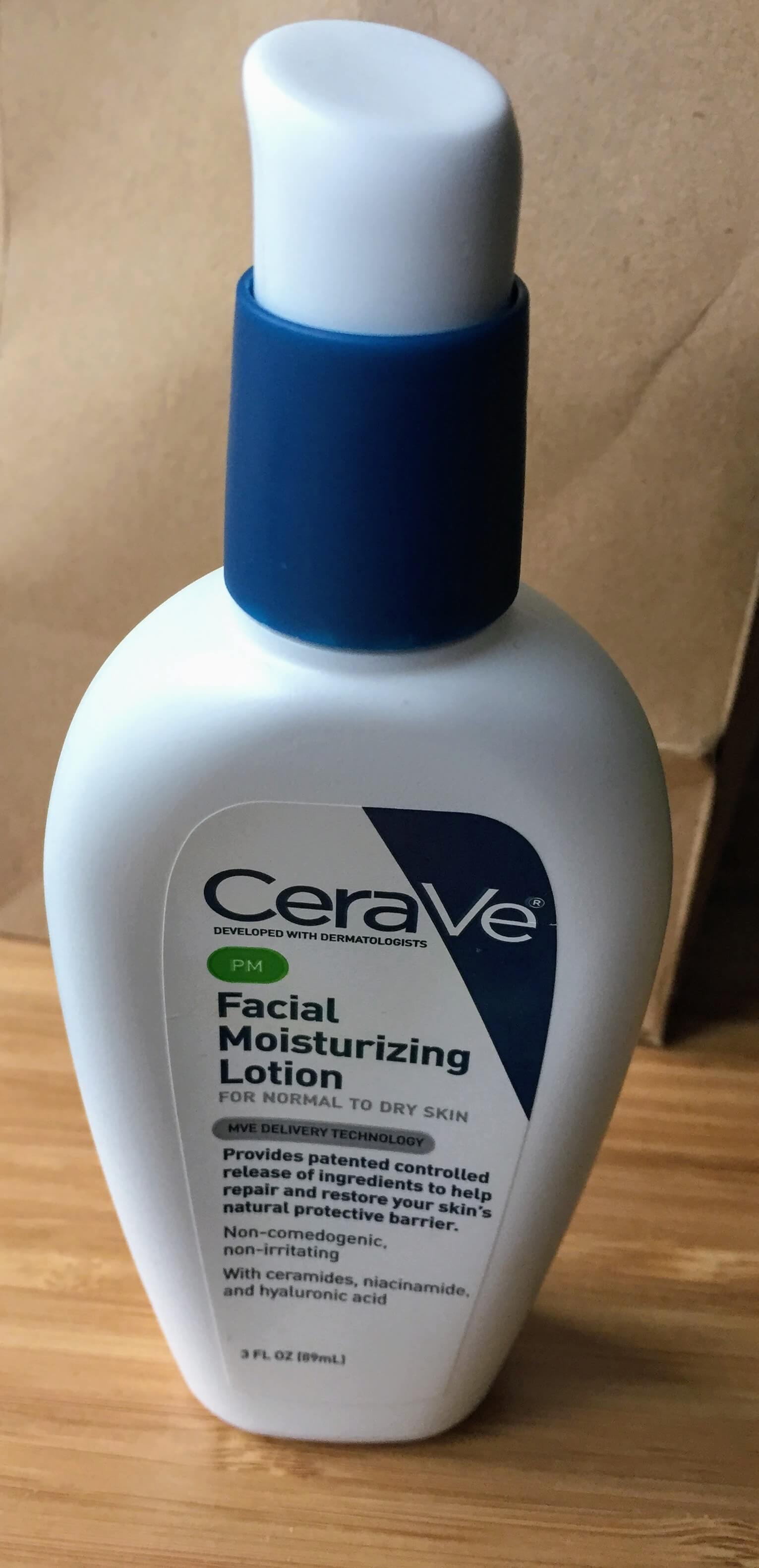 CeraVe Facial Moisturizing Lotion PM Ingredients
purified water, glycerin, caprylic/capric triglycerides, niacinamide, behentrimonium methosulfate and cetearyl alcohol, ceteareth-20 and cetearyl alcohol, ceramide 3, ceramide 6-ii, ceramide 1, phytosphingosine, hyaluronic acid, cholesterol, dimethicone, polyglyceryl-3 diisostearate, potassium phosphate, dipotassium phosphate, sodium lauroyl lactylate, disodium edta, methylparaben, propylparaben, carbomer, xanthan gum.
I use about 2-3 pumps of this product on my face and neck. It lasts a pretty long time despite its small size. It's also a great travel-friendly option. It soaks into my skin pretty quickly and is pretty lightweight. So if you're looking for a heavy-duty moisturizer that will help heal your dry skin (for instance, if you're traveling to the desert or you live in the desert), you might enjoy the SA cream more because it offers heavier-duty moisturization.
CeraVe Skin Renewing Night Cream Ingredients
purified water, glycerin, biosaccharide gum-1, caprylic/capric triglyceride, butyrospermum parkii (shea butter), dimethicone/vinyl dimethicone crosspolymer, glyceryl stearate se, stearic acid, cyclopentasiloxane, cetyl alcohol, dimethicone, saccharide isomerate, glycine soja (soybean) sterols, ceramide 6 ii, ceramide 3, ceramide 1, niacinamide, hyaluronic acid, caprooyl tetrapeptide-3,tripeptide-1, cholesterol, phenoxyethanol, cetearyl alcohol, carbomer, behentrimonium methosulphate, sodium hydroxide, tocopherol, allantoin, ethylhexylglycerin, butylene glycol, sodium lauroyl lactylate, phytosphingosine, dextran, xanthan gum.
This cream is more expensive than the 3-oz. PM moisturizer pump. It comes in a small plastic tub that's also travel-friendly, but introduces the problem of "contamination" once again, unless you use my (questionably) sanitary Q-tip method.
Compared to the CeraVe Facial Moisturizing Lotion PM, it's slightly thicker and felt a little richer. However, the two products contain many of the same ingredients (including three types of ceramides, except listed in a different order).
I decided to send my Dad both of these products' ingredients and ask him for his thoughts on which product was better (without telling him which one was more expensive).
Thoughts from my Dad the Chemist on these two Cerave moisturizers
Both are great formulas with nice beneficial ingredients. I would try the first one, there is hardly any diffence[sic] at all.
Love,
Dad
He picked the first one, which in this case, was the CeraVe Facial Moisturizing Lotion PM (the one in the 3-oz. pump, not the 1.7-oz. tub). And he didn't know that that happened to be the cheaper option. I'm glad he picked that one, because I like the pump much better anyway. And the lower price is a nice bonus.
Two CeraVe moisturizers walked into a bar…
So what did my dad mean about the nice beneficial ingredients, and that there was hardly any difference at all? Above, I bolded the ingredients that I thought were most beneficial in this case:
Ceramide 3
Ceramide 1
Ceramide 6 II
Glycerin
Niacinamide
Hyaluronic Acid
All of these ingredients are included in both products. The only additional beneficial ingredient I noticed in the CeraVe Skin Renewing Night Cream was Shea Butter. They also have nearly the same user review average on Walmart.com (4.6 vs. 4.7), except the cheaper one has over 5x the reviews (69 vs. 13 at the time this review was written).
So do yourself a favor and opt for CeraVe Facial Moisturizing Lotion PM over the CeraVe Skin Renewing Night Cream—it's not only just as beneficial, but also available in more convenient packaging (a travel-friendly pump!), at less than half the price per ounce.
Note: This post uses affiliate links, which means that I'll receive a commission if you make a purchase after clicking a link (at no extra cost to you). See our
disclosure policy
.