Is seaweed extract beneficial for hair? And what's the deal with sulfate-free shampoo?
I'm not tied down to any one shampoo or conditioner. Nothing has really won my heart (my hair?) over yet. The nostalgic side of me will always love the scent of Johnson's baby shampoo. However, I haven't used it since I was a teenager, because I'm always looking for an option that will help my hair feel less frizzy.
My hair looks straight when it's wet, but then it dries frizzy and slightly wavy. It's also not quite black…more like off-black or faded black. It's definitely not the color that Anne of Green Gables wanted when she tried to dye her hair raven black but ended up turning her hair a dreadful shade of green. Remember this?
The girls in books lose their hair in fevers or sell it to get money for some good deed, and I'm sure I wouldn't mind losing my hair in some such fashion half so much. But there is nothing comforting in having your hair cut off because you've dyed it a dreadful color, is there? —Anne of Green Gables
I've always wanted shiny, straight, jet black hair. But instead, I have dull, frizzy, faded black hair. It's definitely not the end of the world, though. There are lots of things you can do to get the kind of hair you want.
One of those things is color treatment. The first time I colored my hair, the colorist advised me to use sulfate-free shampoo to help the color last longer, so I dutifully went in search of such a product. I remember a while ago that a Japanese hair stylist recommended Aveeno as an affordable, quality hair care brand for people who didn't want to spend money on salon hair products, but wanted something better than Pantene or TRESemme (side note: I really don't like TRESemme!).
So I found a nice Aveeno sulfate-free shampoo and conditioner set (Pure Renewal) and I've been using it off and on for the past few years. I like that it still gets pretty foamy even though it doesn't contain sulfates (which is what normally helps shampoo get nice and foamy). Plus, I like that it says "safe for color-treated hair" right on the bottle.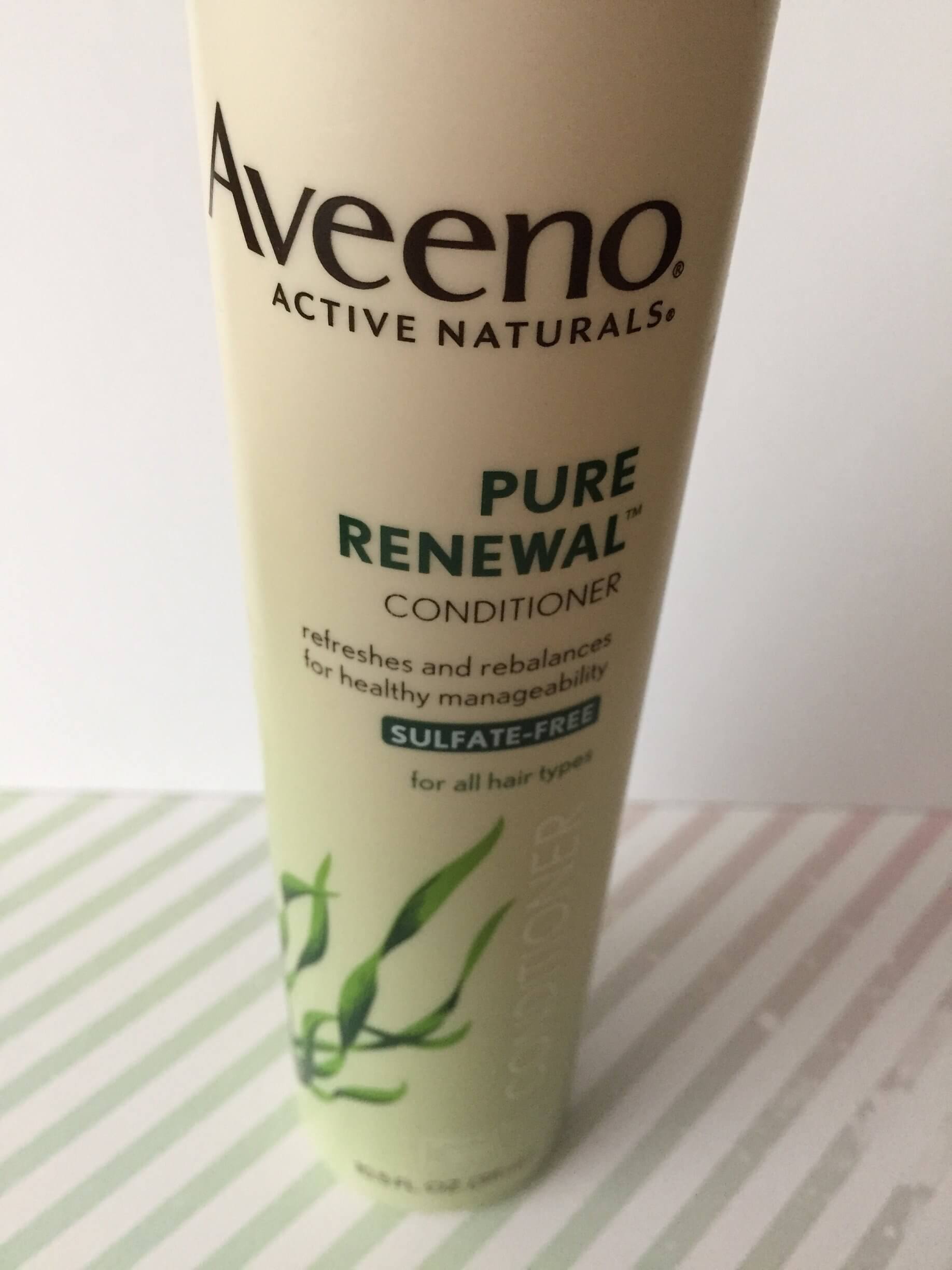 Actually, I've even seen color-care-focused shampoos that list sodium laureth sulfate in the ingredients. Weird, right? Always read the product marketing copy along with the ingredients. Never just look at the copy without checking the ingredients.
Anyhoo, I decided to ask my Dad the Chemist for his professional opinion about a sulfate-free conditioner from Aveeno. And also for his opinion about sulfate-free hair care products…is it more beneficial even for those who haven't colored their hair?
Aveeno Pure Renewal Conditioner ingredients
water, cetyl alcohol, stearyl alcohol, behentrimonium chloride, phenoxyethanol, dimethicone, caprylyl glycol, fragrance, glycerin, hydroxyethylcellulose, amodimethicone, polyquaternium-7, laminaria saccharina extract
Thoughts from My Dad the Chemist on Aveeno Pure Renewal Conditioner
I heard about the benefit [of seaweed extract] for hair is to strengthen and/or re-grow, I definitely need more than you do, besides I don't know if there is any clinical data to back it up. Shampoo with sulfates is ok to use, it foams better than sulfate free shampoo, And is cheaper, the formula you sent seems to be a good formula if you're happy with the cleansing and hopefully the polyquaternium 7 may help the conditioning too!
Love,
Dad
Here are my main takeaways:
Seaweed extract (Laminaria Saccharina Extract) might be beneficial for strengthening and/or regrowing hair, but we need to confirm by looking at clinical data.

Sulfates are ok in shampoo, so no need to avoid them unless you color your hair. plus, non-sulfate-free shampoos tend to be cheaper

Polyquaternium-7 may help with conditioning, so if you see this listed in your conditioner's ingredients, it's a plus.
Aveeno Pure Renewal Conditioner Review
I actually quite like the Aveeno Pure Renewal line of shampoo and conditioner. Both products have a pleasant fragrance that's not too in-your-face. And all the product seems to come out of the bottle quite easily. Once you get toward the lower half of the bottle, you can store it upside down so that it comes out more quickly.
I recommend Aveeno's Pure Renewal Shampoo and Conditioner as a great option for people with color-treated hair who are looking for a nice haircare option that doesn't cost upwards of $30 a bottle (cough, cough, Fekkai, cough!). If you live in NYC, you can buy it much cheaper online than in the stores…I see this product for about $10 to $11 at the drug stores (Duane Reade, CVS, Walgreens), but I can get it much cheaper by buying a 2-pack on Amazon, or at Target.com. Save yourself a few bucks and compare prices before buying it in a drug store.
And about that seaweed extract…interestingly I found this study which concluded that Laminaria Saccharina Extract may be beneficial for reducing signs of aging in the skin.
Related reading
Note: This post uses affiliate links, which means that I'll receive a commission if you make a purchase after clicking a link (at no extra cost to you). See our
disclosure policy
.