Kirkland Signature aka Costco's sulfate-free shampoo: Is it worth buying in bulk?
A few months ago, I was happy to discover another sulfate-free shampoo to add into the rotation, along with my old standby, Aveeno Pure Renewal Shampoo: Kirkland Signature Moisture Shampoo.
Because I live in New York City and don't own a car, I never visit Costco in person. But thanks to Google Express's partnership with Costco, I have been able to satisfy my bargain-hunting instincts by ordering select Costco products online. Plus, they get them shipped to my door within 1 or 2 days (yes, it truly is "express").
Google Express's Costco store doesn't provide access to the full warehouse selection (poppy seed muffins, how I miss thee!), but it does offer some really nice hidden gems. Watch out for a future post that highlights the top finds I've ordered on Costco through Google Express. Eek! It's going to be so exciting (said a select subset of people who live in NYC and don't own a car or have the chance to visit Costco but miss buying certain things in bulk).
Back in August, I spotted the Kirkland Signature Moisture Shampoo, a color-safe, sulfate-free shampoo that touts itself as color-safe, 100% vegan, paraben-free, and gluten-free. Plus, it was only $9.99 (at the time)—equivalent to the price of about two bottles of Aveeno, except that this gigantic Costco-sized bottle was bigger than three bottles' worth of Aveeno.
So I added it to my cart. So what happened after that? Read on to find out.
Kirkland Signature Moisture Shampoo Ingredients
This shampoo is chock full of ingredients. Unfortunately, I couldn't find these ingredients anywhere online, so I had to take a picture of the label and manually type up the ingredients.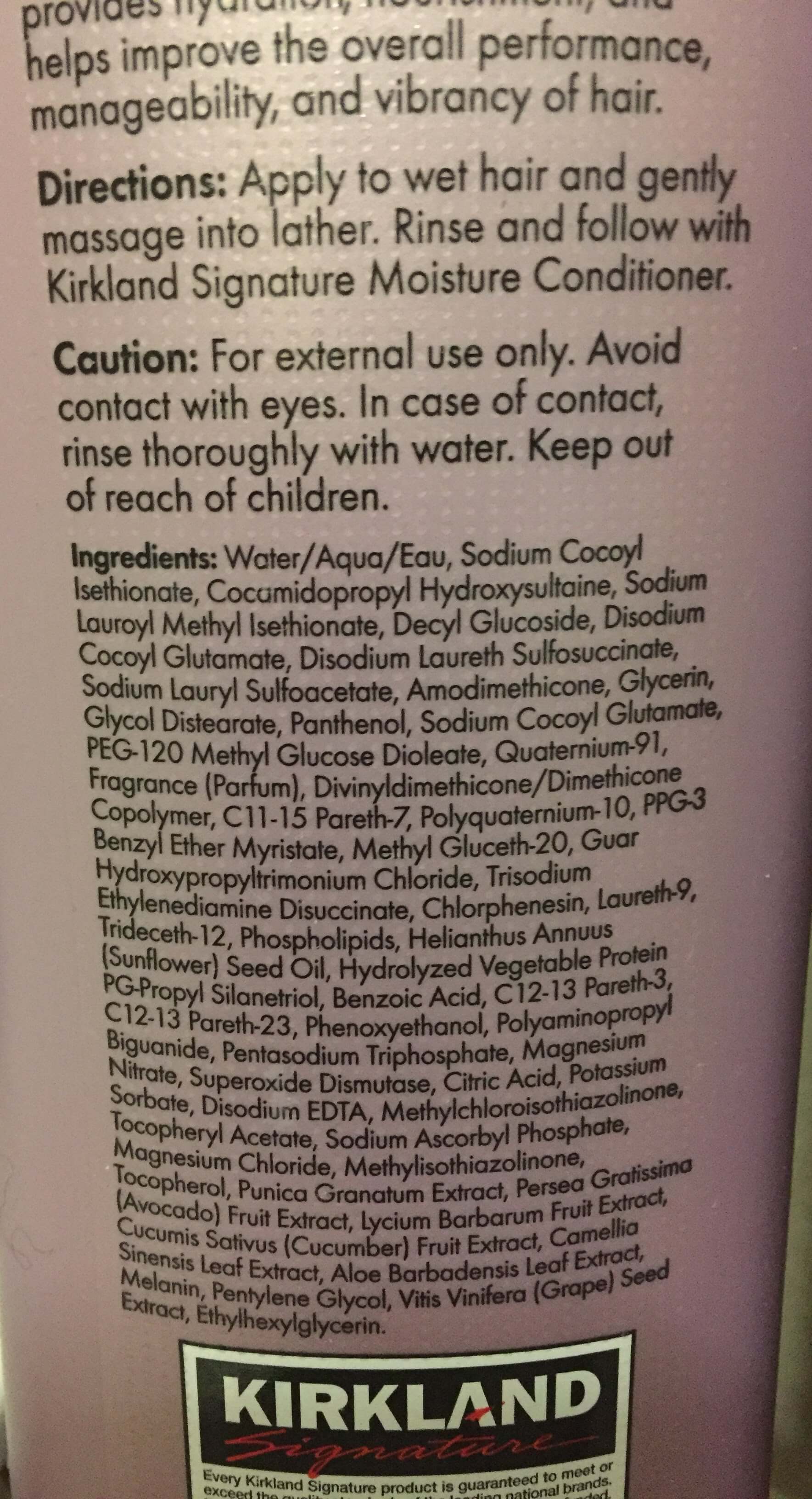 water/aqua/eau, sodium cocoyl isethionate, cocamidopropyl hydroxysultaine, sodium lauroyl methyl isethionate, decyl glucoside, disodium cocoyl glutamate, disodium laureth sulfosuccinate, sodium lauryl sulfoacetate, amodimethicone, glycerin, glycol distearate, panthenol, sodium cocoyl glutamate, peg-120 methyl glucose dioleate, quaternium-91, fragrance (parfum), divinyldimethicone/dimethicone copolymer, c11-15 pareth-7, polyquaternium-10, ppg-3 benzyl ether myristate, methyl gluceth-20, guar hydroxypropyltrimonium chloride, trisodium ethylenediamine disuccinate, chlorphenesin, laureth-9, trideceth-12, phospholipids, helianthus annuus (sunflower) seed oil, hydrolyzed vegetable protein pg-propyl silanetriol, benzoic acid, c12-13 pareth-3, c12-13 pareth-23, phenoxyethanol, polyaminopropyl biguanide, pentasodium triphosphate, magnesium nitrate, superoxide dismutase, citric acid, potassium sorbate, disodium edta, methylchloroisothiazolinone, tocopheryl acetate, sodium ascorbyl phosphate, magnesium chloride, methylisothiazolinone, tocopherol, punica granatum extract, persea gratissima (avocado) fruit extract, lycium barbarum fruit extract, cucumis sativus (cucumber) fruit extract, camellia sinensis leaf extract, aloe barbadensis leaf extract, melanin, pentylene glycol, vitis vinifera (grape) seed extract, ethylhexylglycerin
A direct dispatch from my Dad the Chemist
I emailed my Dad the Chemist this list of ingredients and asked him which ones he liked, which ones he didn't like, and what he thought about this shampoo overall. Here's what he had to say.
Dear Emily,

Like:
Sulfate free shampoo base surfactants:
Sodium Cocoyl Isethionate, Cocamidopropyl Hydroxysultaine, Sodium Lauroyl Methyl Isethionate, Decyl Glucoside, Disodium Cocoyl Glutamate, Disodium Laureth Sulfosuccinate, Sodium Lauryl Sulfoacetate,

Hair Conditioners:
Amodimethicone, pantheons, PEG-120 Methyl Glucose Dioleste, Quaternium-91 Divinyldimethicone/Dimethicone Copolymer, C11-15 Pareth-7, Polyquaternium-10, PPG-3 Benzyl Ether Myristate, Methyl Gluceth-20, Guar Hydroxypropyltrimonium Chloride, Helianthus Annuus (Sunflower) Seed Oil, Hydrolyze Vegetable Protein PG-Propyl Silanetriol, C12-13 Pareth-3, C12-13 Pareth-23.

Vitamins and Extracts:
Tocopheryl Acetate, Sodium Ascorbyl Phosphate, Tocopherol, Punica Granatum Extract, Persea Gratissima (Avocado) Fruit Extract, Lycium Barbarum Fruit Extract, Cucumis Sativus (Cucumber) Fruit Extract, Camellia Sinensis Leaf Extract, Aloe Barbadensis Leaf Extract, Melanin, Pentylene Glycol, Vitis Vinifera (Grape) Seed Extract.

Ingredients not preferred: (Not permitted in leave on products, rinse-off shampoo is still allowed)
Magnesium Nitrate,
Methylchloroisothiazolinone
Methylisothiazolinone


Love,

Dad
I emailed him back to tell him that I was enjoying the shampoo, and here was his response:
That's great!
Don't worry about the 3 ingredients that I don't like it, they're effective preservatives for the product, and uses minimal amounts, and it's for rinse-off shampoo, shouldn't be concerned.

Love,

Dad
Here are my key takeaways from his letter:
Magnesium Nitrate, Methylchloroisothiazolinon, Methylisothiazolinone are ok in rinse-off shampoos, but shouldn't be in any leave-in treatment because they are preservatives and excess exposure may be harmful.

Since this is a sulfate-free shampoo, it needs a lot of surfactants to help it foam up. This shampoo really is just as foamy as any other sulfate-containing shampoo, which is impressive.

This shampoo includes lots of fruit extracts and vitamins to help nourish your hair. Tocopheryl Acetate is also known as Vitamin E, Sodium Ascorbyl Phosphate is a form of Vitamin C, Tocopherol is another form of Vitamin E, Punica Granatum Extract is pomegranate (which provides Vitamin C and antioxidants), and Camellia Sinensis Leaf Extract is green tea extract.

This shampoo also contains a lot of conditioning ingredients, including Polyquaternium-10 (similar to Aveeno Pure Renewal Shampoo's Polyquaternium-7).

Kirkland Signature Moisture Shampoo review
I like this shampoo a lot—especially at this price point. It's gone up a few dollars since I first bought it on Google Express (I got it for $9.99 and it's now $11.23). However, I can't complain because I've been using it for about 6 months now and I still haven't run out. I use about a full pump every time, which is enough for my shoulder-length hair. I used it with a different brand conditioner (Aveeno Pure Renewal Conditioner), until recently, when I opened the Kirkland Signature Moisture Conditioner. I'll keep you posted on how that works out!
Further reading
Note: This post uses affiliate links, which means that I'll receive a commission if you make a purchase after clicking a link (at no extra cost to you). See our
disclosure policy
.