What's the difference between chemical sunscreen and physical sunscreen?
Let's dive into one of my favorite skincare products of all time…sunscreen! I've already shared my paranoia about leaving the house without a layer of sunscreen on my face. Today, let's explore one of the hot topics when it comes to sunscreen: physical vs. chemical sunscreen. What the heck is the difference? And does it even matter?
I'm by no means an expert on this topic, but I have been using sunscreen for most of my life, so I think that experience should come in handy for others who also have sensitive skin and acne.
I'll compare a few of the products I've used over the years, and share my honest opinion on why I've concluded that physical sunscreens are personally a better fit for my sensitive skin.
Without further ado, let's turn back the clock and peer into Emily's personal history of sunscreen.
The early years: Neutrogena Ultra Sheer Dry Touch Sunscreen
Neutrogena Ultra Sheer Dry Touch Sunscreen is the first sunscreen I remember using on a regular basis. I'm not sure why—I don't think it was because Jennifer Garner, the face of Neutrogena, made the product look appealing. I think it just happened to be what we had in the house.
This product is medium-thick consistency, and easily blends into the skin, and leaves a bit of an oily film on your face. But it doesn't aggravate my acne or smell weird. It did sometimes irritate my skin a little bit, but not so much that I wanted to stop using it.
This is a chemical sunscreen, which actually uses a mix of five chemicals to provide SPF 30 protection: avobenzone, homosalate, octinoxate, octisalate, and oxybenzone.
Neutrogena Ultra-Sheer Dry Touch Sunscreen SPF 30
Active Ingredients: avobenzone 2.0%, homosalate 7.0%, octinoxate 7.5%, octisalate 5.0%, oxybenzone 3.0%
Inactive Ingredients: water, silica adipic acid/diethylene glycol/glycerin crosspolmer, dimethicone, hydroxyethyl acrylate/sodium acryloyldimethyltaurate copolymer, glycerin, oat (aveena sative) kernel extract, squalane, ascorbyl palmitate, retinyl palmitate, tocopheryl acetate, bht, ceytyl dimethicone, bisabolol, dipotassium glycyrrhizate, glyceryl stearate, peg-100 stearte, polysorbate 60, tetrasodium edta, butylene glycol, trimethylsiloxysilicate, xanthan gum, benzyl alcohol, isprpopylparaben, isobutylparaben, butylparaben, phenoxyethanol, fragrance
The middle ground: Olay Complete All-Day Moisturizer SPF 15 - Sensitive
At some point after I went away to college, I switched to using this Olay sunscreen because the label made it clear that it was for sensitive skin. It's a fragrance-free formula that blends easily into the skin without leaving an oily/greasy residue. Compared to the Neutrogena formula, it's much more watery/thin, and feels much more lightweight on the skin. This thin consistency, combined with the low SPF, make it unsuitable for outdoorsy days—you need a sunscreen that offers more heavy-duty protection if you're going to be out in the sun all day.
It's definitely not suitable for swimming/hiking outdoors, since it's not water-resistant. But it's a great lightweight formula that is more of a moisturizer than a sunscreen. It mixes one chemical sunscreen ingredient (octinoxate) with one physical sunscreen (zinc oxide), making it a half-chemical, half-physical sunscreen in my book. I think of this product as my gateway drug to physical sunscreen.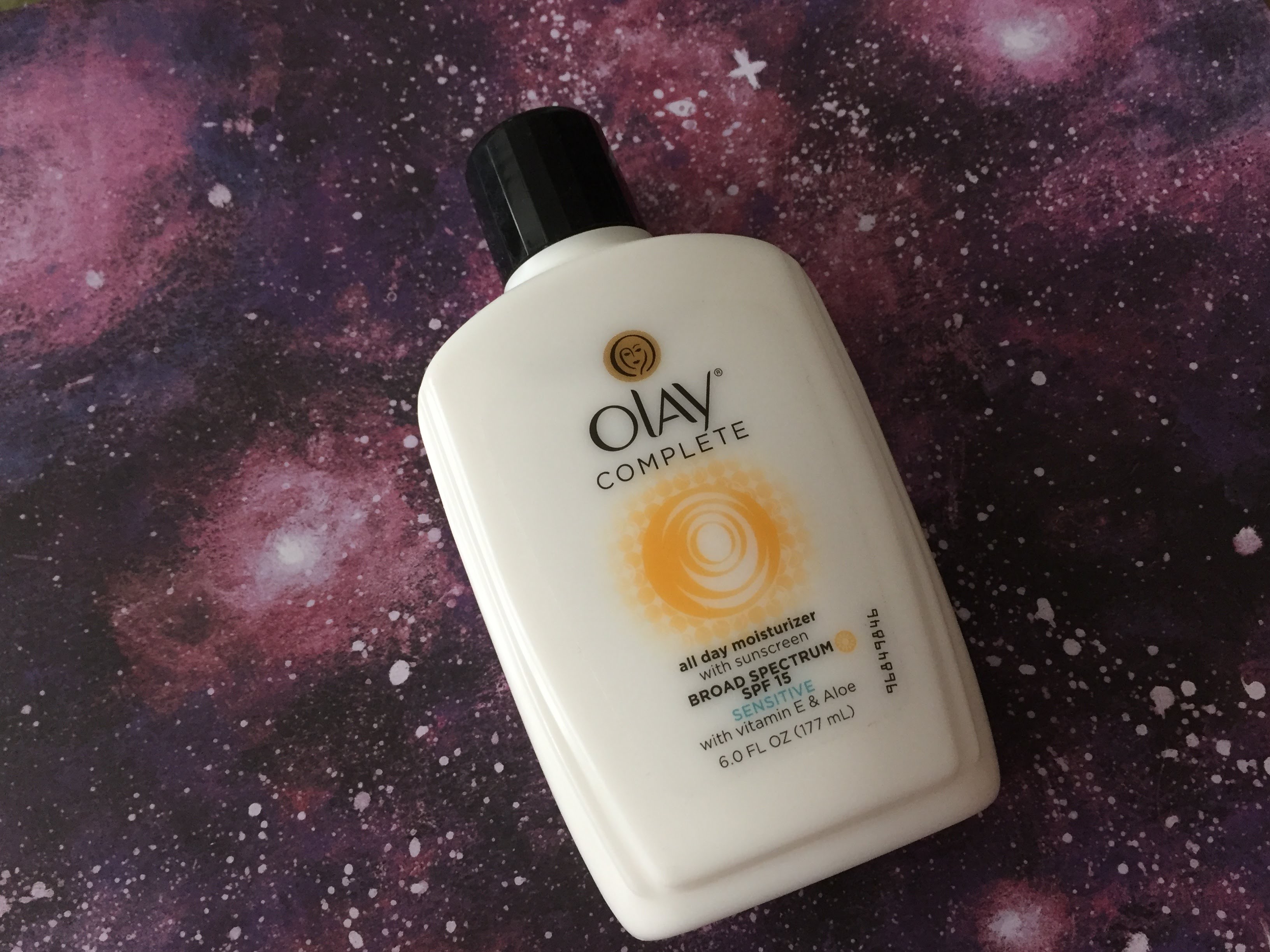 Olay Complete All-Day Moisturizer Sunscreen SPF 15 for Sensitive Skin
Active Ingredients: octinoxate 6.0%, zinc oxide 3.0%
Inactive Ingredients: water, glycerin, isohexadecane, steareth-21, cyclopentasiloxane, acrylamide/sodium acryloyldimethyltaurate copolymer, stearyl alcohol, sucrose polycottonseedate, behenyl alcohol, c13-14 isoparaffin, dmdm hydantoin, tocopheryl acetate, cetyl alcohol, peg/ppg-20⁄20 dimethicone, laureth-7, steareth-2, disodium edta, triethoxycaprylylsilane, oleth-3 phosphate, iodopropynyl butylcarbamate, aloe barbadensis leaf extract.
The current fave: Australian Gold Botanical Tinted Sunscreen SPF 50
I've graduated to this higher SPF, 100% physical sunscreen that mixes moisturizing ingredients like shea butter with two physical sunscreen ingredients: zinc oxide and titanium dioxide. It's more expensive than the other sunscreens I've used in the past, but it also provides the most benefits (higher SPF, water-resistant, doubles as a really good facial moisturizer/BB cream).
Australian Gold Botanical SPF 50 Tinted Face Sunscreen
Active ingredients: titanium dioxide 4%, zinc oxide 4%
Inactive ingredients: alumina, butyrospermum parkii (shea) butter, caprylyl glycol, cetyl peg/ppg-10⁄1 dimethicone, cyclopentasiloxane, dimethicone crosspolymer, disodium edta, disteardimonium hectorite, eucalyptus globulus leaf extract, glycerin, hexyl laurate, iron oxides, panthenol, peg-10 dimethicone, phenoxyethanol, polyglyceryl-4 isostearate, polymethylsilsesquioxane, porphyra umbilicalis (red algae) extract, silica, squalane, stearic acid, terminalia ferdinandiana (kakadu plum) fruit extract, tocopheryl acetate, triethoxycaprylylsilane, water
I love this sunscreen! Read my full review here.
Physical vs. chemical sunscreens
My Dad the Chemist says that "physical sunscreens … provide better protection (more efficacious) and less irritation." I don't know why he didn't buy a physical sunscreen for me instead of that Neutrogena one…maybe because chemical sunscreens tend to be more affordable, and still do the job (block UVA/UVB rays)?
Anyway, from what I could dig up on Google, it seems like chemical sunscreen's active ingredients absorb the sun's UV rays (so your skin won't have to), while physical sunscreen's active ingredients block UV rays. Both are effective at protecting your skin.
Physical sunscreen (aka mineral sunscreen):
Pro: typically less irritating to sensitive skin, and less oily

Con: tend to be thicker/pastier, and may leave a slightly white cast on the skin*
*Note that this con can be remedied by using a tinted physical sunscreen that matches your skin tone.
Chemical sunscreen:
Pro: blends easily into your skin, and doesn't leave much of a white cast on your skin

Con: ingredients may irritate sensitive skin or sting when applied to your face
All things considered, I much prefer physical sunscreen in the present day…specifically Australian Gold Botanical Tinted Sunscreen. Read more about it here.
tl;dr ugh, but really, can you just tell me how they're different?
Let's be real…you don't really need to know what makes one sunscreen "physical" and another one "chemical." In fact, some can be hybrid! (Like the Olay one mentioned earlier.)
To quickly find out if a sunscreen is physical or chemical, all you have to do is look at the active ingredients. Physical sunscreens should list titanium dioxide and/or zinc oxide as the only active ingredient(s). Chemical sunscreens will contain other active ingredients, usually octinoxate, avobenzone, oxybenzone, etc.
If you have sensitive skin and haven't found a sunscreen that doesn't sting when you put it on your face, I recommend trying a physical sunscreen that:
is fragrance-free
includes moisturizing ingredients like glycerin and shea butter
is purely physical, meaning it has nothing but zinc oxide and/or titanium dioxide in the "active ingredients" section.
No matter which type of sunscreen you choose, aim for SPF 15+ (personally, I feel more comfortable with SPF 30+), and look for the words "broad spectrum UVA/UVB" to ensure that it provides proper protection.
Here's to many sunny days ahead, my fellow sensitive-skinned friends!
Note: This post uses affiliate links, which means that I'll receive a commission if you make a purchase after clicking a link (at no extra cost to you). See our
disclosure policy
.