Which unscented, ultra-moisturizing hand lotion will come out on top? Ask my Dad the Chemist.
I've had eczema since I was a kid. Most of the time, thankfully, I can keep it under control by putting on lotion as often as I can—especially at night. Actually, everyone in my immediate family either has eczema or psoriasis, so we were always trying out different lotions at home, hoping we'd find the one that solved all of our skin woes. Ointment, cream, or lotion? Scented, unscented, naturally scented? Runny, creamy, greasy? Big brands, generic brands, hippie/indie brands? I've tried 'em all, with varying degrees of success.
What I think makes a good hand lotion for eczema (and what doesn't)
Here's what I've learned about my own preferences over the years. This isn't necessarily going to apply to everyone, it's just what I've found to be most effective for my eczema.
Good consistency: not too runny, but also not too thick. Lotions with my favorite consistency: Vaseline Intensive Care Lotion Advanced Repair and CeraVe SA Renewing Cream, Kiehl's Ultimate Strength Hand Salve

Too greasy: If you don't like greasy, stay away from products that contain petrolatum or lanolin as a primary ingredient. This includes: Vanicream Moisturizing Cream (petrolatum is the second ingredient), plain old Vaseline, and Bag Balm are just way too greasy for me.
Too watery: Personally, I don't like it when lotion is so runny/watery that it doesn't feel like it's soaking into my skin at all. I had high hopes for Curel Itch Defense Lotion, but I just thought it was too watery to moisturize my skin effectively. Note, however, that it does get a seal of approval from the National Eczema Association, and my sister likes it, so it's probably worth a shot.

Red flags: I always avoid anything with fragrance or alcohol. Fragrances irritate my skin and make it itchy, and alcohol seems to dry out my skin.

What's better for eczema? Vaseline Intensive Care Advanced Repair vs. O'Keeffe's Working Hands
For the past 10 years or so, I've primarily been using Vaseline Intensive Care Lotion, Advanced Repair just about every night. It's fragrance-free, it has a good consistency (not too thick or watery), and it's reasonably priced, so it checks all of the major boxes. I apply it on my hands before I go to sleep. Surprisingly, it doesn't feel all that greasy, even though it contains both petrolatum and mineral oil.
However, a friend (who also has mild eczema) gave me O'Keeffe's Working Hands Hand Cream for Christmas this year, so I wondered if I should start using that instead of my tried-and-true Vaseline lotion.
I decided to ask my Dad the Chemist for his professional opinion. I didn't tell him anything about either product, just sent him both ingredient lists and asked him which one he liked better (and why).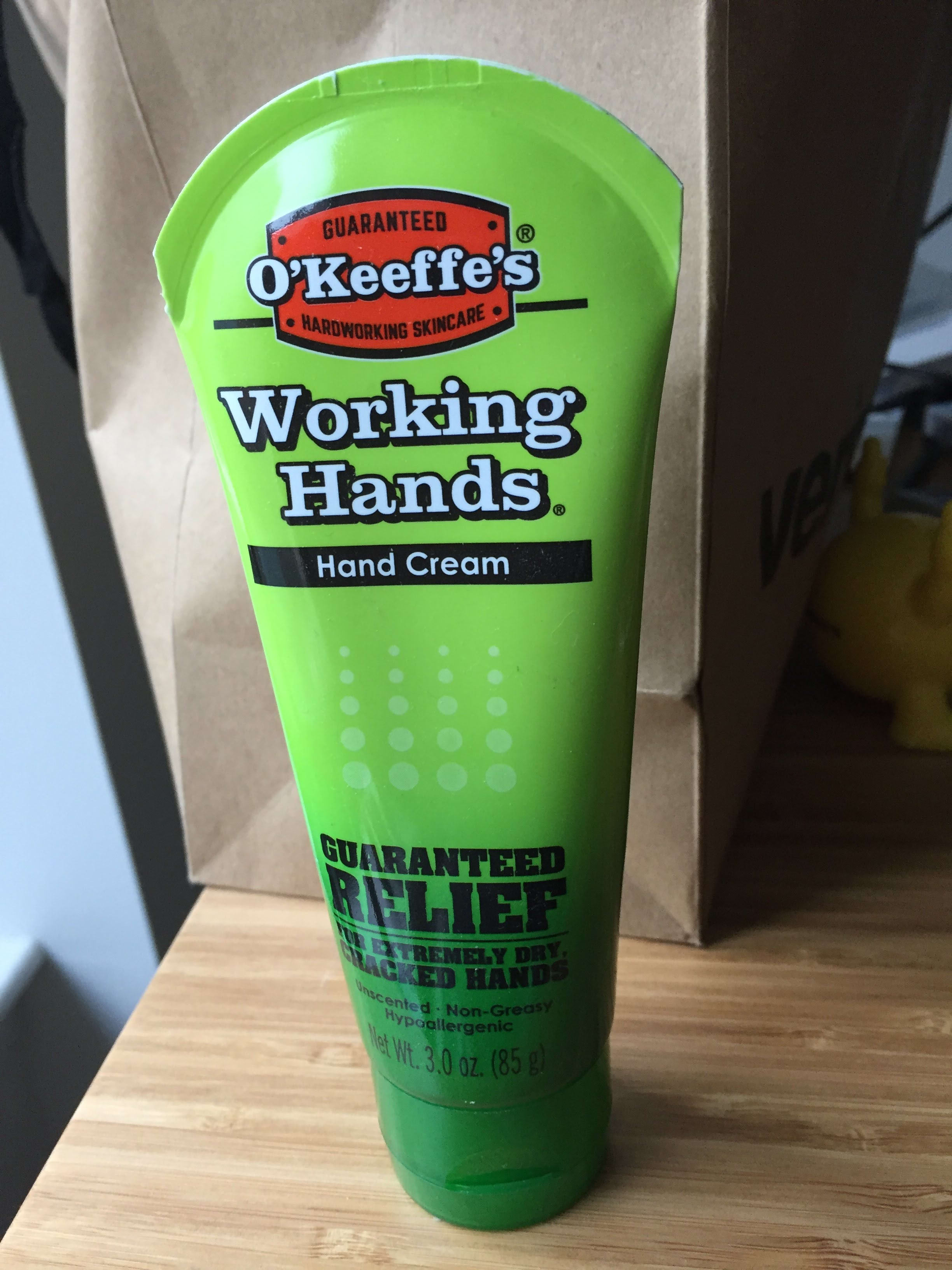 O'Keeffe's Working Hands Hand Cream Ingredients
water, glycerin, stearic acid, aluminum starch octenylsuccinate, polyquaternium-10, diazolidinyl urea, paraffin, acrylamide copolymer, acrylates, mineral oil, dimethicone, sodium hydroxide, iodopropynyl butylcarbamate, ceteth-10, laureth-4, polysorbate 85
Vaseline Intensive Care Advanced Repair Lotion Ingredients
water (aqua), glycerin, stearic acid, isopropyl palmitate, glycol stearate, peg-100 stearate, mineral oil, dimethicone, petrolatum, glyceryl stearate, phenoxyethanol, cetyl alcohol, methylparaben, acrylates/c10-30 alkyl acrylate crosspolymer, triethanolamine, propylparaben, disodium edta, stearamide amp, cedrol, dihydroxypropyltrimonium chloride, hydroxyethyl urea
Thoughts from my dad the chemist on O'Keeffe's Working Hands vs. Vaseline Intensive Care Advanced Repair
Here's what my dad had to say once he compared the ingredients for these two products:
Dear Emily, these two formulas are very close on ingredients and performance, however, I would prefer the first formula not the second one because:
1) The first one is paraben free, the second one has methylparaben and propylparaben.
2) although the moisturizing performance may be equal or close, but Because the first one contains aluminum starch octenylsuccinate which may reduce the oily or sticky after feel resulting from various skin conditioning ingredients such as mineral oil and/or glycerin.
3) The first one contains a cationic polymer, polyquaternium -10, it provides positive charge for skin/hair, a good conditioner for skin and hair.


Love,
Dad
My key takeaways from this letter:
Parabens may be irritating to the skin. O'Keeffe's Working Hands is paraben-free, so if you think your skin may be sensitive to parabens, or if you'd like to avoid parabens for other reasons, I'd opt for O'Keeffe's over the Vaseline lotion.
Aluminum starch octenylsuccinate in O'Keeffe's Working Hands may help reduce greasiness from ingredients like mineral oil and glycerin.

Working Hands also contains an ingredient that doubles as a nice conditioner for both skin and hair: polyquaternium-10. Look for this ingredient in products, especially if you've always wanted to apply hand cream and then wipe the excess in your hair to tame those flyaways/frizzies.

Actually, it turns out that the National Eczema Association agrees with my dad. The website gives Vaseline Intensive Care Advanced Repair lotion a rating of 4 out of 5 stars, but issues the following warning: "This product may contain potential irritants at concentration levels thought to be insignificant for most patients. These ingredients include the preservatives methylparaben, propylparaben and phenoxyethanol." Note to self: Parabens are basically chemist-speak for preservatives.
Final thoughts on O'Keeffe's Working Hands Hand Cream vs. Vaseline Intensive Care Advanced Repair Lotion
Vaseline Intensive Care Advanced Repair Lotion is much more affordable, but O'Keeffe's isn't terribly expensive either. However, if you prefer to avoid parabens, and you like the feeling of a richer cream over a lotion, I think O'Keeffe's is worth trying. Plus, it doubles as a solution for flyaways/frizzy hair. But if you're on a budget and you don't mind using a product that contains parabens, I'd suggest opting for the Vaseline lotion.
Note: This post uses affiliate links, which means that I'll receive a commission if you make a purchase after clicking a link (at no extra cost to you). See our
disclosure policy
.