Finally—a physical sunscreen that doesn't cause breakouts or make your face look ghostly white. However, my dad thinks that SPF 50 may be overkill.
I have a confession: I can't leave the house without applying sunscreen. And on the rare occasion that I do, I feel really uncomfortable about it…I just feel strangely exposed without a layer of sunscreen on my face. I think that maybe it's rooted in fears about the thinning ozone layer and global warming. Anyway, long story short, I've tried a lot of different kinds of sunscreen in my day. But I think I've found my new favorite: Australian Gold Botanical SPF 50 Tinted Face Sunscreen.
It's a physical sunscreen (more on that later), and it even includes a light tint so it doesn't make my skin look white/ghostly. And it hasn't caused my skin to break out at all! Let's take a closer look at the ingredients and see what my Dad the Chemist thinks about this product.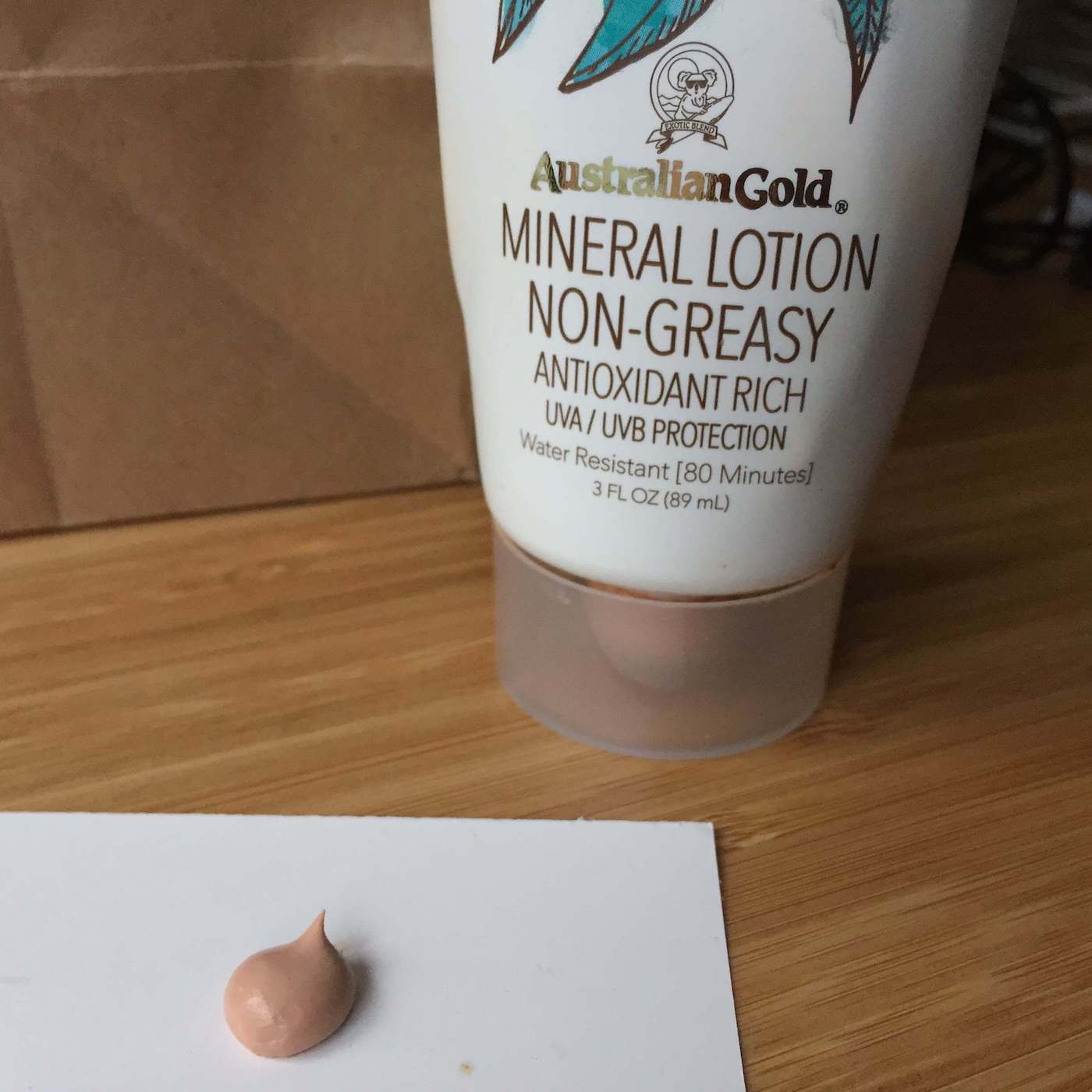 Australian Gold Botanical SPF 50 Tinted Face Sunscreen Ingredients
Active ingredients: titanium dioxide 4%, zinc oxide 4%
Inactive ingredients: alumina, butyrospermum parkii (shea) butter, caprylyl glycol, cetyl peg/ppg-10 / 1 dimethicone, cyclopentasiloxane, dimethicone crosspolymer, disodium edta, disteardimonium hectorite, eucalyptus globulus leaf extract, glycerin, hexyl laurate, iron oxides, panthenol, peg-10 dimethicone, phenoxyethanol, polyglyceryl-4 isostearate, polymethylsilsesquioxane, porphyra umbilicalis (red algae) extract, silica, squalane, stearic acid, terminalia ferdinandiana (kakadu plum) fruit extract, tocopheryl acetate, triethoxycaprylylsilane, water
My dad's review of Australian Gold Tinted Face Sunscreen
Here's what my dad had to say about Australian Gold Botanical SPF 50 Tinted Face Sunscreen…
Dear Emily,
Good formula with physical sunscreens instead of organic sunscreens, which provides better protection (more efficacious) and less irritation.
The only negative thing about titanium dioxide and zinc oxide is that it may appear to be white on the skin, however, the particle size of these two sunscreens and the other ingredients used in the formula may be capable of reducing the opaqueness to the minimum or barely noticeable. Some consumer don't like about the white appearance, but some people don't care.
All other ingredients in this formula look good, hopefully you like it. Please let me know if you have any other questions.
... (In a second letter...) I'm glad that you like it! If you don't use fir outdoors, SPF 50 may be overkilled! Occasionally exposure during the day, SPF 15 is good enough. BTW, is this formula greasy at all?
... (In a third letter...) Shea butter may contribute to the greasiness but the feel may be reduced by dimethicone crosspolymer and dimethicone material, as long as it's not sticky, it will be ok, shea butter is one of the best ingredients for skin. I asked the question because this isn't a water based formula (water listed as the last), which I presumed that they make water resistant claim?
Wow, he figured out that this product was water-resistant.
My key takeaways from this letter:
- Physical sunscreens provide better protection/are more efficacious and less irritating than chemical sunscreens.
- The only negative thing about physical sunscreens is that they may appear to be white on the skin. However, if you choose a good formula that has a small enough particle size and other ingredients to help offset the whiteness, it should be ok.
- Shea butter is a great ingredient to look for in skincare products. But it can feel a bit sticky.
Australian Gold Tinted Face Sunscreen Review
I picked this up at CVS on a whim (I guess I've been shopping at CVS a lot lately), mainly because I rarely see physical sunscreens with such a high SPF (50!) that are also tinted. So I thought it looked very promising…and I'm so glad I took a gamble on this one! This is now my everyday sunscreen.
If you have sensitive skin like me, I recommend looking in the sunscreen aisle of your local pharmacy, and scanning through the ones that have only "titanium dioxide" and/or "zinc oxide" as the active ingredients. If you are worried about looking pale, search for something tinted, like this Australian Gold Botanical SPF 50 Tinted Face Sunscreen! The other plus of using a tinted sunscreen is that it can help mask large pores and other skin imperfections (such as slight redness from post-acne recovery). Like a BB cream, but with more powerful UVA/UVB blocking benefits.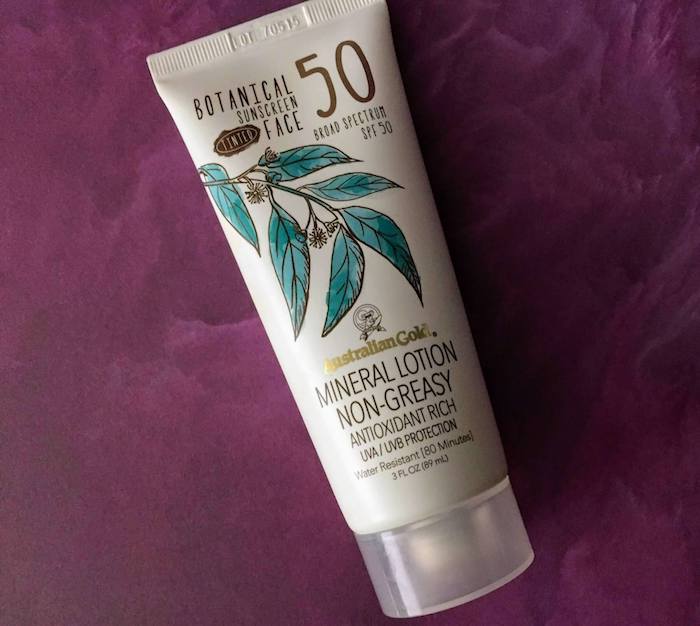 Pros:
- Doesn't make your face as pale/white as other physical sunscreens, because of the tint. The tinted color appears to work well with my Asian skin, but may not work as well with other types of skin tones, so YMMV.
- Very nice consistency, spreads evenly on the skin, and isn't pasty at all. It also doesn't feel greasy or oily on your skin once you blend it in.
- Higher SPF than many other facial sunscreens. I disagree with my dad, I don't think it's overkill!
- 3-oz. size makes it TSA carryon/travel-friendly.
- Not a water-based formula, so it is water-resistant for up to 80 min.
Cons:
- It doesn't feel oily on your face, but it will leave some tint/residue on your fingers that will be a bit tough to wash off.
- You'll need to wipe this off your face at the end of the day with some kind of makeup removing wipe. Regular face wash isn't enough.
Further reading
Should we be worried about the low percentage of active sunscreen ingredients in this product? I asked Australian Gold for more info on their SPF 50 claims—here's what they had to say.
Update: I found out this sunscreen's PA rating! Read about it here.
Note: This post uses affiliate links, which means that I'll receive a commission if you make a purchase after clicking a link (at no extra cost to you). See our
disclosure policy
.