Which brand wins this battle of the moisturizing SPF lip balms?
Along with Michaels, Bed Bath & Beyond was one of my favorite stores as a teenager. (Yes, I'm what some might call a "nerd" or an "old soul.") The "beyond" includes Harmon Face Values, a division of the company that sells health and beauty products—not only name brands but also their own generic versions. I picked up a three-pack of Harmon Face Values sunscreen lip balm the other day. It looks like a dead ringer for ChapStick's moisturizing lip balm, in the same shade of blue. And if you scan both ingredient labels, you'll see that they contain very similar active and inactive ingredients. So does Harmon Face Values make a sunscreen lip balm that's just as good as the name brand? Let's ask my dad the chemist!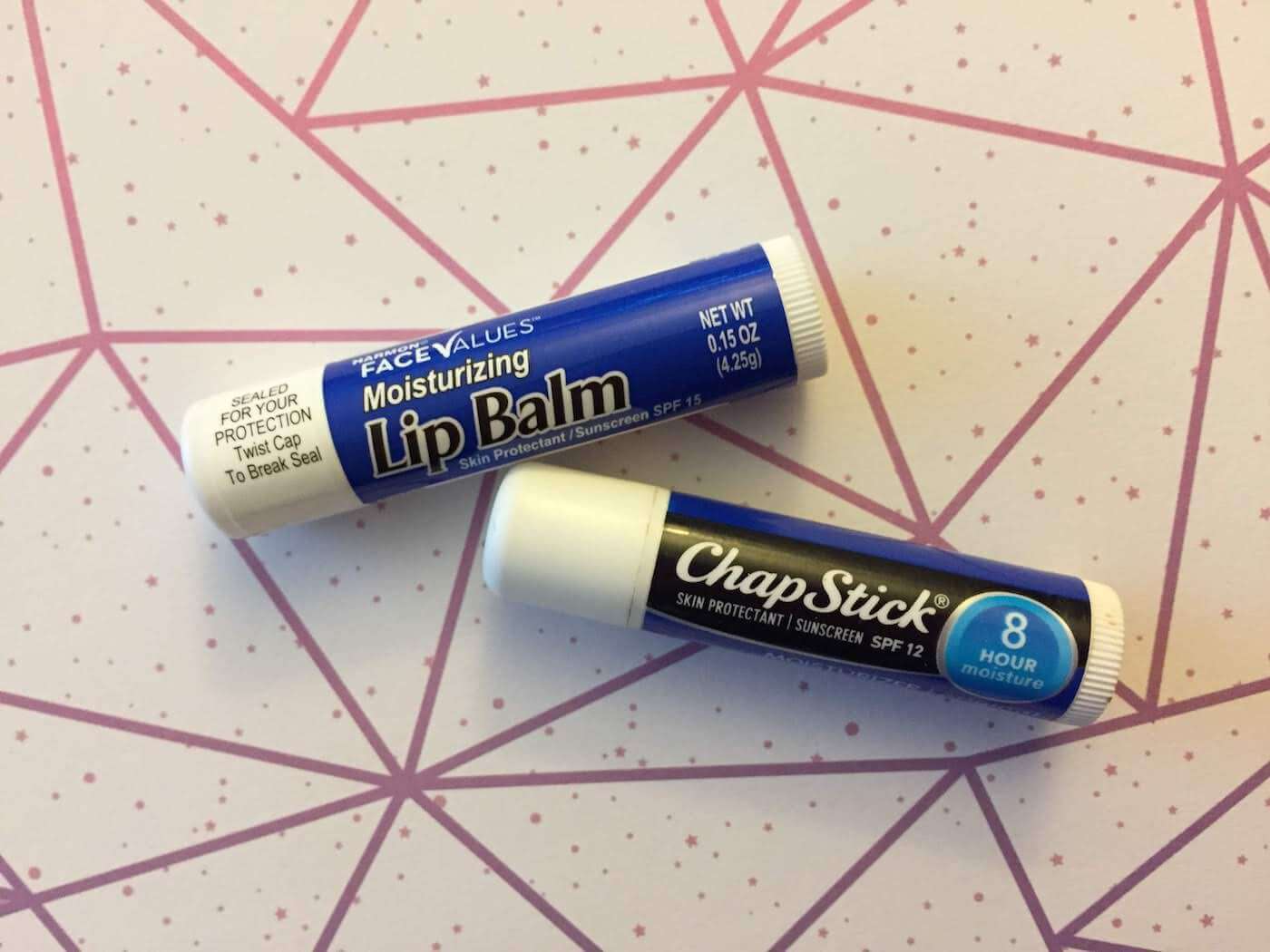 Harmon Face Values Moisturizing Lip Balm SPF 15 ingredients
Active Ingredients: octinoxate (7.5%), oxybenzone (3.5%), petrolatum (40.7%)
Inactive Ingredients: ozokerite, mineral oil, isocetyl stearate, microcrystalline wax, isopropyl lanolate, lanolin, copernicia cerifera (carnauba) wax, tocopheryl acetate, isopropyl myristate, aloe barbadensis leaf extract, paraffin, cetyl alcohol, tocopheryl linoleate, flavor, methylparaben, propylparaben
ChapStick Lip Moisturizer SPF 12 ingredients
Active Ingredients: octinoxate (7.5%), oxybenzone (3.5%), white petrolatum (40.7%)
Inactive Ingredients: aloe barbadensis leaf extract, cetyl alcohol, copernicia cerifera (carnauba) wax, fragrance, isocetyl stearate, isopropyl lanolate, isopropyl myristate, lanolin, methylparaben, mineral oil, paraffin, propylparaben, tocopheryl linoleate/oleate, vitamin e acetate, white wax
Chapstick vs. Harmon Face Values Moisturizing Sunscreen Lip Balm ingredient comparison
Both products contain the same concentration of petrolatum, listed as a "skin protectant" over-the-counter drug if it's included at 30 to 100 percent. Interestingly, the FDA lists petrolatum and white petrolatum separately in its Electronic Code of Federal Regulations. After doing a bit of research, it appears that white petrolatum may be more refined than petrolatum, which perhaps makes it less likely to contain harmful chemicals. Vaseline, the household name when it comes to petrolatum, claims that it sells triple-filtered white petrolatum that is hypoallergenic and safe to use anywhere on your skin, even around your eyes.
For this reason, it seems like even though both of these products contain the same concentration of petrolatum, maybe ChapStick uses a higher quality petrolatum in its lip balm. Both of these products include the same chemical sunscreen ingredients: octinoxate and oxybenzone. Octinoxate blocks UVB rays, while oxybenzone blocks UVB and UVA2 rays. This means that both of these products are lacking protection against the UVA1 spectrum (340–400nm).
Both ChapStick's version and Harmon Face Values's dupe contain lanolin, which can be a great moisturizing ingredient for some, but it can also trigger an allergic reaction particularly in those who have eczema, like me. In fact, the American Contact Dermatitis Society suggests avoiding products that contain lanolin if possible. Unfortunately, I didn't notice that this product contained lanolin at the time I bought it.
My dad the chemist's review of ChapStick vs. Harmon Face Values moisturizing lip balm
Dear Emily, very similar formula, I think the performance/efficacy should be equal. If I have to make choice, I'll try the one with lower price.

Love,
Dad
Based on the ingredients, my dad thinks that ChapStick isn't worth the brand recognition in this case. I'm inclined to agree. Other than the difference in petrolatum source, and concerns about how pure the petrolatum is, I would think that Harmon Face Values makes a pretty good alternative to ChapStick's sunscreen lip balm. ChapStick's version also contains fragrance, while Harmon Face Values's version does not, which makes me more inclined to choose it over ChapStick. Plus, Harmon Face Values's lip balm offers slightly higher SPF, at 15 versus 12 for ChapStick. For these reasons (although ChapStick is still very affordable in the grand scheme of things), I think it makes sense to save by buying Harmon Face Values's sunscreen lip balm rather than the name brand version.
Of course, it's still probably better to use a lip balm that offers a higher SPF factor, such as my current favorite, Banana Boat Aloe Vera Sunscreen Lip Balm, which offers SPF 45. Read more about that in my sunscreen lip balm guide.
Related reading
Note: This post uses affiliate links, which means that I'll receive a commission if you make a purchase after clicking a link (at no extra cost to you). See our
disclosure policy
.