Which company makes a better zinc oxide-based sunscreen lip balm: Burt's Bees or Sprouts (a grocery store)?
I've always loved leisurely browsing the aisles of a nice, brightly lit grocery store. One thing I hate about living in NYC is the grocery shopping experience. When I'm shopping in a nice grocery store, I feel on edge because it's usually pretty crowded—either because of the sheer number of people, the limited square footage, or some combination thereof. In some stores, I also feel like I'm dodging store employees as they restock the shelves, and fellow shoppers who want to grab some overpriced bone broth or asparagus water on the way to a Bikram yoga class. Over the holidays, I got to experience the joys of suburban grocery shopping once again, this time at one of my favorite stores: Sprouts! If you're not familiar, Sprouts is a natural foods market that feels like a more hippie-ish version of Whole Foods. It also sells non-food items like beauty essentials, including its own house brand of sunscreen lip balm. I picked up this unscented zinc oxide-based lip balm on a whim.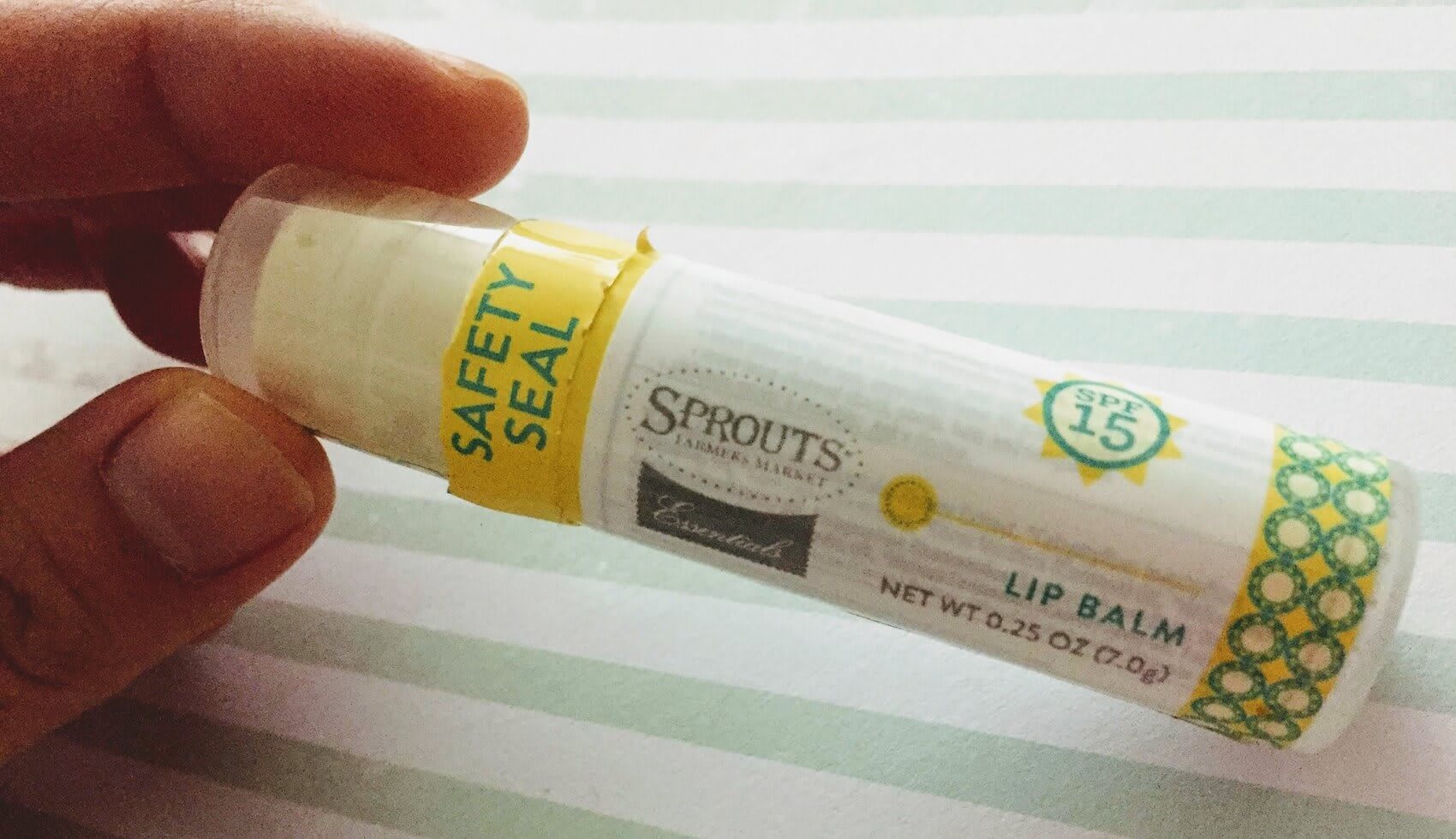 I was curious to see how this grocery store brand would compare against a national brand like Burt's Bees, so I decided to send my dad ingredients for both products, without telling him which was which.
Burt's Bees all-weather lip balm SPF 15 ingredients
Active ingredients: zinc oxide (11%)


Inactive Ingredients: beeswax, olea europaea (olive) fruit oil, theobroma cacao (cocoa) seed butter, simmondsia chinensis (jojoba) seed oil, isoamyl laurate, butrospermum parkii (shea) butter, flavor, limnanthes alba (meadowfoam) seed oil, citrus aurantium dulcis (orange) peel wax, jojoba esters, glycine soja (soybean) oil, tocopherol, citric acid, rebaudioside A, polyhydroxystearic acid
Sprouts Essentials sunscreen lip balm SPF 15 ingredients
Active ingredients: zinc oxide (7%)

Inactive ingredients: calendula officinalis (calendula) flower extract, calophyllum inophyllum (tamanu) oil, cera flava (beeswax), cocos nucifera (coconut) oil, hellanthus annuus (sunflower) oil, hippophae rhamnoides (sea buckthorn) berry oil, persea gratissima (avocado) oil, ricinus communis (castor) seed oil, theobroma cacao (cocoa) butter, mixed tocopherols (vitamin E)
It looks like both of these lip balms use zinc oxide as the active sunscreen ingredient, but at different percentages. The Burt's Bees lip balm includes a higher percentage compared to Sprouts, but as we've determined in the past, it's not clear how much this actually matters in the grand scheme of things, as long as they state the same SPF factor on the label.
They also share a few other ingredients in common, including beeswax and tocopherol (vitamin E). Like the COOLA BB+ Cream I reviewed the other day, this Burt's Bees lip balm lists "flavor" as an ingredient. I was intrigued by this, so I did some Googling and it turns out that "flavor" is actually an FDA-approved way to list an ingredient that helps cover up something undesirable (e.g., odor—or taste, in the case of a lip balm, perhaps). Interestingly, these FDA guidelines suggest that you must list something as "flavor and fragrance" in the ingredients if a fragrance also serves as a flavor in a product. In fact, "flavor" is listed as an ingredient in lots of toothpastes. That makes sense, I guess!
Another interesting ingredient in the Burt's Bees lip balm is rebaudioside A, which is a naturally derived sweetener that comes from the stevia plant. So in addition to "flavor," this lip balm also contains something that makes it taste slightly sweet if you happen to accidentally lick your lips.
Since these are both sunscreen lip balms, it's good to see that they include vitamin E (tocopherol), an antioxidant that could potentially increase the SPF protection factor.
The Sprouts lip balm also contains another great ingredient, sea buckthorn oil, which has been shown to help fight free radicals, which helps keep your lips looking young. The same study linked earlier also found that cocoa butter was pivotal to creating a nicely spreadable lip care product for the test subjects. The study concluded that grapeseed oil and buckthorn oil are very effective antioxidants that can help boost the performance of lipsticks (and, by extension, I'd think lip balms as well).
My Dad the Chemist's review of Burt's Bees vs. Sprouts SPF 15 Lip Balm
Dear Emily, I like Product 1 better, it has higher amount of Zinc Oxide, and higher % of waxes (especially Beeswax) would provide better water resistance and longer lasting SPF efficacy.

Love,
Dad
Product 1 was Burt's Bees all-weather lip balm (SPF 15), in this case. My dad likes the Burt's Bees lip balm because it contains a higher percentage of zinc oxide, and it includes beeswax higher in the ingredient list, which helps contribute to its water resistance. Indeed, this lip balm states that it is water-resistant for up to 40 minutes, which is great. That also explains why the product includes "all-weather" in its name.
I sent him a follow-up email to ask him if he thought that the inclusion of rebaudioside A was something to worry about. Here was his response:
No, it's supposed to be a natural sweetener for foods and drinks and they probably just add minimal amount to make your these chemicals not taste too bad whenever your tongue accidentally contacts, I don't think it can be worse than the consisting chemicals of any lip balm in the market.

Love,
Dad
My dad also doesn't think that it's a big problem that the Burt's Bees lip balm includes rebaudioside A, since this is actually safe enough to be included in products that are meant to be consumed (food and drinks). He makes a good point—even though I personally don't like to consume food and drinks that contain sweeteners (even "naturally derived" ones like stevia), that doesn't necessarily mean that I need to worry about them when it comes to something like a lip balm, especially because I don't plan on eating it straight out of the tube. XD
Sprouts sunscreen lip balm SPF 15: a solid zinc oxide lip balm with antioxidants
I cracked open my tube of Sprouts SPF 15 lip balm the other day, and I've been really enjoying it so far. It doesn't have any detectable odor/fragrance, which is great. It also doesn't taste bad, so I don't think it's missing anything just because it doesn't include any "flavor" or sweetener. The texture of the lip balm itself is pretty thick and creamy, which makes it feel very moisturizing on your lips. Note, however, that it can leave a slight white cast on your lips, so make sure to rub it in all the way before leaving the house, or people will think that you just ate a powdered doughnut.
I also like the fact that it contains sea buckthorn oil, which, along with the zinc oxide, will help protect my lips from getting damaged by harmful UV rays. Nobody wants saggy lips, after all!
I highly recommend buying this Sprouts SPF 15 lip balm if you're ever at this natural foods market. Unfortunately, there aren't any locations in New York, so I can only go there when I'm on vacation. One day I'll live in a place where I can leisurely browse the aisles without feeling rushed! You can buy this lip balm on their website here.
There is one silver lining on this living-in-a-state-without-Sprouts cloud…if I ever need water-resistant lip balm that I can easily order online or buy at a drugstore, I can just give Burt's Bees lip balm a try. I'll let you know if/when I do try that one, but until then, I'm going to enjoy using up the rest of this Sprouts SPF lip balm.
Related reading
Note: This post uses affiliate links, which means that I'll receive a commission if you make a purchase after clicking a link (at no extra cost to you). See our
disclosure policy
.