This reef-safe sunscreen contains 25% zinc oxide and NO preservatives because it doesn't contain any water. It's also packaged in a tin instead of plastic.
Good news, physical sunscreen enthusiasts: I've got another zinc oxide sunscreen review for you today. This one's from All Good, a brand that was founded by a massage therapist. The first product in this company started out with a product known as All Good Goop, a healing balm that was designed to help soothe aches and pains. Today the company makes more kinds of products, including reef-safe sunscreens like the one I'm reviewing today: All Good Sunscreen Butter SPF 50+.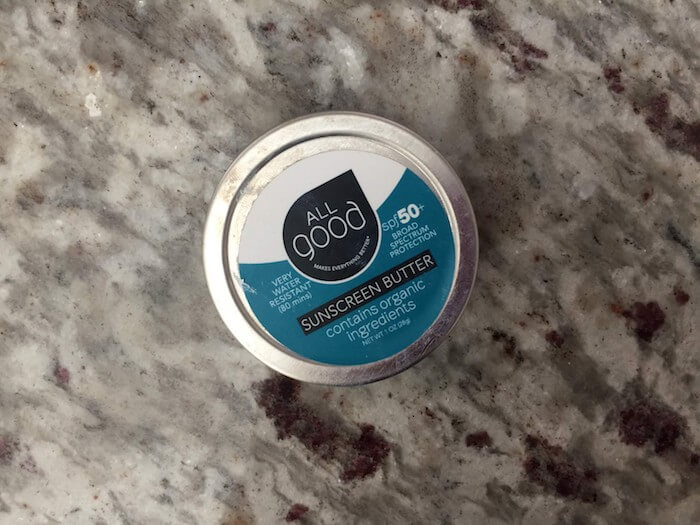 I saw this cute little tin of All Good Sunscreen Butter SPF 50+ and decided to give it a try. I was intrigued by its minimalist ingredient list (only six total), and its high zinc oxide percentage. At a glance, it looked like it was living up to the promise of its name: All Good. Indeed, is this sunscreen all good (or as good as a sunscreen can be)? Read on to learn about my dad (the chemist)'s thoughts about this sunscreen's water resistance, sun protection, packaging, and (absence of) preservatives.
All Good Sunscreen Butter SPF 50+ ingredients
Active ingredient: zinc oxide (25%)

Inactive ingredients: organic coconut oil, organic beeswax, organic calendula flowers infused in organic jojoba oil, vitamin e
The zinc oxide is labeled as "non-nano" which means this is a reef-safe sunscreen. This sunscreen uses the maximum allowable concentration of zinc oxide (25%). It labels itself as SPF 50+ with 80 minutes of water resistance (also the maximum allowed on a label). This product contains a refreshingly short list of inactive ingredients: coconut oil, beeswax, calendula, jojoba oil, and vitamin E. Calendula ointment was found to be more soothing for diaper rash than aloe cream in this study. And according to its website, All Good even grows its own organic calendula on its own farm.
My Dad the Chemist's review of All Good Sunscreen Butter SPF 50+
Dear Emily, did you say this formula is packaged in a stainless steel can? Is an aerosol spray? It may be a brushed aluminum can that looks like a stainless steel can, Normally speaking the shelf life of any formula is more stable in any airless package (all aerosol are airless- Air isn't introduced into the inside of package and product.

However, based on the listed ingredients, I think it's a good water resistant SPF 50 formula but i'm doubtful about the water resistance for "up to 80 minutes" depends on oils and beeswax to hold Zinc Oxide together against water.

Love,
Dad
I clarified that the sunscreen was packaged in a tin, not an aerosol spray. I also asked him about the preservatives in this formula. Here's what he said:
Dear Emily, if is in tin container like this with a lid not in aerosol or with airless pump, then whenever it's opened, air will come in contact with the product, it has no advantage compared to a regular squeeze bottle.

To confirm the water resistance, you can apply to one hand and smear in the water and move left and right a few times and if you notice any powder (Zinc Oxide) coming off your hand easily, that means the water resistance isn't good or good enough.

This sunscreen is based on oils and wax not water base, normally microorganisms don't grow in the anhydrous formula, therefore, no preservative is used in this formula, however, it may still have potential issue during application, if someone has dirty or/and wet hands or apply onto wet skin surface and dip back to the product to apply more, and leave water or moisture or any contamination in the product, it may result in micro growth after a given time, in this case, smaller size container has less potential because it may be consumed more quickly before that occurs. Love,
Dad
A few interesting things to note. It seems that a tin container is pretty similar to a plastic bottle when it comes to ensuring the longevity of a product. Aerosol sprays provide the best protection against product degradation since they are airless. However, aerosol sprays were strongly discouraged by the touring companies in Hawaii—according to them, aerosol sunscreens hardly end up on the skin and instead travel into the atmosphere and ocean, where chemicals should not go.
My dad provided a useful tip for testing the water resistance of a zinc oxide formula. Zinc oxide is a powder, so if you spread some zinc oxide sunscreen on your skin and then mix in some water, you should watch to see if any of the powder separates from the rest of the formula—if so, that formula may not be that water resistant, so you should look for a different one to use if you plan to swim or sweat.
He also explained why this product doesn't appear to contain any preservatives—since it uses a combination of oils and wax as a base, rather than water, it doesn't need preservatives to fight against microorganisms.
All Good Sunscreen Butter SPF 50+ review
I think the name of All Good Sunscreen Butter SPF 50+ is fitting: It really is butter-like in texture/consistency. I like that since it doesn't contain any water in it (also known as an anhydrous formula, in "chemist-dad"-speak), it doesn't need to incorporate any potentially irritating preservatives into the formula. I think this is a great pick for anyone who has sensitive skin and is looking for a reef-safe, fragrance-free, physical sunscreen option.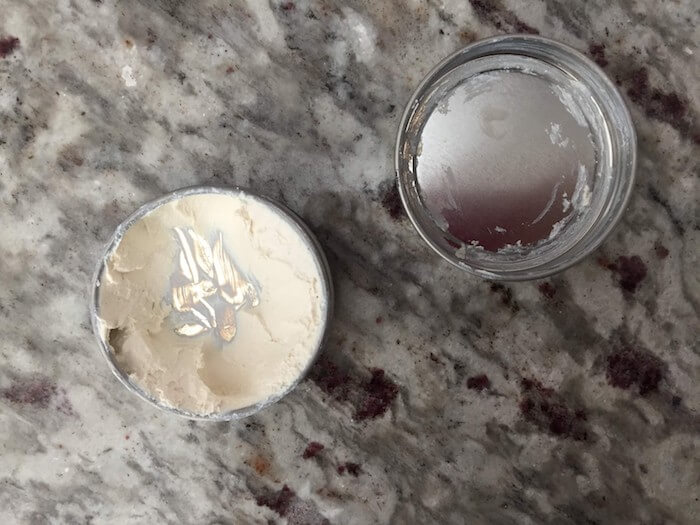 The packaging is also a win in terms of portability. When I throw a plastic tube of sunscreen into my bag, I'm always paranoid that it will leak and spill everywhere. With a tin like this, there's no need to worry that your sunscreen will leak onto the rest of the contents in your bag. I found similar portable tins on Amazon that look like they could serve the same purpose for me next time I travel. I'd like to see if I can use them to carry travel-size versions of my favorite lotions and sunscreens without fretting about spillage.
However, keep in mind that these two benefits—the absence of preservatives and the lovely tin packaging—could also lead to disadvantages. Since All Good Sunscreen Butter's formula doesn't contain any preservatives, it's critical to make sure that you don't introduce water into the tin when you apply or reapply sunscreen. This could contaminate the product and create a breeding ground for germs, which is particularly concerning if this formula doesn't contain any preservatives to combat those ill effects. So when you're using this formula, it's crucial to be mindful that since it's preservative-free, you should try to only dip clean hands (or use a clean metal spoon or other applicator) into the product. My dad pointed out that a small package can help ensure that you use up the product before it gets too contaminated. Perhaps this explains why All Good puts it in such a small tin (only 1 oz.).
The water resistance of All Good Sunscreen Butter SPF 50+ seems to be pretty good. We all know what it's like to see your sunscreen start separating when exposed to water and/or sweat after a swim or a run. I'd like to share a quote from a book I read recently, A Perfect Mother, because it captures this fact of sunscreen-wearing joggers' lives perfectly:
"She glances in the mirror over the table in the hall. Her hair is soaked, her freckles crimson, the layer of sunscreen she applied on her way out of the doctor's office chalks her skin. It's the first time she's gone for a run since giving birth, and she had to stop and walk several times. 'I'm assuming you mean as in very warm,' she says to Charlie. 'No,' he whispers. 'I mean as in hot.' He kisses her hand and then speaks into the phone."
—The Perfect Mother, Aimee Molloy
The Perfect Mother was a suspenseful page-turner, and part of what made it so realistic and engrossing was that it contained minutia we witness every day, including this detail about how sunscreen often gets chalky on your skin after you go for a run.
All Good Sunscreen Butter SPF 50+ blends very nicely into the skin, with a bit of oily residue, but nothing too terrible. The only thing I don't like about it is that it uses coconut oil, which typically makes my face break out. Therefore, this sunscreen is only viable as a body sunscreen for me. I'm still on the lookout for a zinc oxide-based facial and body sunscreen that contains minimal ingredients and won't break me out or irritate my skin. Let me know if you have any suggestions!
Related reading
Note: This post uses affiliate links, which means that I'll receive a commission if you make a purchase after clicking a link (at no extra cost to you). See our
disclosure policy
.