A purely physical sunscreen that's affordable and doesn't leave a heavy white cast. It's also formulated with beneficial ingredients like vitamin E and shea butter.
I just spent the past week in Vegas, and boy, did my skin feel like it was actually sizzling in that 100-degree heat. The sun feels much stronger out there—and indeed, the UV index was 9 in Vegas today, compared to 7 in NYC. You can look up the UV index for your city here on the EPA's website. It definitely served as a catalyst for getting serious about finding a quality sunscreen that I could apply on my body every day (without going broke). And I think I found it: Alba Botanica Sensitive Mineral Sunscreen, a purely physical sunscreen that's actually affordable enough to use on your body, and won't cause irritation or flaking. It's also fragrance-free, reef-safe, and water resistant for up to 80 minutes.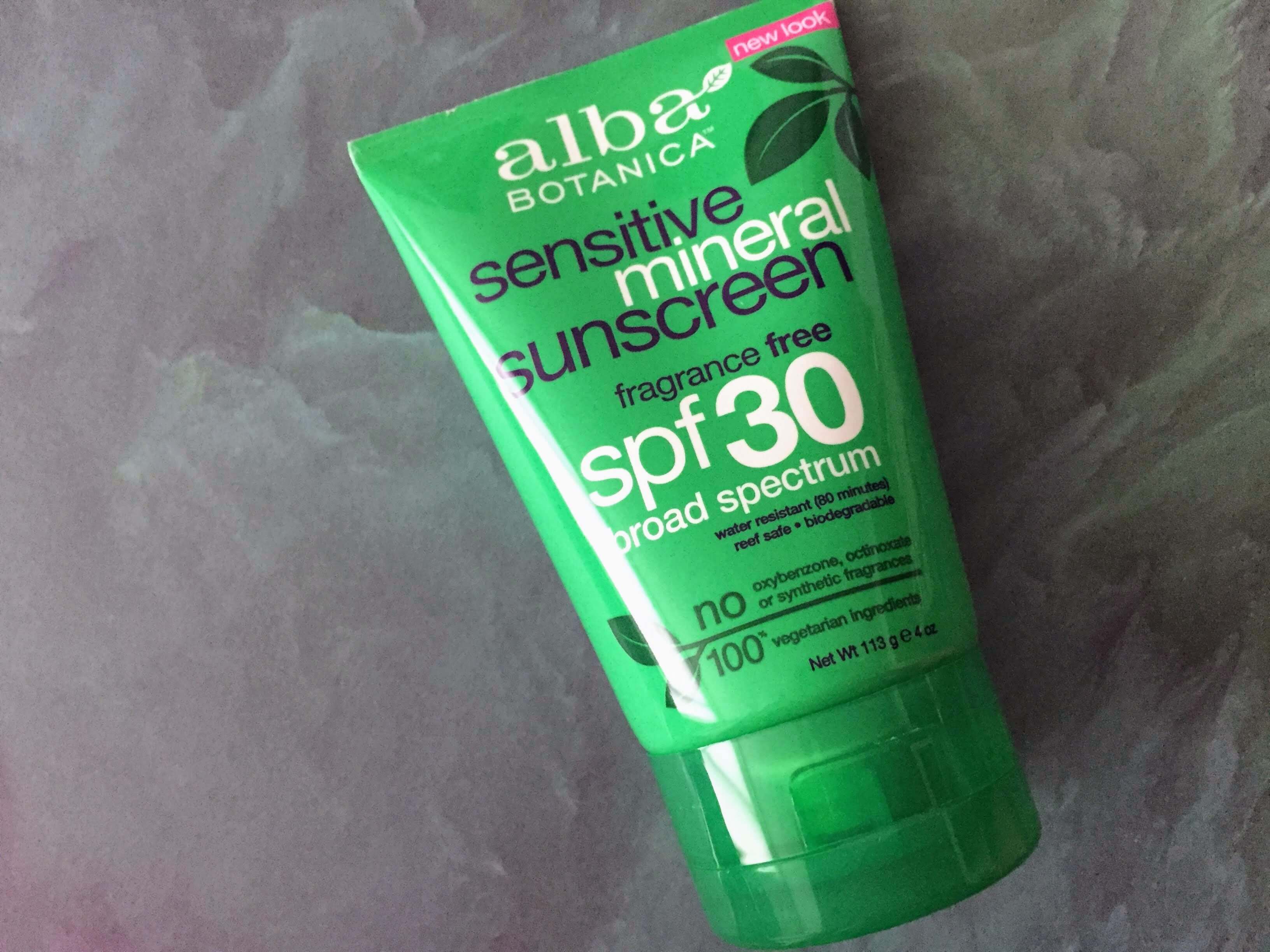 Why you need sunscreen on your body, not just your face
According to the EPA, a UV index of 6-7 is considered "high," 8-10 is considered "very high," and 11+ is considered "extreme." But even if you live in an area with a lower UV index, you should try to wear at least an SPF 30+ broad spectrum sunscreen during the daytime—even if you stay mostly in the shade, or even if you're just driving a car. Car windows don't block UVA light (only UVB), so you still need it. Surfaces like sand and concrete reflect sunlight onto your skin.
I know all this. And yet, I don't apply sunscreen to my body every day because I forget, or I'm just lazy. It's not a normal part of my routine, like my facial sunscreen. Plus, it's hard to find a body sunscreen that you love (and that you can afford). Sunscreen gets really expensive if you actually apply the full amount as directed. Especially if you have long limbs like me—so much surface area to cover!
For a while, I was using NO-AD Sport Sunscreen SPF 50, but I don't love it. It's definitely a budget buy, but it's a chemical sunscreen, and it does this weird thing where it starts to feel like it's sloughing off toward the end of the day. It's fine for days when you're out in the sun a lot and you have time to reapply. However, I prefer Alba Botanica Sensitive Mineral Sunscreen as an everyday option that feels less irritating and doesn't result in flaky skin at the end of the day. The texture is slightly runnier than expected—most other zinc oxide-based sunscreens have been thicker, in my experience. This makes it a bit easier to blend in. It does have a pretty stark white cast at first, but after blending it in a little more, it's almost invisible/sheer (see below—the third photo is after I've fully blended it into the skin).
Alba Botanica Sensitive Mineral Sunscreen Ingredients
Active Ingredients: zinc oxide (14.5%), titanium dioxide (2.0%)
Inactive ingredients: water, caprylic/capric triglyceride, dimethicone, ethylhexyl palmitate, sorbitan sesquioleate, glycerin, glyceryl isostearate, butyrospermum parkii (shea) butter, polyglyceryl-3 ricinoleate, organic helianthus annuus (sunflower) seed oil, simmondsia chinensis (jojoba) seed oil, vitis vinifera (grape) seed oil, aloe barbadensis leaf juice, organic calendula officinalis flower extract, chamomilla recutita (matricaria) flower extract, tocopheryl acetate, alcohol, magnesium sulfate, polyhydroxystearic acid, silica, sodium chloride, benzyl alcohol, phenoxyethanol
My dad the chemist's thoughts on Alba Botanica Sensitive Mineral Sunscreen SPF 30
Dear Emily, very nice formula and is perfect for people with highly sensitive skin. Zinc Oxide is the most skin friendly sunscreen available permitted by US FDA.

Love,
Dad
Alba Botanica Sensitive Mineral Sunscreen SPF 30 review
I like this sunscreen! It does leave a slight white cast (what do you expect for 14.5% zinc oxide?), but not horrible, especially when it's on your arms/legs instead of right on your face. For my face, I'll probably continue to use a tinted option like Australian Gold Botanical SPF 50 Tinted Face Sunscreen. But I think this has become my go-to body sunscreen from now on. I like that it's:
Water-resistant for up to 80 minutes

Fragrance-free

Coral reef safe

I also like that it's heavy on the zinc oxide (the only FDA-approved sunscreen ingredient to guard against UVA1, UVA2, and UVB rays). It also has a ton of other beneficial and (some) UV-protecting antioxidants like grape seed oil, jojoba seed oil, vitamin E (tocopheryl acetate), and sunflower seed oil.
It's not perfect, though: For one thing, it's only SPF 30, and it contains alcohol. I didn't find it to be irritating at all, but if you've had problems with alcohol in skincare products before, then look elsewhere.
Further reading
Note: This post uses affiliate links, which means that I'll receive a commission if you make a purchase after clicking a link (at no extra cost to you). See our
disclosure policy
.