This sunscreen has just about the highest percentages of zinc oxide (24.08%!) but it blends in pretty easily and is fragrance-free. However, it may be unsuitable for acne-prone skin.
I've definitely been on a zinc oxide sunscreen kick lately. It's the best all-in-one sunscreen filter available in the U.S., and it's reef-safe. When I first came across Coppertone Pure & Simple Sunscreen SPF 50 For Face in CVS, the high zinc oxide percentage caught my eye: a whopping 24.08% (the FDA allows up to 25 percent in sunscreens). Plus, it was labeled specifically for facial use, and I rarely see that in a drugstore. Usually you only see general-purpose sunscreens and you have to guess whether or not it will agree with acne-prone skin. So for those two reasons, I was pretty darn excited to try out this sunscreen. Read on to learn about my first impressions of this sunscreen, what my dad thinks about it, and why I'll be using the rest of this bottle on my body rather than my face, even though it's labeled "for face."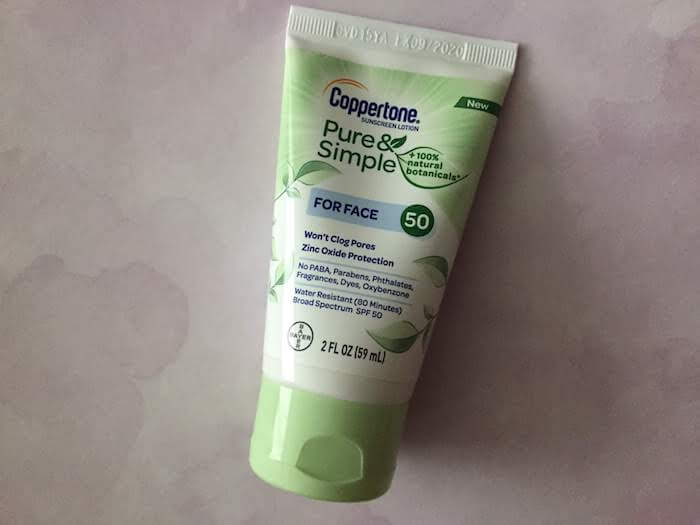 Coppertone Pure & Simple Sunscreen SPF 50 For Face ingredients
Active ingredients: zinc oxide (24.08%)
Inactive ingredients: water, C12-15 alkyl benzoate, isopropyl palmitate, butyloctyl salicylate, ethylhexyl isononanoate, cetyl PEG/PPG-10⁄1 dimethicone, propylene glycol, cyclopentasiloxane, bis-octyldodecyl dimer dilinoleate/propanediol copolymer, dimethicone, ethylhexyl methoxycrylene, polyester-27, tea (camellia sinensis) leaf extract, giant kelp (macrocystis pyrifera) extract, sacred lotus (nelumbo nucifera) extract, triethoxycaprylysilane, beeswax, hydroxyacetophenone, PEG-12 dimethicone crosspolymer, tocopherol, 1,2-hexanediol, caprylyl glycol, sodium chloride
I just double checked the ingredient database to confirm my suspicion that this sunscreen contains the highest percentage of zinc oxide I've ever reviewed on the blog. It does! The other sunscreen that previously held the lead was Trader Joe's Mineral Sunscreen Stick SPF 50 with 22%. Other sunscreens that come close at 20% zinc oxide are: Drunk Elephant Umbra Tinte Sunscreen, Thinksport Safe Sunscreen SPF 50, and Thinksport Thinksun Everyday Face Sunscreen Tinted.
I'm all for a high zinc oxide percentage, as long as it doesn't turn me pasty or pale. That was my only concern upon seeing the high percentage, but I decided to give it a try anyway because it was travel/trial size.
My Dad the Chemist's review of Coppertone Pure & Simple Sunscreen SPF 50 For Face
Dear Emily, this formula looks good!

Love,
Dad
My dad kept it short and sweet this time around. He basically thinks that this looks like a good formula and has nothing critical to say about it.
My review of Coppertone Pure & Simple Sunscreen SPF 50 For Face
Coppertone Pure & Simple Sunscreen SPF 50 For Face is zinc oxide-based, but it doesn't feel overly thick or heavy. I don't know how they did it, but the texture/consistency of the sunscreen is actually quite nice. It's isn't very oily—and in fact, it's more runny than I expected. If you squeeze some on your palm and tilt your palm down, gravity will make it ooze slowly toward the ground. It is much runnier than other physical sunscreens like Alba Botanica Sensitive Mineral Sunscreen (which, by the way, has 14.75% zinc oxide). Alba Botanica's is a bit harder to blend in, and leaves a waxier finish on the skin. This sunscreen is water-resistant for up to 80 minutes (yay) and SPF 50, which means it blocks 98 percent of UVB rays.
Coppertone Pure & Simple Sunscreen SPF 50 For Face feels a bit thick and pasty when you first apply it: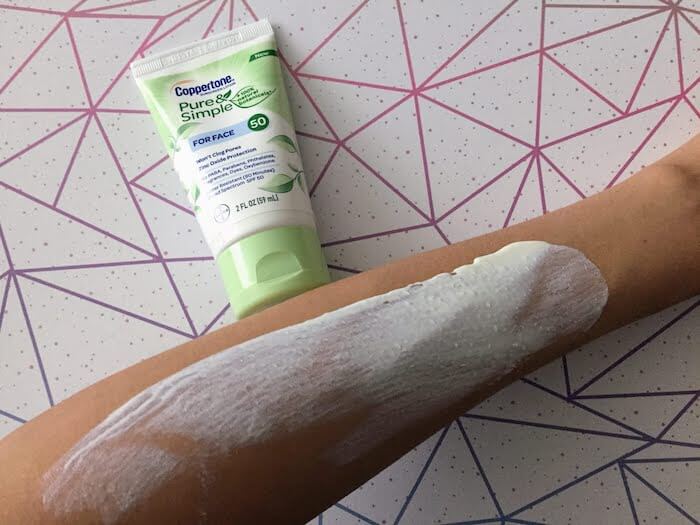 However, once you blend it in for a few seconds, it quickly becomes almost invisible: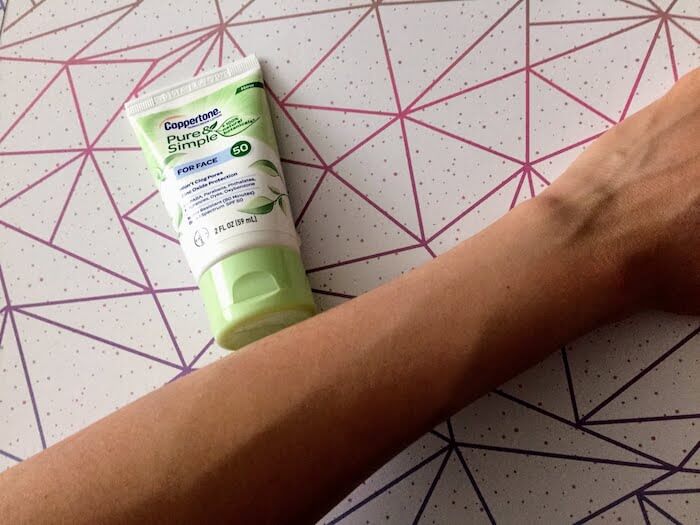 Coppertone Pure & Simple Sunscreen SPF 50 For Face is surprisingly easy to blend in, and only left my skin slightly paler than before. It also didn't make me feel overly oily (like Badger Clear Zinc Mineral Sunscreen SPF 30) or waxy (like Alba Botanical Sensitive Mineral Sunscreen). It's pretty lightweight and also non-irritating (fragrance-free and dye-free). However, it's not vegan (contains beeswax).
A note for my fellow acne-prone peeps: "Won't clog pores" doesn't mean anything
I always get excited when I see a sunscreen that's labeled with the words "non-comedogenic" or "won't clog pores" because I'm an acne-prone person. Years of dealing with acne as a teenager and in my 20s have left me scarred (both physically and emotionally), so I'm hesitant to apply any product to my face unless I see some sort of confirmation that it has been tested with acne-prone skin in mind. When I spotted the words "won't clog pores" on the bottle of Coppertone Pure & Simple Sunscreen SPF 50 For Face, that sealed the deal for me.
I used this sunscreen for two days in a row and it didn't make me break out. But when I started writing this review, something registered in my mind as I was scanning through the ingredient list. This sunscreen actually a potentially problematic ingredient: isopropyl palmitate. It's actually categorized as something to "avoid" on Acne.org's list of comedogenic ingredients. That's a bummer. So if you know or suspect that your skin reacts horribly to this ingredient, just make sure to keep this in mind. It just goes to show that even if a product label says "won't clog pores," this phrase is not regulated or validated by any agency, so it may not actually be true for you and your particular skin. Never trust a label over your personal experience. Even though it didn't cause any breakouts for me, I'll probably only use it on non-face areas now that I know that it contains this potentially comedogenic ingredient.
I'm a bit disappointed that this particular sunscreen contains isopropyl palmitate even though it says "won't clog pores" and is specifically marketed for facial use. I've got my eye on another mineral facial sunscreen: Aveeno Positively Mineral Sensitive Skin Sunscreen SPF 50 (contains 21.6% zinc oxide). It looks pretty promising, and doesn't contain any red flag ingredients that appear on Acne.org's list.
Related posts
Note: This post uses affiliate links, which means that I'll receive a commission if you make a purchase after clicking a link (at no extra cost to you). See our
disclosure policy
.