This zinc oxide-based sunscreen takes a while to blend in, but it's fragrance-free and reef-safe. Plus, it only contains five ingredients!
I'm always on the hunt for a good zinc-based sunscreen, since physical sunscreens tend to be gentler on sensitive skin, and zinc oxide is the only FDA-approved sunscreen filter in the U.S. that protects against UVA1, UVA 2, and UVB rays—the full spectrum! Plus, it's a reef-safe sunscreen filter, which is a nice bonus. So why doesn't everyone use zinc oxide sunscreen? Most of the time, zinc oxide-based sunscreens are notorious for producing a ghostly, chalky effect, which makes them less than desirable for anyone who doesn't have pale skin. That's why I generally opt for tinted sunscreens, since the tint can offset the chalky effect of zinc oxide—but tinted sunscreens can definitely be hit or miss (ahem, Cotz Plus SPF 58 Mineral Sunscreen). They can be too oily and/or create a pinkish effect, which is almost as bad as a chalky effect. When I came across a bottle of Badger Clear Zinc Mineral Sunscreen SPF 30 at TJ Maxx, I knew that I had to try it out. Is "clear zinc" an oxymoron, or has Badger discovered a way to achieve the impossible? Let's find out.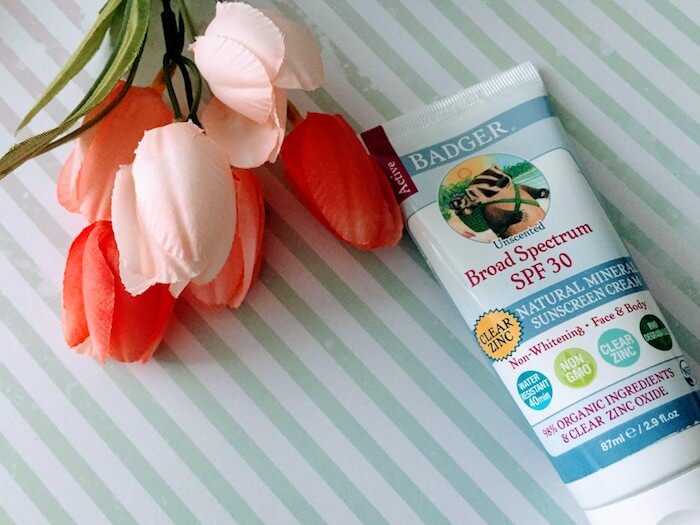 Badger Clear Zinc Mineral Sunscreen SPF 30 ingredients
Active ingredient: zinc oxide (18.75%)

Inactive ingredients: helianthus annus (sunflower) seed oil, beeswax, tocopherol, hippophae rhamnoides (sea buckthorn) fruit extract
According to the website, Badger's zinc oxide is non-nano, which means that it qualifies as reef-safe. "Clear Zinc" is a form of zinc oxide that Badger has developed to be more transparent than typical zinc oxide.
Badger Clear Zinc Mineral Sunscreen SPF 30: UVAPF or PPD rating?
I was curious to see if Badger could provide a PPD rating (UVAPF, or UVA protection factor) for this sunscreen, to quantify their "broad spectrum" protection claim. After sending them a question on their website, a representative responded within a few days with the following message:
Thank you for reaching out! While our sunscreens offer excellent broad spectrum protection, we have not conducted PPD testing on our Clear Zinc sunscreens as they are not widely sold in international markets as of yet. Here is further information on our broad spectrum claims, however: https://www.badgerbalm.com/s-31-broad-spectrum-uva-sunscreen-protection.aspx
Badger does not sell its sunscreens internationally (yet), and since the U.S. doesn't require PPD testing (only SPF testing), it makes sense that the company hasn't invested in PPD testing. Hopefully someday that will change! The link contained several interesting tidbits of info, including:
UVA rays are not blocked by clouds, glass, or the ozone layer. I knew about clouds and glass, but had no idea about the ozone layer…

only one chemical sunscreen ingredient in the U.S. provides UVA protection: avobenzone.

to meet the "broad spectrum" claim, a product needs to provide 1⁄3 UVA protection: 2⁄3 UVB protection.

Badger Clear Zinc Mineral Sunscreen SPF 30 review
I brought this Badger Clear Zinc Mineral Sunscreen SPF 30 on my trip to Hawaii to see how it would work under the most drastic conditions—when I'd be outdoors almost all day long. When I first squeezed some out of the bottle, it looked like the oil had slightly separated from the other ingredients. As my dad mentioned in my review of Biore UV Aqua Rich Water Essence Sunscreen, you can tell if a formula is stable if the liquid does not separate from the cream: "Just need to confirm the stability of this formula (stable emulsion without separation)one way to tell is to squeeze Product to your palm and observe if any running liquid coming out from the cream or not."
I was initially worried about the separation, but the rest of the bottle seemed to squeeze out fine. The consistency of this sunscreen is pretty thick and slightly oily. It contains sunflower seed oil as the first inactive ingredient, along with beeswax to help thicken, and sea buckthorn extract, which is rich in antioxidants.
Badger Clear Zinc Mineral Sunscreen SPF 30 goes on white at first, but if you're patient about blending it in, you can get it to cover your skin without leaving a terribly pale aftereffect. I think that Badger succeeded in creating a product that goes on "clearer" than any other non-tinted zinc oxide-based sunscreen I've ever used—and that's impressive, considering its high zinc oxide concentration (18.75 percent).
I think the important thing to note about this sunscreen is that it takes a long time to apply correctly, if you want satisfactory results. It's not for impatient people who are itching to hit the beach. You really need to devote some time to rubbing it evenly across every exposed part of your body. It provided great protection from the strong Hawaii sun. I used it on my first day in Hawaii, before discovering that my hotel provided sunscreen. I love freebies, so I decided to save this Badger sunscreen for future use and opted to use the hotel's sunscreen for the remainder of my trip (look for the review in the days to come).
A few potential downsides to keep in mind:
the sunflower seed oil makes it feel a little oily, which is not ideal if you have oily skin (as a plus, I didn't notice any new breakouts after using this sunscreen).

it's water-resistant, but only for up to 40 minutes, which is a little inconvenient. Other water-resistant sunscreens last for up for 80 minutes.

As a plus, every ingredient in this sunscreen serves a purpose, so it's definitely a nice option for anyone who's looking to avoid unnecessary filler ingredients. If you're looking for reef-safe, fragrance-free, zinc oxide-based sunscreen that provides UVA and UVB protection, try out Badger Clear Zinc Mineral Sunscreen SPF 30—and let me know what you think.
Related posts
Note: This post uses affiliate links, which means that I'll receive a commission if you make a purchase after clicking a link (at no extra cost to you). See our
disclosure policy
.