Find out what inspired Sarah and her family to start a popular food blog, how she found out about her skin allergies, and what (baby!) sunscreen she likes to use at the beach.
I've always loved reading food blogs, but now that there are so darn many of them, it's hard for me to maintain an appetite for them (ha). The Woks of Life is one blog that has consistently earned a top spot in my mental list of "websites to visit when I'm in need of culinary inspiration." This family-run blog makes Asian (and all types of) food more accessible to everyone, and each member of the family brings his or her own distinct voice to the blog. I am super excited to share a Q&A with Sarah Leung of The Woks of Life. Sarah (the older sister in the family, in case you were wondering) graciously agreed to share details about the origin story of her family's blog, her minimalist skincare routine, and how she discovered that she was allergic to ingredients like cocomidopropyl betaine and fragrances.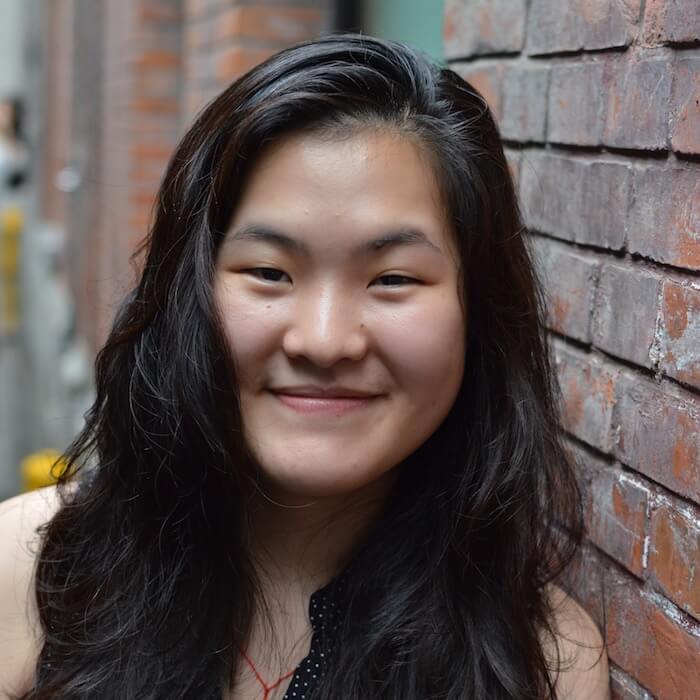 Q&A with Sarah Leung of The Woks of Life blog
1. Could you tell us what inspired you and your family to start The Woks of Life?
My family and I started the blog when my parents moved to China my senior year of college. I was in college in upstate New York, my sister was also at school in Philadelphia, and my parents were halfway around the world in Beijing. We'd always grown up cooking and sharing recipes, but we wanted a way to record them while we were all in these very disparate places. My sister and I especially wanted to know how to make some of the traditional Chinese dishes we'd had growing up! The blog blossomed from there as other readers looking for delicious Asian home cooking and restaurant-style dishes written in English found us!
2. What was the biggest challenge or hurdle you faced when launching The Woks of Life? And what's the biggest reward?
The biggest challenge was just the learning curve. Six years ago, I had no idea how to start a website, what hosting was, or how to make a business out of it. And now it's my full time job. Luckily, there are tons of resources on the Internet and many bloggers out there who've done it who can explain! We actually published a quick 4-Step Guide to starting a food blog or website to help people get started on their own projects.
The biggest reward has been the response from readers. It's been wonderful to hear about people reconnecting with their cultural roots through cooking, learning how to make a recipe that their grandparents made for them when they were little, or people who were just interested in Asian cooking and are now empowered to give it a try!
3. What has been the most surprising thing you've learned since starting this blog?
The most surprising thing I've learned since starting the blog is probably the fact that it really can become a full-time business, run like…well just that. A business. It's been especially great since I transitioned over to full-time blogging a few months ago, and applied some of the structure and organization that I built in my former startup job to the blog.
4. You mentioned that you're allergic to a lot of products—are there any particular skincare and/or haircare products that are gentle enough for you to use every day?
I recently found out that I'm allergic to fragrance and an ingredient called cocomidopropyl betaine (a surfactant found in many hand soaps, bar soaps, and shampoos). I didn't use many products to begin with, but since then, I've stuck to a very narrow list of products that work for me: the Vanicream cleansing bar for face & body, Free & Clear Shampoo & Conditioner (it doesn't have any fragrance to speak of, but I'm thinking of adding essential oils to it for that extra aromatherapy factor), CeraVe Moisturizing Cream (I use it as a night cream for face, a base cream below sunscreen during the day, and as a body lotion/cream), and CeraVe SPF 30 facial moisturizing lotion as my sunscreen. It may not be sexy, but these products are all available for reasonable prices online and at drug stores, and they're what works for me! I also use Seventh Generation Free & Clear Natural Dish liquid to wash dishes, and a fragrance and dye-free laundry detergent.
5. How did you find out about your skin allergies?
I suddenly developed an eczema/itchy eyes problem (never had an issue before) and got tested for various allergies––prick tests, needle tests, etc. and finally got patch tested, which is basically when they put patches with about 80 different substances commonly found in household products on your back and you have to leave them on for about three days to see if you react to any of them. Lo and behold, fragrances and cocomidopropyl betaine came out with minor reactions. Continuously using those products over and over again, though, when you're even minorly sensitive to them, can cause issues!
6. Your Oahu vacation looked fabulous! What's your favorite reef-safe sunscreen to use when you go to Hawaii? Do you usually pack it in your suitcase or buy it after you're there?
I always use reef-safe sunscreen these days when going to the beach. The one I use is actually a sunscreen for babies! It's Neutrogena SPF 50 Pure & Free Baby Sunscreen. It's mineral-based, fragrance free, and dye-free. It rubs in better than most reef-safe sunscreens I've used, and it works for my sensitive skin. My advice (both to myself and others haha) is to have patience with reef-safe sunscreen. It takes a little longer to rub in than the spray-on stuff, but it's so much better for the environment!
7. Do you have any advice for anyone who's considering starting a blog?
My advice is to keep at it! Persistence is the number one determinant of success when it comes to blogging. Those who keep blogging consistently and improving will eventually see success in the end.
Recipe for a successful minimalist skincare routine? Check!
I had a great time learning more about one of the personalities behind one of my favorite food blogs. I think it's awesome that Sarah and her family started the blog to connect with one another around the world. I definitely identify with that sentiment, since it's a major reason why I started this blog in the first place—I love getting emails from my dad, learning more about the way he thinks, and seeing what inspires him. Even though he's retired now, I think he enjoys sharing his opinion about products—and I love hearing his opinion, so it's a win-win!
I also loved hearing about Sarah's awesome minimalist skincare and hair care routine. It sounds like she has a good sense of what products and ingredients to avoid so she can reduce the likelihood of aggravating her skin. That is such an important (yet underrated) pre-requisite for self care! I've also been meaning to check out Neutrogena SPF 50 Pure & Free Baby Sunscreen, so Sarah's endorsement of it just gives me one more reason to actually pick up a bottle next time I'm at the drugstore.
Thanks again, Sarah! You can check out her blog, The Woks of Life, here and follow her on Instagram @thewoksoflife.
P.S. Are you an entrepreneur, blogger, artist, or other type of human who would be interested in participating in a Q&A like this? Get in touch with me here!
Related reading
Note: This post uses affiliate links, which means that I'll receive a commission if you make a purchase after clicking a link (at no extra cost to you). See our
disclosure policy
.