This zinc oxide-based physical sunscreen is a little greasy and whitens the skin, but at least it's completely dedicated to being reef safe.
We signed up for a Trilogy tour to visit an island called Lana'i. One nice perk of this tour (aside from the fantastic cinnamon rolls!) was that free reef-safe sunscreen was provided free of charge, and you could apply it at your leisure throughout the day. Trilogy partnered with Hawaiian Sol to provide SPF 50 sunscreen to its guests. This is a biodegradable, reef-safe, and purely physical sunscreen. It doesn't contain any of the chemical sunscreen agents that have been shown to be harmful to coral reefs, and uses only zinc oxide as its active sunscreen agent.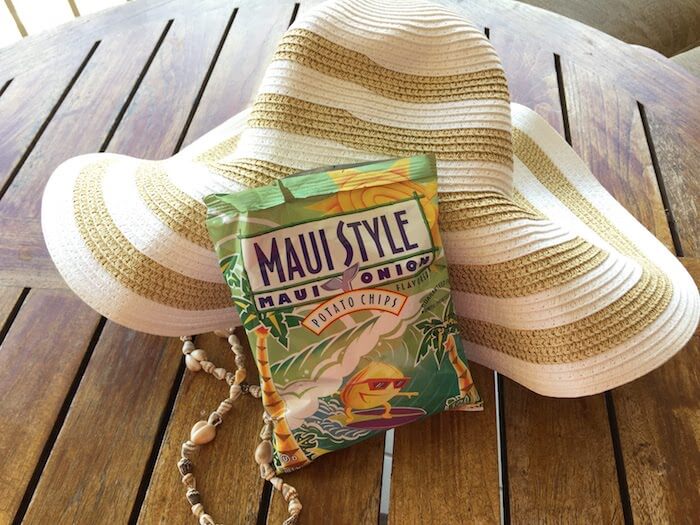 Hawaiian Sol SPF 50 sunscreen ingredients
Active ingredients: zinc oxide (17%)

Inactive ingredients: organic aloe vera leaf, wild pansy extract, coffee arabica bean extract, hibiscus rosa sinensis extract, cucumber extract, melon extracts, sunflower oil, tocopherol acetate, cetyl alcohol
This sunscreen includes a few soothing extracts and moisturizing agents that help offset any damage induced by strong UV radiation. Hawaiian Sol also makes sure to clarify how each ingredient was sourced—the cetyl alcohol (a fatty acid) is derived from coconut, while the vitamin E (tocopherol acetate) is derived from corn. Sunflower oil is beneficial for skin and helps repair a damaged skin barrier when applied topically. Its only active sunscreen ingredient is zinc oxide, which, according to the label, is transparent and "natural."
The website mentions that this sunscreen contains kukui oil, which is also known as candlenut oil. This oil contains oleic acid and linoleic acid; according to this article, linoleic acid is found in the epidermis and is important for protecting the barrier function of the skin. The same article also noted that oleic acid is effective for treating hyperpigmentation related to UV exposure. However, I don't see kukui oil listed in the ingredient list, so I'm not sure if it's included in this sunscreen.
My Dad the Chemist's review of Hawaiian Sol SPF 50 sunscreen
I asked my dad for his thoughts on this sunscreen, and mentioned that it was a little thick and oily, but it seemed to effectively help protect my skin from sunburn. I also asked him for tips on how to effectively wash off water-resistant sunscreen. Here's what he had to say.
Dear Emily,
Looking at this formula, both Active and Inactive ingredients and your description of physical properties of this product, I will say, the formula can be improved to make a better product, easier to rub on and spread, but it needs to add another solvent to smoothen Zinc Oxide and add a tiny amount of a chemical to reduce or eliminate the greasiness.

This formula may not be water resistant at all, if it isn't, they'd better advise people to reapply after getting out of water.

All good formula with or without water resistance should be able to be washed out by just soap ,rubbing and water.

Love,
Dad
I mentioned that this sunscreen was a bit greasy and hard to wash off. My dad noted that this sunscreen could be improved by adding another solvent to help smoothen the zinc oxide. He also suggested adding a bit of chemicals to help reduce greasiness. However, since Hawaiian Sol is so focused on developing reef-safe sunscreens, it may be difficult for them to find a chemical that would be sufficiently safe for exposing to coral reefs, so it seems like a worthy tradeoff to leave out the chemicals and just opt for natural extracts and oils, even if that means that people will think that it feels greasy.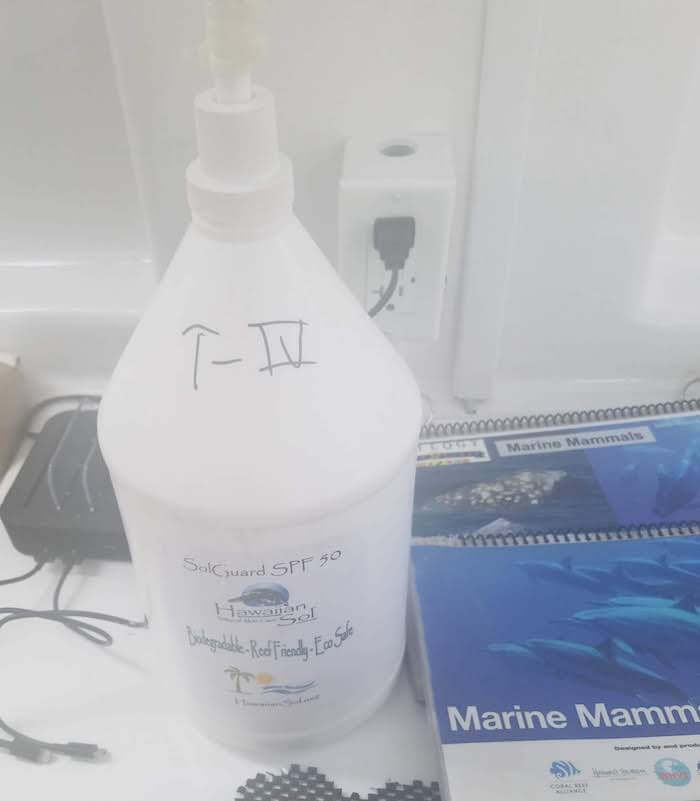 Hawaiian Sol SPF 50 sunscreen review
Thankfully, Trilogy provided a large bottle of Hawaiian Sol SPF 50 Sunscreen (see above) on the boat. After we got off the boat, the crew made sure that the same bottle was readily available on the beach (in a shady spot) so we could all reapply sunscreen throughout the day. Other people who were part of our tour definitely made quite a few remarks about this sunscreen. The general consensus was that it's not a "cosmetically elegant" sunscreen that provides an invisible layer of protection on the skin. It's a noticeably thick sunscreen that immediately whitens your skin unless you are extremely pale. I overheard people joking with each other that they looked like the abominable snowman, or like Snow White.
Like many other physical sunscreens, Hawaiian Sol SPF 50 Sunscreen is definitely not easy to rub in, but I think that the problem stems partly from a lack of guidance when it comes to how much physical vs. chemical sunscreen you need to apply to get adequate protection. We all typically try to apply the same amount of sunscreen, regardless of whether the formula is thick or runny, but maybe if the formula is thick like this one, we should be applying less and taking the time to manually distribute it across the skin before slathering on more. Chemical sunscreens are typically much smoother and glide right on, so you can apply any amount and it will soak right in. It's foolproof and doesn't require as much guidance when it comes to "portion size."
Hawaiian Sol's website says that this sunscreen is "water resistant" but doesn't specify if that means 40 minutes or 80 minutes. When you're actively in the water, you should try to apply it even more often than the regular two-hour reapplication threshold, as often as rated by its "water resistant" duration. Since I couldn't tell if it was 40 minutes or 80 minutes, I assumed 40 minutes and had to go through the ordeal of reapplying it all over my body and waiting for it to soak in for about 10 minutes before heading back into the water.
Thankfully, since I was wearing a long-sleeved rash guard, I was able to reduce the surface area of skin I had to apply and reapply this sunscreen to. Although this sunscreen is definitely not that easy to rub in, and may elicit some abominable snowman or Snow White teasing, it brings me peace of mind to know that I'm using a reef-safe sunscreen that won't ruin the coral reefs—particularly when I'm about to go into the ocean, right next to those coral reefs. But using this sunscreen and reading about the details of reef-safe sunscreen requirements have convinced me to pay more attention to the products I use, and how they can negatively impact the rest of the earth in ways I never thought of before.
The tour lasted from 10 a.m. to 6 p.m., and I reapplied Hawaiian Sol SPF 50 sunscreen a few times throughout the day. I didn't get sunburned that day, and the sunscreen didn't sting my skin, so I think it was successful in that sense. The only areas for improvement were how white it made our skin look, and how difficult it was to wash off. I had to scrub quite a bit to get it off at the end of the day, since it left some stubborn residue. However, at the end of the day, I'm glad that I was able to use reef-safe sun protection while visiting the gorgeous island of Lana'i.
I can't find Hawaiian Sol SPF 50 sunscreen on Amazon, but you can order it directly on the website or go with other physical sunscreens like Neutrogena Pure & Free Baby Sunscreen or Badger Clear Zinc Mineral Sunscreen.
Related reading
Note: This post uses affiliate links, which means that I'll receive a commission if you make a purchase after clicking a link (at no extra cost to you). See our
disclosure policy
.