A board-certified dermatologist answered my burning questions about sunscreen, acne, parabens, and more.
Today I'm excited to share a Q&A with Aegean Chan, MD, FAAD (Fellow of the American Academy of Dermatology). Aegean and I have an old friend in common, and I'm thrilled that she graciously agreed to participate in this Q&A.
If you want a sneak peek of what's to come, we'll learn about:
how to choose the best sunscreen for your skin type

skin care ingredients that typically don't follow through on their marketing claims

her all-time favorite moisturizer (good news: it's wildly affordable)

the biggest mistake her acne patients make

one simple thing we can all do to start improving our skin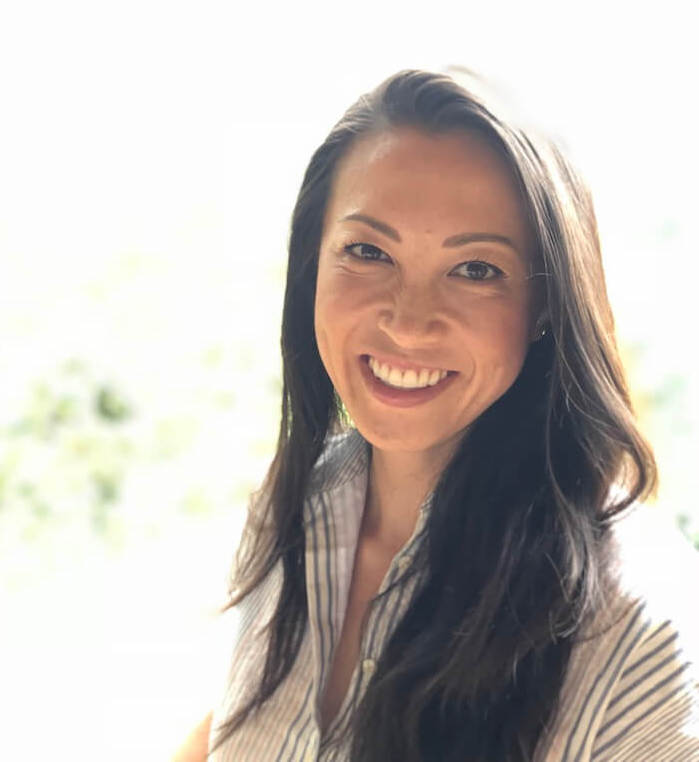 But first, here's a little bit of background on Aegean:
Aegean is a board-certified dermatologist and dermatopathologist who has a passion for busting beauty myths and giving practical tips to getting clear and beautiful skin without breaking the bank. She has been featured on Refinery29's 30 under 30, guest blogged for Birchbox, and given money smart skin care tips to money.com. She grew up in Southern California, did her medical training in New York at Albert Einstein College of Medicine and Montefiore Medical Center, and is now back practicing in Santa Barbara, CA. Make sure to read her minimalist skin care blog, aegmora.com, and follow her on Instagram (@draegeanchan).
Skin care tips from a dermatologist: Q&A with Aegean Chan, MD, FAAD
1. Can you provide some general guidelines for choosing the right sunscreen for your skin type?
If you have dry skin, I recommend always putting a moisturizer on immediately after washing your face and before applying sunscreen. It provides a nice base for your sunscreen to sit on and prevents it from settling into your creases. My skin is on the dry side and I always put Cetaphil cream on before putting sunscreen or tinted moisturizer on to minimize any stray dry skin flakes.
If you have oily skin, It's best to use a thinner product, like a gel or serum sunscreen. I recommend Neutrogena Hydro-Boost Sunscreen—you get broad-spectrum sun protection and a light feel. Combination products like tinted moisturizers typically have sunscreen in them, so you can minimize how much product you are putting on your face. I personally love NARS tinted moisturizer because it has good coverage with physical sunblock ingredients. I don't recommend powdered sunscreens, you don't get as good sun protection as you get with a cream or liquid product.
In general, I encourage people to make like Goldilocks and try several products to find the one they will actually use on a daily basis.
2. You mentioned on your blog (which I love, by the way!) that your favorite sunscreen is EltaMD…which one do you specifically like, and what do you like about it?
I love the tinted EltaMD UV Elements Broad-Spectrum SPF 44 mainly because it exclusively contains zinc oxide and titanium dioxide. It blends in well, feels light on my skin, and doesn't leave a white cast on my face.
3. Some people buy European or Asian sunscreens that contain UV filters that haven't been approved in the U.S. Do you think this is a good idea, or are there perfectly good sunscreens that we (Americans) can buy domestically?
European and Asian sunscreens are ahead of the U.S in terms of sunscreen ingredients, partly because of the lengthy FDA approval process here. Europe has 27 approved sunscreen ingredients (7 of them UVA blockers) and the U.S. lags behind with only 16 (and only 3 UVA blockers). This limits what formulations U.S. sunscreen manufacturers can come up with, so we end up with sunscreens that are less elegant to apply and in some cases, less effective against UV rays.
Some dermatologists I know will buy their sunscreens from Europe for these reasons, but it is important to make sure you are getting a legitimate product and not a counterfeit. If you cannot find a sunscreen you can tolerate here stateside, it might be worth checking out what is available across the pond.
4. You also mentioned something on your blog about not being a fan of charcoal masks. Why not? Similarly, are there any other types of skin care ingredients that tend to be more hype/marketing than substance?
I think charcoal masks are just another skin care gimmick, like most masks out there. They dry your skin out and temporarily shrink your pores, but I have not seen any evidence that they actually lead to long-term improvement in skin texture. If you have already dry or eczema-prone skin, using one of these masks can also flare your skin. Although activated charcoal is used in emergency rooms in poison ingestions, there has been no convincing evidence that it works better than soap in terms of cleaning your face.
If it makes you feel fancy and rejuvenated, I'm all for it. I just don't like the false or inflated claims that come with these fad ingredients, that give people unrealistic expectations. Other ingredients I put in this category are coconut oil, argon oil, probiotics, collagen, and the list goes on. Many times, there are small in vitro studies that may show an ingredient has a certain property, like being anti-inflammatory, but have not proven efficacy in real-life skin disease. To me, that's misleading and is more of a sneaky marketing tactic.
5. If you have acne-prone skin, what ingredients or products should you avoid and which ones should you gravitate toward? Also, does "non-comedogenic" mean anything or can it be misleading?
A comedone is a clogged pore, either a whitehead or a blackhead. Non-comedogenic means a product has been tested to not cause clogged pores. I recommend all my patients use moisturizers, sunscreen, and makeup products that have that designation. Here is a nice list from acne.org of common acne inducers. Most oils are a no-no for acne-prone skin. People that use oil in their hair should also be very careful to keep that away from their hairline and forehead.
It is important to keep in mind that comedogenic testing is not standardized and even some products labeled as such may still cause acne to form in some people. There is also no oversight to monitor those manufacturers that claim non-comedogenicity on their products. Lastly, people may have different reactions to using the same product, so it may cause acne in one person and not another. In general, I would consider the term "non-comedogenic" a guideline when shopping, but by no means a guarantee. If you start using something new, even if it is labeled as non-comedogenic and notice new onset of acne, I would recommend stopping the product and moving on to something else.
The biggest mistake I see my acne patients make is using too many drying and irritating products. Our skin is a living and breathing organ and should not be treated like a dirty kitchen counter. It needs to have a certain pH and moisture level to function properly and if people don't have a well balanced skin regimen, your skin will actually break out more in reaction to being too dried out. I recommend staying away from alcohol-based toners and astringents, as well as harsh scrub products and brushes that can traumatize your skin. So if you are on a well-balanced acne treatment regimen (and I highly recommend working with a board-certified dermatologist on that), don't be afraid to use moisturizers.
6. Can you think of one simple thing we can all try (can be a habit, a product, etc.) to start improving our skin right away?
Besides the basics (wash your face, and use moisturizer and sunscreen), I think incorporating a gentle alpha hydroxy acid product into your regimen 1-2 times per week is the best way to get a consistent glow and smooth skin texture without traumatizing your skin.
You'll see immediate results and it also helps with acne and some hyperpigmentation issues. My favorite product right now is the PIXI Glow Peels Pads with 20% glycolic acid. It's the perfect at-home peel you can do 1-2 times per week and is at a great price point.
7. What are your thoughts on parabens?
I think parabens have been unfairly maligned. There are two issues at hand. One is the risk of allergy to parabens. Numerous studies have shown that parabens actually rarely cause allergic contact dermatitis, with around 1% of people reacting to it. There are many more equally ubiquitous preservatives in our products that carry a much higher risk of allergic reactions.
Two, there's the overblown fear that parabens will disrupt our endocrine systems. These conclusions have been extrapolated from lab studies (often performed on tiny mice being slathered with way more concentrated levels of parabens than we will ever be exposed to in our lifetimes) and no definitive studies have established a causation link. This paraben panic may lead to newer, more allergenic preservatives replacing parabens in our products. Until we have more definitive data, I don't pay any mind to paraben fear mongering.
8. Can you think of any skin care ingredients that often get a bad wrap but may not necessarily be harmful?
I think that synthetic and non-"natural" products have recently been put in the "bad" bucket. I have many patients that come in telling me that they only want to use natural products. Natural does not always equal better for your skin. I also have just as many patients that come in with rashes and reactions to "natural" skin care products, usually to a plant-based allergen or fragrance. I think that there is a place for naturally derived, botanical-based skin care products, but sometimes you just need a good prescription strength medication to clear up whatever is ailing your skin.
9. What do you think is the best skin care product you can buy for your money? Similarly, what is the best product you can buy if you feel like treating yourself?
Cetaphil cream! It is my absolute favorite moisturizer. It isn't greasy but keeps my skin baby soft all day. It was the only one I found, after trying every high-end moisturizer, that kept my flaky retinoid-treated skin at bay. Dollar for dollar, it can't be beat.
Although I preach being budget-minded in skin care, I'm a sucker for luxury skin care products and recently have been eyeing the EVE LOM cleanser. It's absurdly overpriced for a face wash, but there's something I'm drawn to about the ritual of washing your face with a thick balm and a muslin cloth. I'm all for putting some of your coins into what makes you feel like a goddess!
Thanks, Aegean!
I learned so much from Aegean's thoughtful responses, and I hope you did, too. I'm still processing this excellent advice on a deeper level, but in the near term, this Q&A has certainly inspired me to consider trying a few products, like PIXI Glow Peels Pads with 20% glycolic acid.
It's so nice to hear from a dermatologist who advocates for minimalist, budget-friendly skin care. We all want beautiful, healthy skin, but it's nice to know that that doesn't necessarily require following a regimented 10-step K-Beauty routine or buying luxury skin care products (unless that's your jam, in which case, more power to you!).
Thanks so much for sharing your time with us, Aegean! Make sure to check out her blog and follow her on Instagram to hear more from her in the future.
Related reading
Note: This post uses affiliate links, which means that I'll receive a commission if you make a purchase after clicking a link (at no extra cost to you). See our
disclosure policy
.