This sheet mask includes allantoin, arbutin, and sodium hyaluronate, as well as something unusual: pearl powder.
My local Ricky's NYC recently shut down (RIP), so I guess I'll need to find another neighborhood joint to satisfy my skin care fix. Ricky's NYC always carried a great mix of luxury and affordable skin care and hair care products there, as well as international imports, including the Japanese sheet mask I'm going to review today. I bought this Pure Smile Pearl Sheet Mask because I was intrigued by the name. At first, I thought it was just a brightening/whitening mask (i.e., it would deliver a "pearly complexion,") but when I looked at the ingredients, I realized that it actually contained "pearl powder." Interesting. Let's learn more about the potential benefits of pearl powder and other ingredients that go in this mask.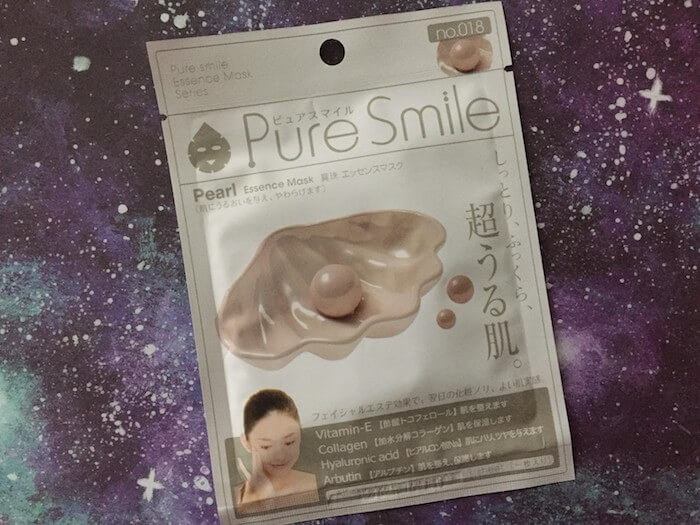 Pure Smile Shop Pearl Sheet Mask ingredients
glycerin, peg/ppg-17⁄6 copolymer, hydrolyzed collagen, erythritol, natto gum, hamamelis virginiana (witch hazel) water, dipotassium glycyrrihizate, xanthan gum, portulaca oleracea extract, arbutin, peg-14m, sodium hyaluronate, disodium edta, methylparaben, peg-40 hydrogenated castor oil, peg-60 hydrogenated castor oil, allantoin, phenoxyethanol, pearl powder, fragrance, tocopheryl acetate
The main ingredients highlighted on the front of the package were Vitamin E, collagen, hyaluronic acid, and arbutin. But if you read my Q&A with board-certified dermatologist Aegean Chan, MD, FAAD, you now know that collagen is one of those skin care ingredients that is probably more hype than substance. It sounds good, but it probably does more good for you to actually ingest collagen than slather it on your face.
I actually think that arbutin and allantoin are two of the more interesting ingredients included in this mask, other than pearl powder, which we'll talk about in more detail later.
Arbutin
Arbutin is actually derived from hydroquinone, a skin lightening agent, so perhaps there was some truth in my first impression that this mask was designed for brightening purposes. This ingredient is also supposed to help with hyperpigmentation, though this article notes that few trials have evaluated arbutin's effects on hyperpigmentation. When using [The Ordinary Alpha Arbutin 2% + HA](), I didn't notice any dramatic effects on my hyperpigmentation, so I stopped using it. This sheet mask probably contains even less of that ingredient than that serum did, so I wouldn't hold out hope that this mask would deliver dramatic results in the skin brightening/hyperpigmentation department.
Allantoin
This mask might actually be better for delivering soothing and moisturizing benefits, rather than skin brightening effects. It's great that it includes not only sodium hyaluronate, but also allantoin, which my dad noted is great for providing anti-irritating, anti-inflammatory properties, particularly for those who have sensitive skin.
Portulaca oleracea extract
Portulaca oleracea is a plant that contains linolenic acid and may be beneficial for soothing inflammation as well as healing wounds, according to this study. The same study found that it holds promise as an option to help protect psoriasis patients' skin barrier.
Pearl powder in skin care products
Pearl is used in Tatcha luxury products as well. According to their website, pearls contain amino acids, proteins, and antioxidants that help protect skin from aging and oxidative stress. Other studies like this have also found that pearls provide moisturizing and antioxidant benefits which makes them suitable for use in skin care products. Different types of pearl powders have varying levels of effectiveness, so the type of pearl powder included in a Tatcha product may vary drastically from one included in a dollar-store sheet mask. Another study involving 20 middle-aged participants found that pearl powder exhibited promising benefits as an antioxidant for treating age-related disorders.
Pure Smile Pearl Sheet Mask review
I didn't think that this Pure Smile Pearl sheet mask was anything special, but it was fun to use. There's nothing quite as fancy as rubbing some pearl powder on your face.
I like that this mask includes a handful of soothing, anti-inflammatory and moisturizing ingredients like allantoin, sodium hyaluronate, and portulaca oleracea extract. However, I'm not sure that I would purchase this sheet mask again, since it didn't wow me that much. I think I'd rather find a good moisturizer to deliver the same soothing, anti-inflammatory benefits, without the hassle of waiting 15-20 minutes. It didn't fit my face quite as well as other sheet masks, and the material also wasn't as silky as ones that other brands like Leaders use. I also wasn't a fan of the fact that it contained fragrance, but to be fair, it's rare to find a sheet mask that doesn't contain any fragrance (for some unknown, frustrating reason). When I feel like treating myself to a face mask, I'll probably still reach for my trusty Leaders AC-Dressing face mask.
Related reading
Note: This post uses affiliate links, which means that I'll receive a commission if you make a purchase after clicking a link (at no extra cost to you). See our
disclosure policy
.