A great face mask, as long as you don't mind the fragrance + the slightly sticky (snail-y?) residue it leaves on your face.
When I was a kid, I used to like hiding small amounts of money around the house, so I could stumble upon them later (side note: StumbleUpon shut down today). Whenever I did, it always felt like I was receiving a surprise present from an earlier version of, well, me. Is that weird? Anyhoo, I recently experienced a version of this strange childhood pastime when I found an old box of Leaders AC-Dressing face masks that I purchased in March of last year. I thought I had used them all, but it turns out that I still had three left. I'm happy to say that, like the My Beauty Diary Aloe Vera Face Mask, this is another great way to soothe your face after a 10-minute session of The Ordinary AHA 30% + BHA 2%. Since this makes the second or third Sunday in a row I've done this, it's become a nice little weekly self-care routine for me.
Leaders AC Dressing Face Mask
Leaders is a Korean beauty brand that was founded by a group of dermatologists from Seoul National University. I had heard some good things about this company on Reddit, so I decided to buy this 10-pack of the Leaders AC Dressing Skin Clinic Face Masks on Amazon. The package says that its main effects are: "soothes sensitive skin" and "reduces skin irritation."
Let's take a closer look at the ingredients.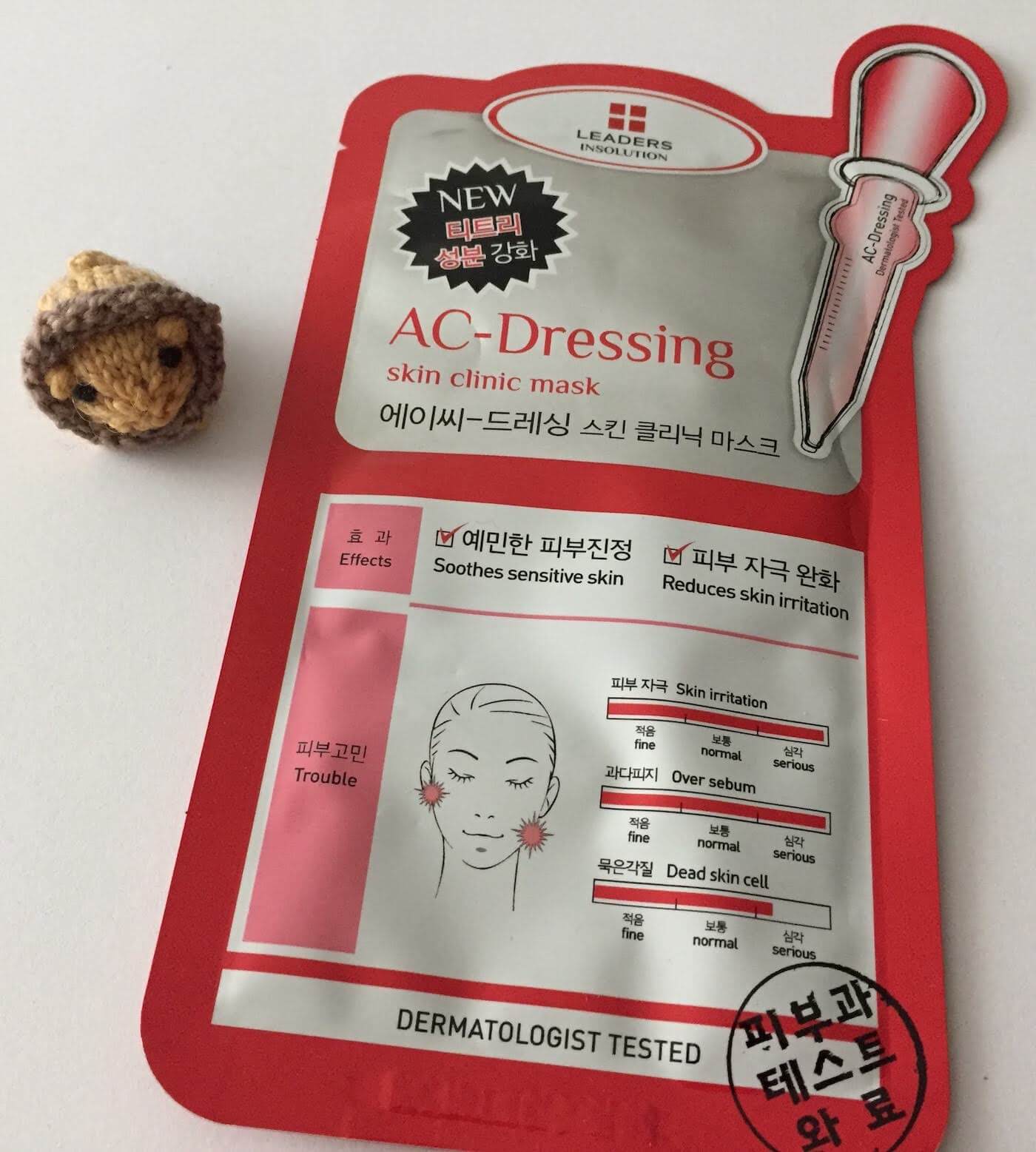 Leaders AC Dressing Face Mask Ingredients
water, methylpropanediol, butylene glycol, glycerin, dipropylene glycol, chamomilla recutita (matricaria) flower extract, acer saccharum (sugar maple) extract, portulaca oleracea extract, sorbitan isostearate, polysorbate 60, sodium hyaluronate, betaine, melaleuca alternifolia (tea tree) leaf oil, snail secretion filtrate, xanthan gum, ethylhexylglycerin, caprylyl glycol, fragrance, ecklonia cava extract, artemisia capillaris flower extract, saururus chinensis extract, houttuynia cordata extract, hydroxyethyl acrylate/sodium acryloyldimethyl taurate copolymer, gentiana lutea root extract, achillea millefolium extract, artemisia absinthium extract, arnica montana flower extract, alpha-bisabolol, palmitoyl tripeptide-5, terminalia chebula fruit extract, caesalpinia sappan bark extract, magnolia obovata bark extract
This face mask shares two ingredients in common with the COSRX Snail Mucin Essence 96 I reviewed last week: snail secretion filtrate and betaine. This explains why the mask leaves a bit of a slightly sticky residue on your face after you take it off. It's not unpleasant, but it may bother some people who don't like that sticky feeling. It also contains sodium hyaluronate (a highly moisturizing ingredient) and tea tree oil (which helps fight blemishes).
Unlike some other face masks out there, it does not contain denatured alcohol. However, it does contain fragrance. The fragrance is not that mild, either. It smells a little like floral + lychee mixed together. If fragrances tend to bother your sense of smell and/or irritate your skin, this is probably not a good product for you.
Leaders AC Dressing Face Mask Review
Leaders is a brand that specializes in face masks, and it really shows. The face mask itself is made from a really silky material, and it's positively dripping with serum, even after over a year of sitting in the back of my coat closet. And most importantly, it really seems to help soothe the aftermath of applying The Ordinary AHA 30% + BHA 2%.
However, the fragrance is just a bit too strong for my liking. After I finish using up this box, I think I'll switch to another face mask that's a bit less strong in the fragrance department, like My Beauty Diary Aloe Vera Face Mask Review. I also really liked the packaging of that one—the extra plastic sheet liner made it really easy to unfold the mask and place it on my face.
Further reading
Note: This post uses affiliate links, which means that I'll receive a commission if you make a purchase after clicking a link (at no extra cost to you). See our
disclosure policy
.