This oil cleanser includes a mix of mineral oil and jojoba oil, and effectively removes physical sunscreen from your face.
I've been toying with the idea of double cleansing for a while now—mostly because my tinted sunscreen doesn't come off with regular face wash alone. I heard good things about the oil cleansing method, which is specifically designed to gently remove sunscreen and makeup from your face. Of course, it took me weeks to research various oil cleansers before I finally decided on to take the plunge and order Kose Softymo Speedy Cleansing Oil on Amazon. It has tons of good reviews, and its ingredient list is nice and simple.
It seemed like a good option for me, and would possibly be a bit more eco-friendly than using a disposable makeup-removing towelette every night.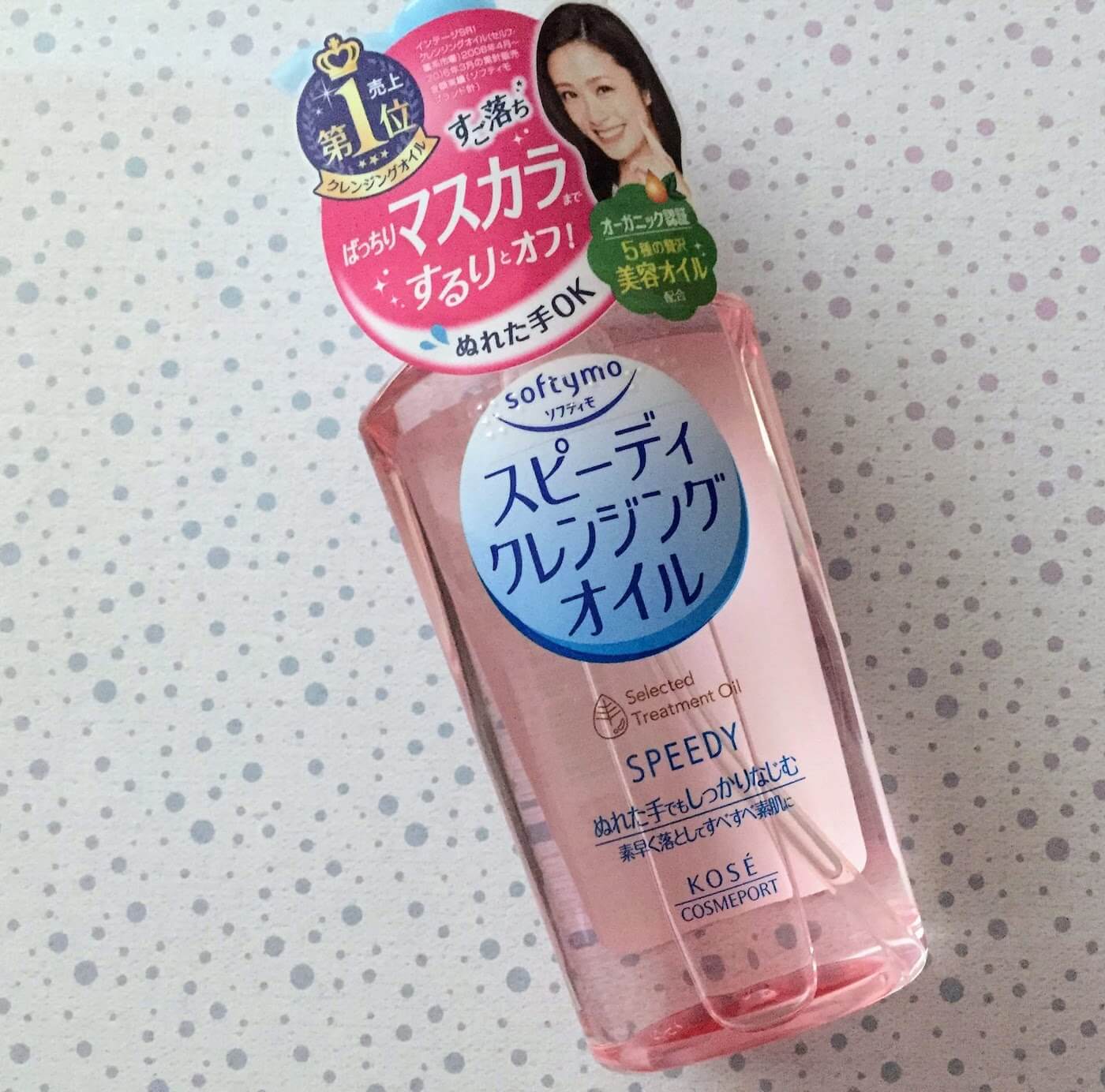 Why I decided on Kose Softymo Speedy Cleansing Oil
Here were a few things that made Kose Softymo Speedy Cleansing Oil more appealing than other facial cleansing oils I was briefly considering:
- It's fragrance-free. One other option I was considering, Burt's Bees Facial Cleansing Oil, contained fragrance.
- It doesn't contain coconut oil, which breaks me out. The aforementioned Burt's Bees facial cleansing oil also contains coconut oil. Plus, I hate the smell of coconut oil.
- It's pretty affordable. It's a fraction of the price of a cult classic like DHC cleansing oil
- Amazon also stocks a refill pack that makes it easy and affordable to reorder this product in the future
Without further ado, let's explore the ingredients in this facial cleansing oil.
Kose Softymo Speedy Facial Cleansing Oil Ingredients
mineral oil, peg-8 glyceryl isostearate, cethyl ethylhexancate, cyclomethicone, water, simmondsia chinensis (jojoba) seed oil, isostearic acid, glycerin, phenoxyethanol
mineral oil: an oil that has been found to help improve softness of skin and lend benefits to the skin moisture barrier function, according to this scientific review

peg-8 glyceryl isostearate: an emulsifier that helps mix the water and oils in this formula together

cethyl ethylhexancate: an emollient

cyclomethicone: another emollient

jojoba seed oil: has been shown to help provide anti-inflammatory benefits for skin, according to this study

isostearic acid: a surfactant, which helps the oils in this formula wash off when you apply warm water

glycerin: moisturizer/humectant

phenoxyethanol: serves as a preservative in many personal care products

Kose Softymo Speedy Facial Cleansing Oil Review
I've been using Kose Softymo Speedy Cleansing Oil for about two weeks now (only at night), and I'm pretty happy with it so far. The consistency of the oil cleanser feels a bit like someone added oil to a hair gel. It rinses off pretty quickly, without leaving any oily residue. I think it works better when applied to a dry face rather than a wet one.
What about grits/extractions? It did dislodge two whiteheads ("grits") from my face one night, but that has only happened once. Mostly I like that it leaves my face feeling pretty clean and fresh (no residue of waxiness or tint from my Australian Gold sunscreen). I also haven't noticed any new breakouts since I started using this facial cleansing oil, so I don't think it triggers acne, at least for me.
I like not having to wipe my face with a makeup-removing towelette—it feels like I'm being a lot more gentle to my skin. I was starting to feel a little irritation associated with rubbing the towelette on my face (for the record, I was using CVS Just the Basics Pre-moisttened Facial Towelettes).
All I do is put one-and-a-half pumps of this facial cleansing oil in my hand, and rub the oil into my face using my fingers for 10–15 seconds. Then I rinse my face off with warm water, and follow it up with my normal gentle face wash (at the moment, I happen to be using CeraVe Hydrating Cleanser).
This oil cleanser is able to remove all of the Australian Gold tinted sunscreen from my face just as effectively as the towelette, but in a gentler way that leaves my face feeling less irritated. I think I'll be replacing my towelettes with this cleansing oil from now on. I'm excited to buy the refill when I'm done with this bottle!
I realize that my last sentence probably sounds weird, but I can't help but think that there's something exciting about buying a refill pack instead of a whole new bottle of what you already have. It feels like you've graduated into being a regular, loyal fan of that product, instead of just a dabbler. It's nice to have skincare products that you go back to again and again—eventually, they just feel like home.
Related reading
Note: This post uses affiliate links, which means that I'll receive a commission if you make a purchase after clicking a link (at no extra cost to you). See our
disclosure policy
.