You'll probably find this face cream to be somewhat disappointing if you have oily skin.
I have a graveyard of products, collecting dust in the back of a closet. I haven't thrown them out because that feels like a waste…but I don't want to use them, either. I stop using them because something feels off—they're the wrong texture, or they have a weird smell, or they irritate my skin a little bit. These are what I call disappointing products, and today I have another one for you: Eucerin Q10 Anti-Wrinkle Face Cream.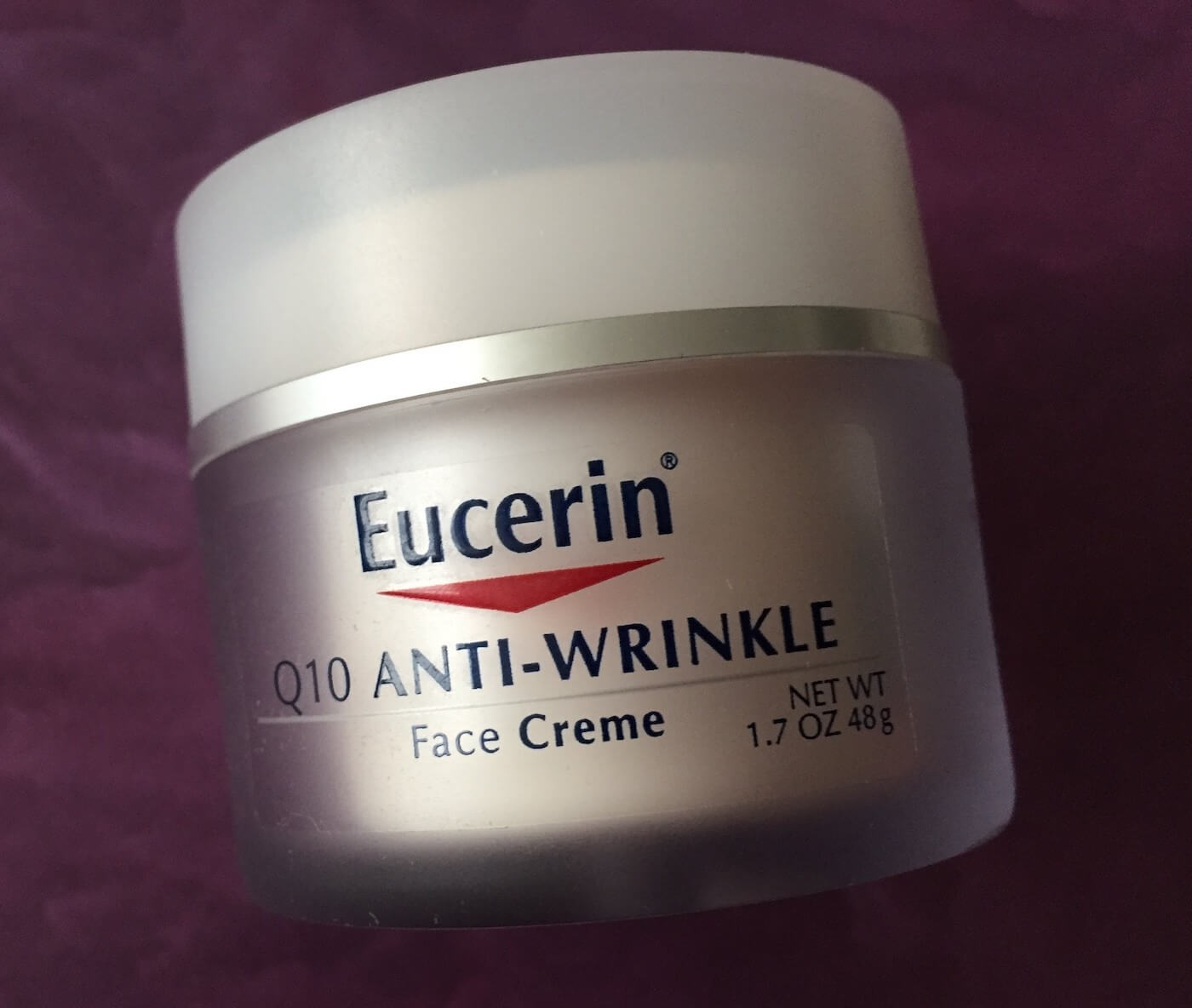 Eucerin Q10 Anti-Wrinkle Face Cream Review
Eucerin Q10 Anti-Wrinkle Face Cream is a rich moisturizing face cream that doesn't cause breakouts, but can make oily skin feel even more oily. The Q10 in its name refers to Coenzyme Q10, or ubiquinone.
This coenzyme is found naturally in our cells, but decreases with age, according to this study. It functions as an antioxidant that protects your skin from free radicals, which is where the "anti-wrinkle" part of the product name comes from. The same study determined that, when topically applied, coenzyme Q10 will help protect the skin from damaging free radicals. It's not clear what concentration of Coenzyme Q10 was topically applied in that study, so I'm not sure how much you should look for in a product, in order to achieve the same results.
But at the end of the day (literally), I just didn't like Eucerin Q10 Anti-Wrinkle Face Cream enough to want to finish the jar. Here are the main reasons why I've categorized it as a disappointing product:
It comes packaged in a plastic tub, so you have to dip your fingers in (or use a spoon or Q-tip)

It feels a bit like petroleum jelly on your face.

The packaging itself feels pretty wasteful. There's a lot of plastic on the outside (especially with a thick lid), and only a small volume of actual product on the inside

I didn't notice any effect on my skin other than the oily residue I mentioned earlier

I do like that it's fragrance-free.
That, in a nutshell, describes why I decided to stop using this product about three-quarters of the way through the jar. I felt pretty "meh" about it. Which isn't to say that it won't be great for someone with a different skin type than mine.
Here's how much I have left, and what it looks like when you rub it on your skin. As you can see, it's pretty thick, almost like the consistency of the yellow custard in the middle of a bun you'd get at a Chinese bakery, but less fluffy.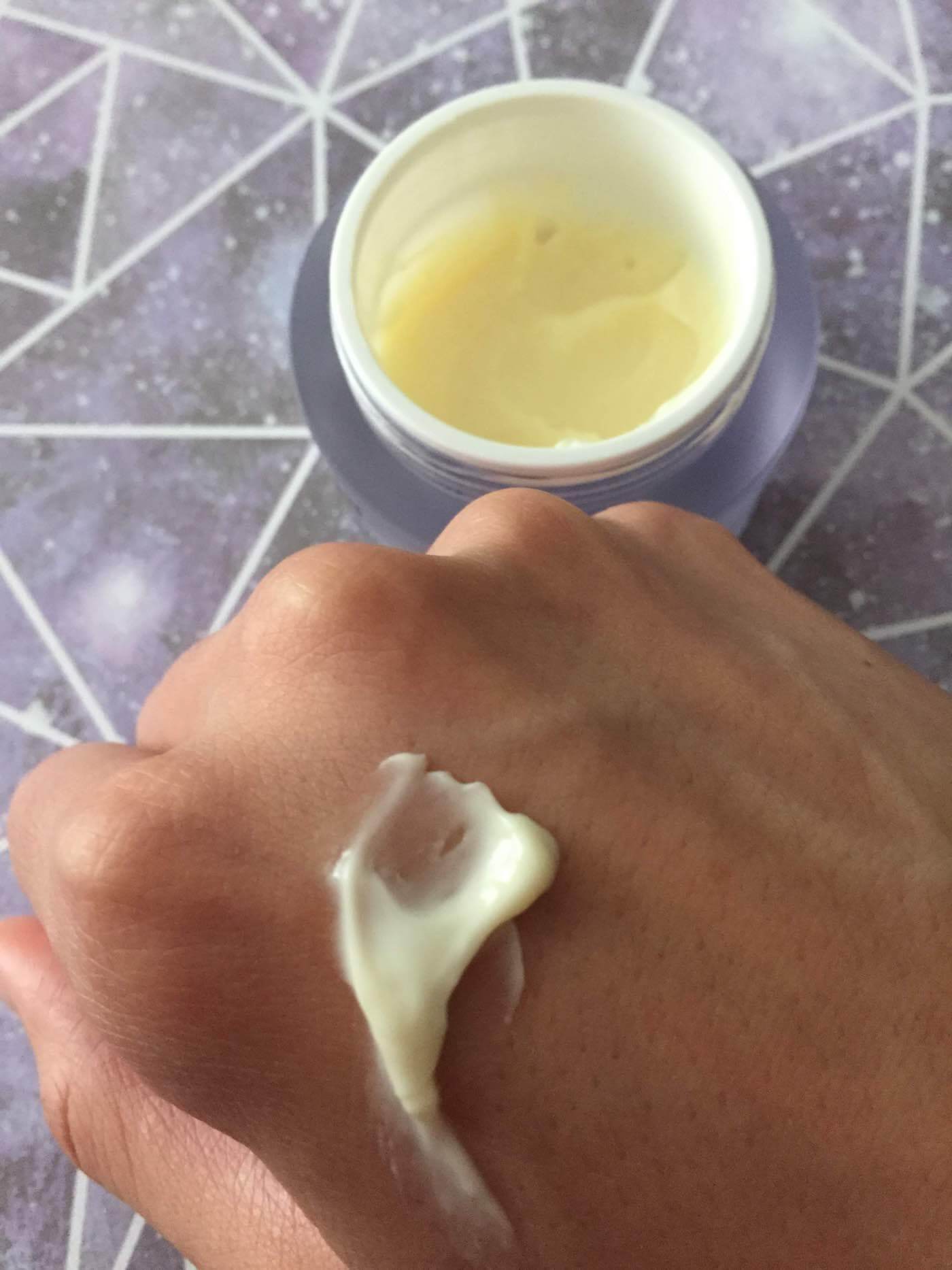 Eucerin Q10 Anti-Wrinkle Face Cream Ingredients
water, glycerin, ethylhexyl cocoate, stearyl alcohol, hydrogenated coco-glycerides, butylene glycol, cetyl alcohol, caprylic/capric triglyceride, glyceryl stearate citrate, butyrospermum parkii (shea butter), tocopheryl acetate (vitamin e), biosaccharide gum-1, ubiquinone (coenzyme q10), tridecyl stearate, tridecyl trimellitate, magnesium ascorbyl phosphate, biotin, zea mays (corn oil), beta-carotene, dipentaerylthrityl hexacaprylate/hexacaprate, carbomer, titanium dioxide, alumina, silica, sodium polyacrylate, phenoxyethanol, methylparaben, ethylparaben, propylparaben, butylparaben, isobutylparaben, dmdm hydantoin, sodium hydroxide, sodium hydroxymethylglycinate
This product also includes phenoxyethanol (I keep noticing it everywhere lately!), a "natural-ish" (paraben-alternative) preservative. However, it also contains parabens, which also help serve as preservatives for this formula. Maybe all the preservatives help keep the active/beneficial ingredients, like vitamin E, shea butter, and Coenzyme Q10, fresh.
Coenzyme Q10 doesn't show up until almost mid-way through the ingredient list, which makes me wonder how much this formula actually contains. If you recall, my dad mentioned that the FDA requires manufacturers to list any ingredient included as >1 percent of the formula in descending order of concentration, while the rest of the ingredients can go in any order. This makes me think that Coenzyme Q10 in this formula, but that's just a guess.
It also isn't clear just how much Coenzyme Q10 to look for in a skincare formula, in order to be effective. Perhaps it is beneficial even if it's included at a very low concentration.
My Dad the Chemist's thoughts on Eucerin Q10 Anti-Wrinkle Face Cream
Dear Emily, Typical skin care formula, I like Butyrospermum Parkii (Shea Butter), Tocopheryl Acetate (Vitamin E) particularly.

Love,
Dad
My dad isn't a dermatologist, so he didn't even comment on the Coenzyme Q10 in this formula. He just likes the moisturizing and nourishing properties of shea butter or Vitamin E. He says it looks like a typical skincare formula, which isn't a good or bad thing. It's just par for the course. Nothing makes it stand out.
Final thoughts
This pretty much aligns with my own experience of using this product. I used it every night for several weeks, but I always felt a little dissatisfied with how it left an oily residue on my skin. When I woke up in the morning, I'd feel even more oily than the night before. Maybe it was the corn oil included in this formula? I don't think I've used any other moisturizer with that ingredient before. But that's just a guess—I'm not really sure what it was. Either way, I decided to switch over to CeraVe PM Moisturizing Lotion because it's more lightweight, and I haven't looked back.
However, if you have really dry skin, and you want to experiment with a Coenzyme Q10 moisturizer that's not too expensive, this could be a good choice for you. You can find it here on Amazon, or at pretty much any drug store. But if you have oily skin like me, you might prefer a more lightweight moisturizer like CeraVe PM instead.
Related Reading
Note: This post uses affiliate links, which means that I'll receive a commission if you make a purchase after clicking a link (at no extra cost to you). See our
disclosure policy
.