This 10-minute AHA facial is supposed to help fight acne and improve skin tone and texture at a great price. Plus, it's got a really nice pomegranate-like color.
The Ordinary AHA 30% + BHA 2% peeling solution is designed to help improve skin texture and brighten skin with four alpha-hydroxy acids (all adding up to 30% of the formula). It also contains 2% salicylic acid (the beta-hydroxy acid, or BHA) to help combat acne. Last but not least, this product is a really shocking shade of fuschia/purple, so you kind of feel like you're spreading blood on your face. How cool is that?
This product has such a high percentage of AHAs that it needs to be washed off within 10 minutes, and you should only use it up to twice a week.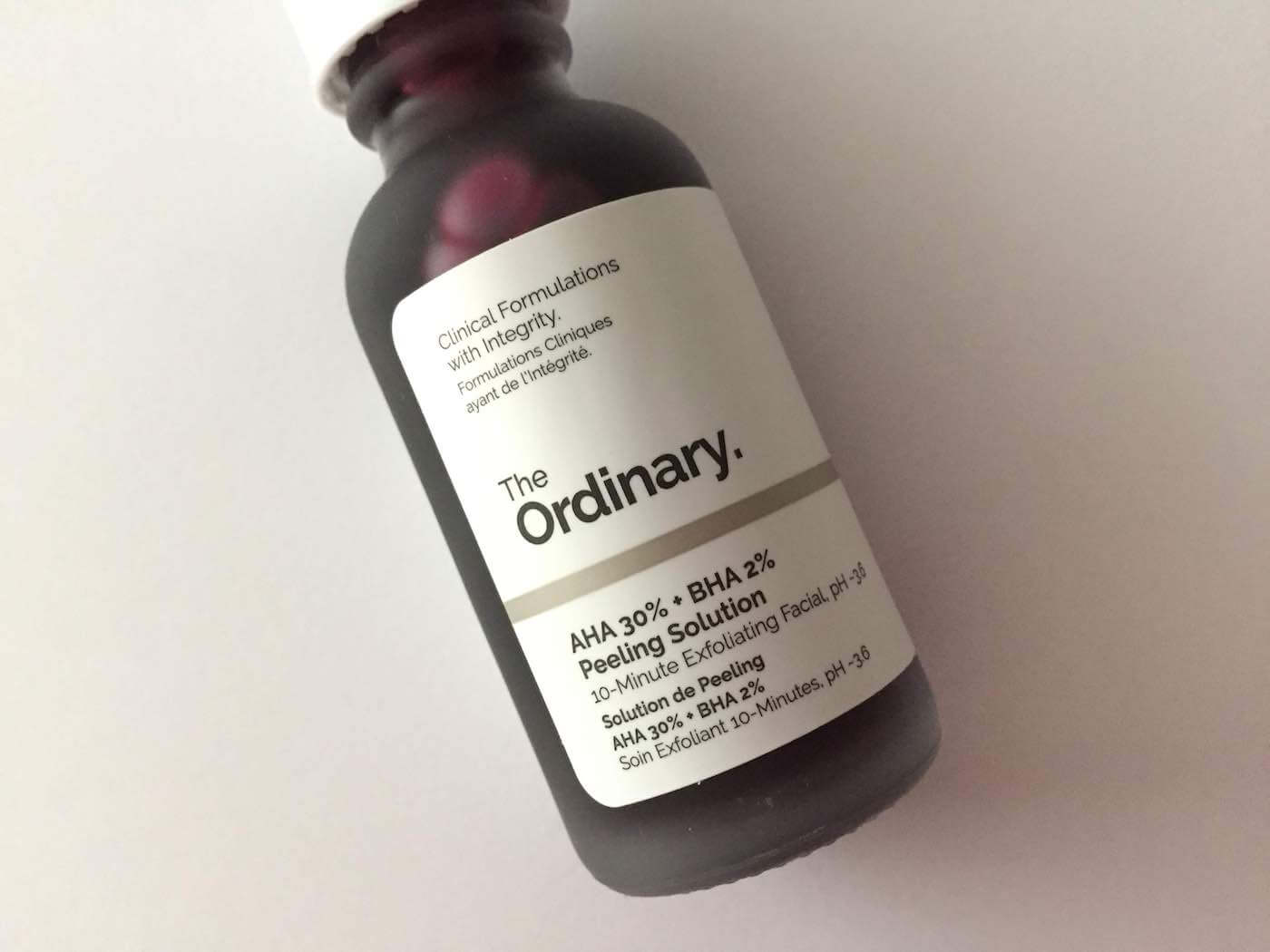 The Ordinary AHA 30% + BHA 2% formula change
Here are the ingredients listed on the website:
glycolic acid, water, aloe barbadensis leaf water, sodium hydroxide, daucus carota sativa extract, propanediol, cocamidopropyl dimethylamine, salicylic acid, potassium citrate, lactic acid, tartaric acid, citric acid, panthenol, sodium hyaluronate crosspolymer, tasmannia lanceolata fruit/leaf extract, glycerin, pentylene glycol, xanthan gum, polysorbate 20, trisodium ethylenediamine disuccinate, potassium sorbate, sodium benzoate, ethylhexylglycerin, 1,2-hexanediol, caprylyl glycol
It turns out that my product package's ingredient list was missing one of the ingredients listed above: potassium citrate. Otherwise, the ingredients matched the website version (same order and everything):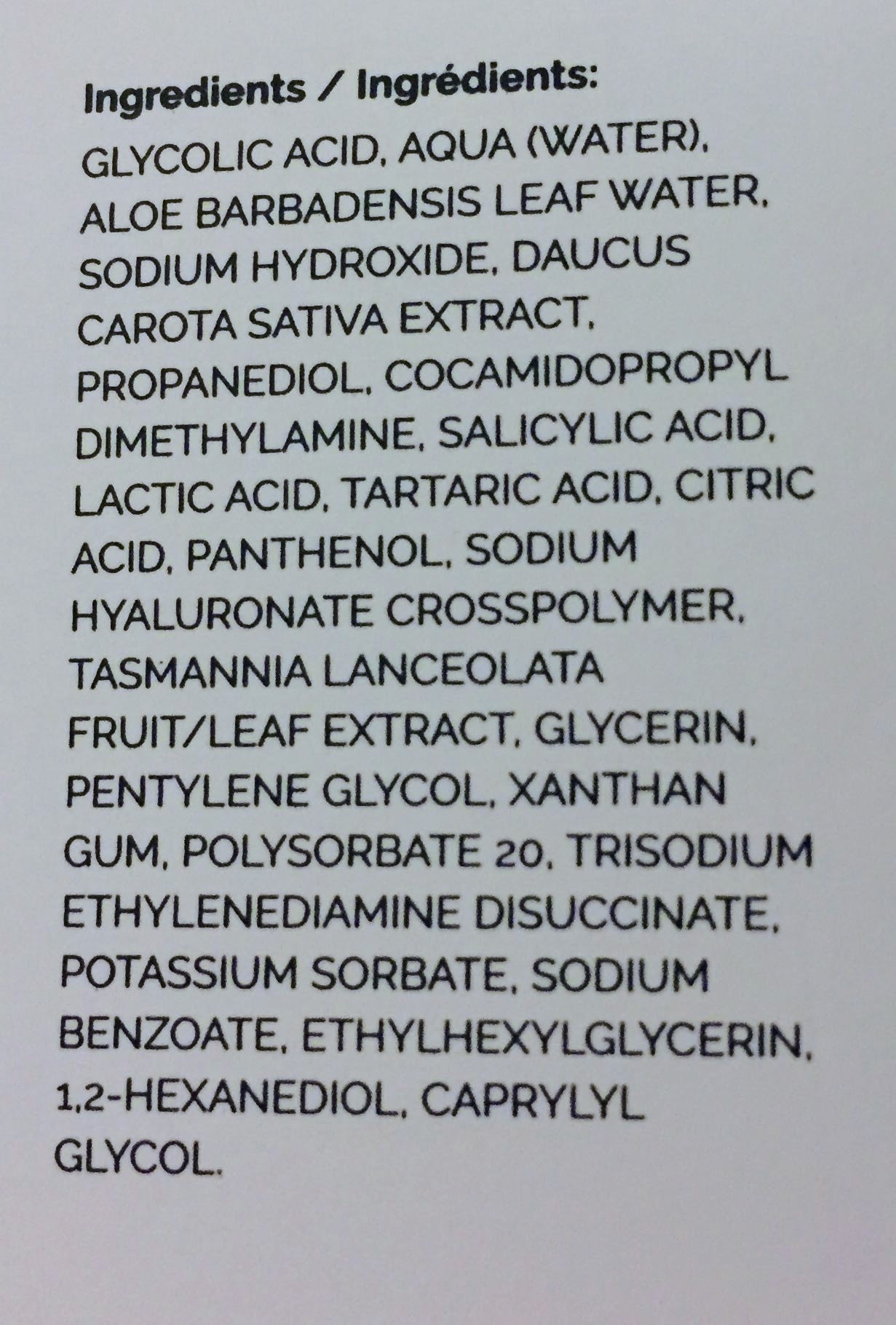 Deciem includes a disclaimer at the bottom of each product page that says: "Our formulations are updated from time to time as part of our commitment to innovation. As such, the ingredient list shown here may vary from the box of the product depending on time and region of purchase." Turns out that these formulas really do change! The reason for the change, however, is less clear than simply a "commitment to innovation."
I was curious why they would have kept everything the same, except for the addition (or removal, depending on which version is more recent) of this one ingredient.
Here's what my dad had to say.
My dad's thoughts on The Ordinary AHA 30% + BHA 2% formula change
Dear Emily, I don't know why potassium citrate was in the formula to begin with, Perhaps they found out this ingredient has interacted with one or more of the acids in the formula and reduced the efficacy of the formula. Potassium Citrate isn't a bad ingredient, but I don't know if it's necessary to use in this formula, I would say it's neutral or better.

Is this a facial peeling or skin renewal product?

Love,

Dad
So it turns out that my dad is also confused about the removal of postassium citrate. But he's also unsure about why potassium citrate was in the formula to begin with. He doesn't think it's either good or bad that they removed it—he just suspects that it may have been interacting with one of the acids in the formula. Sounds like there's nothing to worry about here—the formula hasn't changed that much.
The Ordinary AHA 30% + BHA 2% Review
Like The Ordinary Mandelic Acid, The Ordinary AHA 30% + BHA 2% contains tasmannia lanceolata, an ingredient that is meant to help relieve irritation associated with applying AHAs on your face.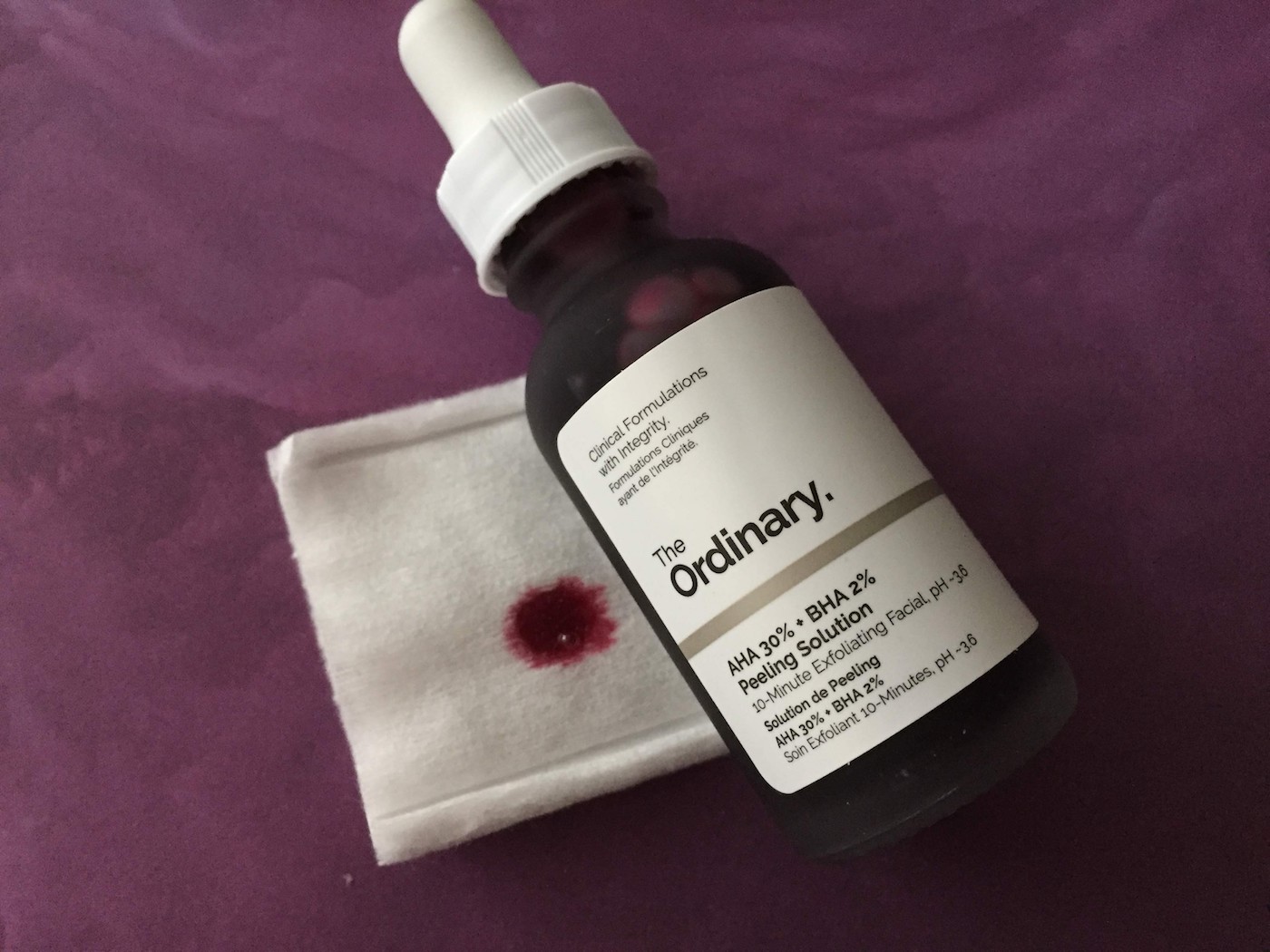 Viscosity + appearance: The reddish color reminds me of pomegranate (see above for a glimpse), and probably comes from the "black carrot" or daucus carota sativa extract, but I could be mistaken. It's also quite watery (not as oily of a texture as mandelic acid), so when you spread it on your face, you won't see such a stark red color, more like a light red/pink.
Strength: The ingredient list of The Ordinary AHA 30% + BHA 2% is pretty similar to the mandelic acid, except that it contains a much higher percentage of AHAs (30% as opposed to 10%). As such, it should come as little surprise that this product stings my face considerably more than mandelic acid does. I almost couldn't go 10 minutes without wanting to wash it off. Since the packaging says "Leave on for no more than 10 minutes," I set the timer for nine minutes because I'm a rule follower.
Post-peel feeling: The package recommends avoiding the eye area when you're applying this product and also when you're washing it off. So I decided to rinse it off with a warm washcloth instead of just splashing water on my face like I usually do, just in case any of it happened to drip into my eye area. After I was done rinsing it off, my face felt slightly tight. However, I didn't notice anything else unusual. I'll probably stick with using it once or twice a week, as recommended, until I'm done with the bottle, and then decide whether or not I want to repurchase it. Wish me luck!
Related reading
Note: This post uses affiliate links, which means that I'll receive a commission if you make a purchase after clicking a link (at no extra cost to you). See our
disclosure policy
.