Nip + Fab makes a 'gentle' version of glycolic peel pads with extra moisturizers and 2% glycolic acid instead of 5% in its normal version.
Today's post is courtesy of my TJ Maxx skincare addiction, yet again. I spotted a lone package of Nip + Fab Glycolic Fix Gentle Pads on the shelf and my eyes were instantly drawn to the words "gentle" and "sensitive" on the packaging. These pads are marketed for sensitive skin, and include moisturizers to help offset any irritation from the 2% glycolic acid (which is a "gentler" concentration than Nip + Fab's other 5% glycolic peel pads). However, if you take a closer look at the ingredient list, you might find that it's only gentler than other glycolic peel pads—it's not necessarily suitable for sensitive skin because it contains potential allergens like citrus-based extracts and fragrance. However, I personally didn't notice any irritation aside from my skin's usual tingling reaction to glycolic acids, but everyone's experience is different.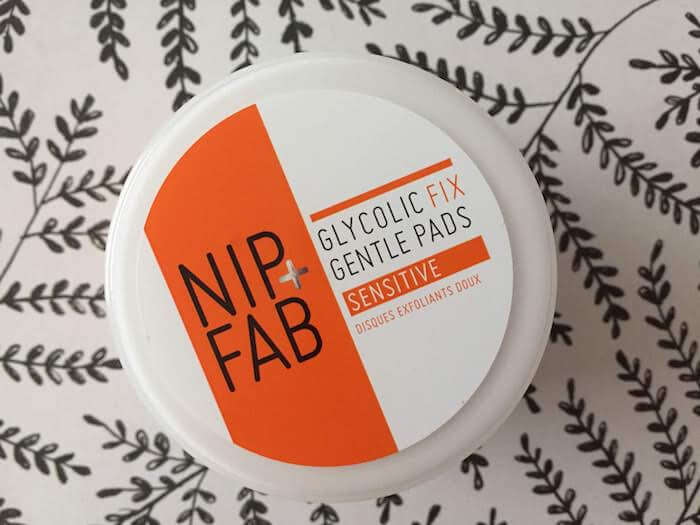 Nip + Fab Glycolic Fix Gentle Pads ingredients
water, glycerin, polysorbate 20, vaccinium myrtillus (bilberry) fruit extract, glycolic acid, phenoxyethanol, saccharum officinarum (sugar cane) extract, sodium hydroxide, benzyl alcohol, citrus aurantium dulcis (orange) fruit extract, citrus limon (lemon) fruit extract, aloe barbadensis leaf juice powder, disodium edta, panthenol, fragrance, limonene, acer saccharum (sugar maple) extract, dehydroacetic acid, sodium hyaluronate, linalool, geraniol, citral
These peel pads include sodium hyaluronate, aloe, and glycerin to help moisturize your skin. Bilberry has also been shown to help reduce inflammation. However, they also contain a number of citrus extracts (lemon and orange) that might be problematic for some people, even though this is designed to be a product that caters to those with sensitive skin. To learn more, check out the full Q&A with the allergist I interviewed. It also contains fragrance, which isn't ideal for people who have sensitive skin.
Nip + Fab Glycolic Fix Gentle Pads review
Nip + Fab Glycolic Fix Gentle Pads contain just 2% glycolic acid, whereas their normal "extreme" version contains 5% glycolic acid. Meanwhile, Pixi Glow Peel Pads contain a whopping 20% glycolic acid. If your skin is already used to glycolic acid treatments, you might find these peel pads to be too gentle for your skin. However, if you're just getting started with AHAs, this could be the perfect gateway product to help ease you into using glycolic acid to exfoliate and brighten your skin.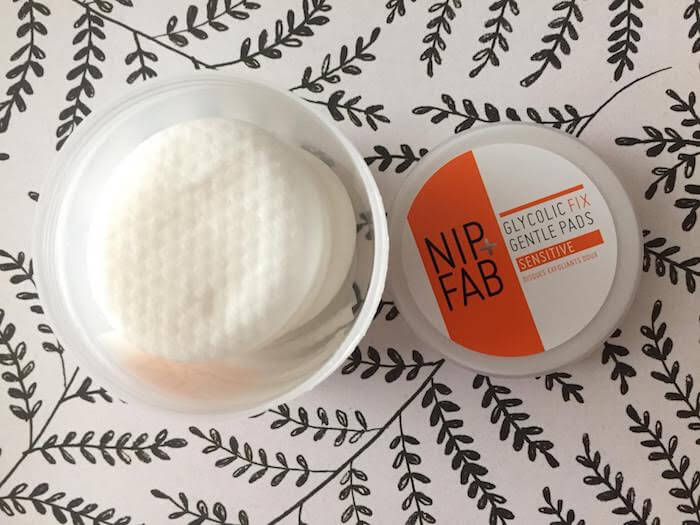 I didn't realize until I read the label that these pads include two different sides (like aluminum foil has a shinier side and a duller side, ha). One side is more texturized and is meant to help exfoliate the skin (in addition to whatever chemical exfoliation you get from the glycolic acid, of course), while the other side is smoother, maybe for when you want a gentler way to apply this product.
I haven't noticed a huge difference between the two sides…I like them both. I wish this product were fragrance-free, but it hasn't irritated my skin beyond causing a few seconds of gentle tingling that's normal for any product that contains AHAs. I would caution anyone who has sensitive skin and sees the word "gentle" on the label and assumes it's great for sensitive skin: read the label and make sure it doesn't contain anything that could potentially irritate your skin. The word "gentle" applies more to the lower concentration of glycolic acid, I think, rather than referring to its suitability for people with sensitive skin.
I've been using these pads about three times a week for a few weeks now, and I like them. I like that they contain just enough solution to cover my whole face, without being overly saturated or dried out. I like that after I swipe it across my face, I can see some dead skin cells—and occasionally, any bits of tinted sunscreen that I wasn't able to remove with less-than-diligent double cleansing—on the pad. Even if it looks (and sounds) gross, it's better to see it on the pad than to leave it on your face!
I have noticed that my skin has looked brighter in the mornings after using this product. I also like that it causes very little irritation, aside from a few seconds of gentle tingling and stinging. Make sure to only use the product at night, because AHAs like glycolic acid are known to increase your photosensitivity (your sensitivity to UV radiation).
Related reading
Note: This post uses affiliate links, which means that I'll receive a commission if you make a purchase after clicking a link (at no extra cost to you). See our
disclosure policy
.