This product includes kaolin clay and sodium hyaluronate, and lathers up nicely. Plus, it removes physical sunscreen like a dream and is suitable for oily skin.
One of life's small luxuries is being able to wash your face at night before you go to bed. There's nothing more soothing to me than massaging my face, rinsing it with water, and patting it dry with a nice, soft washcloth. It turns out that washing your face at night is not just a luxury—it's also good for your overall health, because it helps cool down your inner body temperature, which then helps you get a better night's sleep:
You may think the feeling of being facially clean helps you sleep better, but facial cleanliness makes no difference to your slumber. The act itself does have sleep-inviting powers, however, as that water, warm or cold, helps dissipate heat from the surface of the skin as it evaporates, thereby cooling the inner body core.

—Why We Sleep, Matthew Walker
People who have very dry skin typically need to avoid foaming cleansers, but I have no such qualms about this category of skincare, since my skin doesn't dry out that easily (plus, I always make sure to moisturize afterward). I picked up this bottle of Rosette Facial Cleansing Paste (White Clay) at my local Japanese supermarket. Isn't it adorable?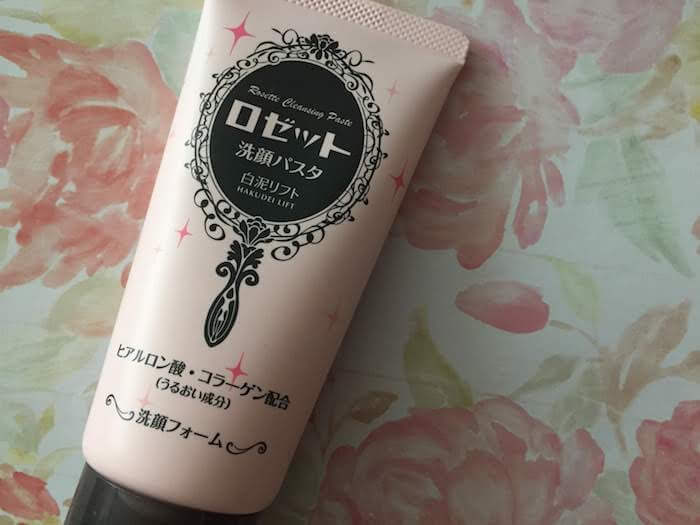 Rosette Facial Cleansing Paste (White Clay) ingredients
water, potassium myristate, glycerin, stearic acid, dipropylene glycol, potassium stearate, potassium cocoyl glycinate, peg-75, potassium laurate, kaolin, trehalose octenylsuccinate, peg-6, peg-32, sodium hyaluronate, hydrolyzed collagen, hydrogenated lecithin, butylene glycol, pentylene glycol
I chose this face wash for a combination of factors: its cute pink packaging, its lack of fragrances and alcohol, and its inclusion of sodium hyaluronate and kaolin. I thought that the kaolin could help detoxify, but since it might dry out your skin, the sodium hyaluronate can help provide a boost of moisture. The perfect mixture of detoxifying and moisturizing, all in one pretty pink bottle.
Rosette Facial Cleansing Paste (White Clay) review
I must say that I've been impressed with Rosette Facial Cleansing Paste (White Clay). It's like a foaming face cleanser and clay face mask all in one. The consistency is quite thick, like a clay mask. But when you combine it with water and rub it between your hands, you can easily work up a lather and massage it into the nooks and crannies of your face.
I thought that it was surprisingly effective at removing tinted physical sunscreen from my face, which is no small feat. A non-foaming cleanser like CeraVe Hydrating Facial Cleanser is definitely not going to be able to do that. This saves me the step of using a makeup removing wipe or an oil cleanser.
Just a dab of this product goes a long way, so the bottle will last a really long time. Most face washes are more watery than this, so you need to use a good pump of the product every time. Rosette's facial cleansing paste is definitely paste-like, even thicker than toothpaste. It's actually pretty similar to the thickness/viscosity of the Sand and Sky Australian Pink Clay Mask. It's fragrance-free and doesn't smell like anything at all.
Basically, it's a no-frills way to detoxify your face and remove physical sunscreen. I thought it did a good job of cleaning my face without drying it out too much. I probably wouldn't recommend it to anyone who has really dry skin, though, because the clay might be overkill to use every single day. I'm also not sure if it can effectively remove makeup or eye makeup because I don't usually wear those things.
If you don't want to order it on Amazon, try looking for this pink bottle at your local Japanese supermarket. You'll see it in plastic shrink wrap with a sticker that lists an English translation of the ingredients on the label. I believe this brand also makes other varieties, but I happened to pick up the White Clay variety (the pink bottle) when I was there.
Related reading
Note: This post uses affiliate links, which means that I'll receive a commission if you make a purchase after clicking a link (at no extra cost to you). See our
disclosure policy
.