A concealer that lets you blend a lighter and darker shade to get your perfect match.
Even though I grew up in a household of 75% women (including me), none of us were all that interested in makeup, so to this day, I remain largely clueless about this topic. I can probably count on one hand the number of times I've gotten my makeup done, or done it myself—and it's almost always because I'm going to a wedding. For some reason, barefaced weddings just aren't a socially acceptable thing yet, so I have to make an effort to go with the flow so that my plain, non-made-up (made-down?) face won't stick out like a sore thumb in the wedding photos.
A few months ago I attended a "black tie optional" wedding. The formality of the event made me think that I should probably try to wear at least a little makeup. The last makeup item I remembered liking was something a Sephora associate recommended to me: Laura Mercier Secret Camouflage Concealer. I remember that it did a surprisingly good job of blurring my uneven skin tone. So I headed back to Sephora to pick up a new package of this concealer.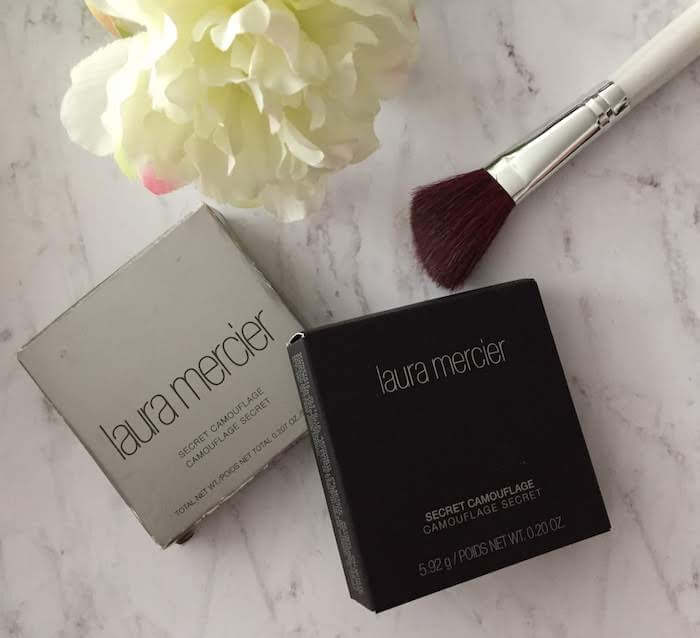 Laura Mercier Secret Camouflage Concealer ingredients
diethylene glycol, diethylhexanoate/diisononanoate, paraffin, hydrogenated polyisobutene, octyldodecanol, ethylhexyl isononanoate, euphorbia cerifera (candelilla) wax (candelilla cera), polymethyl methacrylate, copernicia cerifera (carnauba) wax (cera carnauba), phenoxyethanol, glyceryl stearate, tocopherol, isopropyl myristate, oleth-10, retinyl palmitate, ascorbyl palmitate, water, silica, chamomilla recutita (matricaria) flower extract, honey extract (mel), potassium sorbate, hexylene glycol, caprylyl glycol, tetrapeptide-14, titanium dioxide (ci 77891), iron oxides (ci 77492), mica (ci 77019)
Laura Mercier Secret Camouflage Concealer review
I bought shade SC-3 because that's what the Sephora associate recommended as a match for me. One thing I really like about this concealer is that it includes two panels that you can mix and match to your heart's content. So even if you don't get a perfect match with one panel, you can mix in some of the other one until you get the shade you want. The instructions recommend dipping your brush in each side and mixing them on the back of your hand before applying it to your face.
The consistency of this Secret Camouflage concealer is pretty waxy. You can see that there are a few types of wax in the ingredients: paraffin and carnauba wax (often seen in chapstick). It also contains titanium dioxide for the color, which is an ingredient that's often seen in physical sunscreens, so it may lend a tiny bit of SPF. However, this product does not state that it provides any SPF protection on the label, so definitely use a real sunscreen underneath it. The other shades come from your typical iron oxides and mica minerals.
The waxiness/creaminess helps smooth out my acne scars and makes them look less conspicuous. The color also helps remove redness and helps create the impression of a more creamy complexion. It does make your face feel slightly more oily than usual after a few hours, but nothing a little oil blotting paper can't fix. This product doesn't completely erase the pockmarks on my skin, but it does a decent job of making them look less noticeable. And that's all you can ask from a makeup item, right?
I ended up finding my old container of Laura Mercier Secret Camouflage Concealer from a few years ago. Here they are, side by side. The box changed slightly—it used to be silver, and now it's black (see picture above). The words on the packaging, down to the instructions and ingredients, have remained pretty much the same. The inside of the product also looks unchanged. It comes packaged in a snap-shut plastic box, with a mirror. The cracked product (on the right) is the older version…it probably got dried out over time.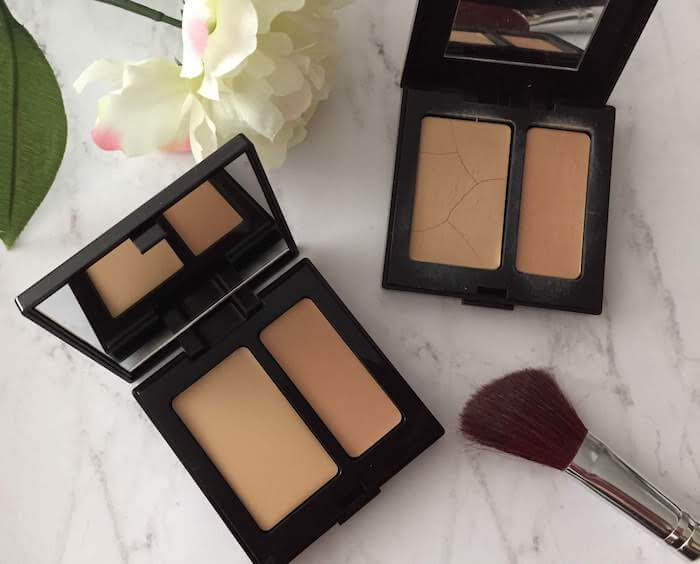 After wearing this concealer to the wedding, I found myself wondering if I should start wearing makeup more often. The funny (or sad?) thing about makeup is that it can turn into a crutch of sorts. It feels uncomfortable to walk around without your crutch, even though the old you moved around fine without it. Once you start wearing makeup for a few days in a row, I think it's easy to start depending on it.
"When I was at the Nakano shop, I barely even knew that something like foundation existed. I would dash some toner on my face and, if the mood struck me, maybe put on a little tinted lip gloss. Back then, that was the extent of it."

—The Nakano Thrift Shop, Hiromi Kawakami
I think I'm a little too lazy to put any effort into learning how to wear makeup—plus, I don't want to miss out on those extra minutes of sleep. So I've decided to save this concealer for special occasions when I feel like I need to look a little more polished than I usually do, though you could certainly use it every day without looking out of place.
I'd prefer to devote more time, energy, and money to improving my skin instead of just enhancing it on the surface level. Of course, that's a personal choice—I find nothing wrong with people who wear makeup. In fact, I admire them for having a skill I will never be able to master.
Related reading
Note: This post uses affiliate links, which means that I'll receive a commission if you make a purchase after clicking a link (at no extra cost to you). See our
disclosure policy
.