This conditioner helped smooth my hair as promised—but it also irritated my ears so much that I was forced to stop using it.
At Whole Foods, you can see a Purell dispenser that says, "Free of parabens." Those words may provide comfort to anyone who doesn't like parabens, but they only make me wonder what those wipes contain instead of parabens. All personal care products usually have to contain preservatives, unless they're completely water-free (since microbes need water to live)—see a list of preservative-free products here. Anyway, I guess I've been thinking about preservatives—and their potential to irritate us to varying degrees—because of my recent experience with Suave Professionals Sleek & Smooth Conditioner.
Let's take a closer look at the ingredients in this conditioner and see what makes it an effective hair conditioner and a potential source of irritation for some people (including, sadly, me).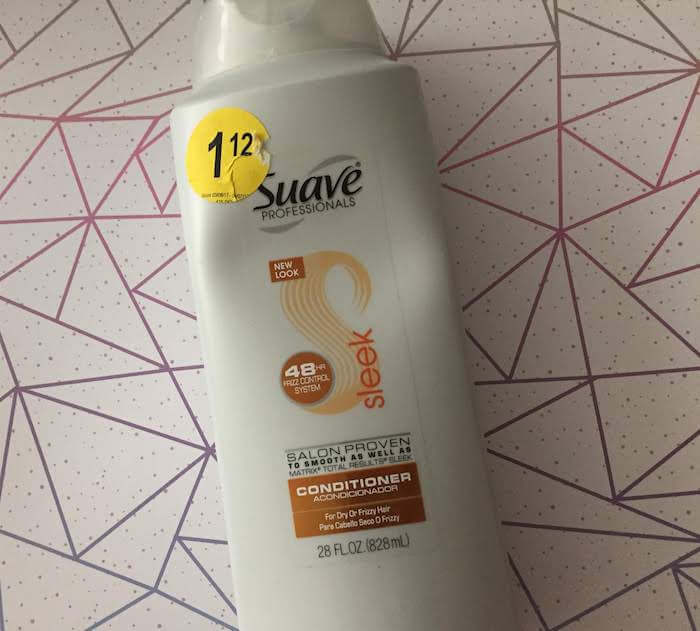 Suave Professionals Sleek & Smooth Conditioner ingredients
water, cetearyl alcohol, dimethicone, stearamidopropyl dimethylamine, behentrimonium chloride, fragrance, dipropylene glycol, lactic acid, potassium chloride, amodimethicone, disodium edta, dmdm hydantoin, peg-7 propylheptyl ether, cetrimonium chloride, hydrolyzed silk, silk amino acids, tocopheryl acetate, methylchloroisothiazolinone, methylisothiazolinone, ascorbic acid, niacinamide
Suave Professionals Sleek & Smooth Conditioner review
The package claims that this conditioner is designed to smooth hair just as effectively as Matrix Total Results Mega Sleek Conditioner. It contains dimethicone (a silicone that's commonly used in hair products to smooth/defrizz), hydrolyzed silk, and silk amino acids. It turns out that silk helps your hair feel like silk, too.
The problematic ingredient for me is probably DMDM hydantoin. Two other preservatives in this product—methylchloroisothiazolinone and methylisothiazolinone—are also known to be irritating, and are only allowed in rinse-off formulas. However, they're also in some other haircare products I've used in the past like Kirkland Signature Shampoo and Conditioner, and I didn't have a problem with those products.
According to this GreenScreen report here, DMDM hydantoin is classified as "High Group I Human Hazard" and scored 1 ("Avoid – Chemical of High Concern"). It is allowed in consumer products at up to 1% concentration.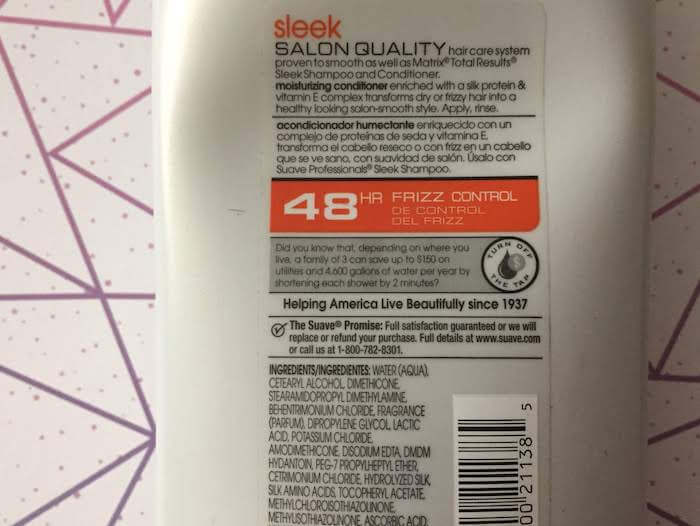 The other potential problem with this particular bottle of conditioner is that it is quite old. It has been sitting in my closet for a long time, and I also bought it on sale for only about a dollar (see price tag above). This means that it might have already been old when I first bought it, and it got even older sitting in my closet. Whether it irritated me because of DMDM hydantoin or because it was expired, I was very disappointed that I wasn't able to continue using this conditioner. It caused my ears to turn bright red, and I experienced a burning sensation. They were also hot to the touch, like they were on fire. I think these are all signs of a serious allergic reaction.
It's really a shame because this conditioner really did a great job at making my hair feel silky and glossy. I loved how it left my hair feeling—but I hated how it left my ears feeling severely irritated. At first I didn't want to believe that this conditioner was causing the problem because it was just so darn effective at smoothing my frizzy hair. It made my hair feel so silky and shiny, like no other conditioner has done in the past. However, after eliminating other potential sources of irritation, I was forced to admit that this conditioner had to be the culprit.
In the future, I'll be using products more quickly (especially if I buy them on sale) instead of letting them sit in my closet. I'd have to visit an allergist to make sure that it's DMDM hydantoin that triggers a reaction in me, but until then, I'll be avoiding products that contain this ingredient, just to be safe.
It could also be the fragrance in this product that's triggering a reaction. Companies don't have to list the components that go into their fragrances—they only have to list "fragrance" in the ingredients and call it a day. This conditioner had a medium-strong fragrance, so it's quite possible that I'm allergic to something in the fragrance that goes into this conditioner. Or I'm just allergic to all of these things. Who knows? The only thing you can do is patch test a new product to be safe, or buy products that contain as few potential irritants as possible, such as Whole Foods fragrance-free shampoo and conditioner.
Related reading
Note: This post uses affiliate links, which means that I'll receive a commission if you make a purchase after clicking a link (at no extra cost to you). See our
disclosure policy
.