I asked my dad to compare this product against two other fragrance-free conditioners. Guess which one won?
The other day, I reviewed Whole Foods Fragrance-Free Shampoo. Today, I'm diving into its companion product: Whole Foods Fragrance-Free Conditioner. It's packaged in the same type of plastic bottle, and looks very much the same.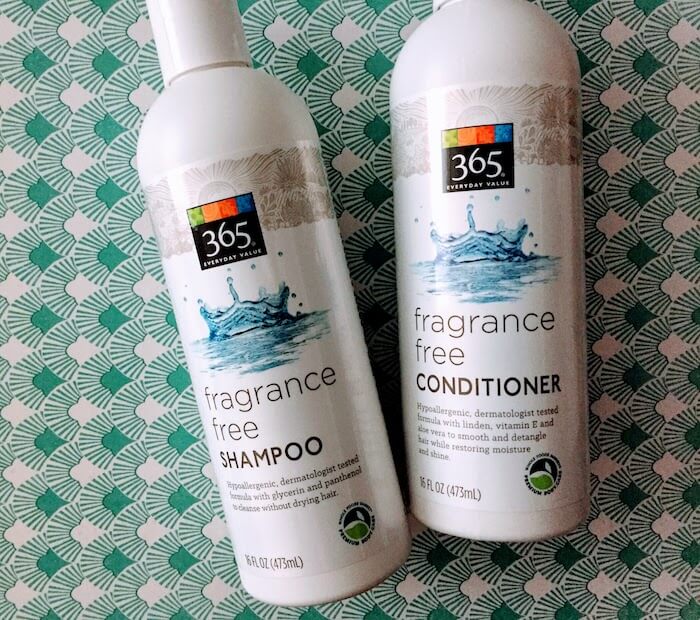 I was curious how this Whole Foods Fragrance-Free Conditioner would stack up, ingredients-wise, against two other popular options that pop up when you search for "fragrance-free conditioner" on Amazon. I narrowed it down to these three products:
I sent my dad these three ingredient lists, labeled simply as Product 1, Product 2, and Product 3, and asked him which one he liked best. Let's see what he had to say.
Product 1: Whole Foods Fragrance-Free Conditioner ingredients
water, behentrimonium chloride, gluconic acid, glyceryl stearate, cetearyl alcohol, glycerin, sodium benzoate, potassium sorbate, sodium citrate, tilia europaea (linden) flower extract, amodimethicone, guar hydroxypropyltrimonium chloride, panthenol, tocopherol, chamomilla recutita (matricaria) flower oil, organic aloe barbadensis leaf juice
Product 2: Desert Essence Fragrance-Free Conditioner ingredients
aloe barbadensis leaf (aloe vera) juice, camellia sinensis leaf extract, cetearyl alcohol, behentrimonium chloride, glycerin, caprylic/capric triglyceride, hydrolyzed jojoba esters, panthenol, simmondsia chinensis (jojoba) seed oil, helianthus annuus (sunflower) seed oil, lepidium meyenii root extract (maca root), yucca brevifolia root extract (yucca cactus), butyrospermum parkii (shea) butter, water, symphytum officinale leaf extract (comfrey), urtica dioica (nettle) leaf extract, macrocystis pyrifera extract (sea kelp), salix alba (willow) bark extract, dehydroacetic acid, potassium sorbate, benzyl alcohol, citric acid
Product 3: Free and Clear Fragrance-Free Conditioner ingredients
water, cetearyl alcohol, hydrogenated polydecene, propanediol, distearoylethyl dimonium chloride, glycerin, ceteareth-20, panthenol, 1,2 hexanediol, arginine, caprylyl glycol
My Dad the Chemist's review of fragrance-free conditioners
Dear Emily, I like Product 1 and Product 2 better than Product 3, , no only because these two formulas are composed of mostly natural or naturally derived materials but also should work better than a Product 3.

And my most preferred is Product 1 because of Amodimethicone and Guar Hydroxypropyltrimonium Chloride May provide better lubricating conditioning without felling stickily heavy.

Love,
Dad
My dad likes Whole Foods the best, followed by Desert Essence. He prefers these two options over Product 3 (Free and Clear) because they contain more natural or naturally derived materials. He also highlighted a few interesting lubricating (but lightweight) ingredients in Whole Foods Fragrance-Free Conditioner: amodimethicone and guar hydroxypropyltrimonium chloride. Apparently these ingredients do a good job of lubricating the hair (conditioning it, if you will), without weighing it down. I'll have to keep an eye out for these ingredients in the future.
My review of Whole Foods Fragrance-Free Conditioner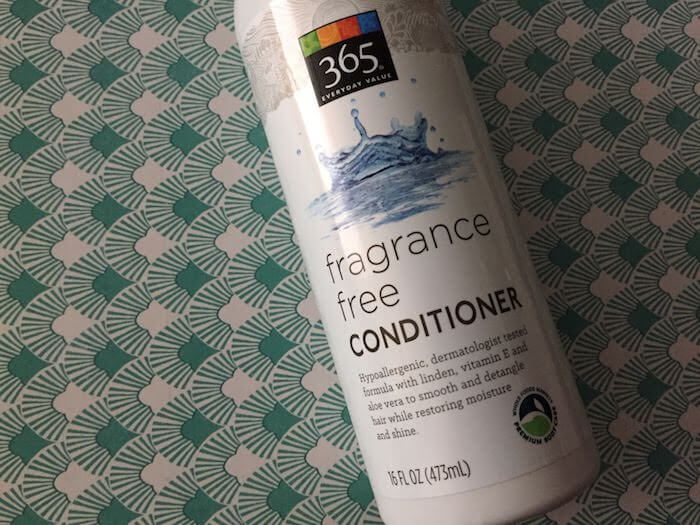 I like this Whole Foods Fragrance-Free Conditioner so far. Like its sister shampoo, it's vegan, paraben-free (if that matters to you), and fragrance-free. It's not going to wow you, but it's a decent option that helps detangle your hair and leaves it feeling silkier/shinier than it did before. However, there are a few potential issues that might bother some people. One is that even though the ingredients state to apply a "small amount" to your hair, I found that this wasn't enough to get a detangling and conditioning effect. The label does say "repeat if necessary," and I think it's necessary, if you're using just a small amount each time. I had to use about two dollops' worth of conditioner (but I didn't repeat). This means that the bottle is going to get used up pretty quickly. I also prefer my conditioner to come in pump form, like Kirkland Signature Moisture Conditioner.
Another thing to note is that it does have a particular smell. Even though it's fragrance-free, it's not odorless. If you read my review of Whole Foods Fragrance-Free Shampoo, you may recall that I asked my dad why it was so darn difficult to find fragrance-free hair care products. His guess was that most consumers dislike smelling the chemical odor of hair care products in the shower. The odor of these ingredients doesn't exactly scream "clean," so manufacturers add other alluring fragrances to help you relax in the shower (and so you won't have to smell that "chemical" odor).
One nice thing about Whole Foods Fragrance-Free Shampoo is that it has a pretty neutral odor. The same cannot be said about Whole Foods Fragrance-Free Conditioner, which carries a mild chemical scent that may bother some people. However, despite the mild chemical odor, it doesn't linger in your hair and make you smell like chemicals after you rinse it out. I think the initial smell is a small price to pay for those of us with sensitive skin who want/need to avoid contact with chemical fragrances in our everyday routines.
It's nice to know that I can use hair care products that don't introduce additional exposure to synthetic fragrances that could irritate the skin on my hands and my scalp, which are pretty sensitive areas of my body. I also like that these fragrance-free hair care options are easily accessible in my local Whole Foods store, so I don't need to order it online.
Related reading
Note: This post uses affiliate links, which means that I'll receive a commission if you make a purchase after clicking a link (at no extra cost to you). See our
disclosure policy
.