This toner is designed to soothe and exfoliate your skin before your nighttime treatments. But don't apply it in the morning, since it contains glycolic acid.
This Curesys Trouble Clear Toner was part of my TJ Maxx skin care haul a few weeks ago (when I picked up this Jeju:en Hyaluronic Acid Sleeping Mask. Curesys is a Korean beauty brand that I can't find much info about online. It appears to be pretty new, and I'm not sure how this lone bottle of toner ended up on the shelves of my local TJ Maxx.
It looks like this company collaborates with a lab located in the United Kingdom, and incorporates patented ingredients from that lab into its formulas. It claims to be a 4-in-1 toner that delivers four benefits: soothe, sebum control, exfoliate, and hydrate. Let's take a closer look at the ingredients that help this toner achieve those goals.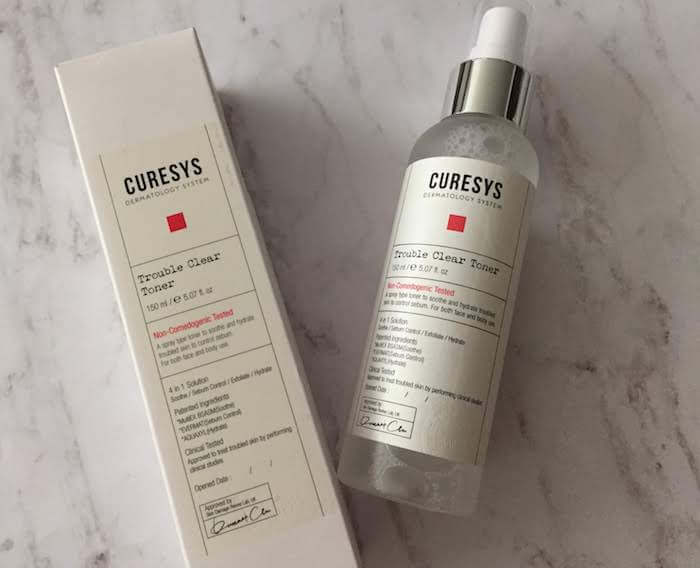 Curesys Trouble Clear Toner ingredients
water, dipropylene glycol, 1,2-hexanediol, portulaca oleracea extract, betaine, butylene glycol, glycerin, glycolic acid, salicylic acid, allantoin, xylitylglucoside, anhydroxylitol, xylitol, madecassoside, asiaticoside, dipotassium glycyrrhizate, polyquaternium-51, centella asiatica extract, scutellaria baicalensis root extract, polygonum cuspidatum root extract, glycyrrhiza glabra (licorice) root extract, camellia sinensis leaf extract, rosmarinus officinalis (rosemary) leaf extract, chamomilla recutita (matricaria) flower extract, bifida ferment lysate, enantia chlorantha bark extract, eucalyptus globulus leaf oil, citrus aurantium bergamia (bergamot) fruit oil, oleanolic acid, sodium citrate, peg-60 hydrogenated castor oil, disodium edta
This toner includes glycolic acid, an alpha-hydroxy acid that is often used as a chemical peel (though it's probably not included at high enough of a concentration to serve as a peel in the case of this toner). This toner also contains salicylic acid, another type of ingredient that gently exfoliates your skin and leaves it renewed. These two ingredients may cause your skin to sting slightly after you first spray it on. However, I found that the irritation disappeared after a few minutes.
glycerin, a commonly used moisturizer in skin care products

camellia sinensis leaf extract: green tea extract, rich in antioxidants.

centella asiatica extract: also known as tiger grass, this herb is used to help heal everything from wounds to eczema and psoriasis.

scutellaria baicalensis extract is an antioxidant that helps boost protection against UV radiation.

chamomilla recutita (matricaria) flower extract, also known as German chamomile extract, may provide anti-inflammatory benefits for conditions like eczema.

enantia chlorantha bark extract, also known as African yellow wood, delivers antimicrobial and antioxidant benefits.

allantoin, derived from the comfrey root. This soothing ingredient is known to provide healing properties.

glycyrrhiza glabra (licorice) root extract, rosmarinus officinalis (rosemary) leaf extract, and camellia sinensis leaf extract (green tea extract) are all mentioned here as sources of antioxidants.

Portulaca oleracea extract
Portulaca oleracea extract comes from a plant that is also known as "pursley." It contains linolenic acid and alpha-tocopherol, and has been shown to help with wound healing. It is also effective at reducing inflammation in patients with psoriasis.
Bifida ferment lysate
Another interesting addition to this toner is bifida ferment lysate, which is a probiotic ingredient that has been shown to hold promise for improving inflammation and reducing dryness/irritation in those with sensitive skin. See this study for more details.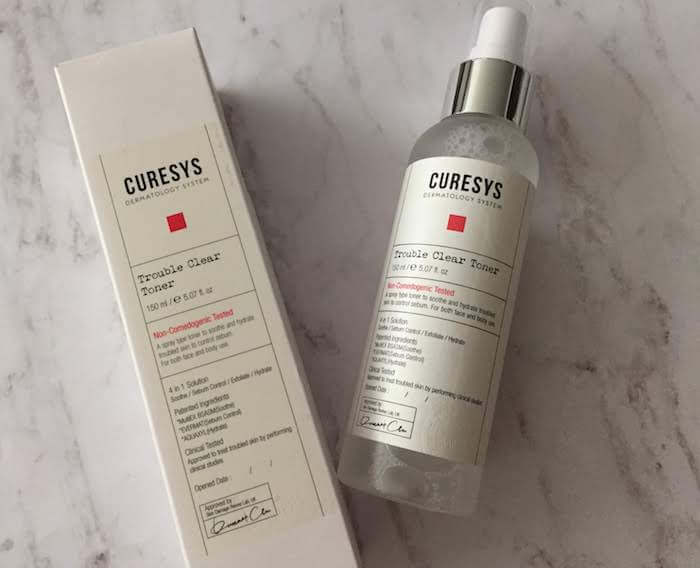 Curesys Trouble Clear Toner review
Curesys Trouble Clear Toner comes packaged in a spray bottle that can spray even when turned upside-down. It is designed to do four things: soothe, sebum control, exfoliate, and hydrate. After googling nearly every ingredient in the list, and finding that it's there to provide some sort of soothing, anti-inflammatory, antioxidant-rich benefit, I think this toner is packed with powerhouse ingredients. However, it's hard to tell how much of these ingredients it contains, and how much water it's made up of. The consistency is very watery, but it smells heavily of licorice (probably due to the licorice extract included in this formula).
Glycolic acid and salicylic acid are probably the main exfoliating ingredients in this toner. Since glycolic acid increases your sensitivity to UV radiation, I recommend only using this toner at night. If you want to use it in the morning, too, then make sure you apply plenty of sunscreen. It actually does slightly sting my face, but not nearly as much as The Ordinary Glycolic Acid Toner. The stinging dissipates after about 30 seconds.
I close my eyes, spritz it on my face, and wait for it to dry before applying serums and moisturizers at night. I wish the spraying mechanism would distribute the toner a bit more evenly—it comes out just like a regular spray bottle, not as misty as I would like. But one benefit of this packaging is that it's designed to be able to spray at any angle, so you can spray it on your back if you want a hands-free way to combat back acne (bacne). Perhaps this is more eco-friendly than using something like a Stridex pad. However, note that the concentration of salicylic acid is not as high as it is in other anti-acne products—it's only 0.1% salicylic acid.
Related reading
Note: This post uses affiliate links, which means that I'll receive a commission if you make a purchase after clicking a link (at no extra cost to you). See our
disclosure policy
.