This glycolic acid toner is slightly more irritating than mandelic acid, but not quite as strong as a full-on chemical peel (and maybe not as effective, either).
You know how I feel about toners. I'm not sure if they actually do anything, but I still like to use them, because they help my skin feel cleaner and more refreshed at night. I've been hearing good things about The Ordinary Glycolic Acid Toning Solution for a while now, so I decided to give it a try. Since it contains 7 percent glycolic acid, this is not your typical toner—it falls somewhere between a toner and a chemical peel. And what's in the other 93 percent? According to The Ordinary, the pH of this product is ~3.5 to 3.7, and it's alcohol-free, oil-free, and silicone-free.
The Ordinary Glycolic Acid Toner Ingredients
aqua (water), glycolic acid, rosa damascena flower water, centaurea cyanus flower water, aloe barbadensis leaf water, propanediol, glycerin, triethanolamine, aminomethyl propanol, panax ginseng root extract, tasmannia lanceolata fruit/leaf extract, aspartic acid, alanine, glycine, serine, valine, isoleucine, proline, threonine, histidine, phenylalanine, glutamic acid, arginine, pca, sodium pca, sodium lactate, fructose, glucose, sucrose, urea, hexyl nicotinate, dextrin, citric acid, polysorbate 20, gellan gum, trisodium ethylenediamine disuccinate, sodium chloride, hexylene glycol, potassium sorbate, sodium benzoate, 1,2-hexanediol, caprylyl glycol
Glycolic acid is one of the most commonly used alpha hydroxy acids (AHAs) for renewing the skin. Like other AHAs, glycolic acid increases your skin's sensitivity to UV light, so you should be careful to use them only at night, if possible. Glycolic acid is supposedly colorless, but The Ordinary Glycolic Acid Toning Solution actually has a yellowish tint to it. Glycolic acid can be derived from natural sugars, which may explain why this toner contains three types of sugar: fructose, glucose, and sucrose. It also comes with a regular bottle cap and a squeeze bottle cap for squeezing it onto a cotton pad.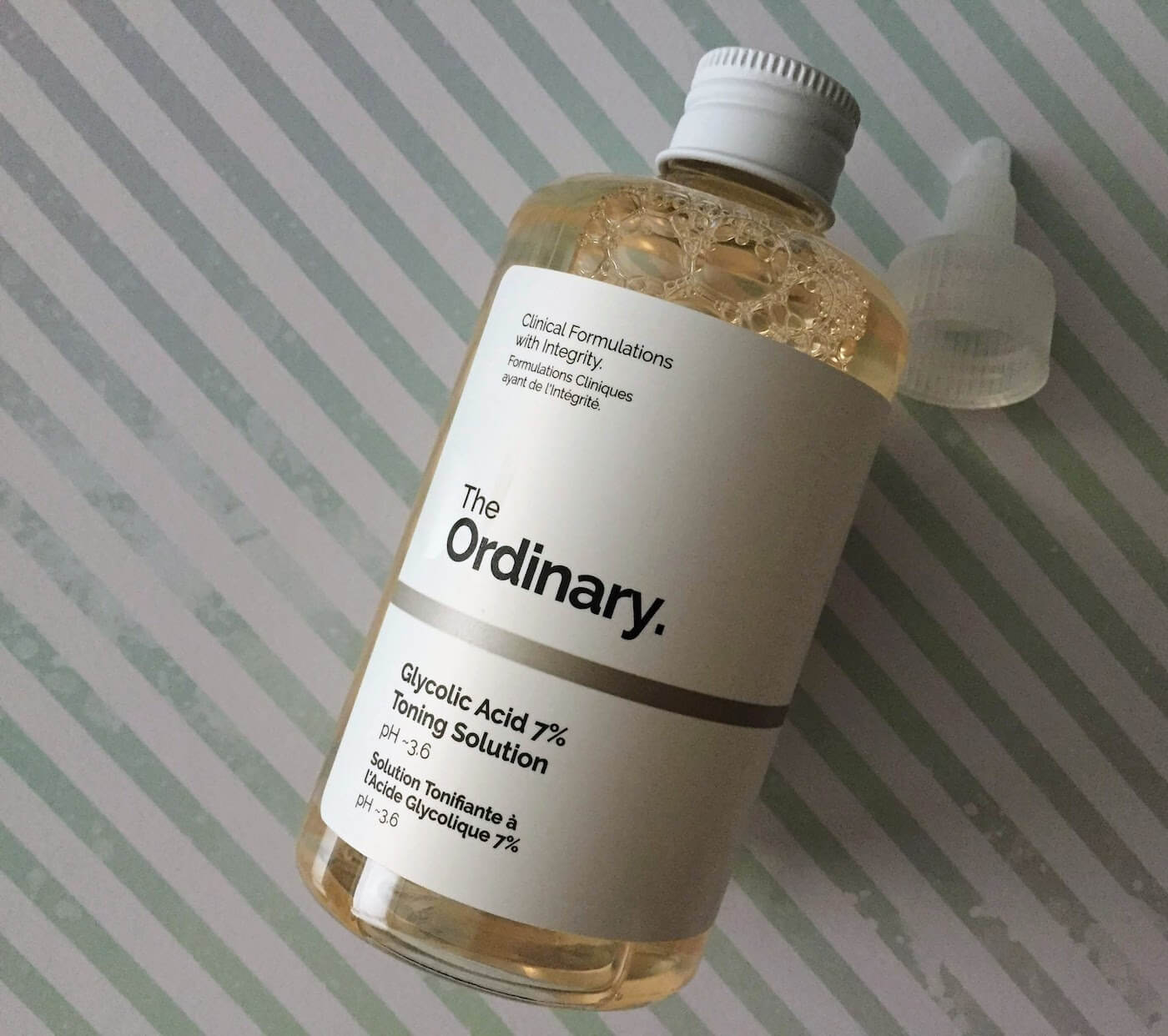 The Ordinary Glycolic Acid Toner Review
I have not been very impressed with this toner so far. It irritates my skin to the point where I'm not sure if I'll continue using it. I think I'd prefer to use something more soothing like Thayers cucumber toner (read the review here). But maybe it's because I have sensitive skin that just doesn't respond well to this product. This is a popular product among many people who are looking for minor skin brightening. But if you have more severe skin conditions like acne scarring, I don't think this product is going to deliver the level of benefits you're looking for—and even worse, it's probably going to irritate your skin.
How irritating is The Ordinary Glycolic Acid Toner?
Glycolic acid peels are commonly used to treat skin conditions like acne scars, though they can dry out sensitive areas of the face, like the nose and lips. Like The Ordinary AHA 30% + BHA 2% and The Ordinary Mandelic Acid 10% + HA, this product includes tasmannia lanceolata fruit/leaf extract, to help any irritation associated with applying this AHA to the face. This toner left my skin feeling tingly and slightly itchy, but not quite as irritated as the AHA 30% + BHA 2% peel. I was able to neutralize the tingling after applying moisturizer later. However, I wouldn't say that it's a non-irritating toner. It's probably still too strong for people who have sensitive skin. If you have extremely sensitive skin, I'd recommend the Mandelic Acid instead (that one doesn't irritate or burn my skin at all).
And, if you have any damaged areas of skin on your face (e.g., from popping a pimple or waxing your face), I'd recommend holding off on using this toner at least temporarily, until your skin heals. Even when you don't have any damaged skin, it may irritate your skin to the point where you'll need to neutralize the effects with a rich, soothing moisturizer.
How effective is The Ordinary Glycolic Acid Toner?
Many studies have found that glycolic acid peels are effective at improving acne and acne scarring when applied at concentrations between 20% and 70%. These peels are typically supposed to be washed off after 1 to 15 minutes. In contrast to a glycolic peel, The Ordinary Glycolic Acid Toning Solution is designed to be just like a toner that you apply at night after washing your face. You don't wash it off until the next morning.
Indeed, the strength of glycolic acid in this toner may not be enough to actually deliver benefits for certain skin conditions. This study set out to compare the efficacy of daily lower-strength treatments (15% glycolic acid cream over 24 weeks) vs. less frequent, higher-strength treatments (70% glycolic acid peel every two weeks). Furthermore, at 15%, the "lower" concentration highlighted here was still higher than the 7% in this The Ordinary Glycolic Acid Toning Solution.
The study concluded that less frequent, higher-concentration peels were more effective than daily, lower-concentration treatments for healing acne scars: "Glycolic acid peeling is an effective modality for the treatment of atrophic acne scars, but repetitive peels (at least six times) with 70% concentration are necessary to obtain evident improvement." So if you'd like to use glycolic acid to increase cell turnover and smooth out your acne scars, you should opt for something more like The Ordinary AHA 30% + BHA 2% instead of this Glycolic Acid Toning Solution.
Related reading
Note: This post uses affiliate links, which means that I'll receive a commission if you make a purchase after clicking a link (at no extra cost to you). See our
disclosure policy
.