This refreshing cucumber toner gently removes any lingering debris after you've washed your face.
I've harbored mixed feelings about the importance of using toner as part of one's skincare routine. I've used toners off and on since my teenage years. I suspect that most of the positive effects were psychological—using toner made my face feel cleaner than using face wash alone. Recently, I've been using Thayers Cucumber Toner, and I think it might continue to play a regular role in my skincare routine, for a number of reasons that I'll go into later in this post.
A short personal history of toners
But first, a bit of a backstory about my journey to toner happiness. The first toner I ever used was the one in this Proactiv kit. It was slightly blue in color, like mouthwash (that should have been the first warning sign). I didn't love it, but I didn't hate it, either. Since then, I've only tried a few other toners, including astringents that I mistakenly lumped into the category of "toners."
One such product was T.N. Dickinson's Witch Hazel Astringent, which seemed to help make my skin feel less oily (at least initially), but it didn't really end up doing much for my acne. I later realized that this was actually an astringent, meaning that it included alcohol.
I really liked the toner in the AcneFree Sensitive Skin Kit, which has the following ingredients:
water, niacinamide, pentylene glycol, glycerin, sea whip extract, camellia sinensis leaf extract, citrus aurantium dulcis (orange) fruit extract, citrus medica limonum (lemon) extract, pyrus malus (apple) fruit extract, saccharum officinarum (sugar cane) extract, bisabolol, zingiber officinale (ginger) root extract, salicylic acid, sorbic acid, benzalkonium chloride, disodium edta, butylene glycol, aminomethyl propanol, isoceteth-20, phenylmethanol
Back when I was using this, I had never even heard of niacinamide. Now I use The Ordinary Niacinamide 10% + Zinc 1% every day. Now that I know that it was the second ingredient in this toner, I understand why I liked it so much. Eventually, I stopped using AcneFree because after an initial period of improving my skin, it seemed to be doing more harm than good for my acne. Besides, the proportions of the three steps in this kit were off—I always ran out of the toner before I ran out of the cleanser or spot treatment included in the kit, which was annoying. I dislike when companies don't sell items individually, and make you buy the whole kit instead.
Toner vs. astringent: Thayers' take on this topic
Astringents seem to be quite similar to toners, in that you use them after washing your face and before putting on moisturizers and/or serums. However, they often contain alcohol, which dries out my sensitive skin and makes it initially less oily, but more oily in the long run.
Thayers sells both astringents and toners. According to this page on the website, their toners include glycerin, which helps hydrate and soothe the skin. Toners also help remove last bits of dirt not captured by face wash, and essentially "prime the skin for moisturizers and serums."
Astringents, on the other hand, are designed to draw oil out of skin. They usually include alcohol, which helps kill bacteria. Thayers says that astringents are suitable for oily and acne-prone skin, but it warns you not to overuse astringents, since they could end up overdrying your face and making it more oily.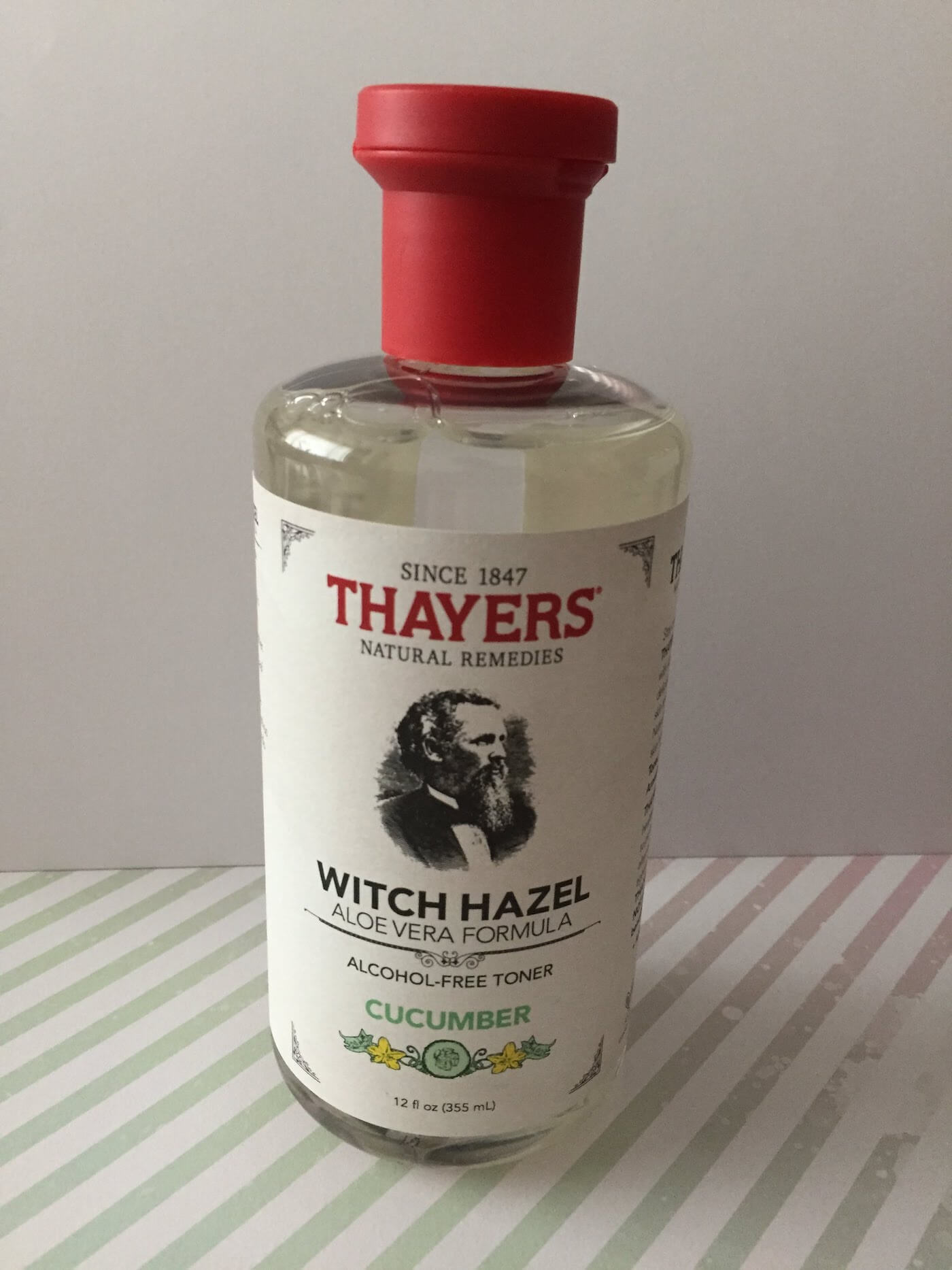 Thayers Cucumber Toner Review
After a few years of falling off my toner game (right after I stopped using that Dickinson's astringent), I decided to pick up a bottle of Thayers Cucumber Toner at Ricky's NYC a few months ago. The packaging really appealed to me. It was packaged in a bottle that showed a drawing of Henry Thayer, a doctor who started the eponymous Thayers brand in 1847. The bottle itself looks like glass, but it's actually made out of plastic (perfect for clumsy butterfingers like me). And the label is made out of a thicker material than normal, and is slightly yellowed, like an old tea-stained parchment scroll, which adds to this brand's historical appeal.
Now I use it every morning and night, after washing my face and before putting on either sunscreen or serums. To apply it, I use one of those MUJI facial cotton pads I wrote about last month (read the review here).
Let's take a closer look at the ingredients, shall we?
Thayers Cucumber Toner Ingredients
purified water, certified organic witch hazel, aloe barbadensis leaf juice (aloe vera), glycerin, phenoxyethanol, cucumis sativus (cucumber) fruit extract, citric acid, citrus grandis (grapefruit) seed extract
A short and simple ingredient list, with organic witch hazel, aloe vera, glycerin, cucumber fruit extract, and grapefruit seed extract. Thayers claims that its products do not expire because the grapefruit seed extract serves as a preservative:
"All of our witch hazel astringents and toners, except our medicated options, DO NOT have expiration dates. Our witch hazel products are all natural and have a natural preservative (grapefruit seed extract) that does not expire."
Source
I'll have to ask my dad if he thinks that is a valid claim, but it's interesting that the site doesn't mention the other natural preservative included in the formula: phenoxyethanol. Interestingly, this is the same natural preservative that's found in The Ordinary Niacinamide 10% + Zinc 1% and Whole Foods Gentle Skin Cleanser.
It's probably better marketing to highlight grapefruit extract as the preservative here, since it's easier to understand than a word like "phenoxyethanol." Regardless, it's good to know that this toner includes a few natural ways to help preserve the quality of its ingredients.
This product also includes citric acid, a beta-hydroxy acid that works as an antioxidant. This also means that you should definitely use sunscreen if you plan to go outside after using this toner, since hydroxy acids increase your skin's photosensitivity. Read this study for more details.
Tannins in toners
According to this study, witch hazel leaves and bark include "tannins," a word that you may have heard before—often associated with wine and tea. According to the study, witch hazel bark includes a type of tannins called hamamelitannins, which help guard against free radical-induced damage on skin cells (see this other study for details).
According to the Thayers website, their products include more tannins because of the way they process the witch hazel plant bark:
"Our Toners and Astringents contain these skin-healthy Tannins which come from the bark of our beloved witch hazel plants. Thayers products are made the old-fashioned way, and are not distilled… that's why our products are able to contain 195% more tannins!"
Although I have no idea how they substantiate this claim, I do quite like this toner.
Thayers Cucumber Toner first impressions
I've been using this toner for about two and a half months, and I'm still not even halfway through the bottle. I think it's gentle and refreshing. It also helps my skin feel extra clean (but not overly dry) after washing my face with a gentle face cleanser.
And it smells just like cucumber water, so I feel like I'm getting a spa treatment. I don't detect the scent of grapefruit at all. The fluid feels slightly stickier than water, but is not much thicker than water, either. It dries pretty quickly. I usually just squirt it on a MUJI cotton pad for less than a second, just enough to dampen the pad, and then gently run the pad across my face and sometimes my neck. The most satisfying part is looking at the pad after I'm done swiping it across my face. Some days, I can see more gunk (usually a bit of leftover Australian Gold sunscreen that didn't get washed off that day), while other times, I hardly see any residue on the pad at all. It depends on the day.
Set the tone® for summer skincare
Overall, I recommend this toner, especially if you have thought about double cleansing, but haven't dived into it yet, because you're afraid you'll break out. Chances are, if you have sensitive skin, you're using a gentle face cleanser. So that usually means that not all of your skincare products (especially sunscreen) get washed off your face. You can use this toner to help make sure that you're cleaning off the last bit of residue (sunscreen, makeup, etc.) that your face wash might not have removed. It's also not that expensive. A bottle lasts for a pretty long time.
Want to give it a try? You can get it here on Amazon, here at Target.com, or at a Ricky's NYC store (if you live in NYC).
Update: This product is quite similar to Quinn's Alcohol-Free Witch Hazel Toner Review—read the review of that toner here.
Further reading
Note: This post uses affiliate links, which means that I'll receive a commission if you make a purchase after clicking a link (at no extra cost to you). See our
disclosure policy
.