Sometimes products are just plain disappointing—like this vitamin C serum.
Ahhh, disappointing skincare products. We all come across them from time to time. When you realize that a product just isn't doing anything for you, do you just stop using it? Or do you force yourself to use up the rest of the bottle, as long as it isn't negatively impacting your skin? I usually try to stick it out for a while, just so I feel like I'm not wasting it. My latest disappointing skincare experience was this Bliss Triple Oxygen Radiant Protecting Energizing Serum at the time. All I knew was that it promised to energize my skin. Spoiler alert: It did not.
Bliss Triple Oxygen Radiant Protection Energizing Serum Review
water (aqua, eau), dimethicone, pentylene glycol, saccharomyces/xylinum/black tea ferment, polysorbate 60, tetrahexyldecyl ascorbate, vaccinium macrocarpon (cranberry) fruit extract, rhizophora mangle bark extract, euterpe oleracea fruit extract, punica granatum extract, hydrolyzed wheat protein, vitis vinifera (grape) seed extract, lepidium sativum sprout extract, allium sativum (garlic) bulb extract, hexapeptide-2, tripeptide-1, hydrogenated lecithin, synthetic sapphire, glycine soja (soybean) oil, tocopherol, lecithin, hydrolyzed soy protein, sodium hyaluronate, glycerin, squalane, decarboxy carnosine hcl, tetrahydrodiferuloylmethane, perfluorodimethylcyclohexane, tetrahydrodemethoxydiferuloylmethane, tetrahydrobisdemethoxydiferuloylmethane, perfluorohexane, glucose, hydroxyethylcellulose, perfluoroperhydrophenanthrene, perfluorodecalin, caprylyl glycol, 1,2-hexanediol, ethylbisiminomethylguaiacol manganese chloride, cyclodextrin, dimethiconol, hydroxyethyl acrylate/sodium acryloyldimethyl taurate copolymer, xanthan gum, carrageenan, sodium potassium aluminum silicate, silica, butylene glycol, mica, fragrance (parfum), disodium edta, potassium sorbate, sodium benzoate, tin oxide, phenoxyethanol, chlorphenesin, citral, limonene, titanium dioxide (ci 77891), iron oxide (ci 77491).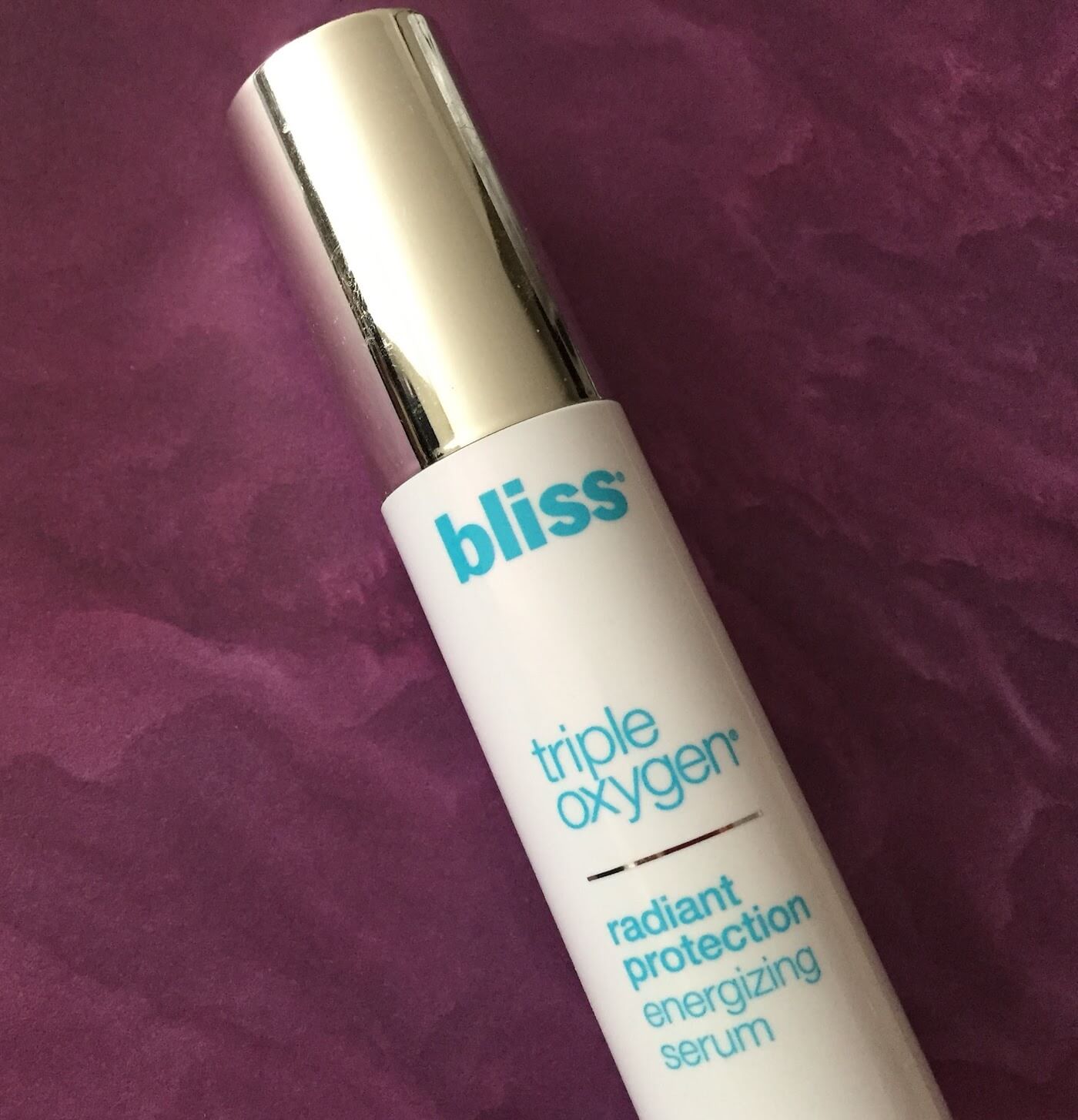 This product includes Vitamin C in the form of tetrahexyldecyl ascorbate. If you recall from my article on How to Choose a Vitamin C Serum, my dad mentioned that "Tetrahexyldecyl Ascorbate is the stable form of Vitamin C for the water based formula." So it's good to know that this product uses a form of vitamin C that remains stable in the presence of water (which also happens to be the first ingredient).
It also includes sodium hyaluronate (great for hydrating the skin), along with a ton of other natural extracts, including cranberry extract, grape seed extract, and garlic extract. I would never have guessed that it included any garlic; the scent is pleasantly citrusy, like a creamsicle bar. It's also pretty thin, so it spreads evenly on the skin. It comes packed in an opaque pump. You can see approximately how much product is dispensed from one pump in the picture below: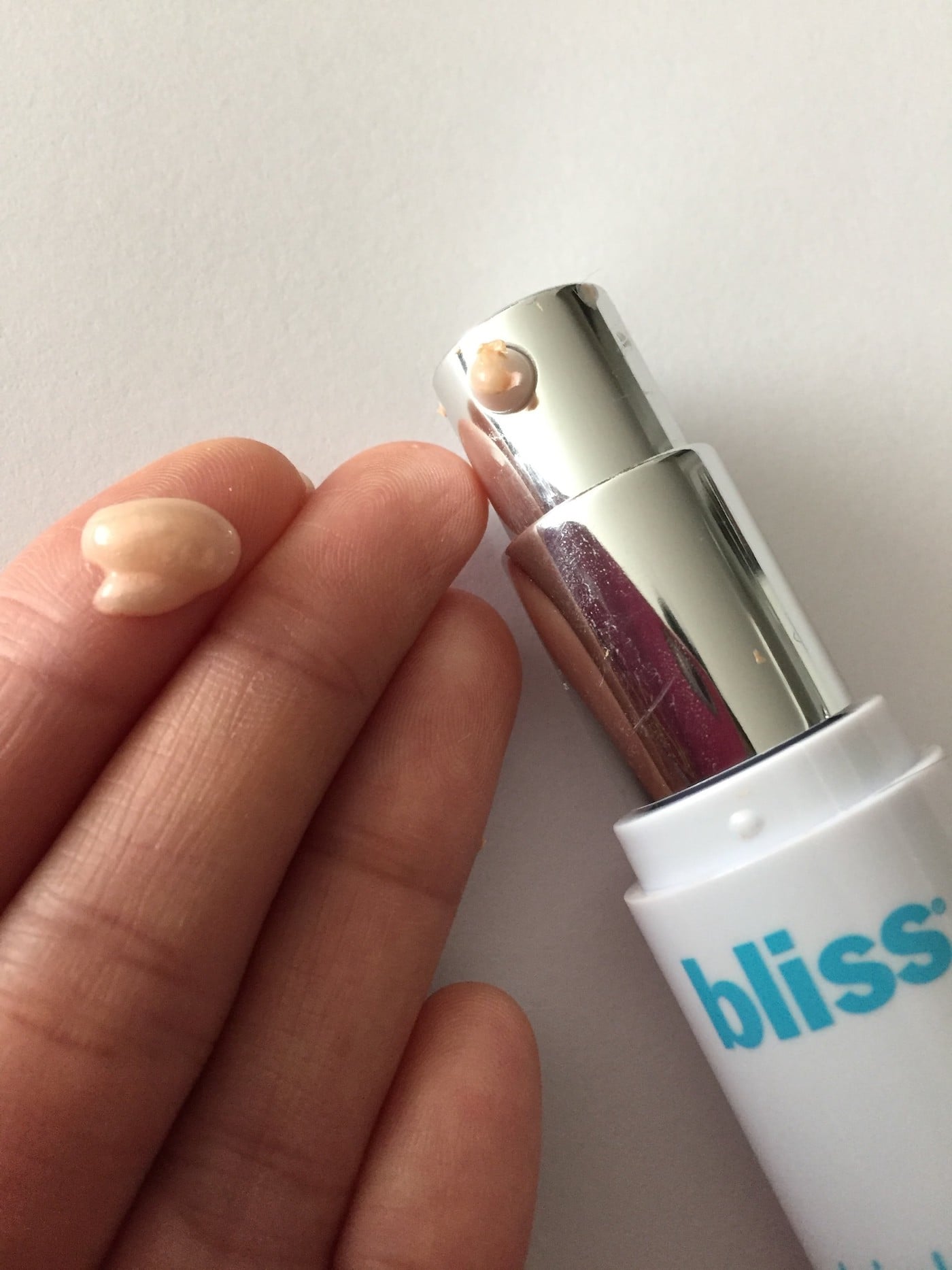 My experience with Bliss Triple Oxygen Radiant Protection Energizing Serum
I used this product pretty faithfully over the course of two months, and I didn't notice any positive changes in my skin. I think it's normally pretty expensive for a small (0.9-oz.) package, but I got it at TJ Maxx for less than half the price of what I'm seeing online. It also looks like it's been discontinued at a lot of retailers, like Birchbox. It's still available on Dermstore and Jet, though.
Granted, this 0.9-oz. jar lasted me through the two months and I didn't even finish the whole thing. However, I don't know how much product is left (probably not that much).
I didn't hate this product. It's not like it caused any irritation or breakouts. It just didn't particularly make my skin feel like it was hydrated, radiant, or energized. That said, this product might work for someone else. Maybe my skin just doesn't respond to the antioxidants/extracts included in the formula. Or maybe the one at TJ Maxx had already been hanging around for a long time, and many of the ingredients lost their potency. I also felt like the fragrance was a bit too strong for my taste (even though it appears pretty late in the ingredient list—remember, manufacturers can list ingredients in any order they want, as long as the concentration of that ingredient is under 1 percent.
Further Reading
Note: This post uses affiliate links, which means that I'll receive a commission if you make a purchase after clicking a link (at no extra cost to you). See our
disclosure policy
.