My initial thoughts, two weeks into using it. Plus, I emailed Deciem to ask about the percentage of squalane included in the formula. Here's what they said.
I think we can all agree that a good vitamin C serum is hard to find—and it doesn't help that The Ordinary sells eight vitamin C products. That means that an octopus could hold a different one in each tentacle and end up feeling very, very confused. After some analysis, I finally narrowed it down to The Ordinary Vitamin C Suspension 23% + HA Spheres 2%, an anhydrous (water-free) formula that includes ascorbic acid. Here are my initial thoughts on this product, two weeks after using it every night.
Some background info about my skin + routine
I've been applying this product once a day (at night) for about two weeks now, and I haven't noticed that much change in my skin yet. It is supposed to eventually brighten the skin and help with smoothing out skin tone, but it may take a few months to see any noticeable effect. I haven't noticed any new breakouts, which is a relief—I was a tad bit worried that the coconut alkanes in the formula would cause acne, because I've had problems with coconut oil in the past. Based on reports from /r/SkincareAddiction, it looks like some people report that coconut alkanes may trigger breakouts, so make sure to patch test this product if you suspect that it may cause problems for you.
The Ordinary Vitamin C Suspension 23% + HA Spheres 2% ingredients
Price: $5.80 for 1 oz. (30 mL) directly from Deciem or Sephora
Per-ounce price: $5.80
ascorbic acid (23%), squalane, isodecyl neopentanoate, isononyl isononanoate, coconut alkanes, ethylene/propylene/styrene copolymer, ethylhexyl palmitate, silica dimethyl silylate, sodium hyaluronate, glucomannan, coco-caprylate/caprate, butylene/ethylene/styrene copolymer, acrylates/ethylhexyl acrylate crosspolymer, trihydroxystearin, BHT
The Ordinary Vitamin C Suspension 23% + HA Spheres 2% Review
Packaging: This product comes packaged in a plastic tube with a flip top, just like azelaic acid. The tube has an aluminum foil seal on it that you need to peel off before first use. One thing I've noticed is that, over time, some of the product tends to accumulate in the cap since it's a bit runny.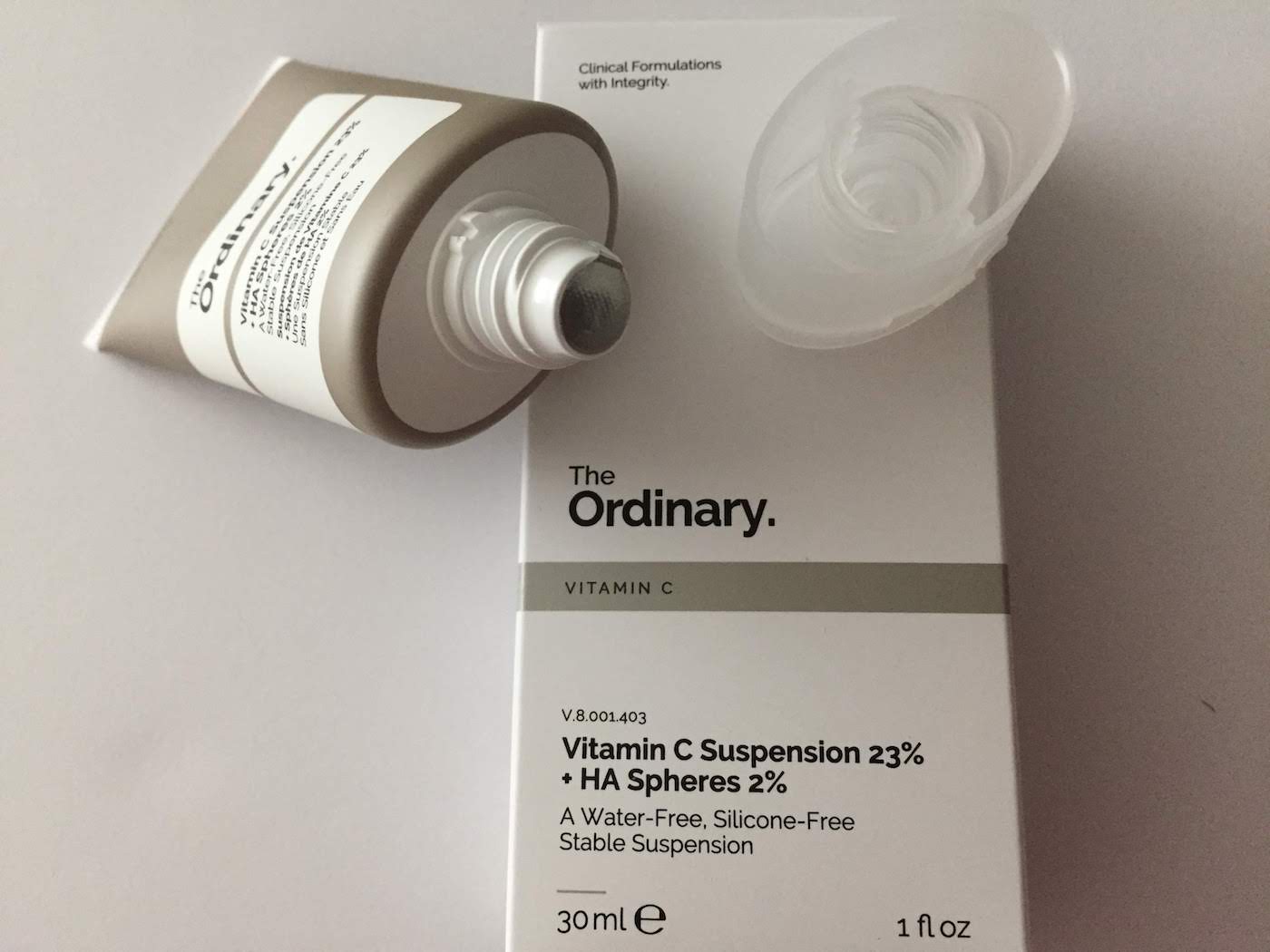 Texture/consistency: The consistency is a bit runnier than a gel or silicone-based serum. It's about as runny/lightweight as CeraVe Daily Moisturizing Lotion (which I've been using as my PM moisturizer lately), if that's a product you're familiar with. Like CeraVe lotion, it's white/milky in color, but unlike CeraVe, it has tiny bits of grittiness, like small specks of sand (or like you had ground up vitamin C tablets with a mortar and pestle and mixed them into a runny lotion). However, after you pat it into your skin for a little while, the roughness starts to dissolve into the skin, and you're left with a smooth but slightly tacky/oily consistency.
Irritation factor: I apply this directly after washing my face, applying toner, and after either using Differin or The Ordinary Mandelic Acid (I alternate those products every night). It will definitely make your skin tingle for the first week or so. I'm into my third week now, and I still feel a slight tingle, though nowhere near the level of irritation I felt during my first week of using this product. You'll definitely want to use moisturizer after applying this product, to make sure you're not drying out your skin too much.
AM or PM?: The package recommends using this product at night rather than in the daytime, but I feel like the grittiness disappears enough so that you could use it during the day if you like.
Other notes: This product does not have a strong fragrance. I only apply a large pea-sized amount and feel that is enough for the entire face, but doesn't leave all that much for the neck. (Maybe I have a large face?)
DECIEM's response to my question re:The Ordinary Vitamin C Suspension 23% + HA Spheres 2%
Thank you for reaching out! <3

Please note that we are unable to comment on the specific percentage of ingredients in our products as this is integral to their formula. All that being said, The Ordinary Vitamin C Suspension 23% + HA Spheres 2% is a water-free, silicone-free formula that provides 23% pure, stable L-Ascorbic Acid to visibly target uneven skin tone, dullness, textural irregularities and signs of ageing. The Squalane within it will not aid with hydration. We would advise of using The Ordinary 100% Plant Derived Squalane beforehand if you are interested in surface-level hydration in addition to using this suspension. <3

Notes:
If topical Vitamin C is used as part of skincare, it should be applied at alternate times with Niacinamide (ideally Vitamin C in the PM and Niacinamide in the AM). Otherwise, Niacinamide can affect integrity of pure-form Vitamin C (L-Ascorbic Acid).
So DECIEM very politely declined to tell us the percentage of squalane included in this formula. I guess that makes sense, but I can't help but feel a little disappointed. However, we can do a bit of deduction on our own.
Guessing the percentage of squalane in The Ordinary Vitamin C Suspension 23% + HA Spheres 2%
We can see that this product includes 23% ascorbic acid, and 2% HA (hyaluronic acid, or sodium hyaluronate). Since we remember from the Kiehl's review that the FDA requires manufacturers to list any ingredients included at over 1% concentration in descending order (but ingredients included at <1% concentration can be listed in any order). Based on this rule, we know that squalane should probably be included at >= 2% concentration (since it appears before hyaluronic acid, which we know is included at 2% in this formula, based on the name). However, that's all that we can say for sure.
DECIEM's reponse indicated that if you're hoping to get a bit more bang for your buck and think you can replace a dedicated squalane product like The Ordinary 100% Squalane, then you're out of luck—you'll probably have to invest in a dedicated squalane product in order to receive the intended moisturizing benefits of that ingredient. However, if you just want a bit of squalane hydration boost, you'll be happy to know that at least it doesn't contain an insignificant amount of squalane (thanks to our detective work + the help of that FDA regulation)
Another important consideration is that this product conflicts with niacinamide. So if you're using something like CeraVe PM, which contains ~4% niacinamide, then you'll have to use The Ordinary Vitamin C Suspension 23% + HA Spheres 2% in the morning, instead of at night. Since I use The Ordinary Niacinamide 10% + Zinc 1% in the morning, I can use this product at night to ensure that they don't conflict.
Further reading
Note: This post uses affiliate links, which means that I'll receive a commission if you make a purchase after clicking a link (at no extra cost to you). See our
disclosure policy
.