Should you avoid vitamin C serums that contain water? And is clear packaging a no-no? My dad helps clear some things up.
Vitamin C is known by many names, but you'll commonly see it listed as "ascorbic acid." Deciem's The Ordinary has written a pretty serious Vitamin C skincare guide that claims that once vitamin C (in the form of ascorbic acid) hits water, it begins to oxidize (lose its effect) and change into a darker yellow/orange color.
According to The Ordinary: "If you see any signs of orange (or, in short, if you see pure ascorbic acid and water together in a formula), run as fast and as far away as you can."
But 40 Carrots Carrot + C Vitamin Serum combines these two ingredients, and it's tinted orange already, which potentially hides any signs of potential oxidation. Plus, ascorbic acid is listed pretty far down the ingredient list. Does that mean that it's ineffective?
My Dad the Chemist's ideas on Vitamin C and water in topical formulas
I asked my dad for confirmation, and sent him two ingredient lists, labeled simply as "Product 1" and "Product 2."
Product 1 is popular among many Sephora customers: Peter Thomas Roth Potent-C Power Serum. It contains water as the first ingredient, as well as vitamin C in the form of tetrahexyldecyl ascorbate.
Here are the ingredients:
water, tetrahexyldecyl ascorbate, butylene glycol, c9-12 alkane, caprylyl methicone, tocopheryl acetate, c10-18 triglycerides, polyglyceryl-6 distearate, ferulic acid, squalane, hydrogenated lecithin, propanediol, sodium hyaluronate, zingiber officinale (ginger) root extract, curcuma longa (turmeric) root extract, panax ginseng root extract, jojoba esters, leuconostoc/radish root ferment filtrate, coco-caprylate/caprate, glycerin, cetyl alcohol, polyglyceryl-3 beeswax, xanthan gum, disodium edta, mica, ethylhexylglycerin, potassium sorbate, sodium benzoate, phenoxyethanol
Product 2 was The Ordinary's Vitamin C Suspension 23% + HA Spheres 2%, which is water-free and includes Vitamin C in the form of ascorbic acid.
Here are the ingredients:
ascorbic acid, squalane, isodecyl neopentanoate, isononyl isononanoate, coconut alkanes, ethylene/propylene/styrene copolymer, ethylhexyl palmitate, silica dimethyl silylate, sodium hyaluronate, glucomannan, coco-caprylate/caprate, butylene/ethylene/styrene copolymer, acrylates/ethylhexyl acrylate crosspolymer, trihydroxystearin, bht
The first one costs $95 for 1 ounce, while the other one costs just 5.80 for 1 ounce. I didn't tell my dad anything about the brand names or prices, because I know his jaw would drop if he heard the price of Product #1.
Dear Emily,Tetrahexyldecyl Ascorbate is the stable form of Vitamin C for the water based formula, but I don't know the efficacy of Product 1 VS Product 2, because I didn't have the experienced the clinical testing between the water based and anhydrous formulas. I may choose Product 2 if the formula isn't too greasy, however it may cost more than Product 1 .

If you see formula using water and ascorbic acid ( not Tetrahexyldecyl Ascorbate) then you know it won't be a stable formula, because vitamin c isn't stable in water based formulas.

Yes, the dark container will be less degradable than the clear container.

Love,

Dad
My dad actually thought that product 2 (The Ordinary) might cost more than product 1. And although he prefers product 2, he would prefer to research more about clinical testing of water-based and anhydrous formulas.
His response actually answers a lot of questions I had about the 40 Carrots Carrot + C Vitamin Serum. Let's take a closer look at the ingredients to see if it mixes ascorbic acid and water.
40 Carrots Carrot + C Vitamin Serum Ingredients
Price: $13.99 for 1 oz. from Walgreen's
Per-ounce price: $13.99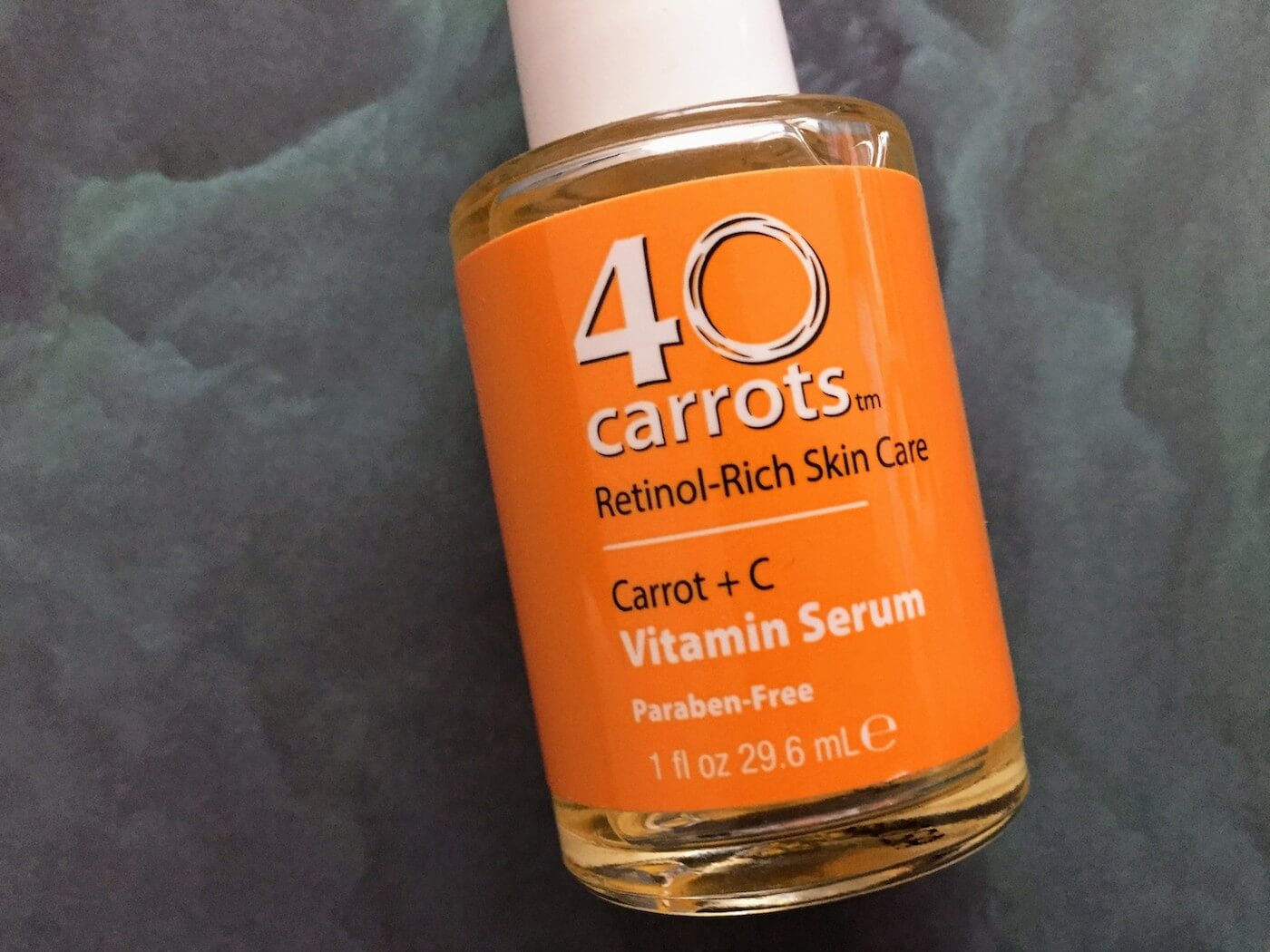 water, glycerin, vitis vinifera (grape) fruit extract, hamamelis virginiana extract, hydroxyethylcellulose, methyl gluceth 20, betanol age radiance complex: beta-carotene, retinal, ascorbic acid (vitamin c), daucus carota sativa (carrot) seed oil, daucus carota sativa (carrot) juice, soluble collagen, melaleuca altemifolia (tea tree) leaf oil, xanthan gum, tetrasodium edta, sodium pca, phenoxyethanol, ethylhexl glycerin, fragrance, red 33 (ci 17200), yellow 5 lake
I picked this up at TJ Maxx on sale for about $5.99. But it it turns out that there are quite a few red flags about this product. Although it contains some ingredients that may be beneficial (tea tree oil, glycerin, beta-carotene, etc.), it blatantly breaks three topical Vitamin C serum taboos, which we'll cover below.
Vitamin C serum taboos
Vitamin C Serum Taboo #1: Do not mix water and ascorbic acid
Vitamin C (in ascorbic acid form) isn't stable in water-based formulas! So if you see "ascorbic acid" and "water" listed in the ingredients, it may be best to avoid that product.
The form of vitamin C in the Peter Thomas Roth product (Tetrahexyldecyl Ascorbate) is stable in water, so no need to worry about the water in that formula. However, it costs $95 for one ounce, while The Ordinary's product costs less than $6. At that price difference, it's tough to argue that The Ordinary isn't worth a try.
Vitamin C Serum Taboo #2: Do not add color to hide oxidation
40 Carrots Carrot + C Vitamin Serum contains some red flags—literally. It contains red 33 (ci 17200) and yellow 5 lake. We all remember from primary school that primary colors red + yellow combine to make orange, the color that may be on brand for 40 Carrots. However, it definitely doesn't inspire confidence in the fact that the vitamin C in this formula hasn't oxidized…just like a sliced peach will brown in the air.
I didn't come up with this analogy, all credit goes to Dermatology Times: "This process can be observed on a daily basis when cut fruit is left on the dinner table. Freshly cut peaches have a vivid orange/yellow color due to their high vitamin C content. However, left on the table for several hours at room temperature, the peaches will turn brown." The article goes on to advise consumers to throw up vitamin C serums that have changed color: "Cosmetic vitamin C preparations that have discolored should be discarded as they have already oxidized and cannot provide skin benefits."
But with a product like 40 Carrots Carrot + C serum, which contains red and yellow coloring, as well as carrot oil, how are we supposed to be able to tell if the vitamin C has oxidized? We really have no way to tell.
Vitamin C Serum Taboo #3: Do not store in packaging that is permeable to light
Dermatology Times advises that, to prevent oxidation, "vitamin C serums should be in light and oxygen impermeable packaging."
40 Carrots Carrot + C Vitamin Serum is packaged in a clear glass bottle—another no-no.
My dad recommends buying vitamin C packaged in a dark bottle, since it will be "less degradable than the clear container." The Ordinary and Peter Thomas Roth both offer their vitamin C serums in dark, opaque packages.
Bottom line: Not all Vitamin C serums are grade A
With vitamin C available in so many forms, it can be tough to tell which one is actually going to be effective. Here are the DOs and DON'TS written out again:
DO avoid anything that mixes ascorbic acid with water

DO look for packaging that is opaque/dark, not clear

DON'T buy a product that contains colors/dyes (which can mask oxidation)
Note: This post uses affiliate links, which means that I'll receive a commission if you make a purchase after clicking a link (at no extra cost to you). See our
disclosure policy
.