MUJI's moisturizing face soap is creamy but nothing to write home about. And it contains three comedogenic ingredients (per Acne.org's list).
I'm not spontaneous person—my idea of taking a risk is buying skincare products IRL at unexpected places, like Trader Joe's, TJ Maxx, or Whole Foods, without Googling them on my phone. This stands in stark contrast with my usual shopping habits, which consist of minutes hours of diligently reading reviews online before finally clicking "Add to Cart." I recently took a chance on an IRL purchase of MUJI Face Soap Moisture—and boy, do I wish I hadn't. I used it over the course of a weeklong trip, and I probably won't ever be using it again. Let me explain why…
MUJI Face Soap Moisture ingredients
Price: $3.50 for 1.01 oz. (travel size). I think I used about half of it over the course of the week.
water, glycerin, myristic acid, lauric acid, potassium hydroxide, palmitic acid, sodium laurylaminodiacetate, glycol distearate, sodium PEG-4, cocamide sulfate, glyceryl stearate SE, sorbitan stearate, lauramide DEA, polyquaternium-7, etidronic acid, tetrasodium EDTA, apricot juice, polyquaternium-51, butylene glycol, peach leaf extract
Remember polyquaternium-7? It was included in the Aveeno Pure Renewal Conditioner as a conditioning ingredient. Seems like kind of a weird ingredient to include in a face wash, but what do I know?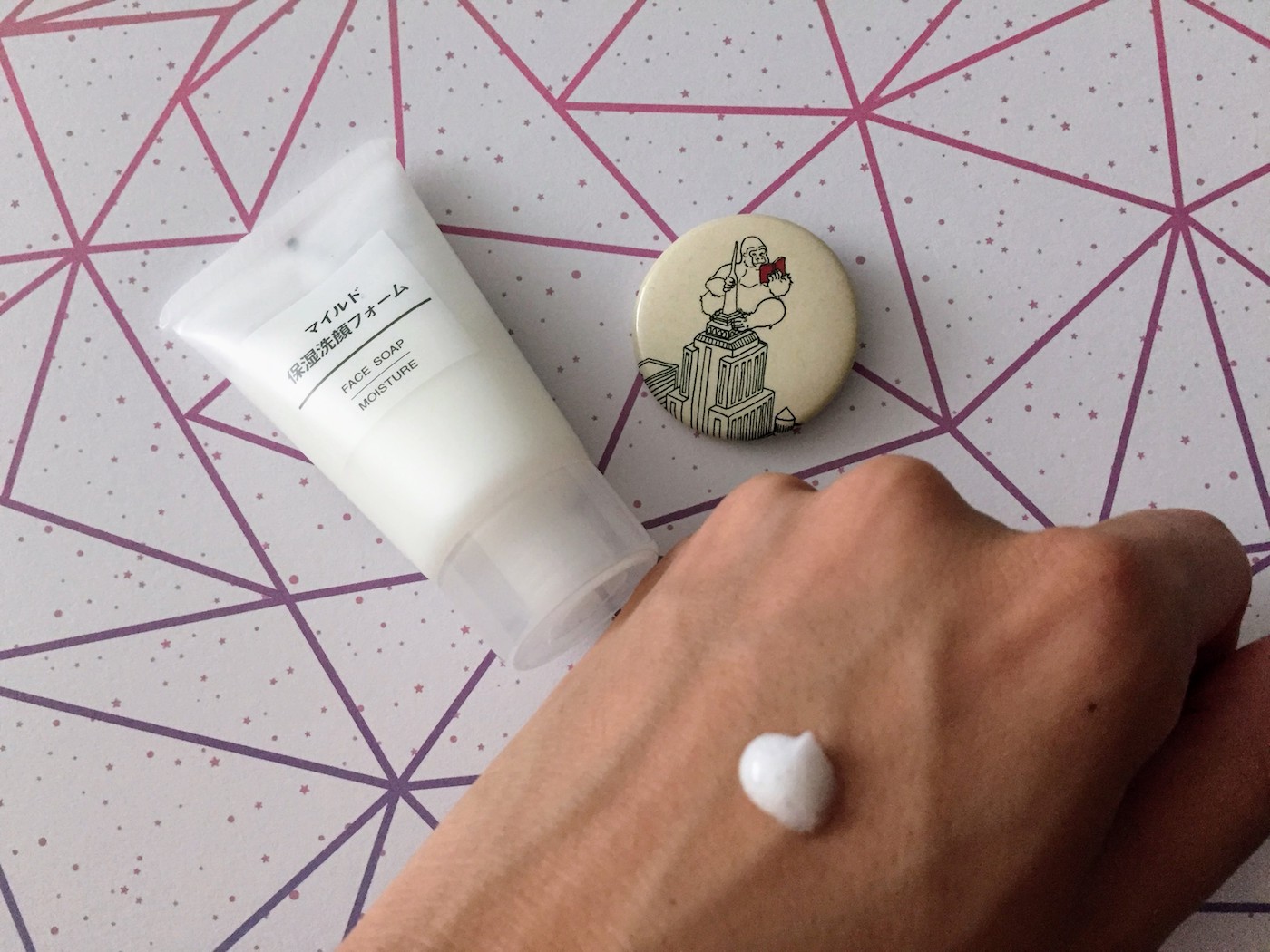 This face wash has a thick, creamy, almost sticky texture. It foams up a little bit, but not much. It also doesn't have any strong fragrance attached to it (which I like).
I was curious about the ingredients, so I ran them through my comedogenic script to find out if it contains any of the ingredients listed in Acne.org's list. Here were the results:
this product contains ingredient with comedogenic score 3 in first 7 ingredients: myristic acid
this product contains ingredient with comedogenic score 4 in first 7 ingredients: lauric acid
This product has a comedogenic ingredient in the first seven ingredients. Recommend proceeding with caution. This product has a total score of: 7
Surprise! (Not the good kind.) It turns out that this face wash contains lauric acid and myristic acid (and both are listed in the first seven ingredients, which Acne.org says is a red flag). It also contains a third comedogenic ingredient, glyceryl stearate SE, but that one may not be as important since it doesn't appear in the first seven ingredients.
I did get a few small breakouts during my trip…I didn't think anything of it at the time because I usually get a few pimples when I travel. But now, I wonder if this face wash was to blame. Curse you, MUJI!
I also bought a 10-pack of the MUJI Cleansing Sheets, and I was not impressed with those, either. They left my face feeling slightly oily, instead of clean/refreshed. The texture of the towelette was also pretty thick and rough. I expected it to be softer like the CVS makeup removing towelettes I usually use to remove my sunscreen.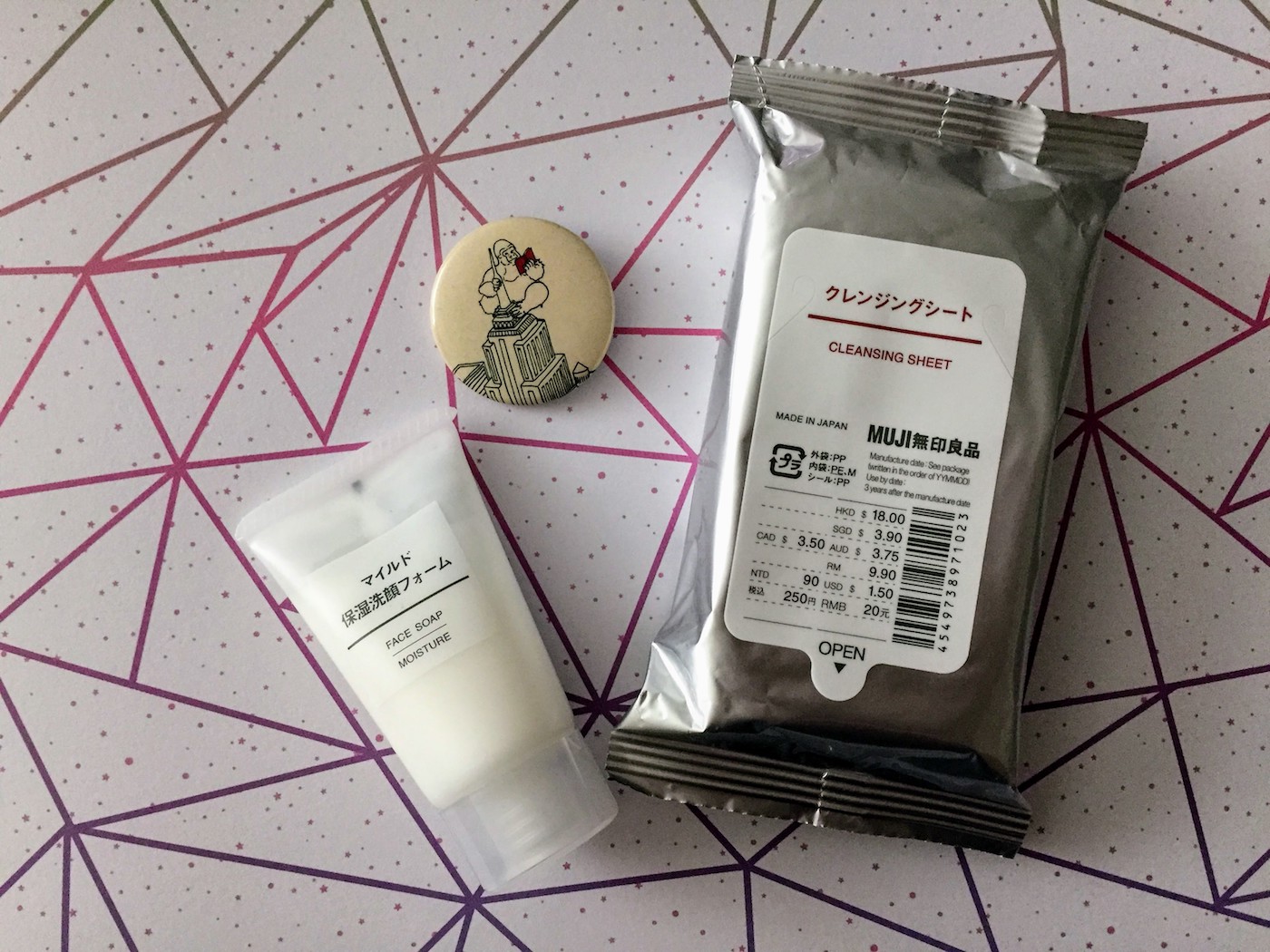 So that settles it—I won't be buying this particular face wash or the cleansing sheets again. But I'm still cautiously optimistic about trying other MUJI skincare products—I definitely have my eye on the facial oil cleanser. But I'll probably want to do some research before making my next purchase, instead of picking something up on a whim.
Further reading
Read my review of MUJI facial cotton pads here.
Note: This post uses affiliate links, which means that I'll receive a commission if you make a purchase after clicking a link (at no extra cost to you). See our
disclosure policy
.