Could this be an affordable solution for smoothing out acne scars? Plus, I visited The Ordinary's brick-and-mortar store in SoHo, NYC!
Acronyms are not my strong suit (or perhaps you could say that they're not my MO). I know the ones that have permeated the mainstream vernacular, but I've given up on trying to figure out what the kids are abbreviating these days. However, anyone who reads r/SkincareAddiction (even me!) knows that TO stands for The Ordinary, a brand that is owned by DECIEM. Rumor has it that the company may have some behind-the-scenes drama but that doesn't take away from the fact that it makes really affordable skincare products that have gained a cult following.

And by affordable, I mean really affordable—as in, under $10. Granted, the bottles are pretty small (30 mL or ~1 oz.), but then again, I think most skincare serums tend to come in small packages.
Even if you don't live near one of The Ordinary's storefronts (see locations here), you can buy The Ordinary products at Sephora (though some products are only available online), or at Ricky's stores. Here's a pic of my local Ricky's TO shelf. However, even they were sold out of a lot of TO products, including the Niacinamide 10% + Zinc 1% serum.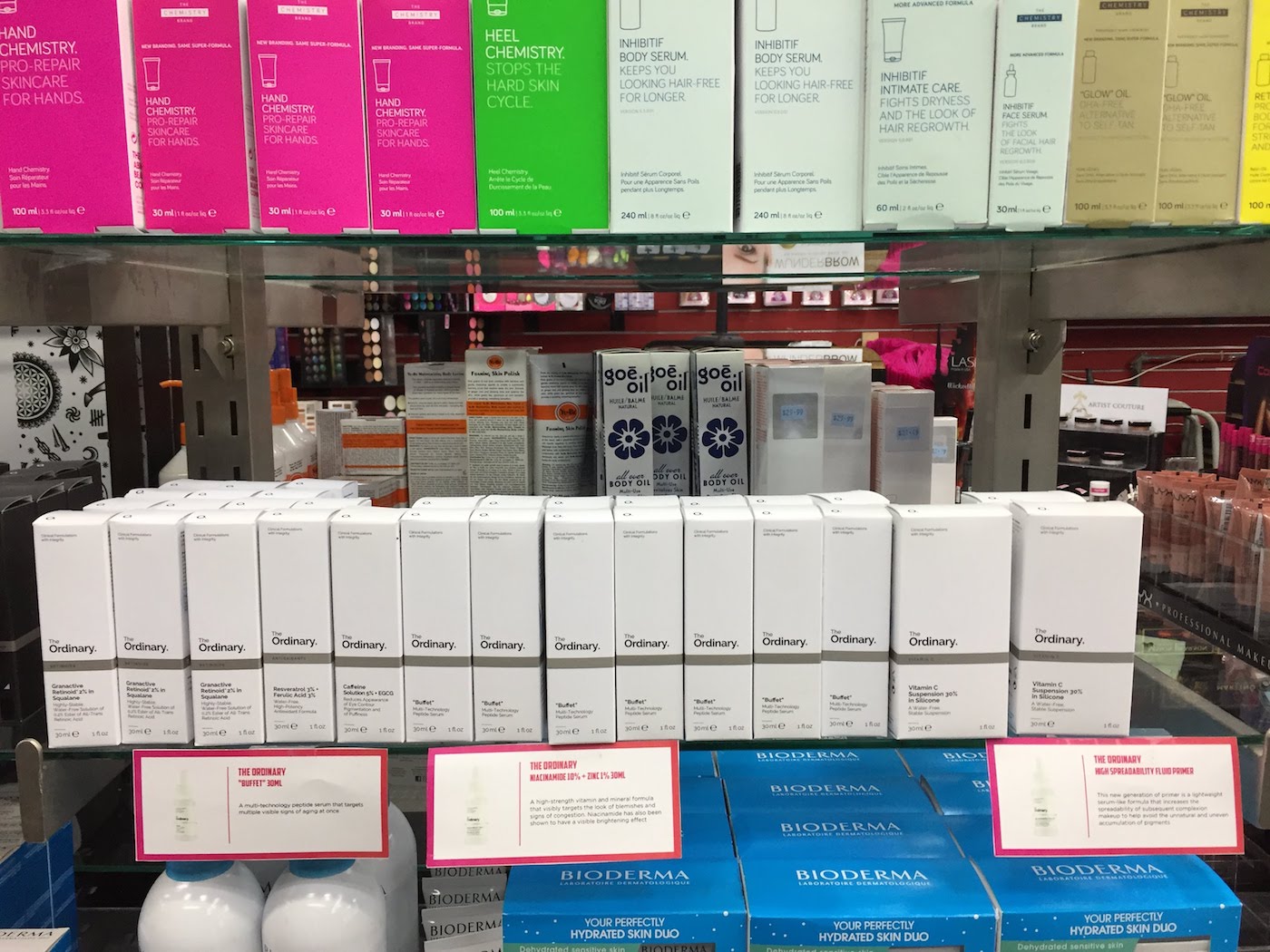 I'd been hearing good things about this brand for a while, so when I found out that they have a storefront in SoHo, NYC, I decided to swing by and try to pick up some products in person.
My DECIEM / The Ordinary storefront shopping experience
The DECIEM store is located on Prince Street in SoHo, NYC. I probably sound like an 80-something-year-old when I say this, but DECIEM's store is certainly located in a "happening" part of town. There was a long line snaking out the door of its neighboring store, Everlane, and another line across the street, for Prince St Pizza. Plus, it's within walking distance of that cool pencil store, CW Enterprise.
Inside, it's a very long, narrow, but bright space, lined with bare-bones shelves and signs that list the product name and the price. The front half of the store was dedicated to Deciem's more upscale, non-TO brands, including NIOD and The Chemistry Brand. The back half of the store was dedicated to TO products, with serums and acids lining the left wall, and foundations lining the other wall.
Of course, they were out of the famous Niacinamide 10% + Zinc 1% serum, as well as the shade of foundation that the employee recommended for me (2.0YG because I have yellow-gold undertones). Actually, they were sold out of a lot of stuff, including the other product she recommended for improving discoloration from acne scars (Alpha Arbutin 2% + HA).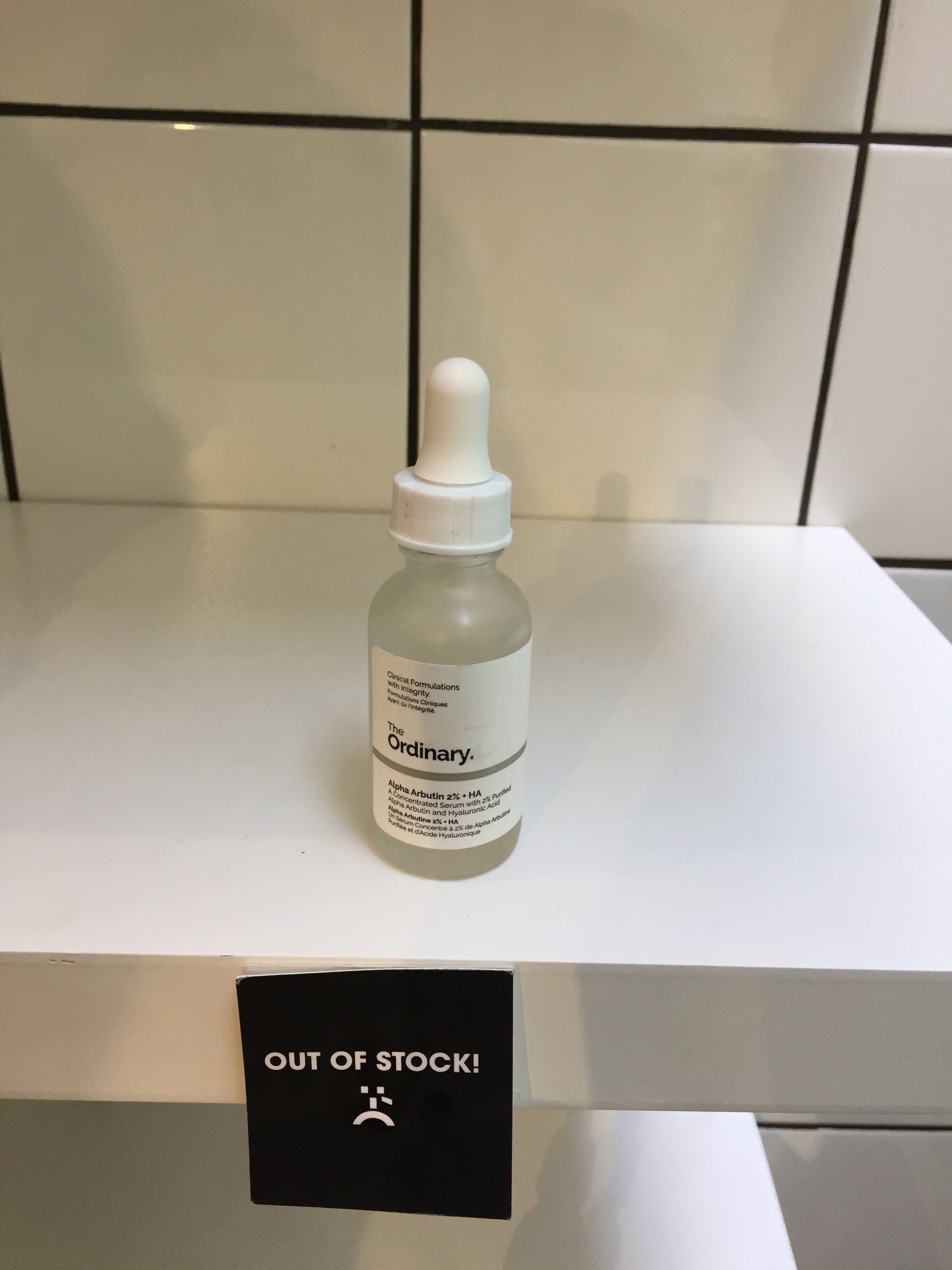 However, I did manage to snag two products that the employee recommended (she really seemed to know her stuff!): Mandelic Acid 10% + HA and Azelaic Acid Suspension 10%. I also impulsively bought a cute little silver spoon that I thought would be useful for scooping out face creams that come in a tub rather than a pump. The total for those three items came out to less than $20, which is great, because the minimum purchase to qualify for free shipping on DECIEM's website is $50. So in this case, buying these products in person saved me from having to frantically add $30 of extra products into my cart, because I feel like I've failed my mom (whose motto is "never pay full price") by paying for shipping when I could get it for free.
I also got the inside scoop from employees that:
The Ordinary is planning to release sunscreens in April (as in this month!). It will include a full range of SPF options.
Deciem is planning to open a store that only stock only The Ordinary products (none of Deciem's other brands) within walking distance of the existing SoHo Deciem store. The existing store will continue to stock a mixture of TO and non-TO products.

I recently started implementing my new TO products into my nightly routine, so I will review these products over the course of several posts, starting with Mandelic Acid 10% + HA.
The Ordinary Mandelic Acid 10% + HA (30 mL)
Price: $6.79 for 30 mL (~1 oz.) from DECIEM
Per-oz. price: $6.79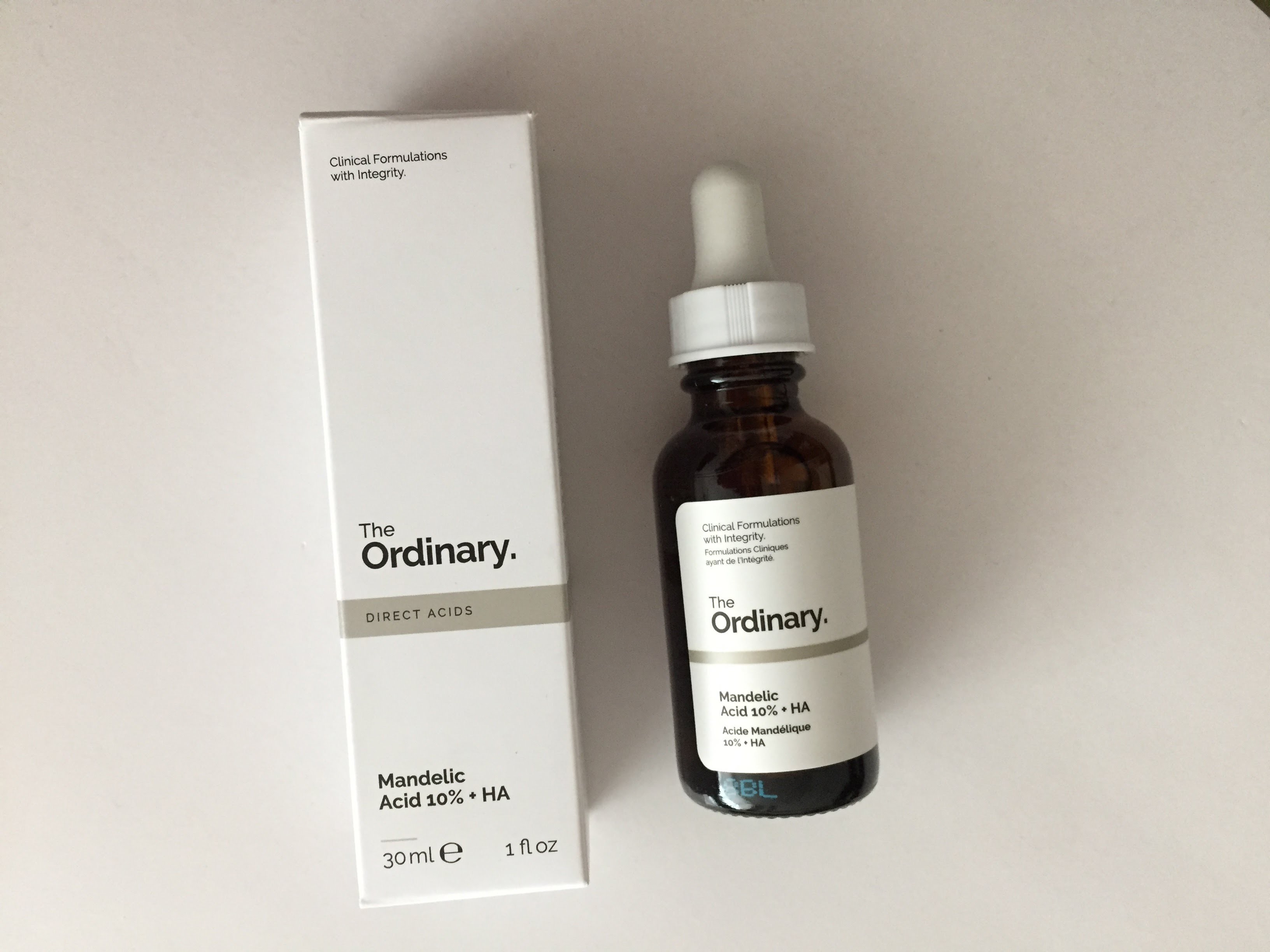 The Ordinary Mandelic Acid 10% + HA (30 mL) ingredients
Propanediol, Aqua (Water), Mandelic Acid, Glycerin, Dimethyl Isosorbide, Sodium Hyaluronate Crosspolymer, Tasmannia Lanceolata Fruit/Leaf Extract, Pentylene Glycol, Polysorbate 20, Sodium Hydroxide, Ethylhexylglycerin, 1,2-Hexanediol, Caprylyl Glycol
Sodium Hyaluronate Crosspolymer: a polymer of hyaluronic acid
Tasmannia Lanceolata: a shrub native to Australia, used in cosmetics for anti-inflammatory reasons.
Pentylene Glycol: used in cosmetics as a humectant that helps provide moisturizing benefits. However, it may irritate sensitive skin, so make sure to patch test any product that contains this ingredient.
My Dad the Chemist's review of The Ordinary Mandelic Acid 10% + HA
Here was my dad's response:
Dear Emily, this product may peel skin so that the skin texture is improved, but every morning must remember to apply sunscreen on the face for the protection even if you only have short period of potential exposure.

I don't know if this formula is going to work as good as glycolic acid, but all skin peelers may also irritate skin, you just need to try a small area first .

Love,

Dad
Hmm, looks like my dad wasn't too impressed with this one. Here are the main takeaways I got from his letter:
He doesn't think it will work quite as well as glycolic acid, but maybe that means it will be less irritating to the skin.

He suggested patch testing the product to make sure that my skin didn't have an adverse reaction.

He recommends being even more careful than usual about applying sunscreen in the morning after using this the night before, even if I don't plan to be in the sun for an extended period of time.
The last point is probably the most important one. Mandelic acid is an alpha hydroxy acid (AHA), which is reported to increase photosensitivity on the skin. The Ordinary Mandelic Acid bottle has a strict warning that recommends using the product at night and applying sunscreen during the daytime.
After a bit of digging, I found this FDA article, which cited a study in which volunteers experienced an 18 percent increase in sensitivity to UV radiation after four weeks of applying an AHA to the skin (unspecified percentage). This effect stops shortly after you stop applying AHAs to the skin, so if you notice that you're reacting badly to AHAs, you can always stop using them, without fearing a permanent increase in UV sensitivity.
The Ordinary Mandelic Acid 10% + HA first impressions
This is a pretty new product from TO—it was released in February 2018. The employee recommended it to me for smoothing out the texture of the skin; she suggested applying it after cleaning my face at night, before layering on other serums and/or moisturizers. She said that since it's water-based, it is best absorbed before applying anything else (especially oil-based) on the skin.
I've only been using this product for a few days now, but I'm optimistic about its effects on the texture of my acne scars. I apply about three drops to my fingers and then lightly pat it into my skin right after showering at night. It feels slightly oily, but almost exactly like water, and it's not sticky or heavy at all after it absorbs into the skin.
I love the glass eye dropper, and the fact that it's packaged in a dark amber glass bottle (side note: you can buy your very own amber bottles with glass eye droppers and use them for travel!).
It makes my skin feel a bit dry and tingly shortly after I apply it, but not for long. After I apply moisturizer, my skin feels pretty much the same as it did before I started using this product. However, I'd definitely recommend patch testing it if you have sensitive skin.
I haven't noticed any visible peeling, so I'm not sure if anything's actually happening, beyond a bit of a drying/tightness in the skin. I think it will take a few months to see if it delivers on its promise to improve the texture of skin/smooth out acne scars—I'll report back after I've finished the bottle. And because it makes your skin more sensitive to UV radiation, I'm trying to remember to apply an even thicker layer of sunscreen than I did before I started using this product.
Further reading
Note: This post uses affiliate links, which means that I'll receive a commission if you make a purchase after clicking a link (at no extra cost to you). See our
disclosure policy
.