This deluxe face mask helps relieve itchiness/irritation, particularly after using strong acids like The Ordinary AHA 30% + BHA 2%.
A few weeks ago, I bought this lovely, friendly-looking face mask at a local Japanese supermarket, pretty much on a whim. At the time, I assumed that it was a Japanese brand, but I found out later that it was actually a Taiwanese brand: My Beauty Diary (我的美麗日記). What can I say? Japanese and Chinese written characters look very similar, particularly if you're not paying close attention.
My Beauty Diary Aloe Vera Face Mask Ingredients
purified water, propylene glycol, sodium hyaluronate, butylene glycol, glycerin, aloe barbadensis leaf juice, hydrolyzed yeast protein, laminaria digitata extract, citrus medica limonium (lemon) fruit extract, triethanolamine, actinidia chinensis (kiwi) fruit extract, arctostaphylos uva ursi leaf extract, ginkgo biloba leaf extract, phenoxyethanol, chlorphensin, glycyrrhiza glabra (licorice) root extract, polysorbate 20, sodium lactate, dipotassium glycyrrhizate, lecithin, citric acid, citrus grandis (grapefruit) fruit extract, hydroxyethyl urea, hydrolyzed jojoba esters, polyglutamic acid, codium tomentosum extract, polysorbate 80, glyceryl glucoside, carbomer, xanthan gum, iodopropynyl butylcarbamate, fragrance (parfum), sodium hydroxide, glycosphingolipids, tocopheryl acetate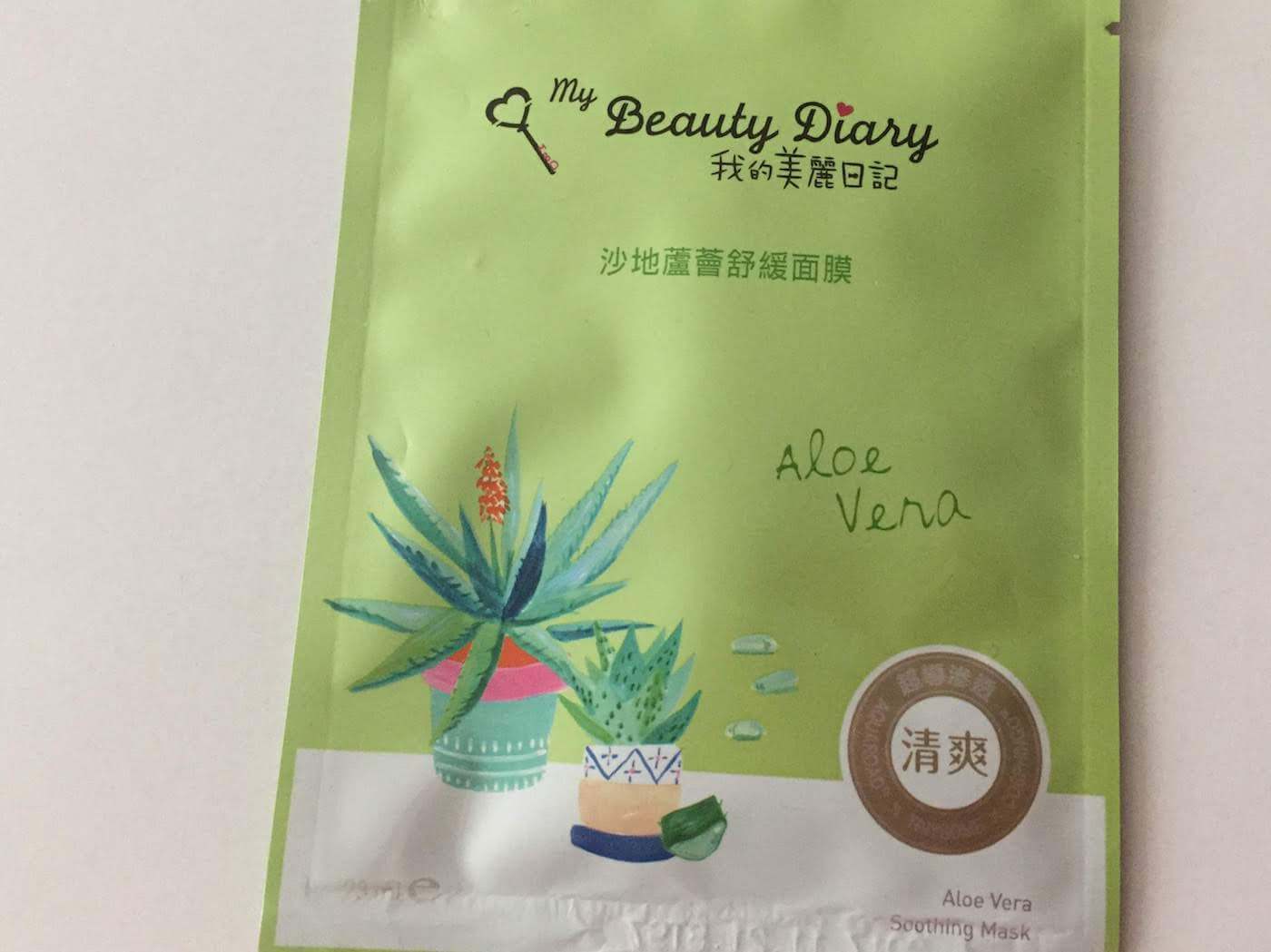 Interestingly, this product includes many of the same ingredients found in Thayers Cucumber Toner:
I also like that it lists sodium hyaluronate as the third ingredient, and fragrance toward the bottom of the list. Other natural extracts include kiwi, lemon, and gingko—according to the website, these will help "soften dead skin."
My Beauty Diary Aloe Vera Face Mask Review
The package instructions were written in Chinese, but I was able to spot the number range "20–30" next to the word for minute, with my elementary Chinese skills. So I decided to put it on for the maximum amount of time listed there (30 minutes). But if you don't trust my basic Chinese skills (I don't blame you), you can verify the correct instructions on the English website here.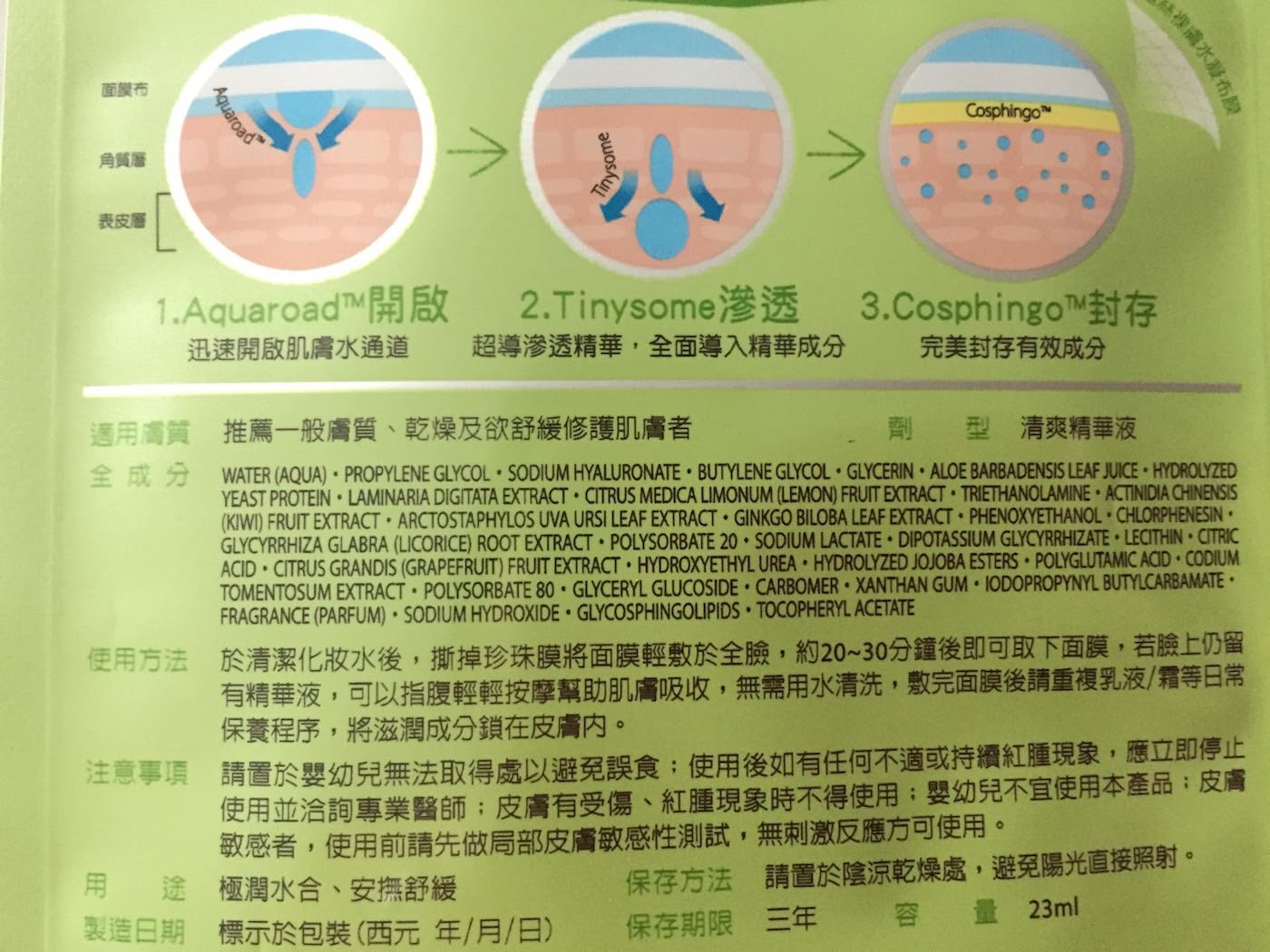 I decided to test it out immediately after rinsing off a 10-minute mask of The Ordinary AHA 30% + BHA 2%, since that product tends to leave my skin feeling itchy, irritated, red, and tight/dried out, as any chemical exfoliator tends to do. I thought this would be the best time to truly put this mask's moisturizing powers to the test.
Here were my first impressions:
- This mask is positively dripping with serum. It has more than most other sheet masks. You could easily squeeze extra essence out of it and rub it over other areas of your neck, hands, etc.
- The size of the mask itself is pretty large. It fit my face pretty well, just had a little extra material vertically, which meant that I could tuck the excess part of the mask under my chin. In contrast, the width was just about right (not really any extra material there).
- Includes an extra layer of plastic that I haven't see in other Korean face mask packages. The plastic also makes it easier to unfold the mask itself, and is easy to peel off. - Very little fragrance, didn't make my skin itchy - After 30 minutes, I removed the mask, which was still surprisingly damp. My face was covered in a layer of the essence/serum, but that eventually dried when exposed to air, leaving my face feeling cool, refreshed, and moisturized (but no longer damp).
I was honestly amazed at how much of a difference it made vs. applying a regular moisturizer. My skin normally feels itchy after that AHA 30% + BHA 2% mask, even after I moisturize with CeraVe Moisturizing Lotion. So I was definitely impressed that this mask was able to keep my skin from feeling dry and irritated after an intense AHA treatment.
It was also soaked in a lot more essence than other face masks, which makes it a great deal. You can apply the extra serum to your neck…and, I'm not sure about how sanitary or fresh it would remain, but you could probably even squeeze it into the package to continue using it the next day. I also really like the way it's packaged with an extra sheet of plastic, which makes it really easy to unfold (my clumsy hands have definitely almost ripped other sheet masks while trying to unfold them).
My Beauty Diary makes great face masks
This face mask experience has spoiled me—now, when I try any other brand, I'll always compare it to this particular sheet mask. If you'd like to give it a try, you can buy a pack of 8 masks here on Amazon, or check your local Asian supermarket to see if they stock these face masks.
Related Reading
Note: This post uses affiliate links, which means that I'll receive a commission if you make a purchase after clicking a link (at no extra cost to you). See our
disclosure policy
.