This toner is formulated with moisturizing and soothing aloe vera, glycerin, and organic witch hazel—and shares a lot in common with Thayers.
One of my guilty pleasures is browsing through TJ Maxx's skincare section, just for the heck of it. About 95 percent of the time, I find something new to try, even when I don't need something new. I spotted today's product, Quinn's Alcohol-Free Witch Hazel Unscented Aloe Vera Toner, at my local TJ Maxx (hopefully it's at yours, too). The only problem I have with buying skincare at TJ Maxx is that if you actually like it, there's no guarantee that you will be able to find it on the store shelves again, since the turnover is so high.
Anyway, I was initially drawn to this toner because of the words "Alcohol-Free" and "Unscented" on the label. These are two of my favorite terms to see on a skincare product label, because it means that the brand has given some thought to us sensitive-skinned folks. Usually I prefer to see "Fragrance-Free" since that's a bit clearer than "unscented," but in the case of this Quinn's toner, it was indeed fragrance-free and unscented. Although products that include fragrances and alcohol don't always irritate or dry out my skin, I'd prefer not to put my skin to the test, just in case. I had a flareup a few weeks ago, so since then I've been extra careful about avoiding products that contain potential irritants.
One thing that immediately struck me about this toner was how similar it was to a Thayers toner, which I've used (and liked) in the past. Now that we know what this toner doesn't contain, let's look at what it does contain, and compare the ingredients list to Thayers'.
Quinn's Alcohol-Free Witch Hazel Unscented Aloe Vera Toner ingredients
water, aloe barbadensis leaf, glycerin, hamamelis virginiana (organic witch hazel) extract, citric acid, citrus grandis (grapefruit) seed extract
The glycerin is vegetable-derived, and the witch hazel extract and aloe are both organic. The main ingredient in this toner is witch hazel. The bark of this plant includes a type of tannins called hamamelitannins, which help guard against free radical-induced damage on skin cells (see this other study for details).
As a comparison, Thayers Cucumber Toner ingredients were: water, certified organic witch hazel, aloe barbadensis leaf juice (aloe vera), glycerin, phenoxyethanol, cucumis sativus (cucumber) fruit extract, citric acid, citrus grandis (grapefruit) seed extract
Aside from the cucumber (since that was the "variety" of toner I happened to use in the past), the ingredient lists are nearly identical. Both contain organic witch hazel, water, aloe vera, glycerin, citric acid, and grapefruit seed extract. If you recall from Thayers' website, grapefruit seed extract is used as a preservative. Thayers' formula also includes another more common preservative: phenoxyethanol. Meanwhile, the Quinn's toner does not. Both products also include citric acid, which is also used as a preservative.
Although Thayer's is more upfront about the fact that its witch hazel is derived from the bark of organic witch hazel, and also states that it grows its organic witch hazel on a farm in Fairfield County, Connecticut. Quinn's doesn't say much about where its witch hazel is grown, which part of the witch hazel plant it's using, or the tannin concentration.
Quinn's Alcohol-Free Witch Hazel Unscented Aloe Vera Toner review
Quinn's Alcohol-Free Witch Hazel Unscented Aloe Vera Toner is very simple, and does not contain any alcohol or fragrances, or even typical preservatives, other than citric acid and grapefruit seed extract. I think it's a great option for sensitive skin. And unlike the Thayers toner, anyone who may be sensitive to phenoxyethanol can safely use this product since it doesn't contain any to speak of.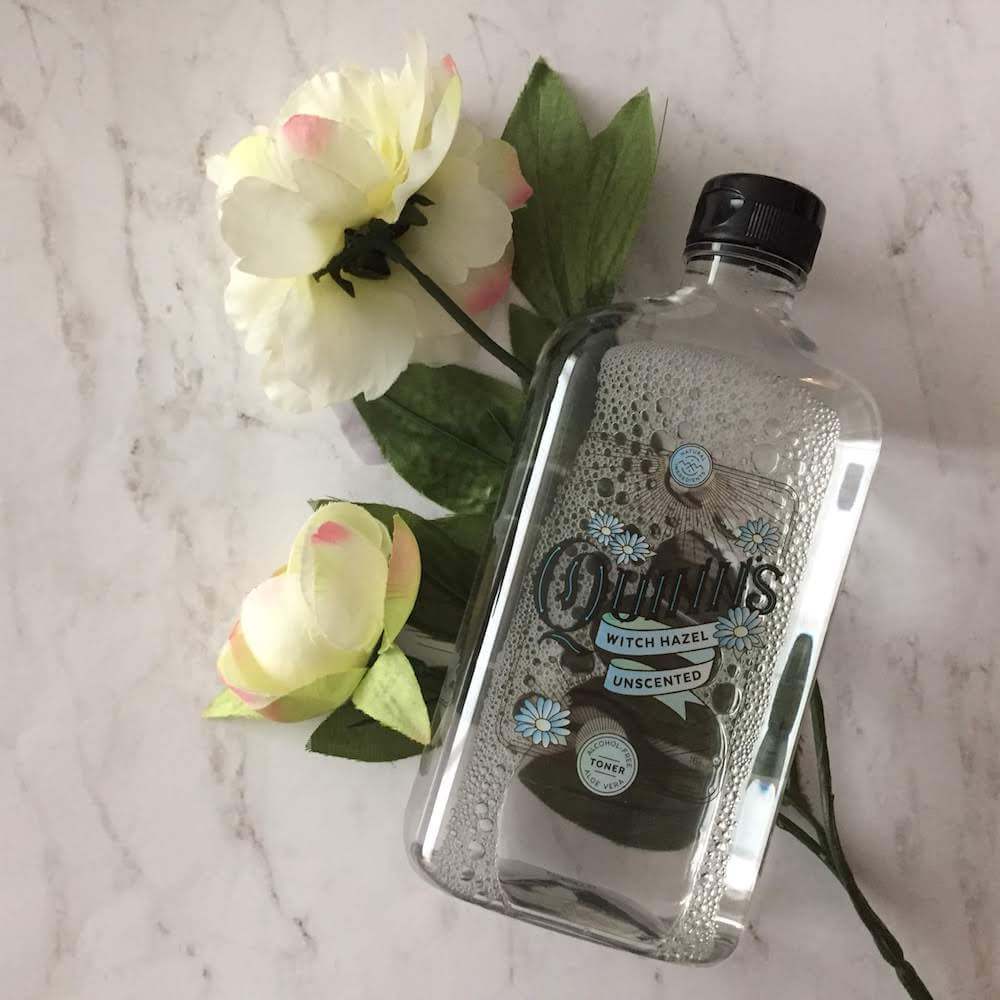 This toner is packaged in a large plastic bottle with a flip top. When you flip the cap open, you can see a small hole, a little larger than a toothpick in diameter. One squirt's worth is usually enough to saturate a cotton pad. Then I just swipe it all across my face and neck. I didn't notice until today, but Quinn's' website recommends applying this toner in a circular direction (not sure why).
I love how it makes my face feel calm and refreshed. Sometimes after double cleansing, my skin can feel a little tight and dry, but this toner helps moisturize and soothe it. It really is unscented, and doesn't smell like much. Not all fragrance-free products are actually unscented—sometimes they smell like whatever ingredients are in there, since they don't contain any other fragrance to mask the underlying ingredients. In the case of this toner, the ingredients naturally don't smell like much, so you end up with a truly fragrance-free, unscented product.
One thing to be aware of: It does leave a bit of sticky residue on your face. Maybe because I'm squirting a little bit too much on the cotton pad (the bottle is still pretty full, so when you squeeze it, a lot of the toner comes out, sometimes more than I originally intended). As the bottle gets less full/heavy, I expect that I'll be able to control it a bit better, and not squeeze quite so much out at a time. I don't mind the dewiness after applying this toner—it's similar to what my face feels like after applying a sheet mask. If you don't like that feeling, this toner may not be for you. Otherwise, I do recommend trying out Quinn's Alcohol-Free Witch Hazel Unscented Aloe Vera Toner if you have sensitive and/or dry skin, and are looking for a budget friendly, no-frills toner that moisturizes without any fragrances or drying alcohol.
Further reading
Note: This post uses affiliate links, which means that I'll receive a commission if you make a purchase after clicking a link (at no extra cost to you). See our
disclosure policy
.