This mask includes a mix of kaolin clay and bentonite, along with witch hazel, kakadu plum, and other natural extracts sourced from Australia.
Clay masks are one of those subcategories of skincare that have always appealed to me, as a person of oily/combo skin. After rinsing off a clay mask, I feel like I know, if only for a few minutes, what it's like to have nice skin without any excess oil. The problem is that some clay masks (ahem, Aztec Clay Mask, I'm lookin' at you) can be overly drying and messy. So when Sand and Sky first reached out to me to see if I'd be interested in trying their Australian Pink Clay Mask, I hesitated. But after taking a look at their website, I was intrigued. This Australian beauty brand isn't just founded by Australians (twin sisters, how cool is that?!)—it also sources its botanical ingredients from Australia. Sand and Sky mailed me a jar of this clay mask, and today I'm ready to share my honest review with you.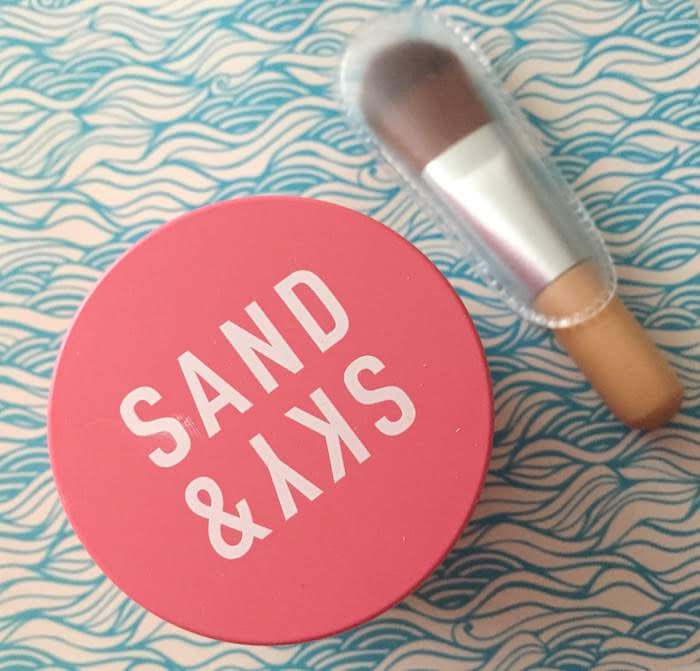 Sand and Sky Australian Pink Clay Mask ingredients
kaolin (australian clay), water, bentonite, aloe barbadensis (aloe vera) leaf juice, terminalia ferdinandiana (kakadu plum) fruit extract, centipeda cunninghamii extract (old man's weed), glycyrrhiza glabra (liquorice) root extract, retinyl palmitate (vitamin a), tocopheryl acetate (vitamin e), undaria pinnatifida (kelp) extract, hamamelis virginiana (witch hazel) bark/twig extract, punica granatum (pomegranate) sterols, garcinia mangostana (mangosteen) fruit extract, rosmarinus officinalis (rosemary) leaf extract, phenoxyethanol, dehydroacetic acid, lactic acid, ci 77491, fragrance, glycerin, benzyl alcohol, limonene
I've used other clay masks in the past, including Freeman face masks (review here) and Aztec Clay Mask (review here). While the Aztec Clay Mask is made up of purely bentonite clay, both Sand and Sky Australian Pink Clay Mask and some Freeman masks (like the Mint and Lemon Facial Clay Mask) include a mix of bentonite and kaolin clay.
The difference is that Sand and Sky's product is made of kaolin clay that's sourced from Australia, which is nice to see from an Australian beauty brand. The company sources a ton of other botanical ingredients from various parts of Australia, which you can see on this map. Old man's weed is meant to treat pigmentation, kakadu plum is rich in vitamin C, mangosteen is rich in antioxidants and good for treating acne, and kaolin clay helps detoxify and purify.
Although kaolin can be naturally pink, this product also contains CI 77491, which reddish iron oxide that might lend some of the "pink" color in this adorably pink clay mask.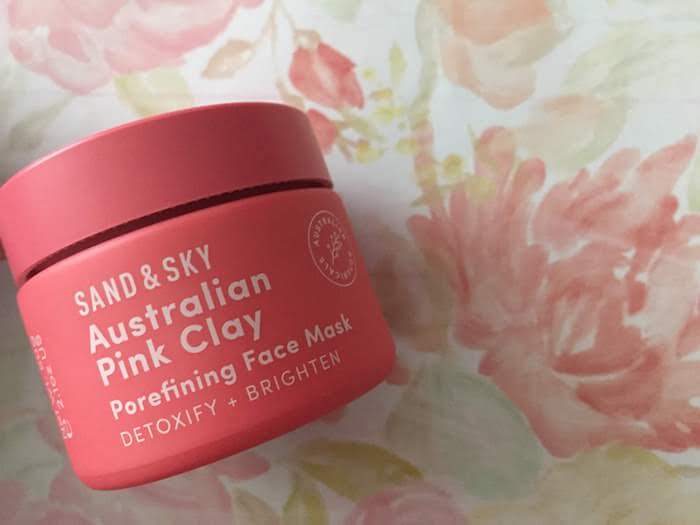 My Dad the Chemist's review of Sand and Sky Australian Pink Clay Mask
Dear Emily, this looks like a nice formula, very typical clay mask along with vitamins A,E and many other fruit /botanical extracts plus lactic acid (keep skin moisturized), should be beneficial for skin.

Love,
Dad
My dad thinks that this is a normal clay mask but he likes how many nice extracts it contains. He also thinks it's nice that it includes lactic acid to help moisturize the skin, instead of simply drying it out with all those clays.
Sand and Sky Australian Pink Clay Mask review
I had a blast using the Sand and Sky Australian Pink Clay Mask—it made my pores feel nice and clean afterward, like I had just inhaled a green juice or done something else really healthy. One of my favorite parts about slathering on this mask is actually the brush that comes included in the box. The bristles are just so soft and luxurious. It also includes a plastic sleeve for storage/travel purposes.
If you've read my other blog posts, you might have heard me gushing about the tiny stainless steel spoon that I like to use for scooping out skincare products that are packaged in jars. This is like that spoon, only for face masks. All face masks should come with a brush that's this luxurious. Although Freeman Beauty masks are packaged in a squeeze tube (making an applicator brush/spoon unnecessary), any kind of mask that's packaged in a jar should come with this exact brush. It's. Just. So. Awesome.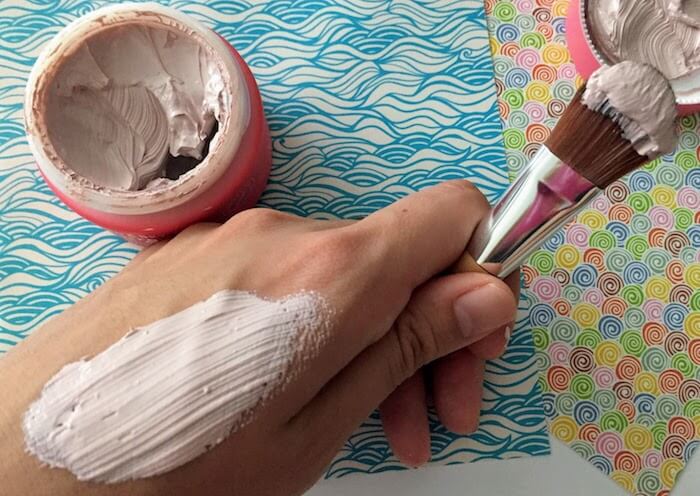 The mask consistency is very smooth and does not have a very strong fragrance. It goes on pretty easily and dries in a few minutes, but doesn't leave my face feeling as dry as the Aztec Clay Mask does. That one dries in less than a minute and makes my face feel a little bit parched after I rinse it off.
It's nice that the Sand and Sky Australian Pink Clay Mask includes lots of moisturizing and antioxidant-rich extracts like aloe vera, witch hazel, lactic acid, and other top-notch ingredients aside from the detoxifying effects of the clay. You're not just drawing out impurities—you're replenishing your skin with lots of vitamins and antioxidants.
The directions suggest using it two to three times a week if you have combo or oily skin or up to two times a week if you have dry skin. You can also use it as a spot treatment over a particularly juicy pimple. Personally, I think it would make a great spot treatment (more on that below). Using it for this purpose also allows you to make this product last much longer, which is nice, considering that it is quite a bit pricier than other clay masks I've used in the past.
I tried this mask on a night when I had a fresh pimple cropping up on my forehead. I wanted to see how effective it would be for reducing the growth of the pimple overnight. I used it right before bed, after I had washed my face as usual.
After leaving it on for 10 minutes, I rinsed it off, and rinsed out the brush. I was worried that the brush would be hard to clean, but it was surprisingly easy to get the clay out of the bristles, and none of the bristles fell out while I was cleaning it, so I think it's a pretty high-quality brush. (I'm really pleased with the brush, if you couldn't tell. I plan to find lots of excuses to use it in the future.)
After rinsing off the mask, I felt like my skin was clean, but not tight like it had been dried out. It didn't shrink the size of my pores, but it did make my pores feel really, really clean. The pimple definitely shrank a bit overnight whereas normally I think it was at the stage where it would have gotten larger. I'm pretty sure that this mask help slowed down the growth of the pimple and helped keep it tinier than it would have been otherwise.
In the end, I think this is a really top-notch, premium clay mask that's really fun to apply because of the brush, and makes your skin glow if you have an important meeting the next morning, or if you just want to pamper yourself for 10 minutes. It's a higher-class product than other clay masks on the market, but that's reflected in the fact that it doesn't irritate or dry out your skin as much as other clay masks might. It also has a milder fragrance and is just plain fun to apply because of the oh-so-soft brush.
I also like that it sources its extracts from Australia, and that it's proud to be a an Australian beauty brand. This was my first experience with any Australian beauty product, but hopefully not my last.
Related reading
Note: This post uses affiliate links, which means that I'll receive a commission if you make a purchase after clicking a link (at no extra cost to you). See our
disclosure policy
.