These 10-minute face masks provide a relaxing at-home spa experience (without the accompanying $$$ price tag).
Like Trader Joe's specialty snacks, face masks are inexpensive little purchases that can quickly add up and leave your wallet empty and sad. But there's just something so luxurious about applying a mask to your face and then rinsing (or peeling) it off. Your skin feels so refreshed after it's over. I recently discovered Freeman Beauty, a company that creates various types of face masks that are designed to address various skin-related woes. Today, I'm reviewing two masks manufactured by this company: Freeman Mint and Lemon Facial Clay Mask and Freeman Charcoal and Black Sugar Polish Face Mask.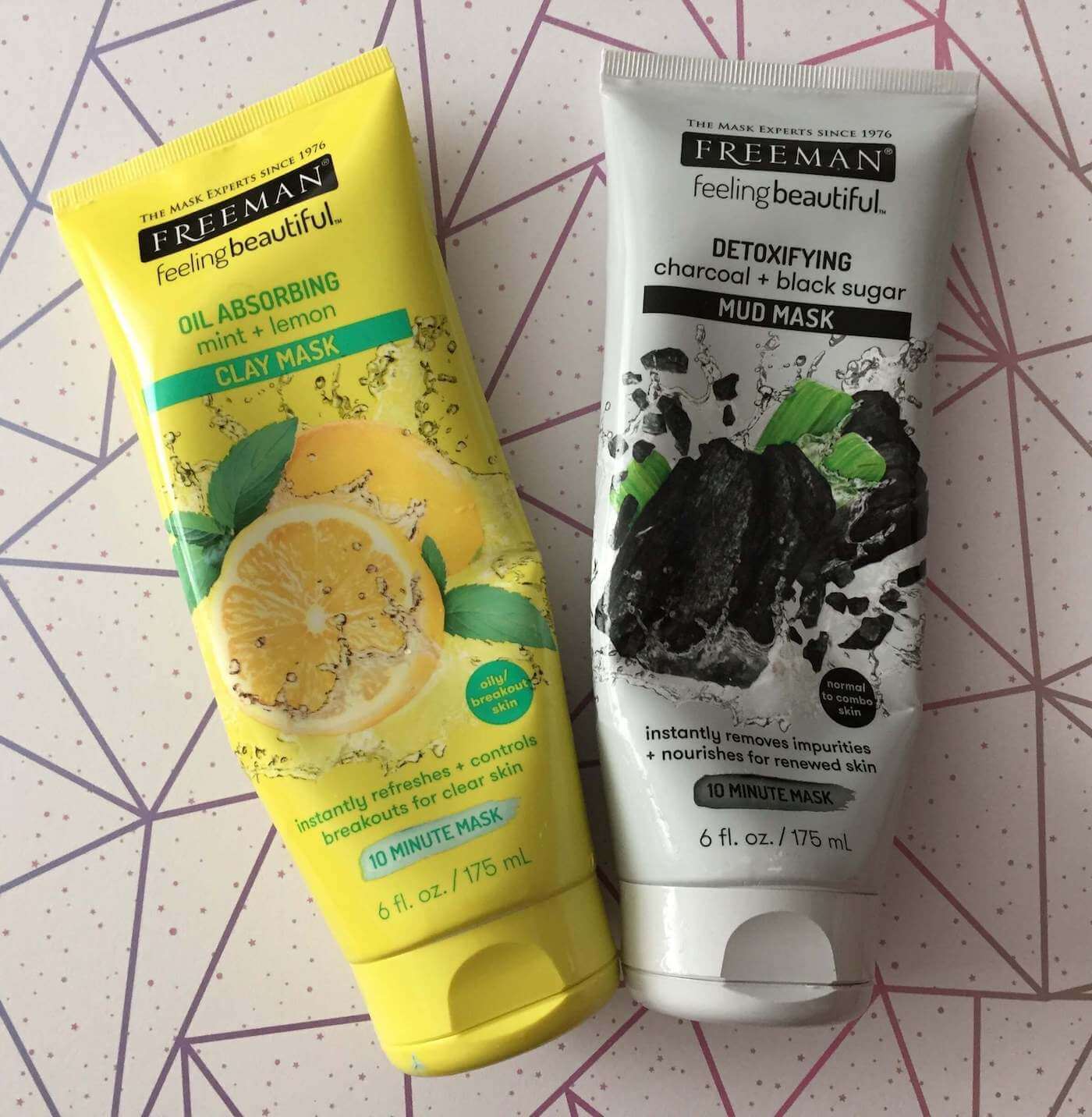 Freeman Mint and Lemon Facial Clay Mask ingredients + review
Back in my younger days, I used the Aztec Secret bentonite clay mask whenever I felt like my skin needed a deep cleansing treatment. But after a while, I got too lazy to keep up the habit. This mask comes in the form of pure bentonite powder that needs to be mixed with water, so it gets kind of messy and difficult to prepare without a dedicated bowl and spatula (which I do not have). It also overly dried out my skin.
Freeman Mint and Lemon Facial Clay Mask contains bentonite, as well as kaolin, another type of clay that helps remove impurities from the skin. But it has a gentler, less drying effect on the skin than a pure bentonite clay mask.
water, bentonite, kaolin, propylene glycol, mentha piperita oil, citrus medica limonum peel oil, magnesium aluminum silicate, titanium dioxide, disodium edta, sodium polyacrylate, methylchloroisothiazolinone, methylisothiazolinone, fragrance, geraniol, linalool, d-limonene, blue 1, yellow 5
This is a decent mask that offers a low-maintenance alternative to the hardcore Aztec Secret bentonite clay mask. However, this mask may contain ingredients that don't agree with your skin, like fragrance, artificial colors (why?!), and a potentially irritating ingredient: methylchloroisothiazolinone. You may recall from my review of Kirkland Signature Moisture Shampoo that this is an preservative that is not permitted in leave-in cosmetics, and is allowed in small concentrations in rinse-off applications (like this mask). This implies that it could be irritating if left in contact with your skin for too long. It may not be a problem for this face mask, since you're supposed to rinse off after 10 minutes, but I thought it was worth mentioning.
In this study, researchers concluded that methylisothiazolinone should not be allowed in rinse-off products at high concentrations, since they can trigger allergic reactions in people.
Since it contains clay, it does dry into a harder finish over the course of the 10-minute application, but it doesn't dry my face out as much as the bentonite clay mask. After rinsing it off my face feels less oily, tighter, and cleaner.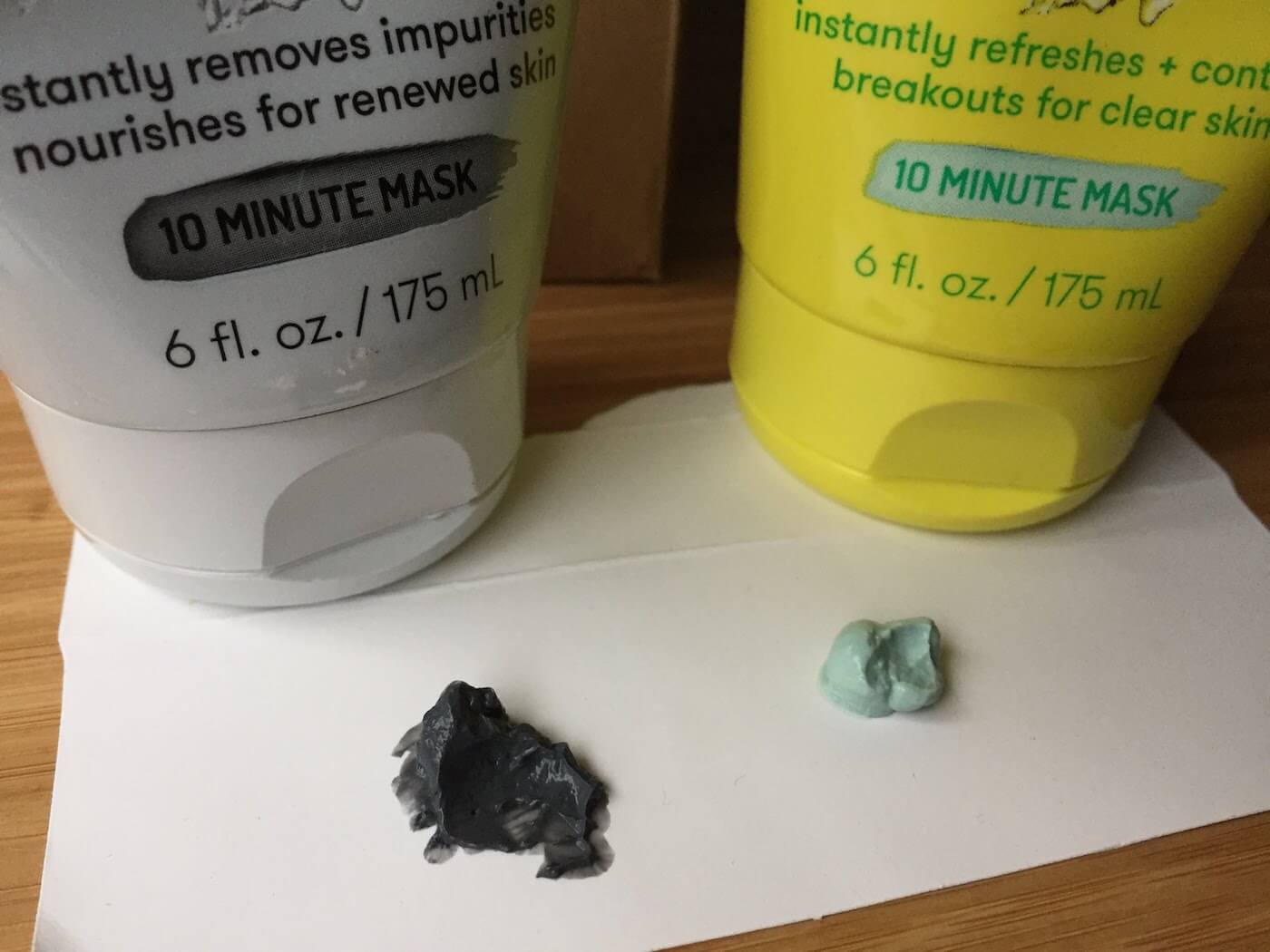 Freeman Charcoal and Black Sugar Polish Face Mask ingredients + review
sucrose, propylene glycol, activated charcoal, kaolin, musa sapientum (banana) fruit extract, cocos nucifera (coconut) extract, zingiber officinale (ginger) root extract, psidium guajava fruit extract, cymbopogon schoenanthus extract, carica papaya (papaya) fruit extract, maranta arundinacea root extract, rubus idaeus (raspberry) fruit extract, santalum album (sandalwood) extract, macrocystis pyrifera extract, nasturtium officinale extract, aleurites moluccana extract, lavandula angustifolia (lavender) oil, carbomer, peg-12 dimethicone, phenoxyethanol, fragrance, iron oxide (ci 77499)
Freeman Charcoal and Black Sugar Polish Face Mask is another 10-minute mask that also contains kaolin clay, as well as activated charcoal and a range of fruit extracts. On the plus side, this mask does not contain the potentially irritating methylisothiazolinone, but it does contain phenoxyethanol (a preservative that is often used as an alternative to parabens). It also contains fragrance. However, it doesn't include artificial colors (aside from iron oxide, which may lend some sort of tint to the product). This mask also dries nicely on your face, leaving you with a pore-tightening effect after you rinse it off. It definitely looks like it contains charcoal—it's pretty black. Not sure what the sucrose/sugar does, but the packaging states that it is designed to exfoliate/slough off dead skin cells. It didn't feel like it exfoliated my skin that deeply, so don't worry about it having an overly harsh effect on your skin.
If you don't know, just mask
I can't just recommend one of these over the other. I think both of them made my skin feel tighter and cleaner after rinsing them off. Neither of these Freeman masks has irritated my skin thus far, when I apply them for approximately 10 minutes as stated in the instructions. If your skin is very sensitive, I'd recommend Freeman Charcoal and Black Sugar Polish Face Mask over the Mint and Lemon Clay Mask, mainly because it doesn't contain potentially irritating methylisothiazolinone or artificial colors. It also has the extra bonus of not smelling like Pledge Lemon Clean.
Further reading
Note: This post uses affiliate links, which means that I'll receive a commission if you make a purchase after clicking a link (at no extra cost to you). See our
disclosure policy
.