Whether you're living in NYC or just visiting, here are some of my favorite places to shop for skincare products.
Whenever I travel, I love getting a glimpse of local life by visiting a neighborhood grocery store or pharmacy. Everything looks exotic—even regular things like crackers, bar soap, and cough drops. The other day, I realized that I'm living in a city that hosts tons of brick-and-mortar shopping destinations that should interest locals and tourists alike. In fact, SoHo has become a hotbed for many online-first companies like Casper, Warby Parker, Everlane, and Cuyana—all of these companies have opened physical storefronts in the SoHo area. This led me to compile a list of stores for my fellow skincare lovers.
Whether you live in NYC or you're planning to visit, this list has some great destinations to visit if/when you get a chance. I've included a mix of newer, edgier brands that made a name for themselves online (ahem, Glossier), as well as stores that have been around much longer (one opened as long ago as 1838!). I hope you find something on here that strikes your fancy. Happy skincare shopping (in NYC)!
1. CO Bigelow Chemists
Address: 414 6th Ave (~West 9th st.)
Neighborhood: Greenwich Village, Manhattan, NYC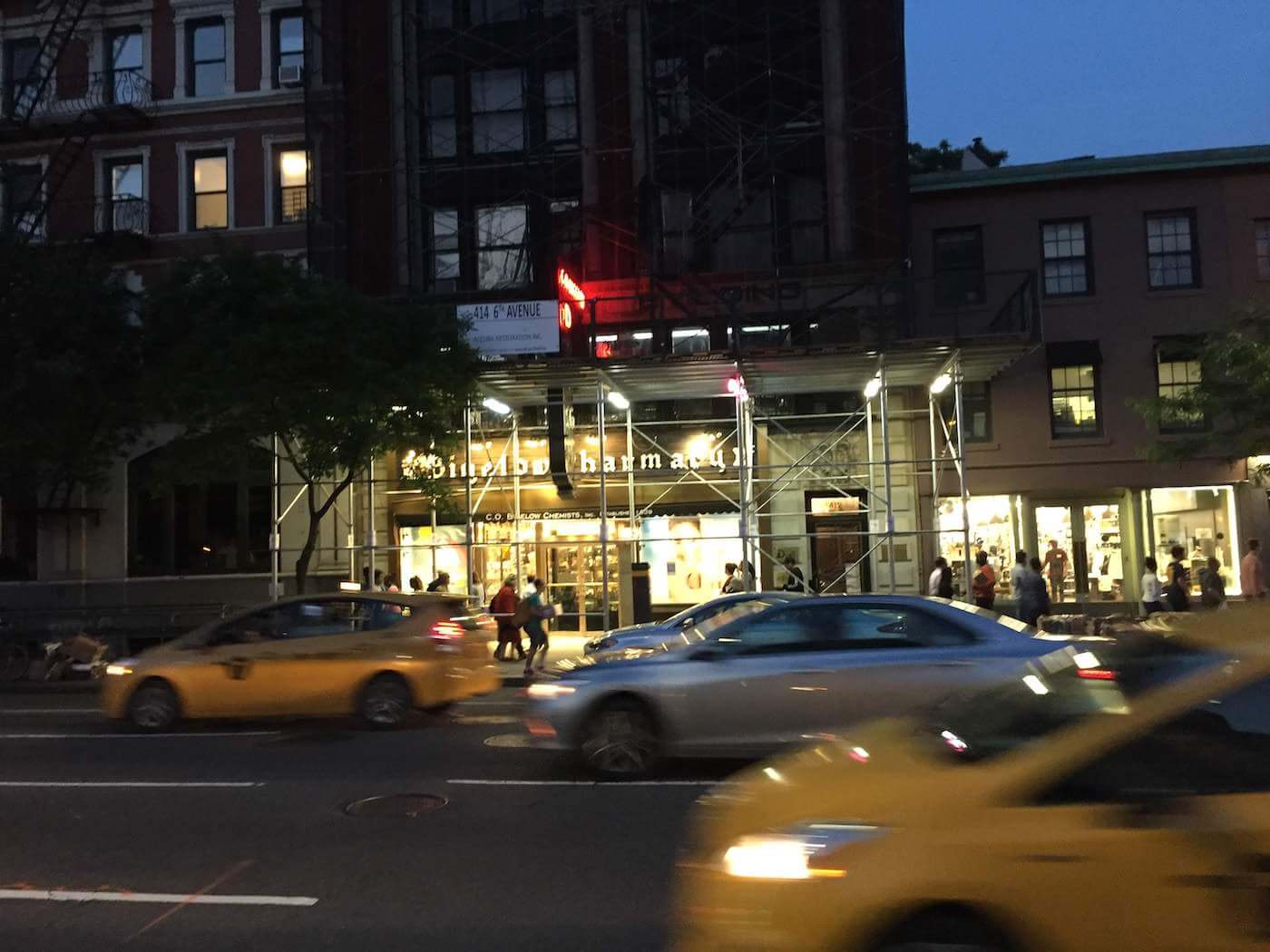 This is probably the store on this list that is most uniquely "New York." The sign says it all: "If you can't find it anywhere else, try Bigelow's!"
This store has been standing since 1838, so it's no surprise that it feels a little like you're traveling back in time when you step through its doors. The store feels impossibly old-fashioned and chic at the same time. It's like a hybrid of a European pharmacy and department store. But unlike a department store, the store associates won't try to approach you or pester you to buy anything.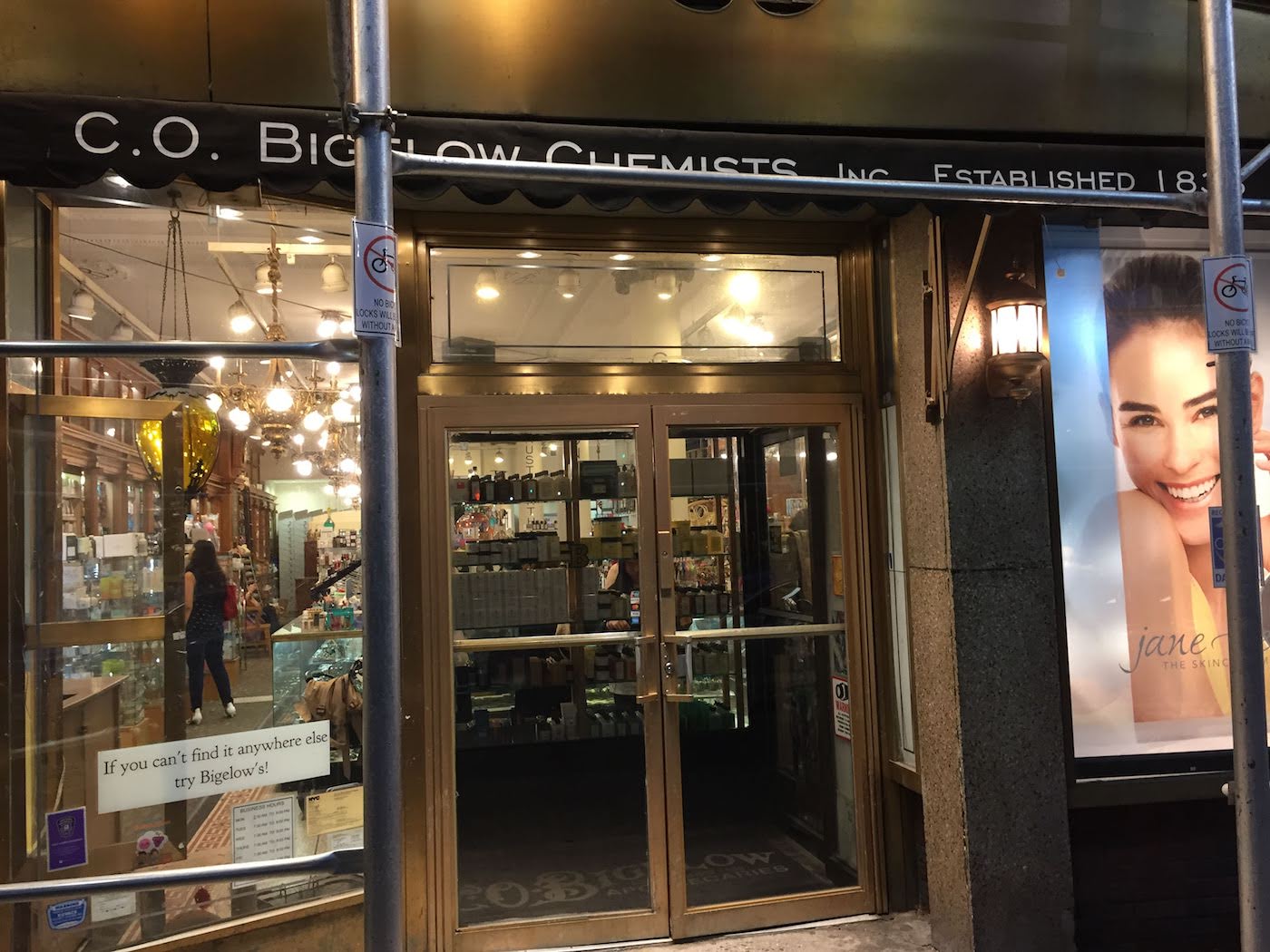 This store stocks a nice, wide selection of items from different regions—everything from Dickinson's toners to Japanese products like Shiseido cotton puffs. Like a drug store, it also sells some non-cosmetics items like pantyhose and hair brushes. I think it's a really nice and quirky shop that's great for browsing and picking up souvenirs, especially if you're caught in the rain without an umbrella.
2. Ricky's NYC (17 locations around the city)
Ricky's NYC's motto is "Looking good. Feeling good." For the longest time, I thought that this store was a Halloween costume store, or focused on art supplies. Maybe it was the neon paint tube logo. Then one day I finally walked in the door, and I realized that it was like the cosmetics section of a drugstore, but with less fluorescent lighting.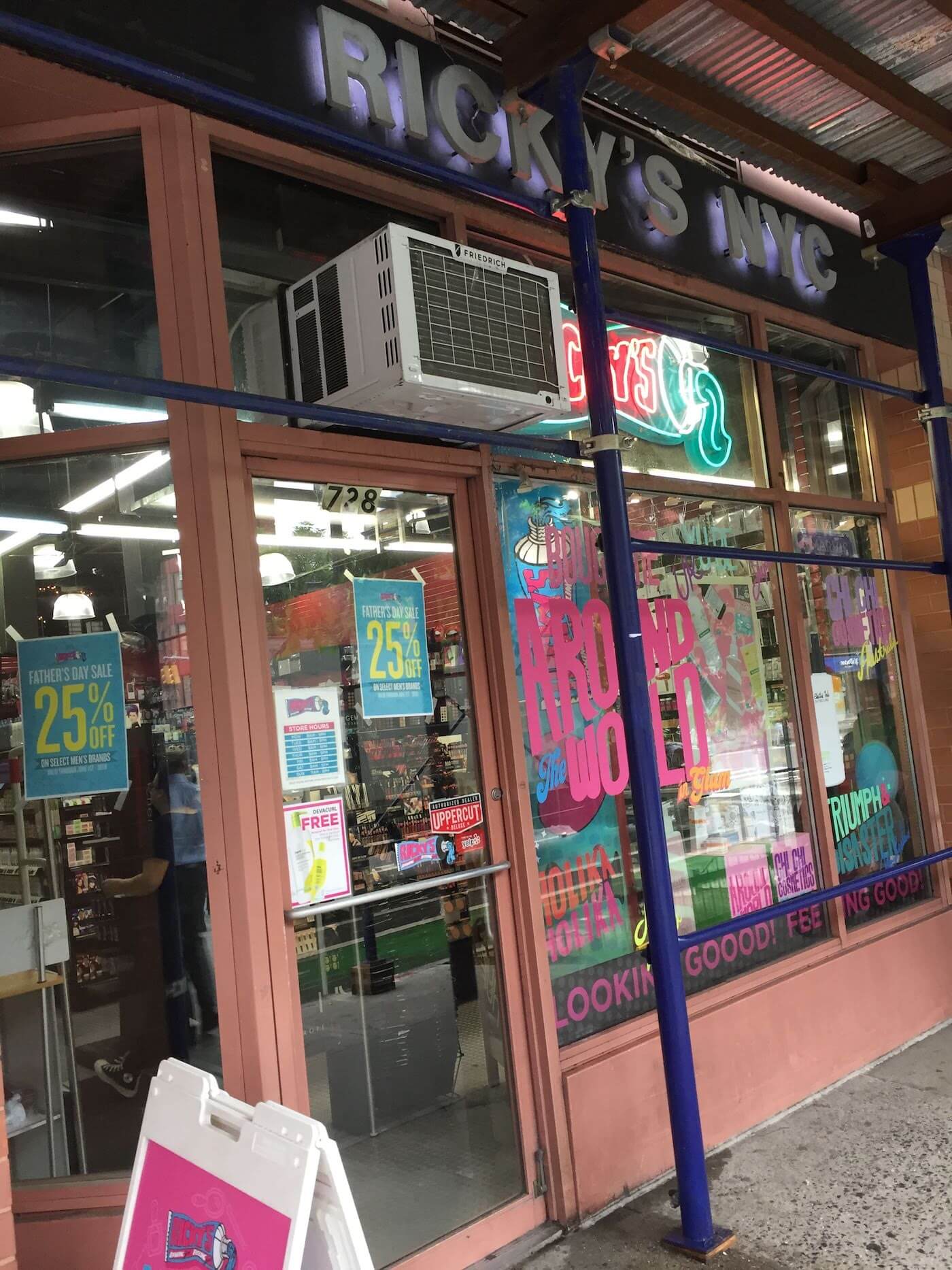 Ricky's NYC has 17 locations around New York, so you're bound to come across one at some point when you're walking around the city. The other cool thing about Ricky's is that it stocks The Ordinary products, so keep an eye out for a shelf like this: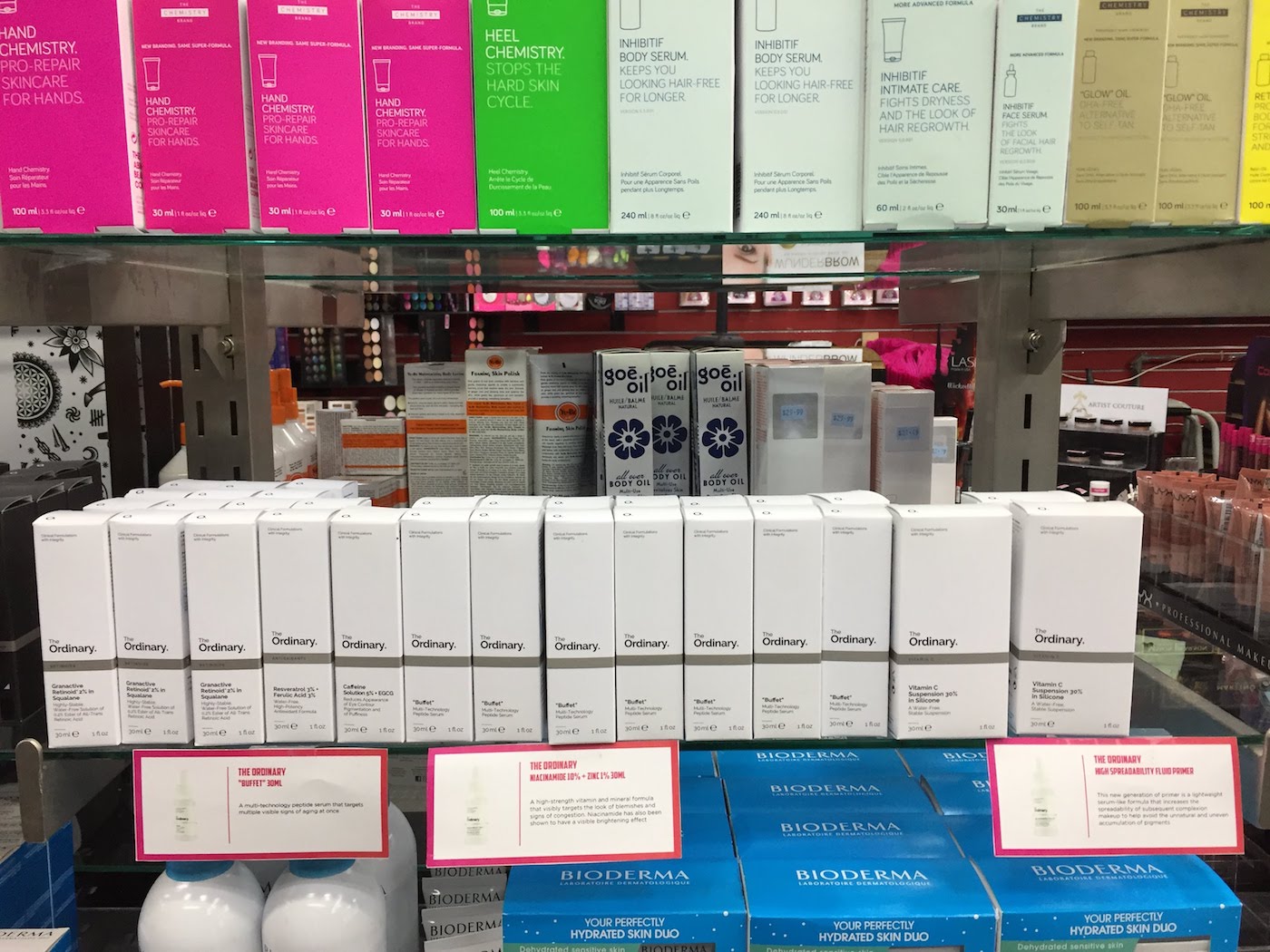 Ricky's also stocks a nice selection of hair products and hair grooming tools like brushes, irons, and hairbands/hair ties. It's also where I bought my Thayer's cucumber toner. It stocks a mix of high-end and affordable products, and the store employees are helpful, but not overly aggressive/pushy.
3. DECIEM
26 Prince St. (between Mott St. and Elizabeth St.) Neighborhood: Soho, Manhattan, NYC
DECIEM, the company behind The Ordinary, opened a location in the SoHo neighborhood of Manhattan, not far from the Glossier showroom (next on this list).
The Deciem store stocks The Ordinary products at the back of the store, with higher-end luxury labels like NIOD in the front half of the store. Note that the company also recently opened a store specifically for The Ordinary products, located at 10 W Broadway (also in SoHo):
Read more about my visit to this here.
4. Glossier
123 Lafayette Street (between Lafayette and Howard)
Neighborhood: SoHo, Manhattan, NYC
This place literally has a line out the door, which attests to the power of Glossier's cool factor. The company has done an excellent job of marketing itself to millennials and other people who love pretty packaging. I went around 4 on a Sunday afternoon, and waited about 30 minutes in line to board the elevator up to the penthouse of an office building. The building is pretty much like any other old office building in New York (which explains why the elevator moves so slowly), but once you get up to the top, you're transported to a lovely Glossier-esque world that looks like a physical manifestation of its bright and cheery website.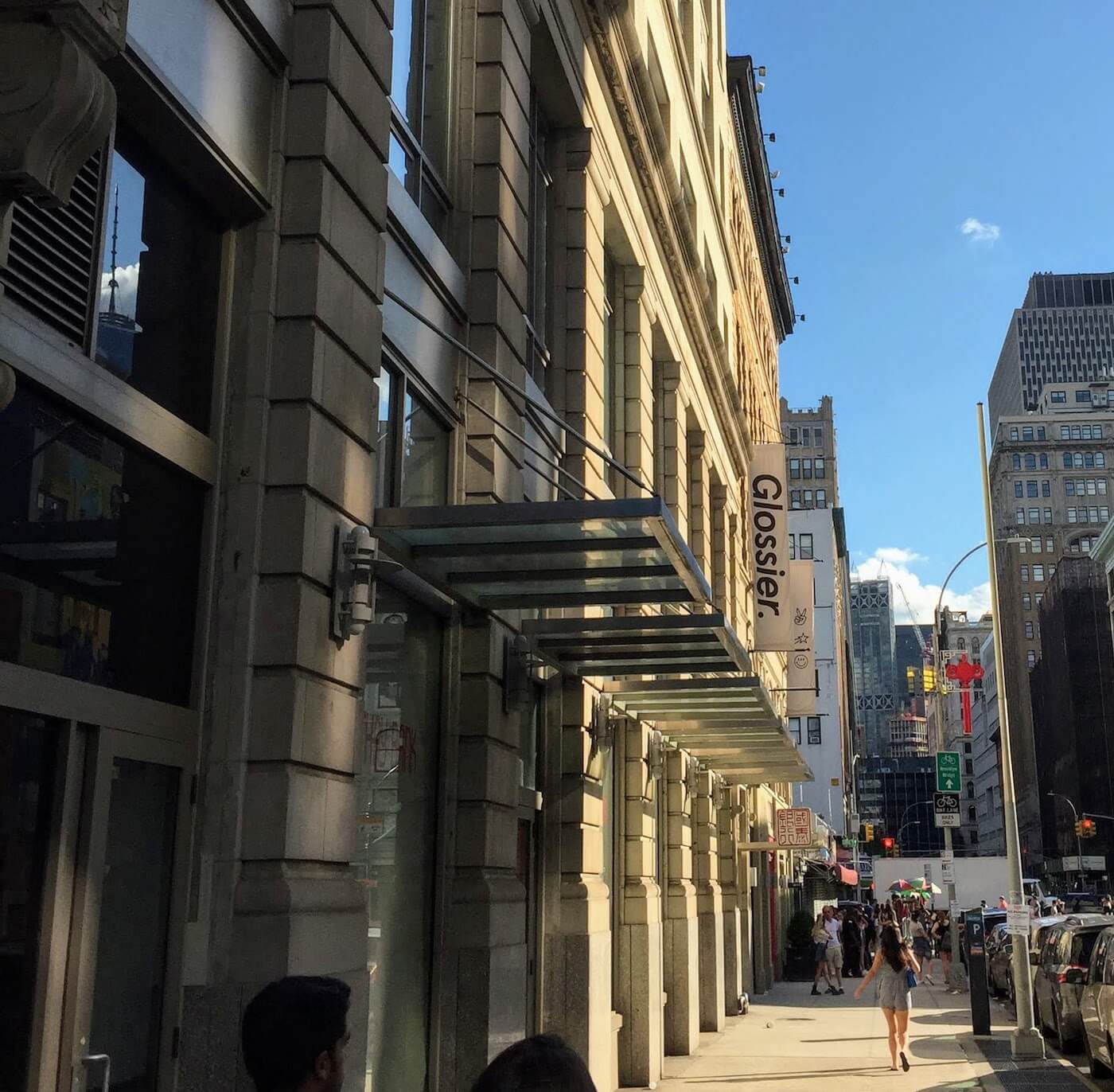 The mirrors have been decorated with clever sayings (one of them says "SELF CHECKOUT"), and the plastic wands, spatulas, and cotton pads are reminiscent of Sephora's. I thought that the store could have made more of an effort to include educational info about what made each product special. Many times, I found myself wondering what a product was, but it didn't have much of a description other than the product name (for example, "Exfoliating Skin Perfector"). I felt like the store was missing the "product description" blurb that appears when you're shopping online. The store only offered the picture and the name of the product, no description. Also, none of the packages listed the ingredients, either, which made it even more difficult to tell what a product's purpose was, or whether it would work for my skin.
I didn't end up buying anything because I couldn't inspect the ingredient list of any of the products. If you're truly looking to buy or sample Glossier products in person, come only after you've researched what each product actually does, because the in-store display won't help you out in that regard. I do recommend checking out this store, if only to ogle at people who have waited half an hour in line to ride up an elevator to a penthouse-transformed-into-a-skincare-and-makeup-lover's-dream.
5. Kiehl's
Various locations. Pictured below: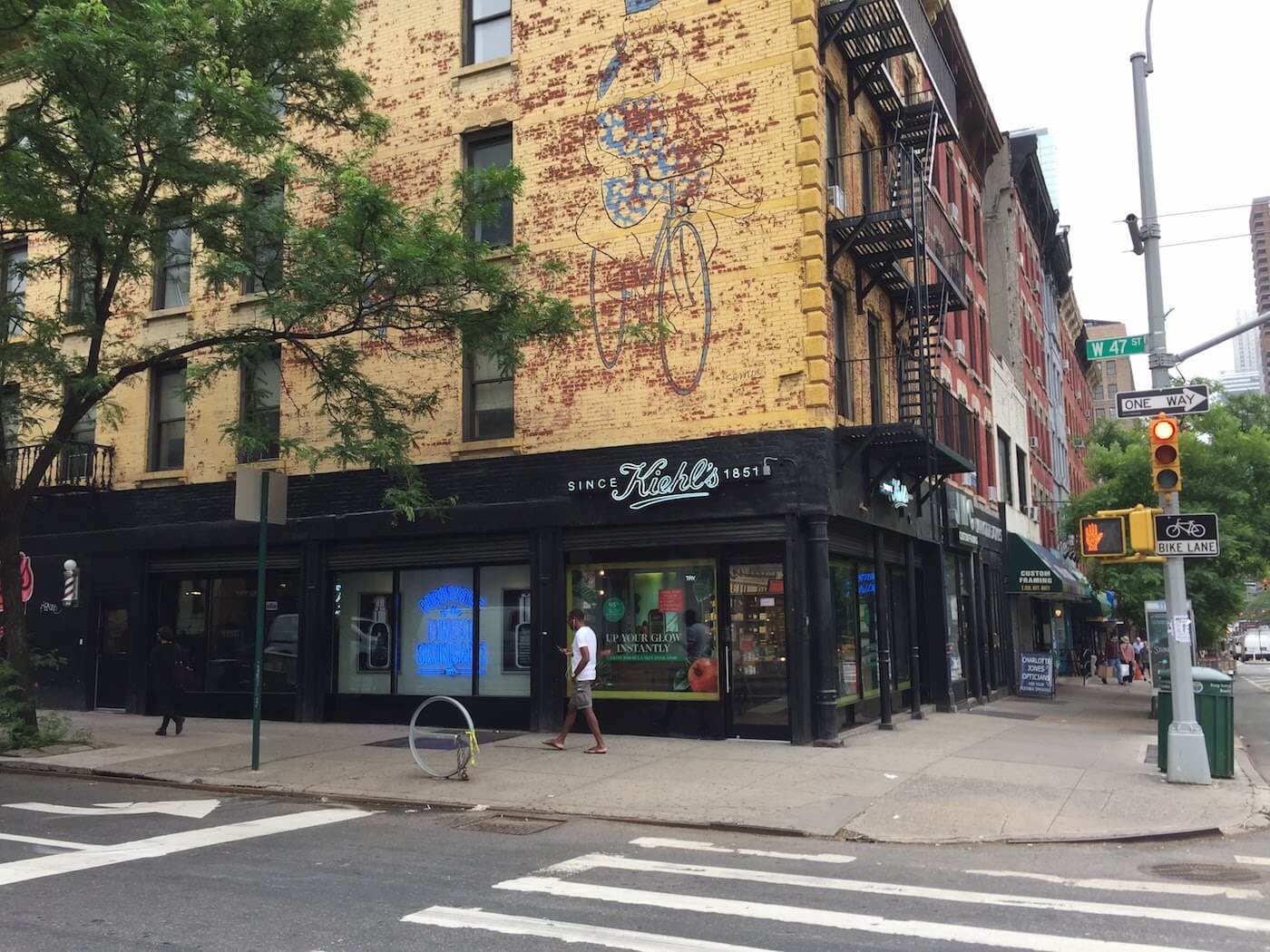 Kiehl's is another brand that has opened a few brick-and-mortar locations around the city. I like the art outside of the location in the Hell's Kitchen neighborhood of Manhattan. It's also close to the excellent Amy's Bakery (pick up a slice of the chocolate cake—you won't be sorry!).
Honorable mention: Japanese supermarkets
Japanese supermarkets around NYC are a great place to pick up some Japanese beauty products like Biore sunscreen, a face mask, face wash, or shampoo/conditioner. I particularly like Dainobu, in Greenwich Village (near C.O. Bigelow Chemists). This Dainobu where I got the My Beauty Diary Aloe Vera Mask (read the review here.
Plus, you can pick up a snack like an unsweetened tea or a daifuku mochi while you're there.
Further reading
Note: This post uses affiliate links, which means that I'll receive a commission if you make a purchase after clicking a link (at no extra cost to you). See our
disclosure policy
.