This eczema treatment contains 100% organic ingredients (including colloidal oats and rose hip seed oil) and 0% preservatives (because it's completely oil-based (water-free!).
A few months ago, I had the chance to visit Seattle for the first time. As I wandered through the historic Pike Place Market, I stopped by the Moon Valley Organics stand and picked up a bundle of three products: the Moon Valley Organics EczaCalm, the Lotion Bar, and a lip balm. I've noticed a bit of an eczema flareup on my left hand recently, so I decided it was time to give the EczaCalm a try. In this review, we'll take a closer look at what goes into this organic skincare product, and why I think it's a great option for eczema patients.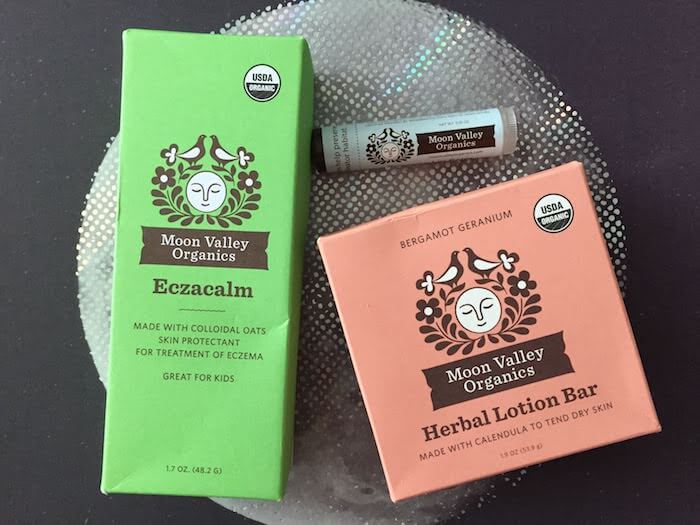 Moon Valley Organics EczaCalm eczema treatment ingredients
organic safflower oil, organic beeswax, organic rosehip seed oil, organic flax oil, organic colloidal oats, vitamin e from sunflowers, organic horsetail, organic comfrey, organic aloe, organic calendula, organic burdock, organic licorice root, organic chamomile, organic st. john's wort, organic plantain
My Dad the Chemist's review of Moon Valley Organics EczaCalm eczema treatment
Dear Emily, colloidal oats is known to help ease eczema, all the rest ingredients are moisturizers, they help moisten skin, I think it should help.

Love,
Dad
My dad thinks that this EczaCalm product is a worth a try—not only because it contains colloidal oats for treating eczema, but also because it contains lots of moisturizers like rosehip seed oil, flax oil, horsetail, and soothing ingredients like licorice root, comfrey, aloe, and burdock.
Colloidal oats are commonly used in eczema skincare products, including Eucerin Eczema Relief Body Creme and Aveeno Eczema Therapy Moisturizing Cream (learn more here). However, this product retains a more natural feel than those colloidal oats-based lotions, since it's water-free (therefore allowing it to be preservative free, yay!). It's also packaged in a metallic tube rather than plastic.
It also contains other moisturizers that should help boost the skin's natural barrier, which helps soothe existing eczema flareups and ward off future ones.
Moon Valley Organics EczaCalm review
On a day when I had a particularly red, itchy, dry patch of eczema on my left palm, I applied a thin layer of Moon Valley Organics EczaCalm, slipped on a cotton glove, and went to sleep. This hand treatment is very similar to a prescription ointment, or Vaseline. It's pretty oily, and has a neutral smell (no fragrances, of course), that remind me of the natural scent of the rose hip seed oil. I use on my face at night.
EczaCalm may leave some residue on your bed sheets, so I suggest applying it and then wearing a thin, breathable cotton glove over it (I have ones similar to these). Of course, if it's hot out, you might remove it unknowingly during your sleep.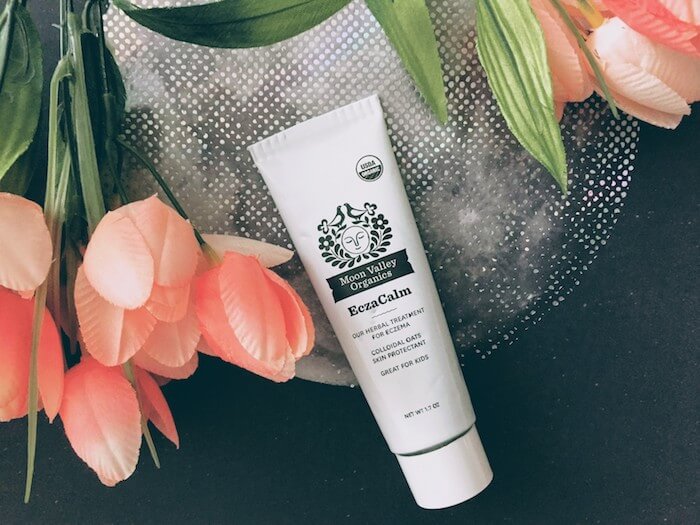 This hand treatment did a great job at soothing my skin by the next morning. I applied it for a few consecutive nights and the flareup backed off until it eventually became less red and—more importantly—less itchy. It did not, however, make my skin feel immediately less itchy. I haven't found a product that has been able to do that just yet. Colloidal oats have been shown to help soothe inflamed skin, and in my experience, I've found that to be true.
This hand treatment is packaged in a squeeze tube, similar to the type of tub you'd see for oil paints or tomato paste. I do wish it was a little easier to use—i's a little hard to squeeze out (or I just have weak hand strength). However, I like that it's not just packaged in a plastic tube like other eczema creams. Plus, you can actually understand all the ingredients on the ingredients list, and it's 100% organic. Usually a product might contain up to 50% organic ingredients, marked with asterisks. It's pretty rare to see that every single ingredient is actually certified organic.
The 1.7-oz. size makes it easy to slip into a TSA-approved travel bag or in your handbag if you have an eczema flareup away from home.
Moon Valley Organics is a family business that operates out of Washington. I first came across them in Pike Place Market, but I recently spotted it at my local Whole Foods in NYC, so I'm happy to know that I can find this product on store shelves without ordering it online. It is, however, also available on their website (free shipping for $50+ orders) and on Amazon. The company's products are certified USDA organic.
Related reading
Note: This post uses affiliate links, which means that I'll receive a commission if you make a purchase after clicking a link (at no extra cost to you). See our
disclosure policy
.