This part-primer, part-sunscreen is truly transparent (won't leave a white cast), non-comedogenic, and offers decent UV protection.
I can't believe this Saturday is the first day of autumn. But according to the EPA UV index widget, my zip code still had a pretty high UV index today: 6. So don't go thinking that you can put away the sunscreen just yet (or ever). I'm still slowly working my way through Sephora's Sun Safety Kit, and today's post will focus on a chemical sunscreen: Murad Invisiblur Perfecting Shield SPF 30 Sunscreen.
Here's the high-level overview of this sunscreen:
SPF 30 protection with a mix of chemical sunscreen filters: avobenzone, homosalate, octisalate, and octocrylene

calls itself a primer, which is interesting because I always think of sunscreen as the last step in a morning skincare routine. But maybe that only applies to physical sunscreens?

completely clear/colorless formula, heavy on silicones

Anyway, let's take a closer look at the Murad Invisiblur Perfecting Shield SPF 30 Sunscreen, shall we?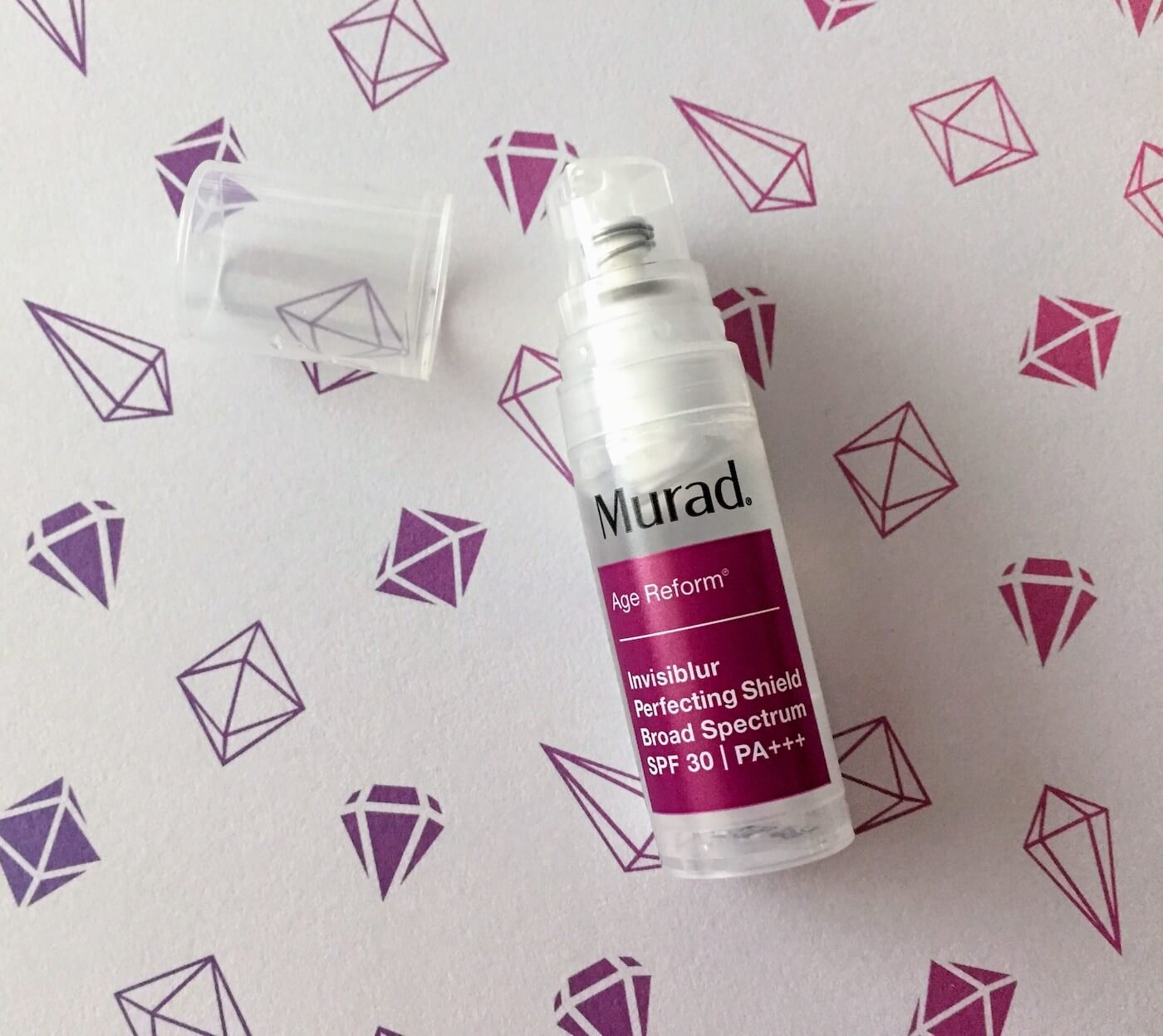 Murad Invisiblur Perfecting Shield SPF 30 Sunscreen ingredients
Active Ingredients: avobenzone (2.0%), homosalate (4.0%), octisalate (4.0%), octocrylene (2.0%)

Inactive Ingredients: isododecane, dimethicone/bis-isobutyl ppg-20 crosspolymer, caprylyl methicone, caprylic/capric triglyceride, phenyl trimethicone, diethylhexyl 2,6-naphthalate, propylene glycol dicaprate, hydrogenated soybean oil, hydrogenated soy polyglycerides, c15-23 alkane, helianthus annuus (sunflower) seed cake, ribes nigrum (black currant) seed extract, octyldodecanol, octyldodecyl oleate, peg-8 dimethicone, octyldodecyl stearoyl stearate, alcohol, hordeum vulgare (barley) extract, butylene glycol, lentinus edodes (shiitake mushroom) extract, mucor miehei extract, paeonia suffruticosa root extract, ascorbic acid, tocopheryl acetate, retinyl palmitate, silica, sodium propoxyhydroxypropyl thiosulfate silica, cucumis sativus (cucumber) fruit extract, rosmarinus officinalis (rosemary) leaf extract, solidago virgaurea (goldenrod) extract, benzyl benzoate, citral, hexyl cinnamal, hydroxyisohexyl 3-cyclohexene carboxaldehyde, limonene, linalool, fragrance
Nothing suspicious here. I like that it contains ascorbic acid (vitamin C), tocopheryl acetate (vitamin E), and sunflower seed cake, which are all antioxidants that offer extra beneficial UV protection. When I conducted my analysis of Sephora's Sun Safety Kit 2018, I didn't name it one of the six best sunscreen options because it didn't contain active ingredients that would offer protection against the whole UV spectrum. It only protects against UVA1 and UVB rays, not UVA2.
My Dad the Chemist's review of Murad Invisiblur Perfecting Shield SPF 30 Sunscreen
Dear Emily, it looks like a very nice formula with good ingredients, shouldn't be greasy or having burning sensation as most of sunscreens with oxybenzone.

Love,
Dad
My dad likes this formula, mainly because it doesn't contain any oxybenzone in it, which could cause irritation/burning. Instead, it relies on a mix of other chemical sunscreen ingredients: avobenzone, homosalate, octisalate, and octocrylene. It also contains other ingredients like cucumber fruit extract, vitamin C (ascorbic acid), vitamin E (tocopheryl acetate), and vitamin A (retinyl palmitate), as well as alcohol and fragrance.
Oxybenzone: is it irritating?
It's interesting that my dad mentioned that oxybenzone could cause a burning sensation on the skin. After conducting some research, I found a few examples of studies that backed this up. One was based on a seven-year study of allergic reactions to seven sunscreen allergens, including oxybenzone. Oxybenzone (aka benzophenone-3) was the allergen that resulted in the most allergic reactions (though note that this study included 355 patients and resulted in 42 allergic reactions. Out of those allergic reactions, the most common allergen was oxybenzone (also known as benzophenone-3), which resulted in 16 allergic reactions.
A note on avobenzone
Avobenzone is the only chemical sunscreen filter that provides protection against UVA1 rays (340–400 nm). Avobenzone has been shown to be photounstable after just one hour of exposure to UV light, so manufacturers usually try to stabilize avobenzone with ingredients like octocrylene. Murad Invisiblur Perfecting Shield SPF 30 Sunscreen has followed this method of stabilizing avobenzone in its formula. Here's another study that found that octocrylene helped improve the photostability of avobenzone.
This product also contains another avobenzone stabilizer: diethylhexyl 2,6-naphthalate. This ingredient may help stabilize UVA filters like avobenzone. Interestingly, according to this article (published on the Skin Cancer Foundation's website), octinoxate decreases the effectiveness of avobenzone, so you should avoid sunscreens that combine these two active ingredients. This article also informed me that the maximum allowable concentration of avobenzone is lower in the U.S. than in Europe (only 3% is allowed in the U.S., while 5 percent is allowed in Europe). The FDA also doesn't allow products to mix avobenzone with zinc oxide (not sure why). Read the full article here.
Murad Invisiblur Perfecting Shield SPF 30 Sunscreen review
Murad Invisiblur Perfecting Shield SPF 30 Sunscreen review: Pros
This is definitely more of a primer than a sunscreen. For one, it's completely colorless/clear (see below), and it spreads quite easily on the skin. Like other primers, it helps smooth any uneven texture on your face, so it's perfect for applying before a foundation or other makeup. The first ingredient, isododecane, is commonly found in other primers, since it helps increase spreadability of a formula. It also contains silicones like dimethicone, caprylyl methicone, and phenyl trimethicone. These create a silky texture and also helps the skin feel more hydrated (though I still think you need a separate moisturizer in addition to this primer).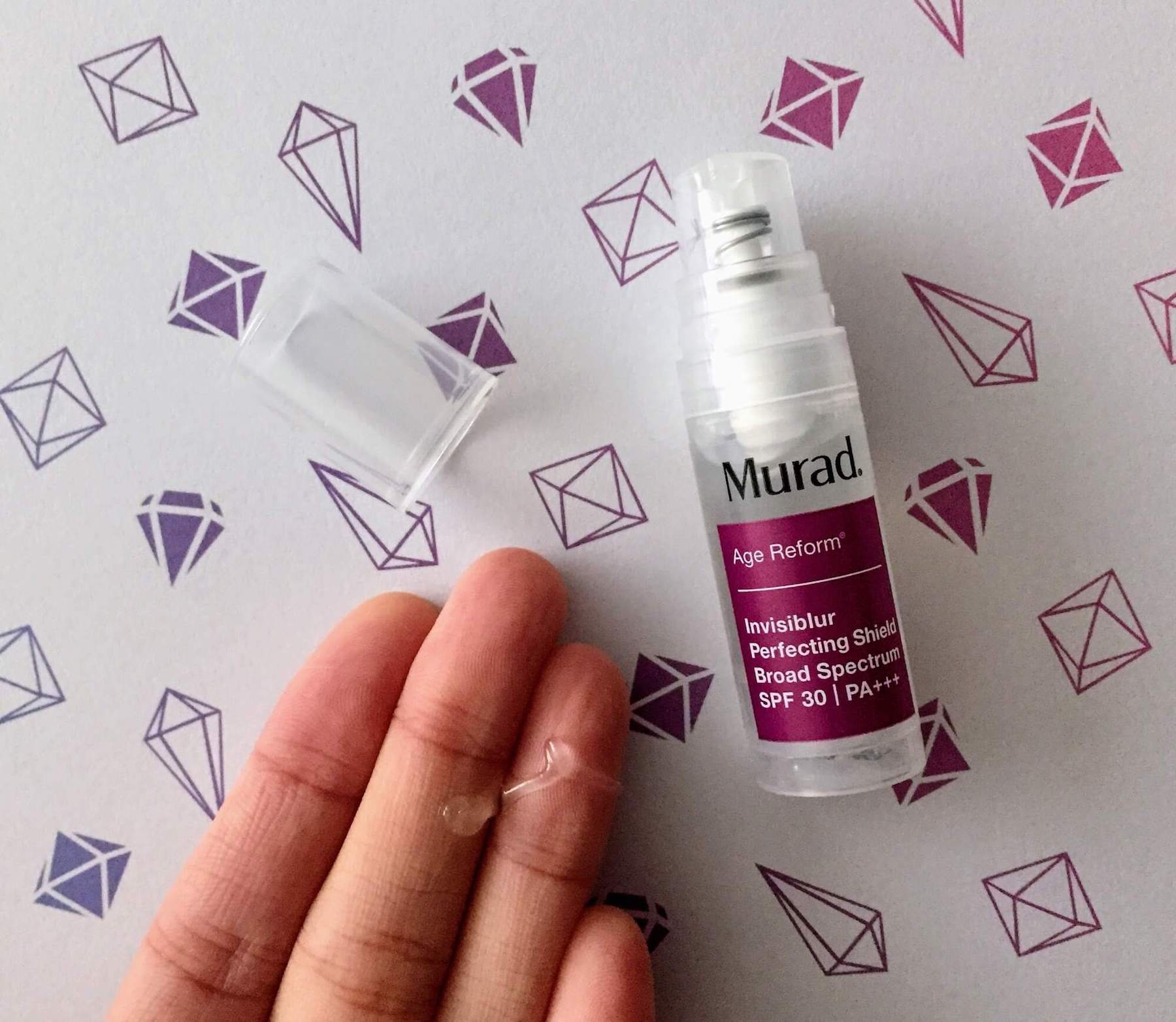 This sunscreen is also not water-resistant, which is kind of unfortunate especially if you live in an area with humid summers. You need a sweat- and water-resistant sunscreen to ensure better protection.
Murad Invisiblur Perfecting Shield SPF 30 Sunscreen review: Cons
Alcohol and fragrance are two red flags that normally drive me away from a product, but I didn't find this to be irritating at all. It does have a medium-light fragrance, though, a bit floral like Laneige Water Bank Moisture Cream (read the review here). If you're sensitive to alcohol or fragrances (particularly floral ones), I'd stay away from this sunscreen.
Final thoughts
This more of a primer than a sunscreen, if you ask me. But if you're looking for a sunscreen that pulls double duty by filling in fine lines and uneven texture on the skin, Murad Invisiblur Perfecting Shield SPF 30 Sunscreen is a decent product that's worth checking out. The other great thing about this product is that it doesn't leave a white cast on your face—in fact, it's completely colorless, so there's no way it could make you look pasty. However, it make your skin feel more oily if you already have oily skin.
Related reading
Note: This post uses affiliate links, which means that I'll receive a commission if you make a purchase after clicking a link (at no extra cost to you). See our
disclosure policy
.