A sleeping mask that helps seal in your moisturizer on nights when your skin feels especially dry.
At TJ Maxx, you can expect that 100% of the time, you won't need to pay the full "list price"—unlike Sephora, where you typically expect to shell out whatever is listed as the retail price (though it admittedly has a fabulous return policy). I picked up Jeju:en Hyaluronic Acid Sleeping Mask as part of a recent TJ Maxx skin care haul. I had never heard of this brand, but the packaging looked very sleek and polished, and I thought it was worth a try.
I've never used a sleeping mask before, but the idea appeals to me—why let your expensive serums and moisturizers evaporate or rub off on your pillow while you snooze? You snooze, you literally lose…those skin care benefits. A sleeping mask is meant to seal in those ingredients so your skin care ingredients can soak in all night long.
Jeju:en Hyaluronic Acid Sleeping Mask ingredients
water, butylene glycol, glycerin, alcohol denatured, niacinamide, peg-240/hdi copolymer bis-decyltetradeceth-20 ether, sodium hyaluronate, sea water, fucus vesiculosus extract, oryza sativa (rice) leaf/stem extract, peg-60 hydrogenated castor oil, hydroxyacetophenone carbomer, tromethamine, xanthan gum, adenosine, benzophenone-5, disodium edta, 1,2-hexanediol, ci 42090, fragrance
This sleeping mask contains sea water from Jeju, an island in South Korea. This sea water is rich in minerals that could nourish your skin. This study researched whether the minerals in deep sea water (calcium, magnesium, sodium, potassium, and iron) could help heal atopic dermatitis (ecezma) in mice. The results indicated that it holds potential in helping to reduce inflammation and dryness associated with this skin condition. Jeju:en isn't the only brand that highlights this particular island's ability to product ingredients that are valuable for skin care: innisfree also focuses on ingredients sourced from Jeju, including green tea and lava sea water.
Other key ingredients in this mask include niaciniamide and sodium hyaluronate, which both can help improve the texture of your skin and plump it up. Because this is a sleeping mask, it's formulated to sit as the last layer of moisture-protection between your skin and the bare air when you sleep at night. It's the last line of defense for sealing in all of the other quality products you apply to your skin at night.
Another interesting component of this sleeping mask is adenosine, which has been shown to improve the smoothness of skin and fight wrinkles.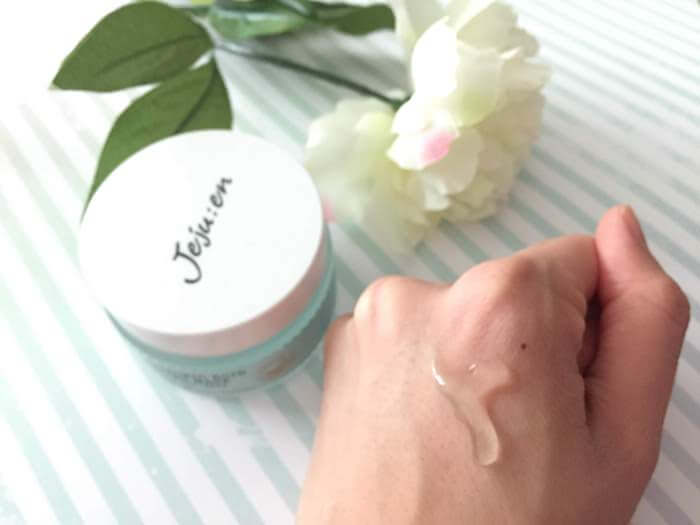 Jeju:en Hyaluronic Acid Sleeping Mask review
Jeju:en Hyaluronic Acid Sleeping Mask feels very similar to the serum you'd find in a luxurious sheet mask like one of my fave ones from Leaders. Unsurprisingly, that mask contains several of the same (or similar) ingredients that are listed highly in this sleeping mask: glycerin, butylene glycol, and sodium hyaluronate (similar to the hyaluronic acid in this sleeping mask).
Some of you may have noticed a red flag in this particular mask: denatured alcohol. This ingredient is often used as a solvent to help improve the penetration of beneficial ingredients included in a skin care formula. For example, my dad said that it was fine for Fleur & Bee Vitamin C serum to include a small amount of alcohol, since it could help solubilize some of the oils in the formula, thereby making it more uniform and effective. However, this ingredient can be drying and irritating to some people with sensitive skin. I personally didn't find this mask to be drying or irritating at all.
This sleeping mask is packaged in a glass jar (not plastic!) with a plastic spoon. I use about a teaspoon of it and slather it all over my face as as the last step in my nightly skin care routine. Immediately after applying it, it will leave your face feeling slightly sticky, or very dewy. I was pleasantly surprised to see that my skin looked extra-plump in the morning every time I used it. Note that it does have a medium-strong fragrance that's pretty feminine—kind of floral, almost old-lady-ish. I got it at TJ Maxx for a steal, but it's also available on Amazon.
Related reading
Note: This post uses affiliate links, which means that I'll receive a commission if you make a purchase after clicking a link (at no extra cost to you). See our
disclosure policy
.