This sheet mask costs only 100 yen (~$1 USD)—is it a bargain or a bust?
Face masks are one of my favorite souvenirs to pick up while I'm traveling. On a trip to Japan last fall, I picked up a rice ceramide mask from CAN DO, a popular 100 yen store (dollar store) in Japan. This mask is marketed under the brand "Precious Times," and the package included a link to MITSUKI. This company appears to specialize in creating 100-yen products. The package promised that it would "console" your skin and promote "smooth-textured skin." I was curious to find out if it could live up to that claim for such a low price.
I don't know if I would trust a sheet mask I found at an American dollar store, but for some reason, I feel more inclined to trust one from a Japanese dollar (er, 100 yen) store? I was also intrigued by the name of the mask: "Rice Ceramide." It also said it was made in Japan, and the material of the sheet mask itself is 100% cotton. However, since the ingredients weren't listed in English, it was a bit of a gamble, since I had no idea what was actually in it, beyond the vague promise of something "rice ceramide"-related.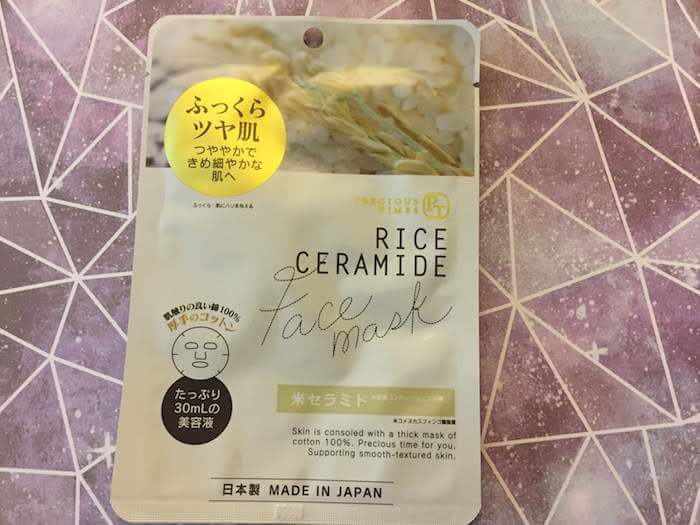 Precious Times Rice Ceramide Face Mask ingredients
water, glycerin, dipropylene glycol, ethanol, rice bran oil, rice bran glycosphingolipid, fermented rice water, rice bran extract, placenta extract, hydrolyzed elastin, ubiquinone, xanthan gum, hydroxyethyl cellulose, citric acid, sodium citrate, PEG-60 hydrogenated castor oil, tetrasodium etidronate, phenoxyethanol, methylparaben, polyglyceryl oleate-10, lecithin, butylene glycol
I used the Google Translate app's camera function to take a picture of the back of the package and translate the ingredients to Japanese. I had to make a few adjustments to the translation, based on best guess:
The translation app spit out "etidronic acid 4 na" as one of the ingredients, which I took to mean as tetrasodium etidronate, since Na is the chemical symbol for sodium, and "tetra" means four. According to the CIRR Safety Assessment of Etidronic Acid and its Simple Salts, tetrasodium etidronate is mildly irritating to eyes at concentrations of 23% to 30%.

I also changed "rice fermented liquid" to "fermented rice water" in the list above. Fermented rice bran was shown to reduce inflammation and exhibit benefits for atopic dermatitis in this study.
Rice bran glycosphingolipid (ceramide)
The rice bran glycosphingolipid is what makes the name of the mask "rice ceramide." According to this pamphlet, this is a type of ceramide extracted from rice bran or rice germ. Ceramides are naturally found in our skin, and as their levels naturally decline with age or with skin conditions like atopic dermatitis, they cause dryness and wrinkles. Studies have shown that rice-derived glycosphingolipid can also help lighten and brighten skin and treat hyperpigmentation.
Ubiquinone
Also known as Coenzyme Q10, ubiquinone is found naturally in our cells, but decreases with age. According to this study, it functions as an antioxidant that protects your skin from free radicals, which means that it helps fight signs of aging. The inclusion of this ingredient may be driven them to make that "smooth-textured" claim on the front of the package.
Other notes about ingredients
Rice is a very popular ingredient in Japanese beauty products, including this one. Rice water is often used as a skin care ingredient in Asian products, such as this oil cleanser. Tatcha also uses fermented rice and rice bran (two of the ingredients in this mask) in this exfoliator.
This mask also includes ethanol (the translation at least), which is another name for denatured alcohol. This ingredient is often used as a solvent to help increase the efficacy of active beneficial ingredients (such as the fermented rice water and rice bran glycosphingolipid in this mask), but it's important to note that it can be irritating for some people.
In this study, a mixture of 10% rice bran oil and 10% castor oil (as well as 0.05% antioxidants and 0.50% preservatives) helped moisturize skin and promote healthy pH values on the skin. This mask includes both rice bran oil and castor oil, which helps explain how it moisturizes the skin quite nicely.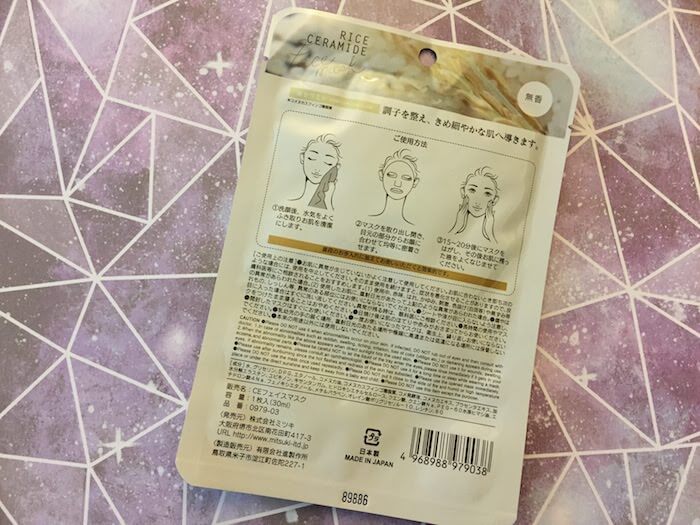 Dollar store Japanese rice ceramide sheet mask review
I used it after my normal weekly The Ordinary AHA 30% + BHA 2% session. My first impressions of this mask were: unimpressed with the feeling of the serum. The mask doesn't feel very slippery or silky at all—it pretty much just feels like a thin sheet of cotton that's been moistened with water. I was initially disappointed with the amount and consistency of the serum on this mask, since I'm used to sheet masks that are dripping with thick, sticky serum.
However, as Elizabeth Bennet and Mr. Darcy know all too well, first impressions can be wrong. When I peeled off this mask, I was pleasantly surprised to find that my face felt nicely soothed and moisturized. Usually after I use this AHA treatment, my skin feels pretty irritated, dry, and itchy. This rice ceramide mask did a great job of replenishing my skin and providing some soothing relief against the AHA-induced irritation. If you're ever in Japan, get yourself to a CAN DO 100-yen shop and pick up one of these rice ceramide sheet masks. You can't go wrong with it for only a dollar (assuming that the current exchange rate remains about the same).
By the way, if you ever get the chance to visit a 100 yen shop like CAN DO or DAISO in Japan, (can) do it! It's a great place to pick up souvenirs, rain gear, and even skin care items. The only caveat is that you should probably be prepared to spend more than you think you will, because everything is so irresistible.
Related reading
Note: This post uses affiliate links, which means that I'll receive a commission if you make a purchase after clicking a link (at no extra cost to you). See our
disclosure policy
.