This fragrance-free face mask contains fermented soybean extract, which could help improve skin elasticity and provide other anti-aging benefits.
Traveling to a foreign country exposes you to so many new sights, sounds…and skincare products. Since I started this blog, skincare products have become some of my favorite souvenirs to bring back—especially face masks, since they travel light and they don't take up space in my TSA-approved quart-size bag of liquids. Today I'm going to introduce you to a skincare product that actually relies on a food that many Asians (including me) already know and love: soy! I picked up this five-pack of Sana Nameraka Honpo Soy Milk Masks at Don Quijote in Japan. Since I don't know Japanese, I had a bit of a tough time actually finding out the company and name of this product, but I think that this product actually comes from the company, TOKIWA Pharmaceutical, which provides healthcare items like cough drops, as well as cosmetics like this face mask.
TOKIWA is the parent of the brand known as Sana, which makes a product line known as "Nameraka Honpo," which is a family of products featuring isoflavones (a compound found in soy). First, let's explore the potential benefits of soy isoflavones, which are heavily featured in the marketing and ingredient list of Sana Nameraka Honpo Soy Milk Mask. After that, I'll provide my honest first impressions of this product.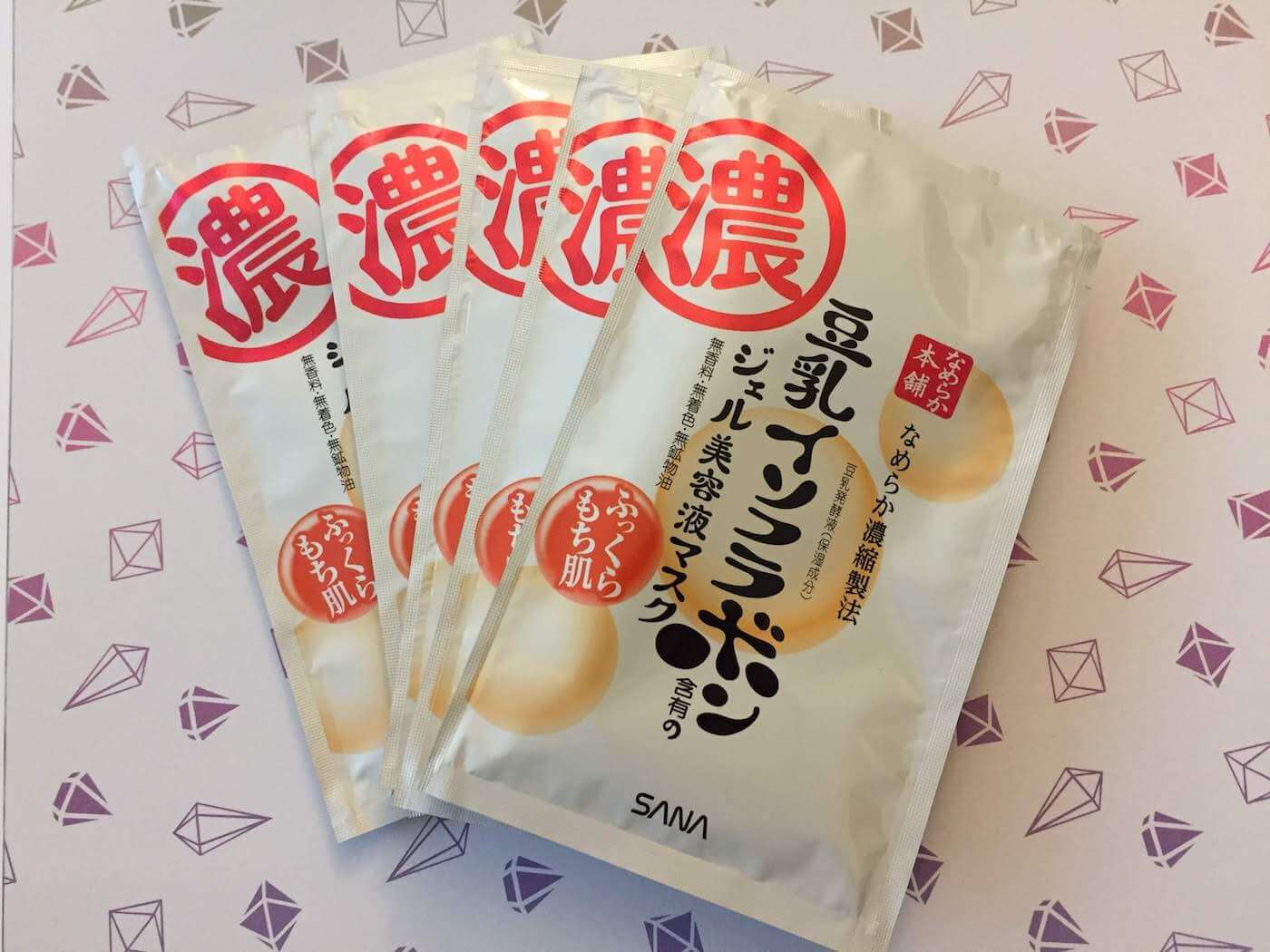 Sana Nameraka soy milk mask ingredients
water, glycerin, dipropylene glycol, PPG-10 methylene glucose, fermented soybean extract, soybean seed extract, soy protein, acrylates/c10-30 alkyl acrylate crosspolymer, BG, polyglyceryl-10 isostearate, ethanol, xanthan gum, squalane, potassium hydroxide, disodium EDTA, methylparaben
| Japanese ingredient name | English ingredient name |
| --- | --- |
| 水 | water |
| グリセリン | glycerin |
| DPG | dipropylene glycol |
| PPG-10 メチルグルコース | PPG-10 methylene glucose |
| 豆乳発酵液 | fermented soybean extract |
| ダイズ種子エキス | soybean seed extract |
| ダイズタンパク | soy protein |
| (アクリレーツ/アクリル酸アルキル(C10-30)) クロスポリマー | acrylates/c10-30 alkyl acrylate crosspolymer |
| BG | butylene glycol |
| イソステアリン酸ポリグリセリル-10 | polyglyceryl-10 isostearate |
| エタノール | ethanol |
| キサンタンガム | xanthan gum |
| スクワラン | squalane |
| 水酸化K | potassium hydroxide |
| EDTA-2Na | disodium EDTA |
| メチルパラベン | methylparaben |
Coming up with this ingredient list was a bit tough. I wasn't able to find an English version of the ingredients anywhere online, so I took a picture of the back of the sheet mask package, and uploaded the image to my Google Translate app, and got back some translated ingredients that were a bit rough around the edges. Then I was able to find the Japanese ingredient list on the website here, so I copied and pasted whatever appeared before each comma into Google Translate online.
Here were some assumptions I made from the rough results returned by Google Translate:
I changed "hydroxide K" to "potassium hydroxide" (since K is the chemical symbol for potassium)

"glycerin" originally showed up as "glyceric," but I used Google Translate to translate "glycerin" to Japanese, and matched the resulting characters against the ones on my box to confirm: グリセリン

the box stated "DPG," which I understood as "dipropylene glycol"

I updated "EDTA - 2NA" to EDTA disodium salt, since salt is Na is sodium, so I figured that "2NA" must be disodium.

I assumed that "soymilk fermented liquid" was "fermented soybean extract"

I assumed that "DPG" was dipropylene glycol, a commonly used solvent

I wasn't able to find out what "BG" was (does anyone know?) Update: Thanks to a comment from an anonymous reader, it turns out that this is butylene glycol, a solvent.
Anyway, this was what I was able to gather from using the Google Translate iPhone app on a picture of the package ingredients, and by pasting the Japanese terms into Google Translate online. Thank goodness for Google Translate! Needless to say, this is a pretty error-prone method, especially for someone who is not fluent in Japanese or chemical terms, so I apologize if I messed anything up along the way!
What are isoflavones, and how/why are they used in skincare?
Soy is rich in isoflavones, which belong to a group of compounds known as phytoestrogens. Read more about the science of isoflavones here. Isoflavones have been studied as a potential beneficial ingredient for postmenopausal women, who start to produce less estrogen and experience side effects like thinning of the skin, and loss of collagen that can help smooth wrinkles and make skin more youthful. Skincare products that are formulated with isoflavones hold great potential for addressing these concerns by acting as phytoestrogens for postmenopausal women. This study, women who applied an isoflavone-packed soy extract over the course of six months saw increased thickness of skin as well as improvements in elasticity and collagen production. And that same study also concluded that, of all the types of isoflavones, one known as genistein has the most potential to benefit aging skin.
What makes some types of isoflavones into genistein? When soybeans are fermented they create another type of isoflavone known as an aglycone—and genistein is one such type of aglycone. In this study, genistein showed potential to help improve skin by promoting wound healing, particularly in post-menopausal women. This other study also supports the idea that genistein can help postmenopausal women regain skin elasticity and improve dryness and wrinkle-related damage.
Sana Nameraka Honpo Soy Milk Mask review
As you can see, the back of the package of Sana Nameraka Honpo Soy Milk Mask shows soy beans being transformed into milk, and then squeezed in a cheesecloth-like bag. This mask includes three soy ingredients: fermented soybean extract, soybean seed extract, and soy protein. Lots of beneficial isoflavones for plumping up your skin and moisturizing it.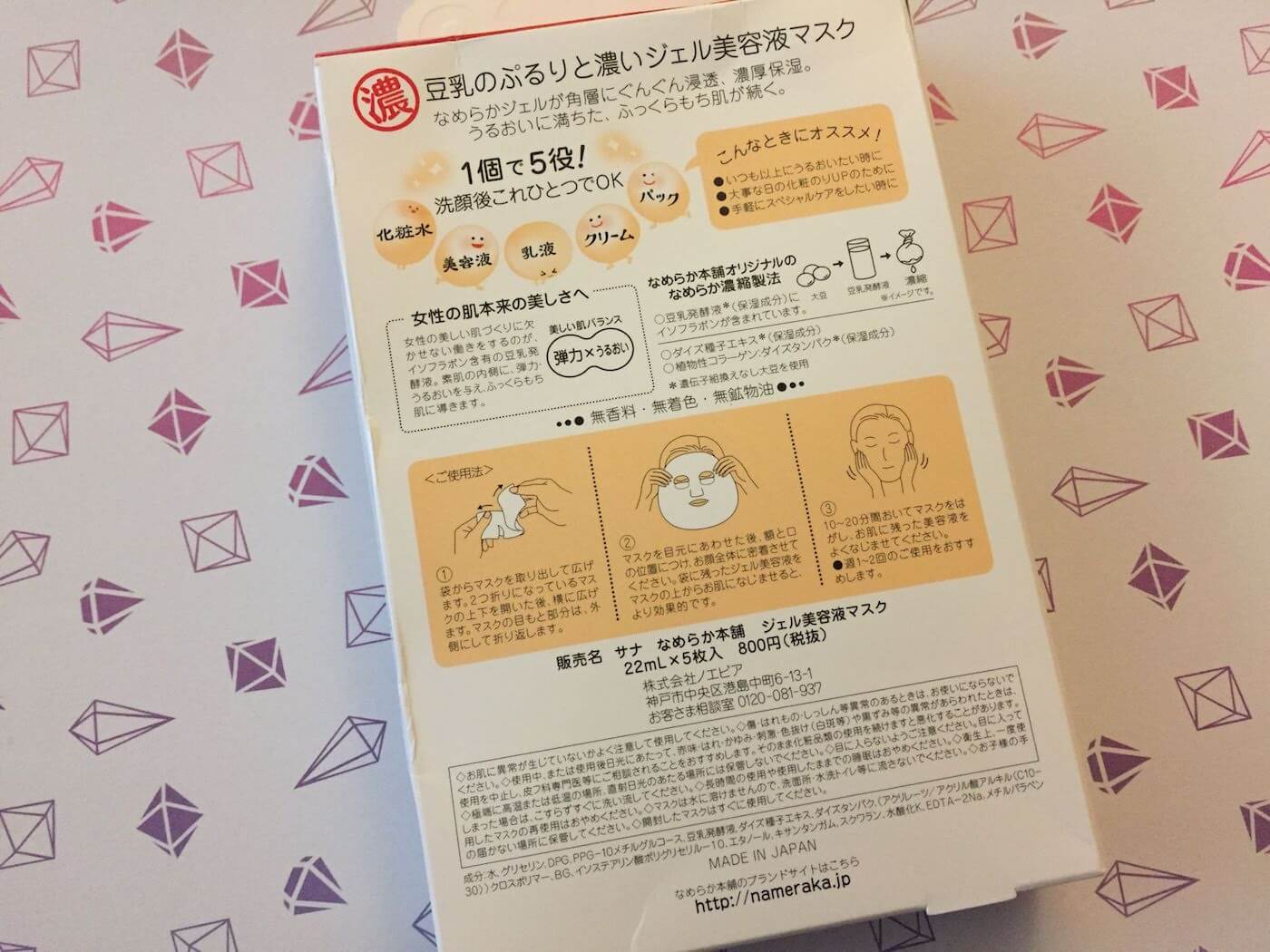 The prominence of the soybean extract and fermented soy indicate that this may be an excellent product for women who are concerned about aging skin, loss of elasticity, and dryness. The inclusion of squalane, another moisturizing ingredient, can also help with addressing dryness and helping skin healthier and more nourished, no matter how old you are (postmenopausal or not). It's also a great face mask for people who have sensitive skin, since it's fragrance-free.
I've noticed that it's really hard to find face masks that are fragrance-free, so I salute this product for bucking the trend and making an option that's just packed with the good stuff. Side note: When it comes to skincare products—and desserts—I'm one of those people who cares much more about the substance (cake), not the frills (icing).
My first impressions of this mask were neutral. Honestly, the best thing I liked about this mask was that it didn't include any fragrance at all. It didn't make my skin itch at all, but I didn't particularly like the material of the fabric—it's not as velvety or silky as other ones, specifically, my favorite sheet mask: Leaders AC Dressing Face Mask. This may have been due to the serum ingredients, or due to the material of the cloth mask itself (or some combination thereof). This mask states to apply it to your face for 10 to 20 minutes. It also has eye flaps, if that is your thing. I personally don't like to use eye flaps because I don't like to apply anything directly to my eyelids. But some people might like to use them for an ultra-relaxing, spa-like experience.
Most of the product had evaporated by the end of 20 minutes, as opposed to other face masks I've used, which have stayed pretty moist even at the end of the stated time period. As such, you may be better off buying the concentrated gel instead, since the actual material of the sheet mask is not the softest or most luxurious. However, my skin still felt pretty refreshed after taking off the mask. I recommend trying this mask if you're looking for a fragrance-free, non-irritating sheet mask, and you want to see if isoflavones can help improve your skin's elasticity.
Related reading
Note: This post uses affiliate links, which means that I'll receive a commission if you make a purchase after clicking a link (at no extra cost to you). See our
disclosure policy
.