This Japanese face mask contains moisturizing sodium hyaluronate, and is fragrance-free (yay!) but its odd sizing didn't provide ample coverage for my face.
I'm slowly working my way through the spoils of my Japan trip last fall. During my trip, I noticed that several Japanese beauty products would use pictures of babies instead of adult models. American skin care products tend to use words and graphics, rather than pictures of adults or babies. But using real baby photographs makes total sense, if you think about it. Babies have the softest, smoothest, bounciest skin imaginable—unencumbered by teenage hormones, environmental pollutants, high-sugar diets, and the like. One of product that shamelessly used a closeup picture of a baby's cheek was Kose Clear Turn Babyish Face Masks. I picked mine up in Japan at Don Quijote, but they're also available on Amazon thanks to modern-day technology.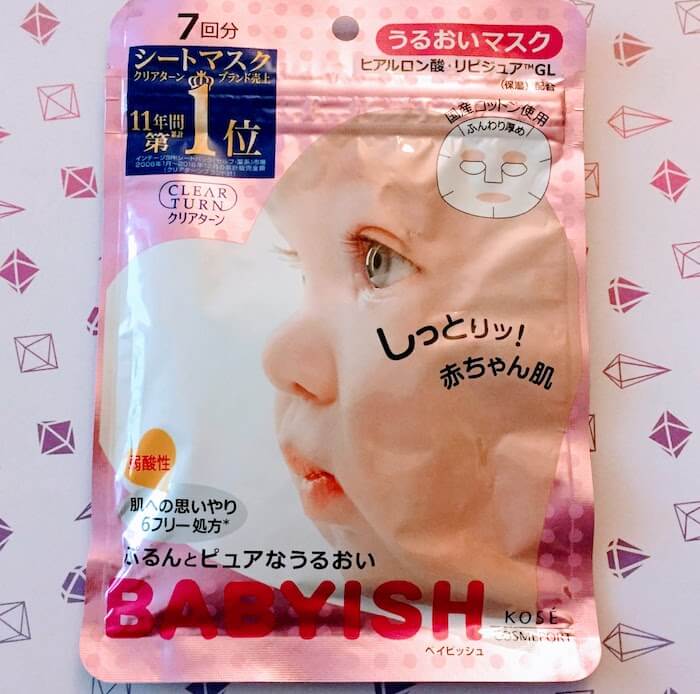 Let's see what makes these masks so "babyish".
Kose Clear Turn Babyish Face Mask ingredients
water, butylene glycol, dipropylene glycol, sorbitol, chamomile extract, glycosyl trehalose, peppermint extract, serine, sodium hyaluronate, polyquarternium-51, citric acid, sodium citrate, glycerin, hydroxyethylcellulose, hydrogenated starch hydrolysate, phenoxyethanol, methylparaben
This mask contains an interesting ingredient: serine, an amino acid that is known to help moisturize the skin. According to this study, people with skin conditions like atopic dermatitis (eczema) have fewer amino acids in their stratum corneum (a part of the epidermis or outer layer of the skin), which leads them to get dry, irritated skin that's prone to damage. Serine can help replace some of these missing amino acids and provide moisturizing benefits to the skin.
It also provides additional moisturizing benefits with sodium hyaluronate and glycerin, and chamomile extract helps soothe irritated skin.
Kose Clear Turn Babyish Face Mask review
I didn't see any particular anti-aging ingredients listed on the label, so it's highly unlikely that Kose Clear Turn Babyish Face Masks will help get you looking like that adorable baby (with the flawless skin) on the front of the package. However, it should help improve dry skin, with some nice moisturizing ingredients like serine, sodium hyaluronate, and glycerin.
I like that these masks come packaged in a 7-pack resealable bag, which is kind of nice, since it helps reduce the amount of packaging waste. Each face mask is folded into quarters. The material of the mask itself feels like cotton, and is much less silky in texture than, say, my fave mask from Leaders (read the review here).
The back of the package says to leave this mask on for 10 minutes (though I'm just guessing based on the number "10" printed amid a sea of Japanese characters in the last step of the step-by-step directions). After 10 minutes, my skin felt a bit more hydrated, but not extraordinarily so. It's definitely not a "must-buy" product, but it's a solid fragrance-free option to try, since fragrance-free sheet masks can be hard to find for some reason. However, I think I'd recommend Sana Nameraka Honpo Soy Milk Mask (read the review here) over this particular product, if you're looking for a fragrance-free mask.
My least favorite thing about this mask is that it doesn't fit on my face. There's lots of excess material on the sides (so it's made for a wide face), but not enough in other areas. Large portions of my cheek/under-eye area remained exposed no matter which way I tugged the mask. The most egregious part of the mask sizing, though, had to be the upper lip area. Look at how slim the coverage is in that particular area!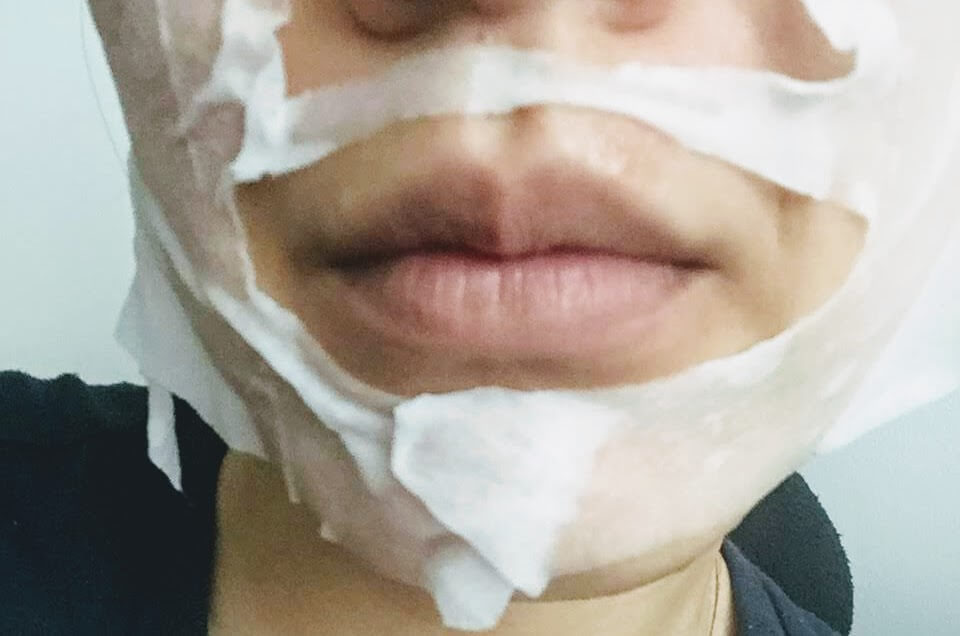 My upper lip tends to get really dry, so I like it when a face mask can cover this area completely, and deliver a boost of moisture to that area of my face. This particular mask only covered about a third of my upper lip, and I don't think my face is that weirdly proportioned. I haven't had this problem with any other sheet mask I've used. So make sure to keep that in mind before buying this mask.
Related reading
Note: This post uses affiliate links, which means that I'll receive a commission if you make a purchase after clicking a link (at no extra cost to you). See our
disclosure policy
.